Hello again Anfield Index, it's been a while. Sorry I've taken some time since my last article, but apparently being in the final year of your degree is quite time-consuming. Moving on, in this piece I will be attempting to analyse what I consider the most important component of any Klopp system: the midfield. Most will tell you that Klopp's preferred shape is a 4-2-3-1, which I agree with, and I'll start by discussing what the manager tends to expect from his 3 attacking midfielders in this shape. (Yes, I know we have mostly been appearing to use a 4-3-2-1 recently, but I'll come on to that later.) Anfield Index legend Sam McGuire has pointed out to me in the past that Klopp's Dortmund side often spread goals quite a lot through the midfield – the reason, in my opinion, being the method of attacking I discussed in my previous article, so I will not go into detail on that in this piece. What I didn't do last time was look into the statistics. Combining the 2011-12 and 2012-13 seasons, I present a table of selected BVB goalscorers:
In the most obvious occurrence since Palpatine was revealed to be Darth Sidious in Revenge of the Sith, world-class striker Robert Lewandowski tops the scoring charts here. What I'm more interested in discussing is the goalscoring action provided by the players behind him (I've omitted Kevin Großkreutz, who scored 10 in 84). Shinji Kagawa featured in the 2011-12 season before moving to Manchester United, while Marco Reus first played for Dortmund in the 2012-13 season, which is why they each have drastically smaller appearance totals. In the 2011-12 season, Kagawa, Götze, Błaszczykowski and  Großkreutz contributed 34 goals between them in all competitions, while in 2012-13 Reus, Błaszczykowski and Götze shared 49 goals. With this sort of input from the attacking midfielders, the team is far less reliant on the striker – a problem that has plagued Liverpool over the last 15 months or so. I've noticed evidence of this beginning to be implemented at Liverpool – Philippe Coutinho is our current top scorer with five goals, four in his last three Premier League games, and since Klopp's arrival our scorers have included Jordon Ibe and Roberto Firmino (who has also claimed four assists in this time) as well as Christian Benteke. I predict that we will start to see more from these as our new system develops, but crucially the midfielders should not just offer an attacking threat – they all need to defend as well.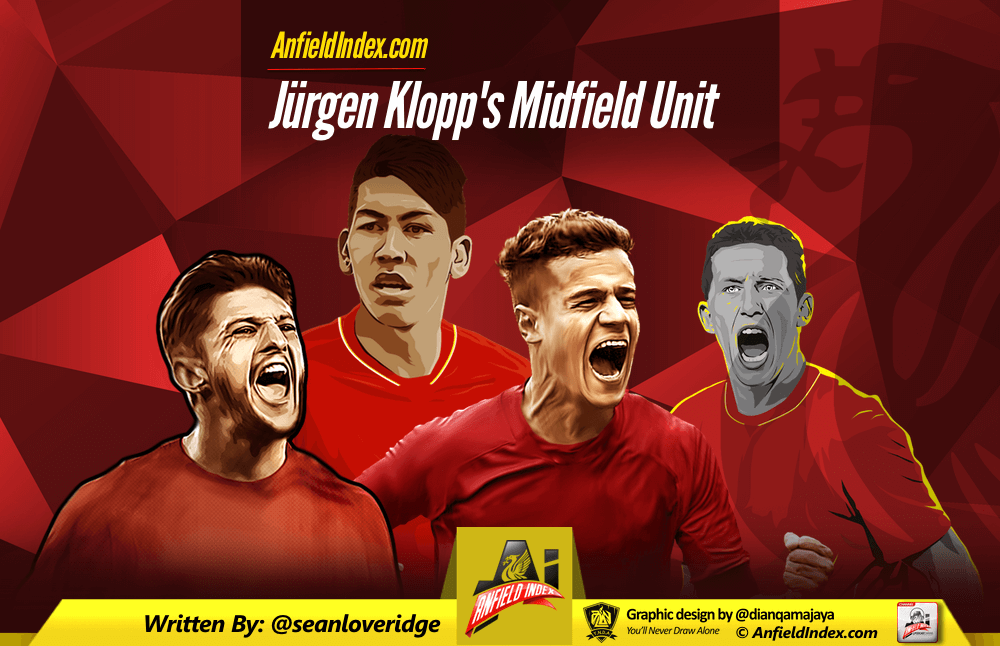 Far too often over the last few years, the complaint of many Liverpool fans after the game has been "the midfield was non-existent". Whenever we lost the ball going forward, it seemed that the opposition was immediately up against our defence, having by-passed the midfield completely. The first line of defence must come from the forward players, which was implemented to perfection with BVB's famed gegenpressing (counter-pressing) tactic. To give an example of this, I've reviewed Dortmund's famous 4-1 win over Real Madrid in the Champions League in 2013:
Having won a throw-in, Robert Lewandowski receives the ball and attempts to chest it down, but the touch is not good enough. Real Madrid pounce and win the ball while Marco Reus fails to retrieve it. The ball is played forward, then wide to Sergio Ramos.
Ramos at first received the ball in a lot of space, but is pressed very quickly by Sven Bender. He manages to get past Bender, but is immediately pressured again by Marco Reus, who is back to help along with Mario Götze. With players closing in on many sides (there are 3 BVB players closer to him than the eventual receiver) he is forced to play it backwards to Xabi Alonso.
To complete the press, Mario Götze closes down Alonso, and it ends up with the centre-back. After this 9-second play is over, Dortmund settle into a defensive shape, shortly after which they reclaim the ball.
But what happens when the press fails and the opposition do manage to string together an attack? This is where the two deeper-lying midfielders come into their own, covering space and holding up the opposition to allow the team to set up more  appropriately for the situation. At the start of the second half in the same match, a circumstance arose that displayed this.
Ramos receives the ball after Raphaël Varane's pass cuts through the first line of midfielders. Immediately, the trio of attacking midfielders are chasing back while four is tracking the intended receiver of Ramos' inside pass (far left of image).
As Ramos has been closed so much, he has very little option with his inside pass which is missed by Mesut Özil but picked up by Xabi Alonso. Gündoğan closes down Alonso, and now Sven Bender can be seen blocking the passing lane to Cristiano Ronaldo. These combined actions force Alonso to return the ball to Sergio Ramos. Meanwhile, Marco Reus has filled in Gündoğan's vacated space after his press (bottom right).
Ramos is forced to play the ball long, which Neven Subotić wins, and Sven Bender covers and clears. In this entire defensive section, there has been very little involvement from the back four itself when compared to the midfield, allowing them to retain shape. If you watch this match back (and I strongly recommend that you do), you will notice not only the intensity but the sheer strength of organisation present in the Dortmund team – after so many years under Klopp, these players really know what they're doing.
On which point, I'm going to start talking about Liverpool now. Following our fantastic performance against Manchester City, it is clear now that there is serious progress being made in both in the intensity and organisation departments for the entire team. A more thorough analysis of our pressing in this game can be found in the great discussion on AI Podcast Extra: City Under Pressure, and I don't want to be just repeating what others have said, so I would advise that you give that a listen. However, AI Overlord Gags Tandon has been kind enough to provide me with his famed pressing maps for Roberto Firmino, Adam Lallana, Philippe Coutinho, and Lucas Leiva, and I will use these now to give an account of what work is being done on the midfield.
Starting from the front, Roberto Firmino had one of the most impressive pressing performances we've seen since Gags started taking in the stats. While technically he was playing as a striker, his natural inclination in this role is to drift back more and help deeper – something which Klopp actually berated him for at one point during the game. But I believe that it is reasonable to suggest that when Firmino does play in his favoured No. 10 role he will give pressing performances similar to this, clearly dropping back to help the defence on numerous occasions (41% of his pressing actions are behind or on the halfway line).
Philippe Coutinho is arguably our best player at the moment, and far from the media assumption that he doesn't put much effort in defensively, he's actually been one of our consistently high-performing pressers over the last few years. Coutinho's last match was cut short by injury, but he still had a very reasonable number of presses. Note the presence of pressing actions just in front of the defensive third, where Phil helped out in a similar manner to the front three in my Borussia Dortmund examples.
As discussed on the podcast, most of our presses concentrated on City's right-sided players such as Navas and Sagna, but Adam Lallana still gave a typically impressive display off the ball. Of the attacking midfielders, he quite clearly has the highest proportion of pressing actions just before the defensive third. Gags doesn't count anything inside the defensive third as a pressing action, but instead just defending, but looking at this it is very fair to assume that Lallana put in a very good defensive shift further back on the pitch. The attackers, therefore, are echoing the Borussia Dortmund midfield and making the defenders' and deeper midfielders' lives much easier with the intensity of the work they are doing.
Moving further back, the role of James Milner has interested me over the last few games. Instead of Klopp's normal 4-2-3-1, we have been defending in a 4-3-2-1 and then he seems to attack the right wing – I'm not sure to what extent this is true for the City game, but I have certainly noticed it more than once. A more full discussion of this can be found here. It is my opinion that this role was created because Jürgen Klopp does not believe that the current Liverpool squad has defensive midfielders capable of covering the necessary space in the same way as, for example, Ilkay Gündoğan and Sven Bender, so adding another central midfielder to this formation restricts the space in which Lucas Leiva and Emre Can operate, making their defensive duties easier. Looking at Lucas' pressing map:
Now, Lucas has done a very good job of creating a "wall" in front of the back four here and I will not be using this article to detract from his recent performances. However, I do not believe that Lucas has the legs in him to act as part of a true midfield two, which is why Klopp has deviated from his normal system in the first place. If we were capable of playing a true 4-2-3-1 then the pressing load would be lightened on each of the attacking midfielders, with another going forward to join them. This is why I will now look towards the future.
While this is just speculation right now, I have taken a look into the players being linked to the Reds at the moment. Excluding the outlandish (we're not getting Lewandowski), there is a common theme in a lot of rumours. Players being linked to us include Ilkay Gündoğan, Lucas Biglia, Leroy Sané, Alexandre Pato, and Sofiane Boufal. I do not wish to comment on each player, as quite frankly I do not watch enough foreign football to be able to give a good scout report on any of these, but I will say this: this list comprises defensive-minded midfield players and pacey attackers. I believe that we are moving towards a true 4-2-3-1 in the Klopp style, with deep midfielders capable of covering spaces and a rapid counter-attack burgeoning from Coutinho, Firmino, and a third, fast attacker on the right. Jordon Ibe is not quite ready to fill this role, and many have claimed Lazar Markovic would be perfect for it, but Klopp may want to put this in place earlier than the end of Markovic's loan.
Whether my claims are true or not, I hope you've all enjoyed reading this. What is certain to me is that, whether it is the one that I suggested or not, Jürgen has a plan for us. It's time for us to get on board.
Up the Reds.