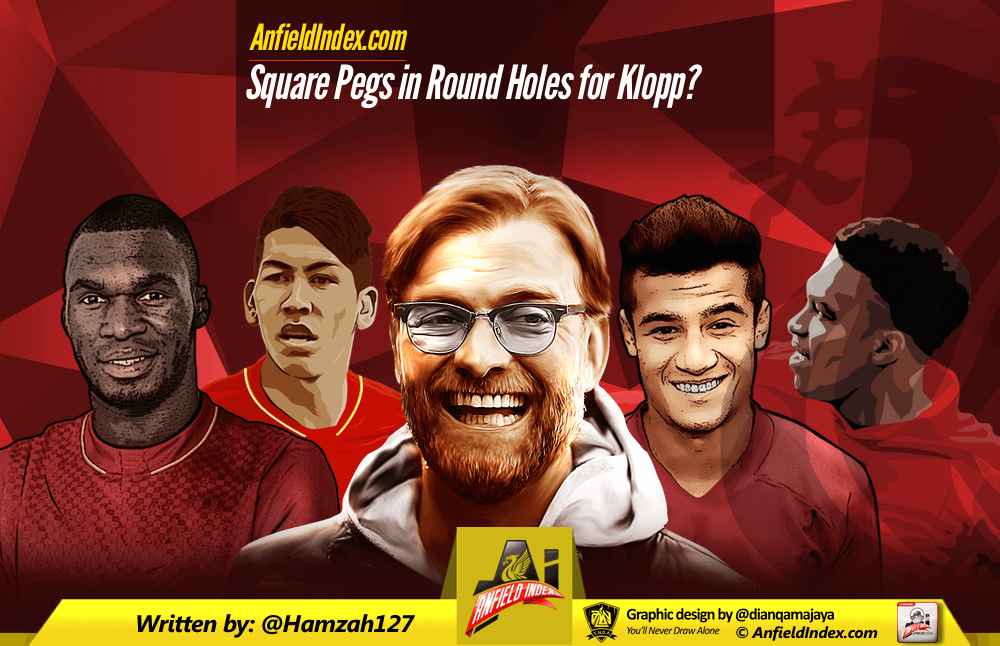 Square Pegs in Round Holes for Klopp?
One of the biggest issues that Klopp faces this season is how to fit in all of his best players into the team; his philosophy requires width, pace, penetration and a strong four-man defence, he also likes to employ a 4-2-3-1 formation that allows for quick counter-attacks with width, and offers rigidity and solidity when defending. However, four of his best players – Coutinho, Firmino, Sturridge & Benteke – cannot all fit into this 4-2-3-1 system without compromising some of their own strengths. So, in this article, I intend to look at how Klopp can fit all four of his best players into a system where they are most comfortable, if it is possible, or if Klopp must sacrifice his own philosophy in order to accommodate for the best players in the Liverpool team.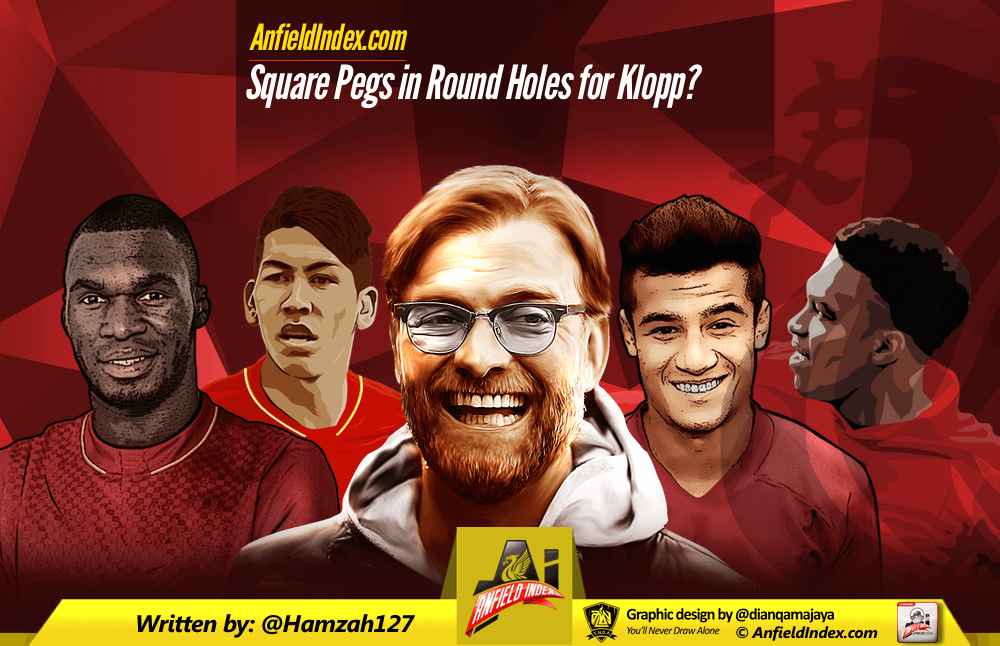 Firstly, we need to establish what is the best position for Liverpool's four best players;

Coutinho thrives in a roaming CAM position, but does not play as well when he has to share the role of a CAM with another player – such as Lallana – or when he is deployed out wide, in a winger role.
Firmino is best played as a Centre Forward – that is a CAM, but slightly more advanced, but not an out-and-out striker (a 'second striker') – one of the best examples of a Centre Forward is Carlos Tevez; when he played for Manchester City alongside Agüero, he played slightly behind Agüero in a 4-2-2-1-1 formation. In comparison, Coutinho operates in a more Silva-Agüero type partnership as a roaming CAM, rather than as a second striker like Firmino.
Last season Firmino scored 7 goals and claimed 10 assists, whilst the season before he scored 16 with 11 assists, so it's clear he needs to be around the box, instead of being deployed out wide, as his performances earlier this season out wide did not show his goalscoring threats, but once he moved into the middle he showed his attacking ability, striking the post twice.
Benteke on the other hand clearly needs to be played as a central striker, he does not have the pace to play out wide and his physical prowess and goalscoring threat is maximised when he is in the box, but also receiving crosses from out wide – conforming with Klopp's requirements of width from a team.
Sturridge's best position is definitely as a central striker too, but in his best season to date he also shared that role – so there are no qualms about him playing as part of two upfront – however he does have the versatility to be deployed as a wide inside forward, where he can cut in and shoot – although this negates his natural goal-poaching ability. Putting his injury record aside, he is our best striker, and if fit should always be starting.
So far we have two strikers, a centre forward and a CAM, so typical 4-3-3 is out of the question if all four players are to start together in their favourite positions (although, as explained later, if they compromise then they can fit into a 4-3-3).
The figure below shows Coutinho, Firmino, Benteke & Sturridge's preferred positions:
The issue with playing all four of these players in their favoured positions is that there is a huge amount of space left open out wide and in midfield, so in order to fill the space in midfield and protect the defence, two centre midfielders are deployed.
Areas A & B, which Klopp actively looks to really exploit are left vacant; as well as in between the CAM (Coutinho) and the two centre midfielders. In a game against a team with a strong midfield, such as Arsenal, Chelsea or Manchester City, this tactic would very rarely be employed unless chasing a game, as the midfield would be completely overrun by the opposition.
How does this particular formation weigh up against Klopp's requirements of pressing, strong defence, counter-attacking ability and width?
In terms of pressing and counter-attacking this formation could work, as the forwards are already in an advanced position, but if the full backs are pushing up to provide the width that is required by Klopp, then the defence would be compromised as there would be far too much space for the opposition to exploit. This formation is far too attack-minded though, and should really be discarded as a tactical idea; a much more suitable solution would be the fan favourite 4-4-2 diamond:
Here we have the 4-4-2 diamond, there are four players at the back like Klopp wants, and this is a system that is built for high pressing. The width can be provided by either the full backs or the two centre midfielders going wide, plus Firmino, Benteke and Sturridge are all in their favoured positions.
The problem here is that Coutinho is not in his best position, and as our best player, can we afford for him to not be in his best position? His performances over the past season out wide would suggest he needs to be in the centre, as he can create opportunities and score goals – however with two strikers, Firmino and Henderson, there are both goals and a creative aspect that come from elsewhere; so Coutinho does not need to be in the middle to provide that.
Coutinho's performances in this position in the 2013/14 season, when Sterling moved to the 'tip of the diamond' also suggest that he can fit in this position well and perform to a good standard too.
The general defensive qualities of this formation though are a downside, especially if a non-specialist CDM is deployed at the base of the diamond, the defence can often be left exposed – as seen in 2013/14 – but on the other hand the players that were in the defence in 2013/14 (Johnson, Skrtel, Agger/Toure and Cissokho) were not great players, nor did they play particularly well during the season, and perhaps Klopp and his team will introduce specific defensive training to bolster the strength of the defence. Do keep in mind that in 2010-11 Klopp's Dortmund only scored 67 goals and conceded 22; that's scoring just under 2 goals per game and conceding around 1 per game.
Another formation that could potentially be used is a 4-3-1-2 – very similar to the 4-4-2 diamond above, but slightly more defensive, so if the defensive issues (getting opened up too easily through the middle) that damaged the 2013/14 season persist, then this is a minor tactical change that won't upset the balance of the team too much. In this formation you can still press, but pressing within a 4-2-3-1 or a 4-4-2 diamond is more efficient as more players are further forward, so the ball is won in more dangerous areas, and it hinders teams playing out from the back.
The 4-3-1-2 offers some defensive protection, but again Coutinho will not be in his favoured position, and may even be positioned further back; but the merits of this formation do not outweigh the merits of the 4-4-2 diamond, as the attacking potential that the 4-4-2 diamond system allows can only be matched by a 4-3-3; an equally devastating attacking formation which may be able to accommodate all four of our best players into it.
Above is a simple 4-3-3, with Can in the pivot role, a role that Lucas could play too. We are looking at Coutinho, Firmino, Sturridge and Benteke though; and so at first this formation may seem odd, with only one player – Benteke – playing in his preferred position, whilst Firmino and Sturridge are out wide, and Coutinho is played in a left centre-mid position, however, one of the best aspects of the 4-3-3 is the ability to have a fluid front line, with Benteke, Sturridge & Firmino all able to interchange and move into the position that the game situation requires. The best example of a fluid front line in a 4-3-3 is Barcelona, with Suarez, Neymar and Messi moving around into different areas to create space in between the lines and drag defenders across through diagonal dummy runs, Liverpool could certainly try to emulate this style of play, and the 4-3-3 allows for high pressing from the front, provides the width that Klopp wants, a quick counter-attacking outlet and also keeps defensive stability with 3 centre midfielders – so on this count it succeeds on fulfilling Klopp's criteria, but unfortunately the players will not be playing in their favourite positions for the majority of the game.
Klopp's preferred formation is a 4-2-3-1, but could the four aforementioned players thrive within it?
With the four mentioned attacking personnel available, the 4-2-3-1 would almost certainly be a narrow one, with no real wingers deployed in the '3'; Coutinho would tuck in as an advanced playmaker, whilst Sturridge would also tuck in as an inside forward, and would be expected to make lots of runs into the box from whichever side he would be deployed on. Like the 4-3-3 though, this also allows for the attacking players to have a more fluid, interchangeable positioning, which would allow Coutinho and Sturridge to take up their preferred positions during a game, although they are meant to provide width and crosses, aspects of their game that they are not known for.
If Sturridge, Coutinho or Firmino are positioned on the side of the CAM in a 4-2-3-1 there is simply not enough width, which does not allow for an opposition's defence to be stretched out, and it also negates some of Benteke's goalscoring threat, as he scores most of his goals from crosses. The only way to provide crosses and width, in order to get the best out of Benteke in a 4-2-3-1 is to either have out and out wingers and sacrifice two of Firmino, Sturridge and Coutinho from the starting XI, or to get Moreno and Clyne flying forward to create an overlap and put crosses into the box – this is viable though, as the two centre-midfielders provide defensive protection for the centre-backs, unlike in a 4-4-2 diamond where the centre-backs and sole CDM can be left exposed.
Suddenly the prospect of a 4-2-3-1 sounds quite attractive despite Sturridge not playing as an out-and-out striker and Coutinho not playing as the sole CAM. The 4-2-3-1 also allows for high pressing, provides a fantastic counter-attacking setup, and as mentioned earlier offers a strong defence and width/penetration further up the field. Two of the best examples of a 4-2-3-1 used like this are Dortmund under Klopp, and Real Madrid under Mourinho; by copying that setup Sturridge can try to emulate Reus/Ronaldo's goalscoring threat from wide, Firmino can attempt to be Klopp's new Mkhitaryan, whilst Coutinho can try to emulate Götze/Di Maria/Özil's creative influence.
On a slightly separate note, when defending, Liverpool could adopt a 4-4-1-1 with their long ball/counter-attacking outlet being Benteke, with Sturridge running off of him – this would help with Benteke winning aerial balls and not having players to lay the ball off to as seen earlier this season in games like the 3-1 defeat at Old Trafford.
Having looked through the potential systems that could be employed to accommodate all four of our best players, I did consider 3 at the back, but concluded that it would compromise the defence, and be just as bad as the first formation looked at in this article (the 4-2-1-1-2).
If I were to make a judgement on which system to use currently, it would certainly be between the 4-2-3-1 and the 4-4-2 diamond – it is abundantly clear that Liverpool cannot fit all their best players into their favourite position without compromising either the defence, the midfield or the general width of the team; therefore either the 4-4-2 diamond or the 4-2-3-1 formations should be used as they grant a very good attacking outlet, still have pace and penetration, are able to press high and efficiently, and control the game as well as sacrificing the least of the strengths of Liverpool's best players.
To conclude, Klopp need not surrender his philosophies to accommodate Liverpool's best players into one starting XI, he only needs to put them in positions they are fairly comfortable with, and that way the team as a unit can succeed; with Benteke as the focal point of the attack, but Sturridge and Firmino also expected to chip in with a decent goal contribution, whilst Coutinho, Henderson (when fit) and Firmino can all provide a creative aspect to outweigh any creative spark lost by not having Coutinho at the very middle of the attacking midfielders. This setup could be an extremely exciting one, but it certainly will be intriguing to see if Klopp vision of his team is similar to the one I have presented.