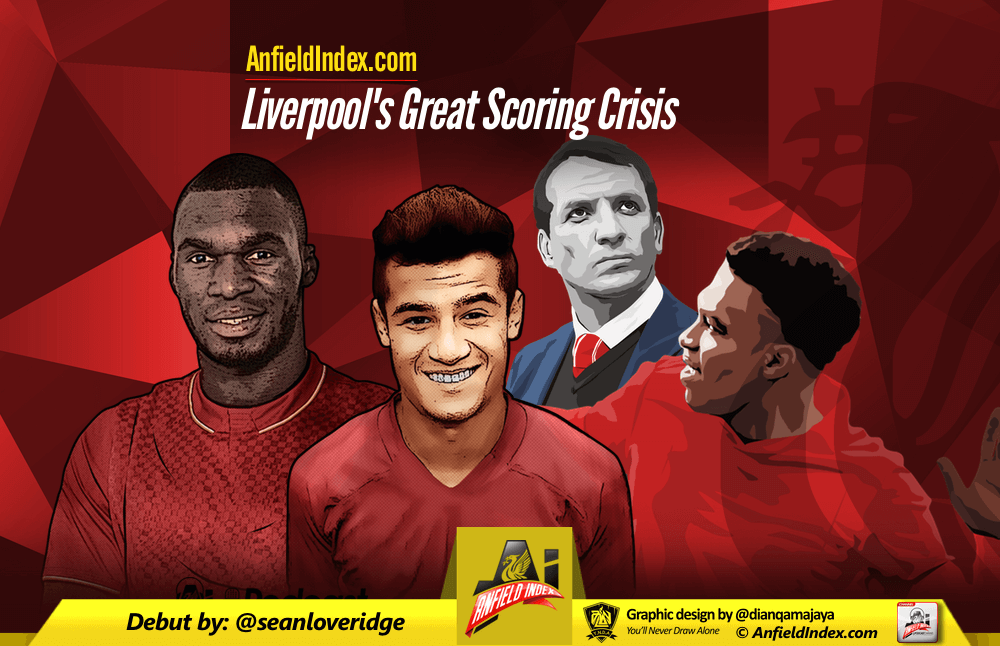 Liverpool's Great Scoring Crisis
The past week has seen one of the most meteoric rises in optimism and excitement within the Liverpool FC community in recent memory. The source of this is obviously the appointment of charismatic German Jürgen Klopp, and a very quick glance at my Twitter feed will prove that I've been as swept along with the hype as pretty much everyone else.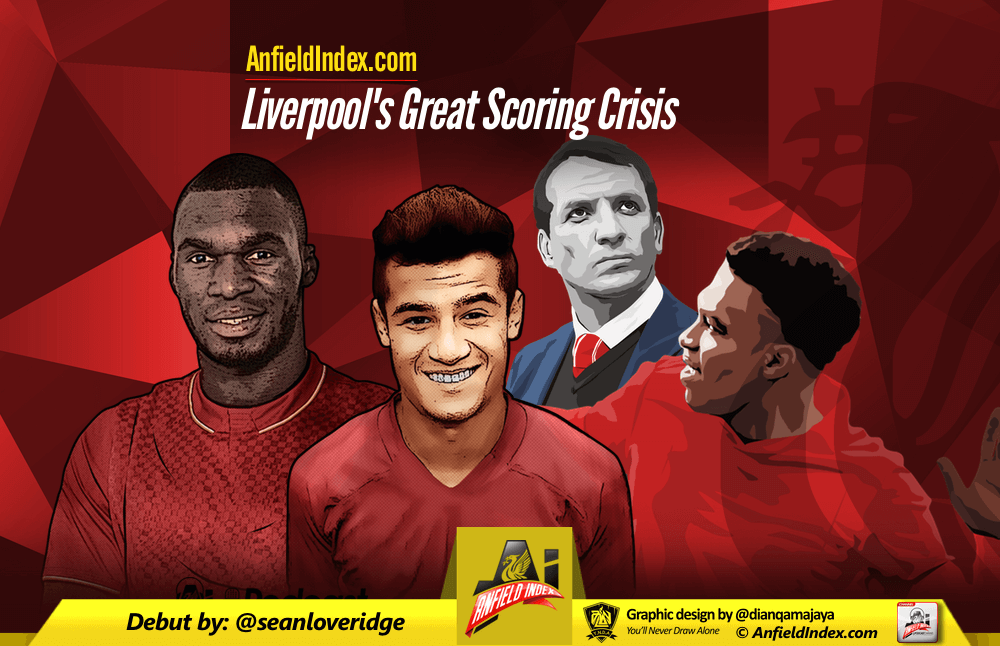 However, I feel it is important to remember why we have had this change of manager: there are currently problems at Liverpool Football Club. My goal in this article is to shed light on the possible reasons why a formerly high-scoring Liverpool squad has slumped to scoring just 60 goals in its last 47 league games – only 1.3 goals per game, while conceding 58 in the same time frame. Obviously, the defence needs to be sorted as well, and Klopp himself has announced his intention to build the back line as a starting point, but discussions over the defence have been ongoing even since the 2013/14 season, while it was in part masked by a very high goal-scoring rate.

I hope to, in future, look into further reasons for our lack of goal-scoring capabilities, but I feel a good place to start is in the isolation of our strikers.
Isolation
Much has been made of the consistent decision of Brendan Rodgers to repeatedly fall back to a 4-2-3-1 formation, and in all honesty I have been prone to criticising it myself on several occasions. New manager Jürgen Klopp is famed for his use of this same shape (though a discussion on the recent TTT Tactics Podcast, #18, very much stresses that this is far from the only formation in his arsenal), and I feel it necessary to point out that it is not the shape itself that is the problem for us, but the style with which we play within it (or lack thereof). Klopp's Bundesliga-winning 2011-12 Dortmund team principally used a form of this formation, while scoring 80 goals in 34 league games – 2.35 goals per game. Clearly, it is possible to score proficiently while using only 1 striker.
Some have sought to lay blame on the strikers themselves, but while performances from those used certainly weren't up to scratch, those strikers most used did come in with a reasonably impressive goal-scoring reputation: Mario Balotelli had scored 30 in 54 appearances in his previous spell for AC Milan at ages 23-24, while Rickie Lambert scored 28 goals in his final 2 Premier League seasons for Southampton, making 14 assists at the same time – while hardly astronomical, this does show that Lambert could indeed score when used correctly. One must consider that both of these players took penalties in these periods, for which duty Steven Gerrard was used at Liverpool, but I still believe that their complete lack of goals for Liverpool points more to a systemic fault in the way we played under Brendan Rodgers for this time.
Part of this, in my opinion, is the way in which strikers were isolated by a lack of movement in the players behind them. Consider this series of screenshots, taken from Liverpool's home win against Bournemouth earlier this season:
Benteke receives the ball from Simon Mignolet. While Coutinho is clearly close, the ball is at a height where ideally Benteke would be able to flick it on to the left or right wing, with a nod down to Coutinho being near-impossible. Ibe is visible along the left wing, but on video it is noticeable that he is far from sprinting to receive the ball, while a pass to Lallana is partially blocked by a Bournemouth defender. Benteke ends up attempting a flick to the right wing, but there is no one attacking on the right hand side and the ball falls to Bournemouth's left back:
In this instance, were Benteke to instead flick it to the left, Ibe would have had to receive it almost stationary, with defenders marking him immediately. Benteke's decision to move it to the right is understandable, but both Lallana and Coutinho, the other attacking midfielders in the 3 behind Benteke, are in positions where it would not be favourable for them to receive the ball. If one of them were to attack the right hand side, the attack could have continued, and instead it dissipates.
In the following instance from the same game, the ball is punted forward to Benteke from around the halfway line – ie while Liverpool are in a fairly attacking situation:
Despite the attacking intent of this move, the only other LFC player even visible on the screen is Philippe Coutinho, shown further towards the right of the picture. The other two members of the three attacking midfielders are nowhere to be seen. As it happens, Benteke nods the ball down to Coutinho, but from there the ball is lost, with neither Benteke nor Coutinho having many options in this situation.
In a final play from this match, Benteke receives the ball on the break after the ball has been won by Joe Gomez at left-back. Benteke is free to sprint down the wing, but due to the wide location at which he receives the ball, he requires passing options upon taking control of it:
What he is greeted with instead is only Philippe Coutinho, approximately 25 yards away from him, with Roberto Firmino (off screen) attempting to make up some ground. Ultimately, a shot is created from this:
By which time Roberto Firmino is also arriving. The shot is missed, but surely a better opportunity would be created were more players to come forward in this counter-attack?
If you watch back on a video of Benteke's touches during this game, you will see that the majority of them come from aerial balls, with very few players even attempting to run beyond him to receive the ball, and those times where there are players ahead of him are mostly when he has come deep to receive the ball. This is clearly a tactical decision by the manager, and it very much stifles Liverpool's ability to attack the opponent at pace. I understand that at this time Brendan Rodgers was focussing very heavily on trying to not concede goals and making us hard to beat, the team was set up very rigidly and we would rarely look to burst forward with pace, possibly due to pressure on his job, but I could find numerous examples from the 2014/15 season that are similar to this. Look at this, as an example, from the 1-1 draw with Everton on 27th September 2014:
Balotelli receives the ball out wide after a clearance. At this point, it is perfectly normal for him to be the only player this far up the field, as Liverpool were defending quite deep. The problem occurs later:
It takes a full 8 seconds for the 2 runners pictured to appear, by which point Balotelli has 2 Everton players closing him down, with one moving to block off the passing route to Raheem Sterling. Mario here has few options, is closed out, and eventually loses the ball. This lack of urgency in running from deep could be a major part of the problem.
I should point out that I'm not expecting all 10 outfield players to join forward in attacks, it is perfectly reasonable to not be sacrificing defensive solidity on every counter-attack. As an example of how best to support a striker, I've looked into goals scored during Borussia Dortmund's title-winning 2011/12 campaign, in which they both scored 80 goals and conceded only 25. I do not claim to be an expert on German football in any way, but try comparing this attacking intent to that shown earlier:
Robert Lewandowski receives the ball in the air from goalkeeper Roman Weidenfeller's kick. He nods it down to Shinji Kagawa, just inside and slightly ahead of him – note that already the attacking midfield trio is sporting more attacking intent by running beyond the striker.
Having run ahead of Kagawa, Lewandowski is given the ball again, while Kevin Großkreutz (left wing) charges forward to provide an immediate option. On the other side of the pitch, Jakub Błaszczykowski is visibly preparing to receive the ball should a cross come in or the play be switched.
Lewandowski lays it into Großkreutz's aggressive run, and while Błaszczykowski has continued his run from the right wing both Lewandowski and Kagawa are sprinting in to either provide an option or pounce on any rebound. In the end, Großkreutz crosses to Błaszczykowski, who misses, but the point here is that every attacking player had options at all times – and all 3 members of the attacking midfield trio were involved in the attack, something which seems almost constantly absent from Liverpool's recent displays. Perhaps the most convincing point is that this entire move, including the missed shot, took a total of 8 seconds – the same amount of time as it took for Henderson and Sterling to reach Balotelli in my final Liverpool example.
Hopefully, this has shown that it is very much possible to create while playing with 1 striker, and that the debate should not be as simple as "if we play with 2 strikers, we'll create more chances and score more goals". Now that the Klopp reign has begun, I will be looking for development in this direction. As mentioned at the start of this piece, Klopp's first aim is to build from the defence, so it is no surprise that that was the main thing that looked better against Spurs. I have, unfortunately, been unable to find highlights of our attacking play from the Tottenham match, but I am not particularly surprised that we didn't manage to score against the best defence in the league when down to our 4th choice, 20-year-old striker, who was making a full Premier League debut. To finish, I'll add that the example I showed of Klopp's Dortmund was during his 4th season in charge of Die Schwarzgelben, so it could take some time for such attacking brilliance to arrive. My parting message: give the new manager time, and I'm sure the style will return to our play.
Hope you enjoyed reading this, I'm planning on writing a few more articles soon concerning chance creation and its location, as well as scoring goals from midfield. Thanks for reading!