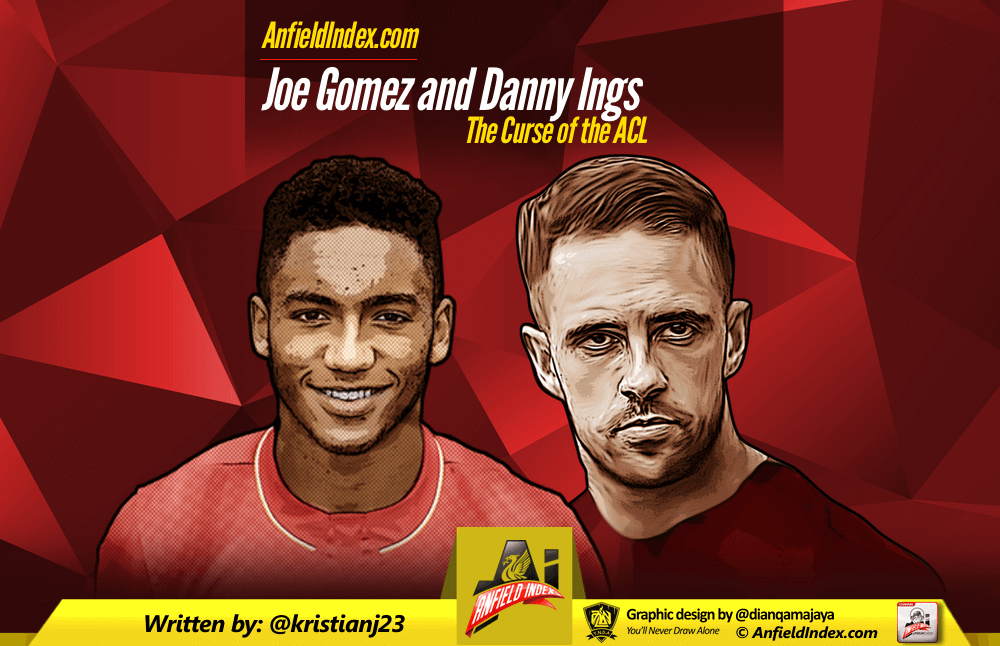 Joe Gomez and Danny Ings – The Curse of the ACL

Ever since Jurgen Klopp's arrival at Liverpool, everyone at the club has been giddy with the effects of Klopptomania. There was the long build-up to his inevitable appointment, the endless vines of his goal celebrations and then, eventually, the press conference.
Far from making excuses about not having the right tools, Klopp went to great lengths to extoll the virtues of the players at his disposal.
Then came the shockwaves.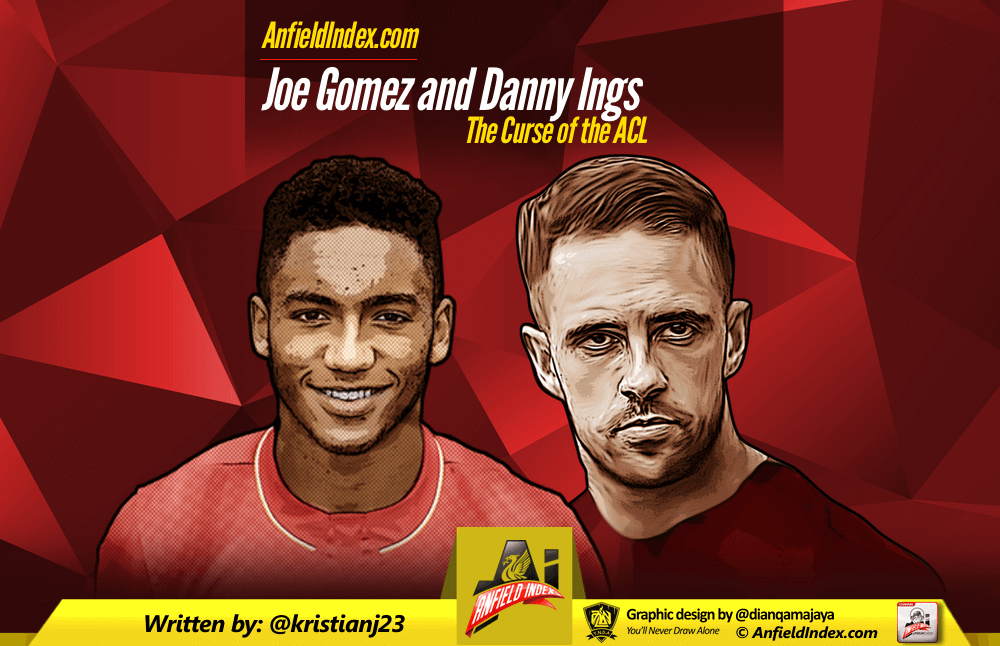 Not one, but two, anterior cruciate ligament (ACL to you and I) injuries rocked the club. Sam McGuire has explained the complexities of the injury on the site here, but the long and short of it is that Joe Gomez and Danny Ings are unlikely to play again this season.
There are plenty of players in the current set-up who seem ideally suited to Klopp's high-octane brand of "wild" football – Jordan Henderson and Alberto Moreno spring immediately to mind – but I'm sure Klopp was also relishing the prospect of working with Gomez and Ings. That is, until injuries struck them down.
Joe Gomez
Gomez arrived at Liverpool with a promising reputation, but no-one – not least Gomez himself – anticipated that he would start the first five league games of the season.
The former Charlton Athletic defender seems a good fit for Klopp's compact system. With Liverpool short of cover in both full-back positions, he would have got plenty more games this season, even if they were only in the cup competitions.
After learning the extent of the injury, the new boss said that Gomez is "a wonderful young boy" with "muscles in all the right places".
It's hard to believe that the man-mountain Gomez is only 18. His physique mirrors that of a robust, seasoned defender who has played at the top level for years. His maturity, too, is staggering.
Although Gomez is primarily a defender, he has already shown in his brief Liverpool career that he is accomplished on the ball – most notably in his mature display at Arsenal. Klopp favours ball-playing centre-backs, as shown in his time at Borussia Dortmund – where Neven Subotic and Mats Hummels flourished – and Gomez fits that mould.
His pace and tactical awareness mean that he will be able to slot into a back four which presses within a compact Liverpool side once he returns from injury. Don't be surprised if he even manages to oust Martin Skrtel to start at centre-back next season.
Rather than write off the youngster, Klopp seemed genuinely upset to have lost his services for the season and said: "I'm very good at waiting for players. We'll do everything we can to have him back as soon as we can."
Hear, hear.
Danny Ings
Prior to the Tottenham Hotspur match, it could have been argued that Ings was Liverpool's most in-form player.
The 23-year-old had to bide his time to make his way into the side this season, but netted three goals in the five games prior to suffering the ACL injury and even earned his first England cap.
It wasn't just his goals though. Ings' attitude has been spot on since the moment he arrived at Liverpool. His relentless work-rate seems perfectly suited to Klopp's oft-cited gegenpressing and his tenacity has lifted a laborious-looking Liverpool on more than one occasion this season.
Like Gomez, Ings is versatile. He often played in a slightly withdrawn role at Burnley, just off his former strike partner Sam Vokes, and even has the knowhow to play in either of the wide roles behind a lone striker.
There were signs, too, of a promising partnership with Daniel Sturridge in the 3-2 victory over Aston Villa last month. If Klopp does decide on playing two up front next season, he would do well to look at that game as a template of what can be achieved with the duo.
Less than two days after suffering the injury, Ings' impeccable attitude was evident in an interview with The Telegraph, in which the forward was already stressing how he plans to force his way into Klopp's thoughts.
He said: "The only way I can get in his [Klopp's] thoughts and show him what a good professional I am is the way I am in the gym or by being positive around the lads."
Along with Gomez, Ings arrived at Liverpool expecting to be a bit-part player this season, but the performances and attitudes of the pair made sure that they forced their way into the side. The ACL injuries were bitter blows, but at just 18 and 23, Gomez and Ings have plenty of time to recover and pick up where they left off. Don't be surprised to see them both play significant roles under Klopp next season.