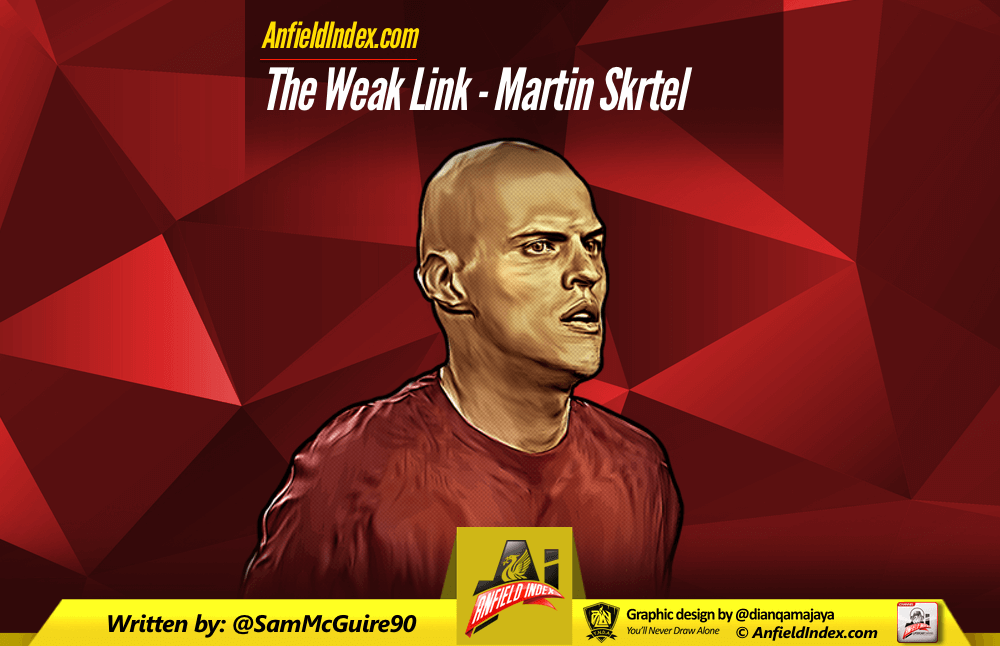 The Weak Link - Martin Skrtel
It's a common theme these days for a Liverpool player to split the opinions of the fans.
Every single individual has their own template for when they're judging a player. What's good and what's bad. Nobody is impartial. Very few are right but that's the beauty of football isn't it, everybody has an opinion.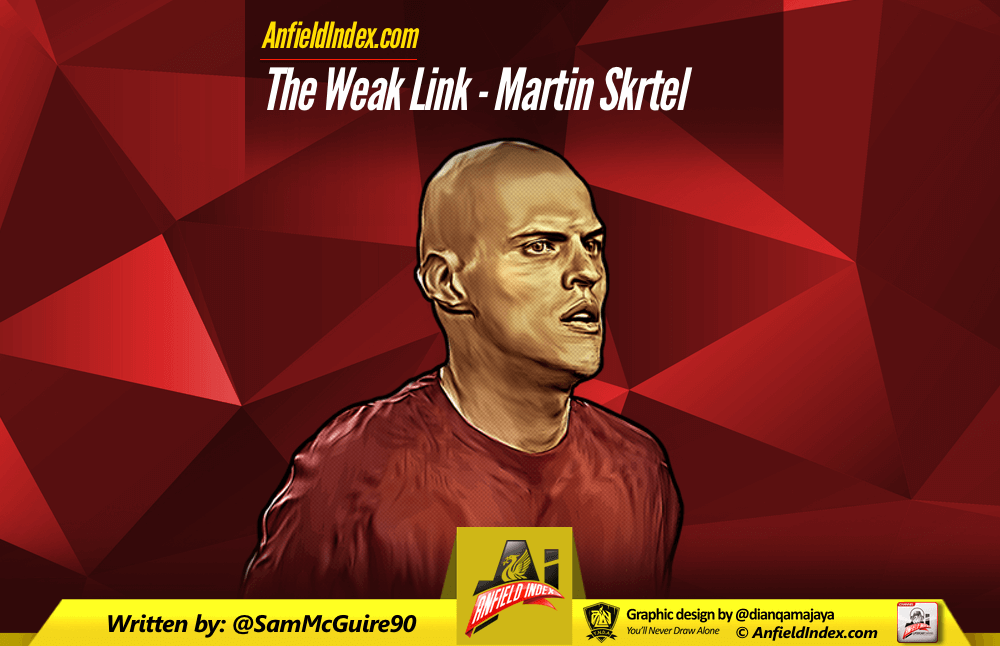 Whether you're defending Glen Johnson for being Glen Johnson, jumping to the defence of Lucas Leiva because he played well under Kenny about 5 years ago or simply throwing shit at the wall and hoping something sticks when looking for the positives in Dejan Lovren's performances in Red. Some fans see it differently to you. Some fans don't like to criticise the club or their players because it's "not the Liverpool way".
If you can back up your points then that's all well and good but when you're basing your entire argument on the fact this individual has played over 300 games for Liverpool so must be good your argument is kind of on thin ice, isn't it? Playing over 300 times in a period Liverpool have won next to nothing and dramatically fallen away from the leading pack is hardly indicative of their talent.
The individual in question of course is Martin Skrtel.
The Slovakian uses last ditch lunges, over the top blocks and goals to hide his defensive frailties and some fans are blinded by this. You often hear fans who like him quoting his goal scoring figures whenever he's criticised. When did it become a prerequisite for defenders to score goals? It's no good scoring 3 goals as a defender if you're at fault for 7/8 goals per season.
Honestly it's fine, let Anthony Martial, a rookie in the Premier League, waltz walk past you to put the game to bed against our fiercest rivals because you know, you scored those two goals against Arsenal in 2013/14.
It's as though any player with an affiliation with Rafa Benitez gets special treatment because they're one of the few remaining links to our past glories. The likes of Lucas Leiva, Glen Johnson and Martin Skrtel all get this extra allowance from certain sections of the fan base.
"Rafa picked them. He won us the Champions League so by default they're good players" seems like the mentality at times.
Then you hear the argument "well Jurgen Klopp, Brendan Rodgers, Kenny Dalglish and Rafa Benitez can't all be wrong."
Sometimes people just do things that can't be explained. Why do people touch a hot surface when there is a sign there that says 'Hot Surface. Do not touch'? I'm sure we've all at some point inexplicably touched wet paint even though it was clearly marked as wet paint. People do inexplicable things and managers are no different.
In the past 5 seasons, starting with 2010/2011 to 2014/2015, Martin Skrtel has played 25 or more games in each of these seasons. Liverpool have conceded 225 league goals in this period and never conceded less than 40 in a season. During this time they've played different formations, had different goalkeepers, played many different left sided centre-backs and had 3 managers. The one constant in this has been Martin Skrtel.
This all can't be pinned on Martin though. The aforementioned managers don't help. Martin Skrtel has a peculiar skill set. He has the physique and the ability to be a good defender but has the mentality of the cowardly lion. At the first sign of danger he's on his bike and he's moonwalking back to the Liverpool area. It's clear for fans of all football clubs to see. So it's bizarre that managers have tried to play him in a high line. He's the antithesis of a high line defender, he has none of the characteristics yet he gets games there. When I say he could be a good defender I mean in a low block, like a West Ham side.
Kenny, Hodgson and Rafa all played Skrtel in a low block and he looked functional. They all played defensively which afforded him some protection and he was able to sweep in his own 18 yard box and clear the danger that way. It's what got him so many plaudits and why Manchester City were rumoured to want him for £20 million.
Brendan Rodgers took over at Liverpool and dropped the Liverpool number 37 because he was failing to impress in the high line he was trying to integrate and his passing wasn't what was required.  He only really got back into the side because Jamie Carragher had a bad run of form and Skrtel took his place. We saw in 2013/14 how exposed he was when Liverpool played that attacking football and a high line and if truth be told he's only looked comfortable in a Brendan Rodgers defence when he was at the centre of a back three and he was able to sweep and make those recovery tackles he's famed for nowadays.
The majority of Liverpool fans are eager to see Jurgen Klopp set Liverpool up to press teams. They'll never properly be able to press effectively with Martin Skrtel as their right sided centre-back as it's his instinct to drop and him dropping creates space in what should be a compact back four. Against Spurs I took plenty of positives away but amongst the negatives was Martin Skrtel. A few times he had the likes of Harry Kane run at him and he backed off and got deeper and deeper, which in turn dragged the rest of the team back even though he had Sakho covering behind if he did put a foot in and miss.
I see the value in keeping Skrtel around as a squad player for those games we're sat deep in, defending a lead and facing an aerial bombardment. He's good in those situations but if Liverpool are to play this pressing football we're all yearning for then Martin Skrtel has to be phased out so Jurgen Klopp can start to work on a functional back line.