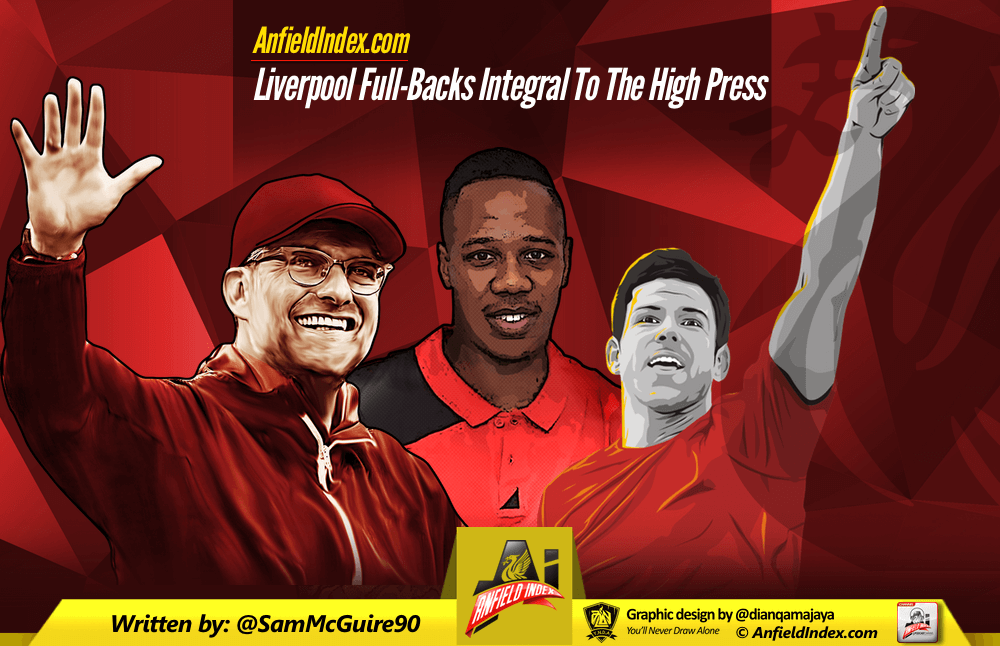 Liverpool's Full-Backs Are Integral To The High Press
The Tottenham game was just a sign of things to come. Jurgen Klopp managed to stamp his personality and style all over the Liverpool display and he managed this after having the squad for a matter of days. There's no need to be conservative, you're allowed to be excited.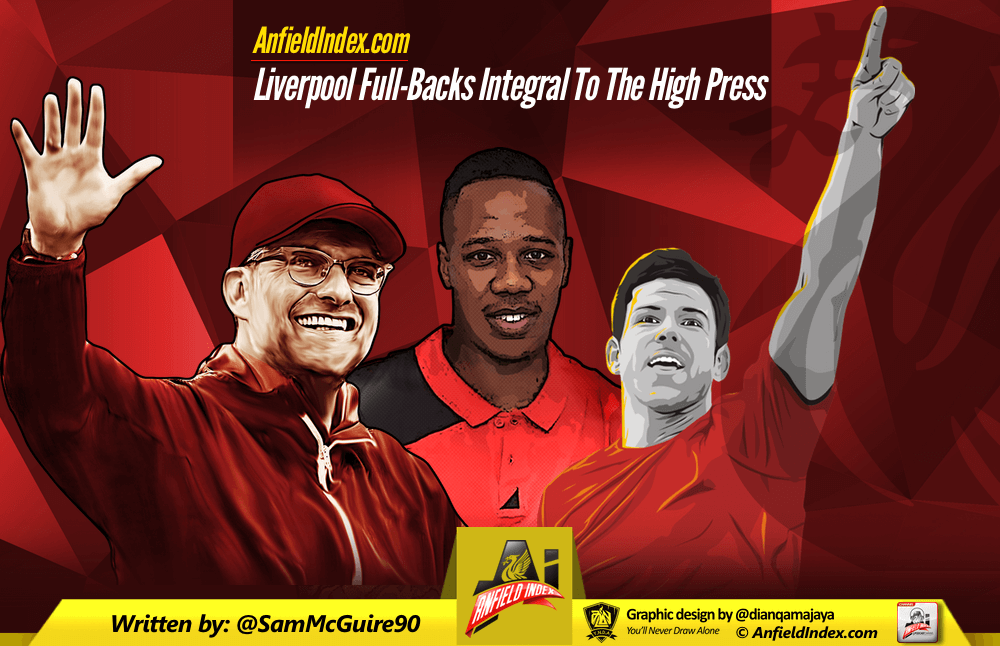 There have been plenty of superb pieces analysing the match on Saturday, one well worth your time is here.  Jamie Carragher, on Monday Night Footbal, highlighted just how well Liverpool managed to adopt the high press against Spurs praising the likes of Divock Origi, Philippe Coutinho and Adam Lallana. However, the tactic that impressed me the most was the use of the full-backs, Nathanial Clyne and Alberto Moreno. These players were instrumental in Liverpool being able to effectively and efficiently press Tottenham.

I think every man and their dog expected Liverpool to line up with a 4231 system, the system people associate with Jurgen Klopp. However I was pleasantly surprised to see Jurgen practice what he preached in making Liverpool difficult to break down and he fielded a more 4321 system, some may call it a Christmas tree.
An example of this is above. The main idea behind this formation is to be compact so the opposition can't play their way through the middle of your team. There is no soft, fluffy middle with this formation and you'll rarely see it being stretched. When Spurs have possession in defence you'll see how the Liverpool full-backs fall back into a back four.
The pros of playing such a formation are you have bodies in central midfield at all times. Spurs had Moussa Dembele, Dele Alli and Christian Eriksen as their midfield three on Saturday, all of whom are good ball playing midfielders and can carry their team forward with the ball. They're the sort to attack the space with the ball, not just look to pass it off, and not allowing them that space nullifies them.
Another positive of playing this formation is even though you're fairly narrow when the opposition switch to the wide areas, say Kyle Walker for example, he's having to bypass not only Philippe Coutinho but also Emre Can who'd be shuttling over to shut down the space. If Coutinho doesn't attack the player then Emre Can will and Coutinho will drop into the vacated space ensuring Walker doesn't have an easy pass inside.
Jamie Carragher made a remark on Sky Sports about how he was impressed how the likes of Emre Can and James Milner not just filled the space out wide but actually engaged the player and made them play the ball.
It was hard to find a clear image of this when watching the match back but the picture above shows the principle of this. So in this instance Kyle Walker would have the ball and instead of Emre Can shuttling over and trying to cut out the potential pass to Erik Lamela, he'd harass Walker and try to make him rush the pass. It wasn't just a one man job though and as discussed on the AnfieldIndex Pod there was a total of 32 group pressing actions against Spurs. So in this instance you'd see Lucas coming over, Moreno pushing forward and Coutinho positioning himself to make a nuisance of himself if the ball goes towards either of Dele Alli orToby Alderweireld.
The image above is taken when Liverpool are in possession. You can clearly see Nathanial Clyne and Alberto Moreno are in an advanced position when compared to the centre-backs. Often the case in the first half Liverpool had Mamadou Sakho and Martin Skrtel as a two with Clyne, Lucas and Moreno as a three ahead of them.
It was a nice change when you consider a few weeks ago Liverpool were playing three centre-backs, a defensive midfielder and defensive wing-backs. In this match we saw Liverpool sacrifice the security of a third centre-back and throw in another midfielder.
It was almost as though Liverpool were playing with three spaced out defensive midfielders. This, in a way, meant Spurs had 4 lines of Liverpool defence before actually getting to Martin Skrtel and Sakho.
More often than not we got to see the above image. Coutinho and Emre Can were able to press in field knowing Moreno would keep the width and fill the space out wide. Likewise, Lallana and Milner could do the same knowing Clyne was keeping the width on the right. You rarely saw the Liverpool full-backs getting ahead of play and overlapping in that sense, they were there to support play. We even witnessed Clyne take up the Pablo Zabaleta runs which was an effective ploy for Manchester City when James Milner was playing on the right hand side. When Milner hugged the right touchline, Clyne would drift inside and take up a central position which meant Liverpool weren't a body light even when the likes of Milner and Emre Can went wide.
It may not be much for some people but I like the use of the full-backs in Jurgen Klopp's debut game. They may have not been effective or influential in an attacking sense but their positioning throughout was superb and was a big part of Liverpool being able to press with their entire midfield.