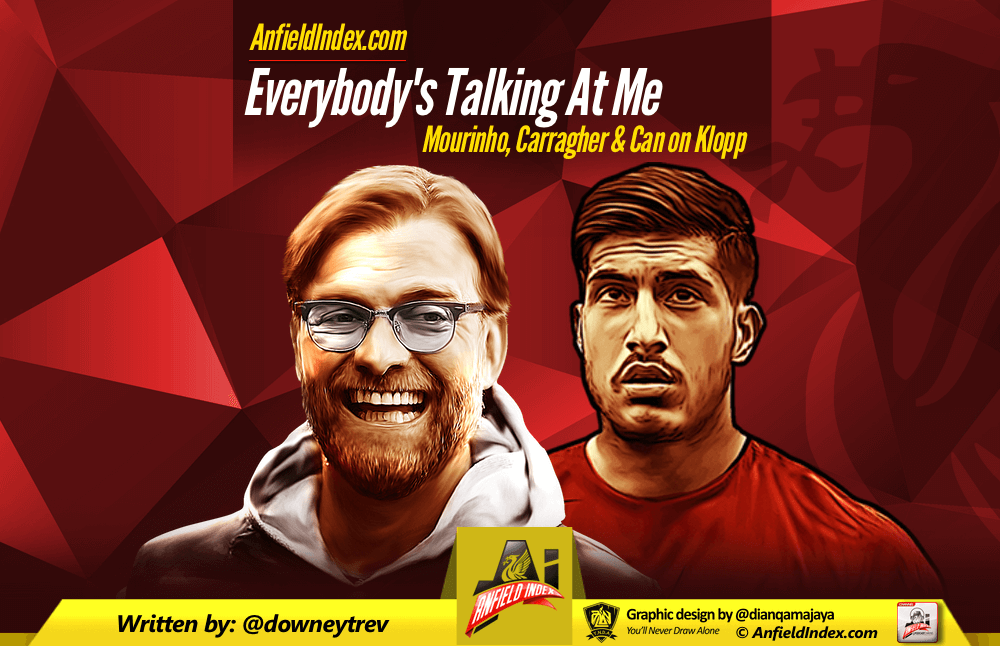 Everybody's Talking At Me - Mourinho, Carragher & Can on Klopp

"Will you always ask the players about the manager? If Lucas thinks I'm an idiot, he's not going to be able to say here! Why are you asking self-answering questions?"

Jürgen Klopp
Relentless overexposure via histrionic media saturation; unreasonably heightened expectations arising from forensic, but premature analysis; crappy lookalikes hanging around in Audis and behind Pep Guardiola and incessant, self-indulgent columns by irksome Irish scribblers — these, gentle reader, are just some of the assorted absurdities with which Jürgen Klopp must cope on a daily basis. It must be truly bewildering for the Black Forest native to witness the demented circus which has been created by his arrival on Merseyside.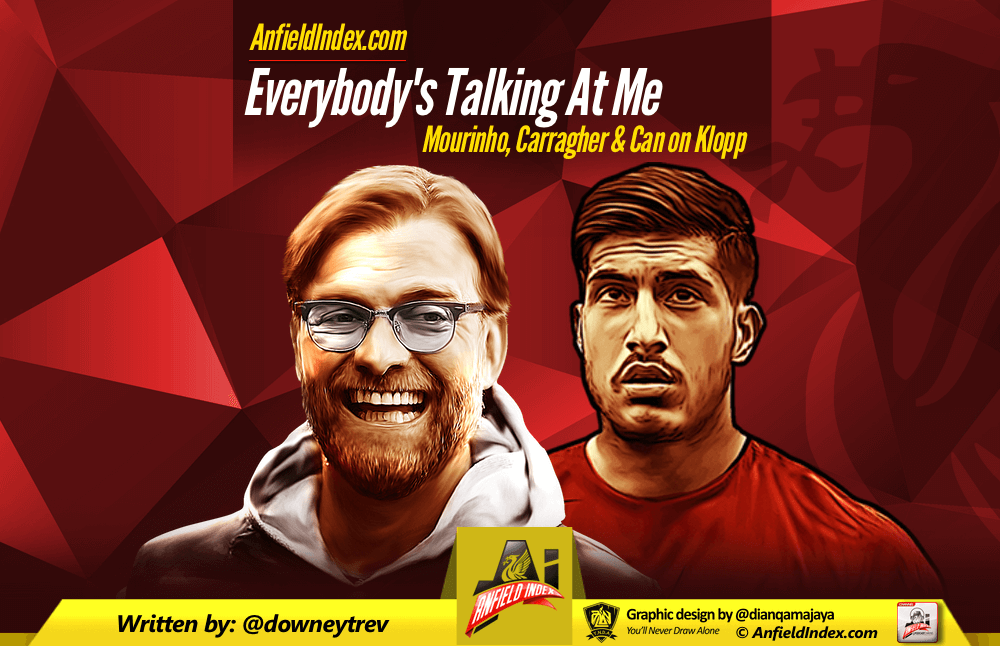 Everyone, you see, has an opinion on the Swabian, and damn it, they're going to articulate it. From the semi-coherent bar-fly in your local boozer to the dour toll-booth attendant who notices your Liverbird keyring and offers his unsolicited tuppence worth, everybody seems to be ready to make definitive pronouncements about Liverpool's new German manager and how his methods will translate. (Accidental Hodgey there. Apologies.)
This penman's personal favourite from the weekend's television coverage was the hilariously bitter carping from the jowly barrel of indignant ire that goes by the moniker, Harry Redknapp. The former Tottenham boss used to present a patented cheeky chappy Uncle 'Arry personality to the cameras, leaning out of car windows and texting Jim White, but nowadays, stung perhaps by a lack of job offers, his sulky demeanour revealed a clear Little Englander begrudgery of bloody foreigners, as he petulantly fielded Klopp-based queries and lamented a lack of opportunities for English coaches.
Thankfully, there are some voices crying out in the wilderness which do warrant our attention on the topic of Herr Klopp, and amongst them, few have more grating insistence than the unmistakable timbre of Jamie Carragher's Scouse vocal cords. Perched on the right hand of footy anchor, Ed Chamberlain, and positioned tactically across the high-tech table from his old sparring partner, Gary Neville, the Champions League winner was one of the few to offer a detailed insight into the immediate impact Liverpool's new manager has had on the side. The former defender declared that he liked what he saw and, with the aid of his Sky-funded magic pen gizmo, he elucidated the changes already apparent in the Redmen's style of play and approach to the game.
"Very rarely do you see a manager stamp his authority on a team from day one, but that's what he did," enthused the Bootle man. "Over the week since he's had the job, we've been reading about what he is like as a manager – pressing, how much distance they are going to cover. Transition pressing was a massive thing for Klopp at Borussia Dortmund and it looks like it's going to be a really big thing for this Liverpool team. One thing Klopp likes is for four or five players to get around the opposition player on the ball. He sees transition as a great opportunity to score a goal. As soon as they lose the ball you can see they will keep pressing until they win it back. They're organised and you can see that has been worked on in the first two or three days in training."
"The distance Liverpool covered, it was like they had an extra man on the pitch in terms of pressing and defending," continued the man some would like to see return to the club in a coaching capacity. "The increase in sprints was the big one. The big thing in football is sports science and how quickly you can get to people and press people with high intensity. This was not a Liverpool team that were under the cosh or had 30 per cent possession, they had more possession than Spurs and they still covered that amount of ground. What I liked was how compact they were at White Hart Lane, 30 to 35 metres from back to front. He played them in the positions they were suited to and still got them to press. The work from those first two to three days on the training ground was clear to see on the pitch."
At this point, things take a slightly meta twist because another notable voice who's been having his say on Liverpool is the celebrated Portuguese preener, Jose Mourinho. In a very downbeat and maudlin interview, during which the sneaky eye-gouger laments being a "lonely guy in this modern world of football," without "many friends" in the game, he insisted that Liverpool's ownership had been unnecessarily cruel towards Brendan Rodgers and that whilst Klopp was a fine coach, it offended his special sensibilities to see players so quickly forget the efforts of a good man. First however, he has a less-than-subtle whinge about Carragher and his ilk, sarcastically lauding their 'bravery' in lambasting his Chelsea side this season.
"Some of the pundits are really brave," he sneered. "To criticise someone with my history, you need to be brave, as there is a risk someone like myself will say, 'Shut up. You've won nothing in your life.' But I won't do that. I just work and hope that the good results are coming. You know, stability for the manager, in general, it's gone. It's gone for everyone, except a couple of special ones."
I know, I know…I heard it too. Remarkable stuff from Mourinho, displaying a lack of awareness and sanctimoniousness almost as gargantuan as his ego, but enough of that. What does the poor downtrodden mite have to say about the situation at Liverpool and the replacement of his old mucker with a man who may potentially be more of a threat?
"You know, I feel sorry that somebody lost his job," Mou offered morosely. "And it is quite sad that football in this moment — even in this country — is happy with it. I'm not speaking about Jürgen, I've a good relationship with him and nothing will change that. I'm speaking about the circumstances that made Brendan Rodgers lose his job. I don't like people being excited that a new manager is coming. I don't like a player to say, "Now, we are going to give extra to prove to the new manager". Give to Brendan! Not to the new manager. I don't like this at all. It's part of my world I don't like. My world is changing so much. It's getting worse."
As a man whose world has also been changing so much of late and also getting worse in many ways, this scribbler had a slight wobble and felt something akin to sympathy reading those heartfelt, pathos-laden words. How sad to see this frail and vulnerable man suffer. No? Well, no, it didn't last for me either. Whatever then, will Sad Jose make of Liverpool's other Teutonic giant, Emre Can, who is one of those players speaking about upping the ante for his new gaffer? In an interview with the official website, Liverpool's absurdly pulchritudinous midfielder, the heir to the aforementioned Carragher's number 23 jersey, spoke effusively about the impact Klopp has had and the rather unique nature of the former Dortmund man's approach.
"He's completely different from other coaches," Can opined. "He is more emotional and he'll put his arm round you. That's the way he is and I don't think anything will change regardless of whether he's in Germany or here in England. I think all coaches have their own way of doing things. I definitely enjoy working with a coach like that. He likes to come onto the pitch in training and show you how you can do something better. He is always keen to help and I find that very positive. I like the way he works and it suits me down to the ground."
During his Wednesday press conference ahead of tonight's Anfield clash with Rubin Kazan, Klopp proved the truth of his compatriot's observations when he hilariously scolded a journalist for asking Lucas Leiva to expound on the manager as a person. His irritation was delightful and, whilst his tone was never the kind of belligerent thing patented by the current incumbent at Old Trafford, this approach was certainly "completely different" to the media friendly era that has just ended at Anfield.
The look on the Brazilian's face as his manager told him he didn't need to answer such a daft query was one of simultaneous amusement and awe. One gets the impression there are a lot of looks like that getting cast the Swabian's way at Melwood. One can easily pick up on Klopp's message. Enough shallow talk of personality, full-throttle football and bloody Gegenpressing. There are matches to play, points to win and a new era to begin. The man is here to work. This is good. This is very good. Time to drop it like it's Klopp.
Drop it like it's Klopp pic.twitter.com/9lXnXYYehx

— JOE.co.uk (@JOE_co_uk) October 17, 2015