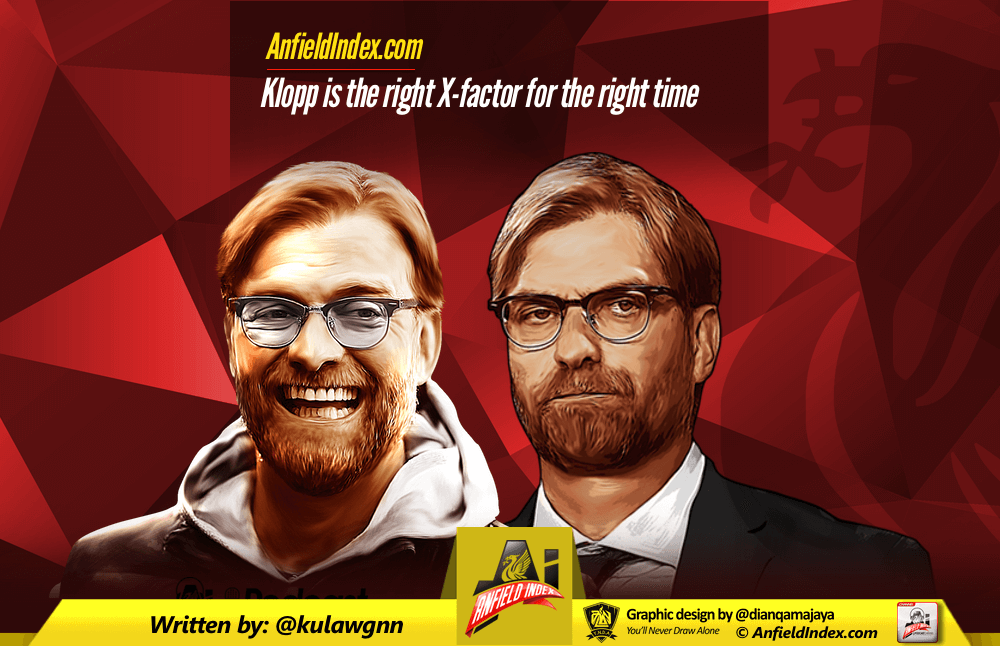 Klopp is the Right X-Factor for the Right Time

Just days ago, when an Arsenal fan mentioned Sanchez, Arsene Wenger or their huge stadium as their x-factor, I would have struggled to respond. I would have suffered a similar fate when a United fan talked about their riches, their experienced and accomplished manager. Or a Chelsea fan brought up their world class manager (Mourinho), world class players and an ambitious owner (Abramovic); or a City fan mentioned Aguero, Yaya Toure and the deep wallets of their owners. But today, my answer is simple: KLOPP!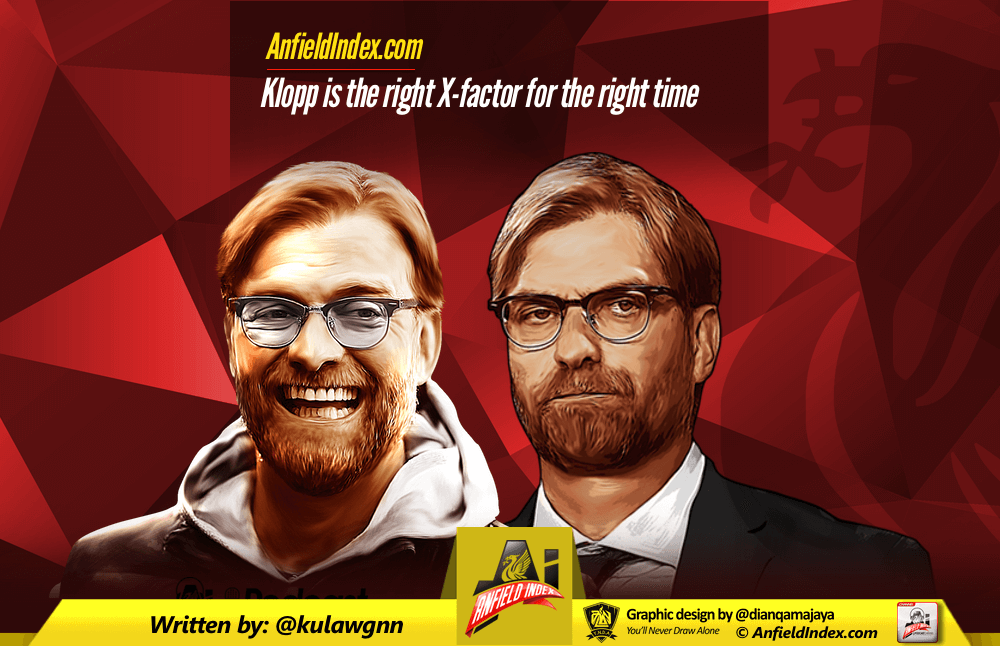 The Oxford Dictionary defines x-factor as "a variable in a given situation that could have the most significant impact on the outcome". X-factors differentiate successful teams from unsuccessful ones; they define and facilitate success.
X-factors therefore can come from world class players, world class managers, huge stadiums that enhance earnings or billions of owners to fund success. Liverpool until Jurgen Klopp's appointment lacked the x-factor in the playing body, managerial position and in terms of the deep pockets of owners. Anfield is also now been brought up to the standard to be a competitive cash cow. One marquee signing may not be enough to sprinkle star dust on this Liverpool squad. Was FSG going to sanction a move for three marquee signings to get x-factors in the playing body? Even if they were prepared to do so, it is doubtful the club can get them in given the lack of Champions League football at Anfield. It was also very possible an x-factor in the form of marquee signings could be blunted by poor tactics and square pegs in round holes as seen under Rodgers. A big stadium hopefully rakes in more funds to bankroll success but the gestation period for that x-factor is a too long.
Of the list of x-factors, the manager and owner's wealth are the fastest catalyst for success. An accomplished manager is a pull for top stars and that combination can set off of a period of success for a club. The role Benitez played in getting Torres, Alonso and co to sign for Liverpool has been well documented. That is what a world class manager brings to the table. The wallet of rich owners can in a blink change the profile of a playing body from ordinary to world class. Just ask Chelsea.
The fan base was fractured and bitter; worn out by slow and ponderous football and poor results. Anfield was losing its special feel during matches. The club seemed mired in a state of flux; one step forward and another or two backwards. In a flash the departure of Rodgers and appointment of Klopp rejuvenated everyone. A manger with panoply of tactical astuteness, track record of winning, charisma and an understanding of the club is simply stuff made in utopia. There were a few people criticizing the club for introducing Klopp merchandise. Give us a break! This is worth celebrating. This is the only world class touch Liverpool has for now and it adds to the brand. So why not? For the first time in a long while Liverpool has grabbed the headlines all for the right reasons. He has barely been in office for few days but already the profile of players been linked to Liverpool in transfer rumours have gone up. They are only rumours. But for heaven's sake it says something! He will be a pull for talents the club has not been associated with in a long while. I remember the excitement the Firmino signing generated among fans in the summer. But the depth of despair meant that re-signing Suarez given the technical direction the club was going may not have generated the excitement Klopp has breezed into Merseyside with.
There have been several attempts by rivals, pundits and journalists to play down the import of Klopp at the Kop. They are telling us all about the English game been different, about the riches of Chelsea and Manchester City that may prove a blockade to his success. They talk about world class players he had at Dortmund he won't have at Merseyside. An appointment that makes your rivals green with envy, fill others with worry (Sir Alex Ferguson), elicit positive comments from football greats like Beckenbauer and Lothar Matthaus and get Germany talking about LFC( according to Manuel Neuer) is not ordinary as some would want to portray it. Not too long ago rivals and pundits were shouting at the roof top about how unreasonable any though of Klopp to Liverpool was. They argued Liverpool was not a feasible proposition for Klopp. Now we have him, we are being accused of fawning over him and treating him like a Messiah. It is just like a case of a friend doubting you're ability to woo a beauty but turns round to tell you your reaction to successfully wooing the lady is over the top. We know and our rivals know this is huge for LFC. It is no panacea but it's a huge step forward; in fact steps forward.
Signing a world class players may have been great; FSG deciding to use City's approaching of splashing the cash may have helped but at this time in point, the x-factor the club needed was just what we have got. The combination of a world class manager, lots of potential world class players, a rejuvenated fan base is just what we all need to move from "doubters to believers" Very excited!