Raheem Sterling had burnt just about every bridge between Liverpool and Manchester when he finally got his £49m transfer in the Summer. It was galling for many Liverpool fans to see a him leave in such disrespectful circumstances: Sterling was our wonderkid, our future football superstar and current Nivea skincare star, who we had trained and given a chance to shine; but, come the first hurdle in his Liverpool career he decides to leave via the most acrimonious means possible.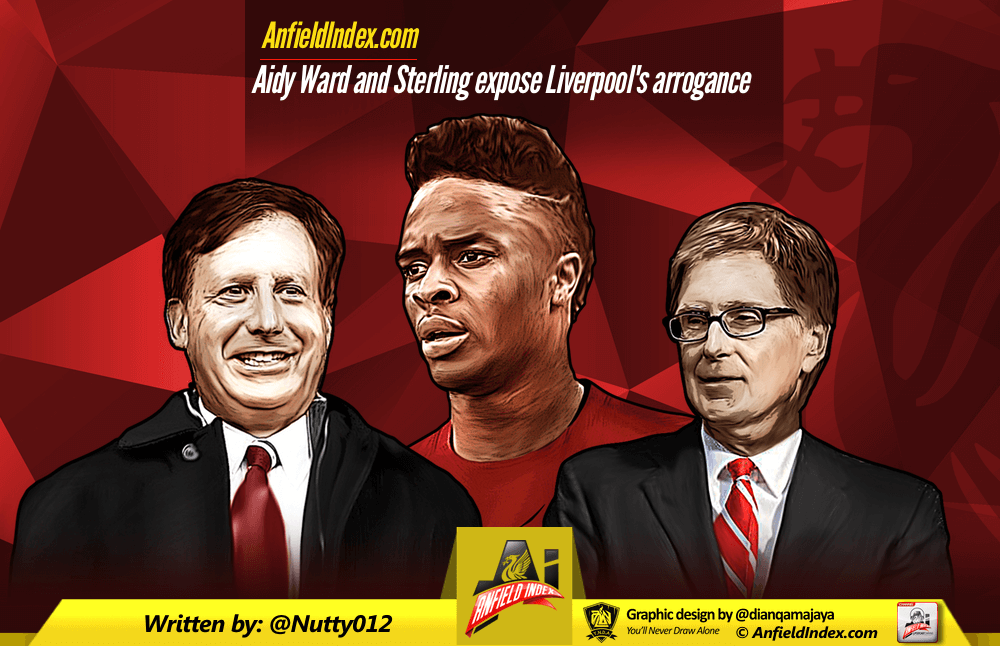 Aidy Ward, Sterling's agent, was often portrayed as the nefarious and scheming mastermind behind a young naïve soul, who himself had no respect for the club that paid his client's (and his own) wages. He is well aware of this reputation, recently saying "I became the bad guy, that's how I was portrayed". In fairness to Ward, he tried to come across well in his recent interview, and repair those broken bridges. He apparently holds no grudge against Liverpool fans, or even Ian Ayre and others in the club, but for many Liverpool fans these are just empty words, too little and far too late.

This is the Aidy Ward who was sacked by Saido Berahino of all people for his role in Sterling's departure. This was the Aidy Ward who claimed that Sterling would not stay even for £500,000 a week. The Aidy Ward who organised an interview mid-season for Sterling to announce his desire to leave. When he hit out at John Aldridge for criticising his player, Aidy Ward's lack of footballing pedigree became evident. How many people in football thought that a 20-year-old (who is impressively versatile) should have a team built around them, particularly when that 20 year old had also been guilty of under-performing during the same season?
How are we supposed to believe the man when there have been so many reasons given for Sterling's departure? How are we supposed to believe his claims that the appointment of Klopp in the summer would have made any difference at all?
As a Liverpool fan I was glad to see the back of Raheem Sterling. He was a great player and it is sad to see one of our own players doing so well for another club but his lack of professionalism was a stark contrast to the majority of our squad. Sterling also demanded to be treated like one of our best players, but for some reason has escaped any of the blame for the team's poor performances. Sterling's decline in form last season compared to our title run was one of the reasons why we did not perform as well. His immaturity became clear when he refused to ever accept responsibility for the team's performances. It was probably better for both parties that Sterling left. He should want to perform because he is employed at Liverpool, regardless of whoever is also employed as a manager.
Having said all this, Sterling's departure still serves as a useful example to the club and fans of how we can sometimes show players a lack of respect; for all Sterling's unprofessional and immature behaviour, we cannot deny his talent. Liverpool managed to lose the European Golden Boy, the best youngster in the whole of Europe, who Brendan Rodgers and the fans had hyped up so much, to a rival club. That situation is very bitter to take and must be considered a failure in and of itself, regardless of circumstances.
In many ways, Sterling's departure was down to the player and the agent. However, Aidy Ward's comments should still be listened to, even if the man himself doesn't deserve our respect. The club refused to insert a buyout clause apparently, a common-practice nowadays. Why is that? Luis Suarez had a buyout clause, so we know the club is not generally averse to the concept in principle.
The club also managed to lose its icon and hero, Steven Gerrard. Again, like Sterling, there are legitimate reasons outside of the club why he left. However, any Liverpool fan should be disappointed to see Steven Gerrard in any circumstance playing football for another club side. Gerrard may have found it difficult to accept the frequency of his starts on the bench, but he still claims that he would have stayed on had we offered him a coaching position alongside a squad role as a player.
Serious questions must be raised about some of the principles behind our negotiations. Raheem Sterling's immense talent was simply not respected by those deciding what his contract should be, just as Steven Gerrard's contributions to the club were not deemed enough to allow him some input into the position he would have wanted at the club. The club was found guilty twice in one season of allowing players to leave who simply should not have left, because we were unable to compromise at all for the players.
The problems of obtuseness, born from arrogance, reared their heads just a year ago, after our failed pursuit of Alexis Sanchez. Arsenal were probably at a similar position as a club, with us having come second, but now needing to replace Suarez with £75m. But, despite our own greater need for the player, and his preference to live in London, it is rumoured that we offered even less than Arsenal did!
Liverpool suffer from an arrogance that simply does not befit the quality of our performances in the last 6 years. We obviously all want players who are keen as beans to play for the club, but we must understand our place in world and English football and respect that most top players will probably want to play at other clubs ahead of ours. We do not have the calibre or profile of player to attract global superstars. We want ambitious players, but we seemingly forget that ambitious players want to win things, and be paid for winning them.
It will take miracles from any Liverpool manager to overcome this hurdle in our transfer and contract dealings. Sterling's departure may have been disrespectful on his behalf, but it was arrogant and stupid on the part of Liverpool. We must make extra effort as a club to acquire the top talent and then keep it, just as Man City did when they were forced to overspend to break into the elite group of English clubs. We are no longer the biggest club in England, and we need to stop acting like it if we are to be the home of world-class players again.