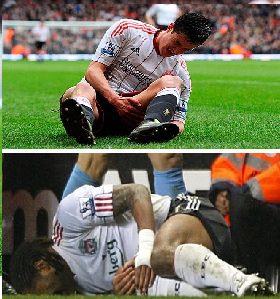 Full Back Comparison: Glen Johnson, Martin Kelly & Glen Johnson

Liverpool's defense has suffered some serious injury blows in the last few days. Daniel Agger has been ruled out for the rest of the season whilst both Glen Johnson and Martin Kelly will miss the majority of it as they're facing another three to four weeks out.
We thought it was a good time to compare our fullbacks but this time with a twist. So in this two part series we're going to compare Glen Johnson with Martin Kelly and… Glen Johnson. Yes, you read that right. We'll be comparing Glen Johnson the left back to see how he's performed in this position since Kenny Dalglish arrived at the club against his performances at right back. Martin Kelly's introductory season in the Premier League which was bolstered by Kenny's arrival.
We've got no main story to tell as the statistics seem straight forward enough. We'll just display the stats and add some context.
In each of the positions we're going to cover the matches played are similar. Glen Johnson has played 14 games at right back and 11 at left back whilst Martin Kelly has played 11 at right back. This was perfect for the comparison as the playing time wasn't too far out for a good comparison.
Tackling
The stats compiled above show that Glen Johnson is pretty consistent when it comes to winning tackles. He's won 70% at right back and 68% at left back. What has changed is the amount of tackles since moving to left back. Glen Johnson was averaging around 3 tackles per game but this has dropped by almost 50% since moving to left back showing that Glen may not be comfortable making challenges from there. Martin Kelly had the best tackle win % with an impressive 76% and also averaged more tackles per game than Glen Johnson. That 76% tackle success is the highest at the club for any player with over ten appearances in defence. Only Martin Skrtel can compete with his average at around 75%. What an excellent start by Martin Kelly this season. He's been bought in to defend at right back and his tackling statistics are backing up that he has great tackling abilities. A big future lies ahead for Martin Kelly, hopefully he can keep himself fit.
The final statistic included in the table above was the "% in Position" stat for interceptions. This may seem confusing but was inserted to add a little more context. This stat shows that the majority of Glen's successful interceptions came at right back. In fact a whopping 74% of his interceptions were from right back, his preferred position, so his reading of the game is hampered a little at left back. Martin Kelly's interception stats were quite low but he's relatively new to the team, his reading of the game will improve once he gets a longer stint in the side. If he get's fit and ready for next season we're sure he'll be a permanent fixture in the team.
Duels
Possession duels, better known as 50-50's, can display a players commitment as they can show how much a player is involved in ground and aerial duels. You'd expect the fullbacks to be involved in plenty of these and they do not disappoint. Glen Johnson averaged 7 duels per game as a right back and 6 as a left back. Kelly had similar stats for 50/50's won per game but his overall win percentage was below Glen Johnson's. It's Martin's first season so even being close to Glen Johnson's stats is an achievement, after all he is England's #2.
Aerial duels were slightly surprising. It's something I haven't noticed much when watching the games. I had no idea that Johnson was winning so many headed duels. He has quite a high percentage at right back but an even better one at left back. As you can see Martin Kelly is attempting way more aerial duels than Glen Johnson however this is expected taking into account Martin Kelly's height.
Liverpool's latest star from the academy will most likely have instructions to mark man for man at corners and set pieces whilst Glen Johnson is more likely to cover a post at corners. There have been times where Glen has been happier to control the ball on his chest or let the ball bounce whereas Martin Kelly is from Jamie Carraghar's school of defending and he'll just get his head on it straight away which is no slight on the player, it's just a preference from the player or their playing style.
Goal Attempts
When it comes to goal attempts Glen Johnson is clearly leading the way, but we'll come back to this. With regards to Martin Kelly's stats, it's a discussion we've already had with quite a few of you on our @AnfieldIndex twitter account. It's clear that Martin needs to add this into his game further. It was a shame that Martin was injured against West Ham as it was in this game he'd finally got his shot on target (note, we do not include blocked shots from long range in shots off and on target statistics, they are only included in the statistics from Opta if the shot is blocked on the goal line or six yard box and looked to be a certain goal).
It's something Martin definitely has to work on because Glen Johnson at right back produced eleven more shots and averaged a shot every 108 minutes. Not bad from a full back. Once Glen was moved to left back he's not had the same success. His shots are definitely more accurate as he is cutting in onto his right foot (43% at left back on target and 33% at right back) however it looks like the move from right back to left back has definitely prompted him to cut back on his attacking abilities. Glen Johnson also has a couple of goals to his name this season, one from either wing, both of which came against his former club West Ham!
Summary so far
Martin Kelly's tackling statistics are the best at the club with a win percentage of 76%. That's a brilliant stat for the youngster. However he needs to start attempting more shots whilst he's at full back. We do recognise that Kelly is a centre back by trade so this is something that will be new to him but since he's now got the right back role he should try to add these skills to his repetoire as they'll only improve him as a player.
Glen Johnson is going to end up having half a season on either side of defence this season. His stats were much more impresive at right back in terms of more tackles attempted and more shots attempted however his tackle win % was only marginally lower at left back and his shot accuracy improved on the left as he was able to cut in on his right foot.
In part II of this article (due up tomorrow) we'll be looking at passing and creativity between the two players, including crossing and chances created as these are important areas from full back. The article will also look at how many successful dribbles each player has completed this season. If you've enjoyed this comparison keep an eye out for the next article on your twitter or facebook account over the weekend!
Please share this article using the buttons below.