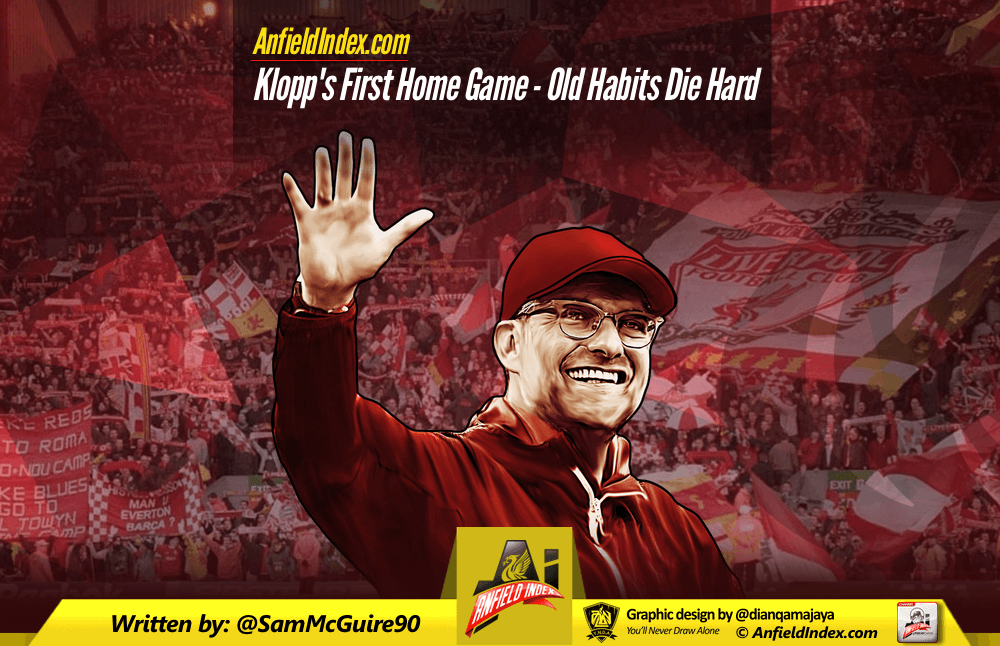 Klopp's first home game - Old habits die hard
 This wasn't heavy metal football, this was more an acoustic set with a beginner. 
We've all experienced it at some point in our lives and if you've not personally then you a family member or friend most certainly has. You're in a car that's been fairly good to you over the years, you stick the key in the ignition and attempt to start it. It turns-over and continues to do so but something is preventing it from starting. You try again and again but you're in no luck. Unfortunately for us the players and the atmosphere aren't as easy to fix as a car.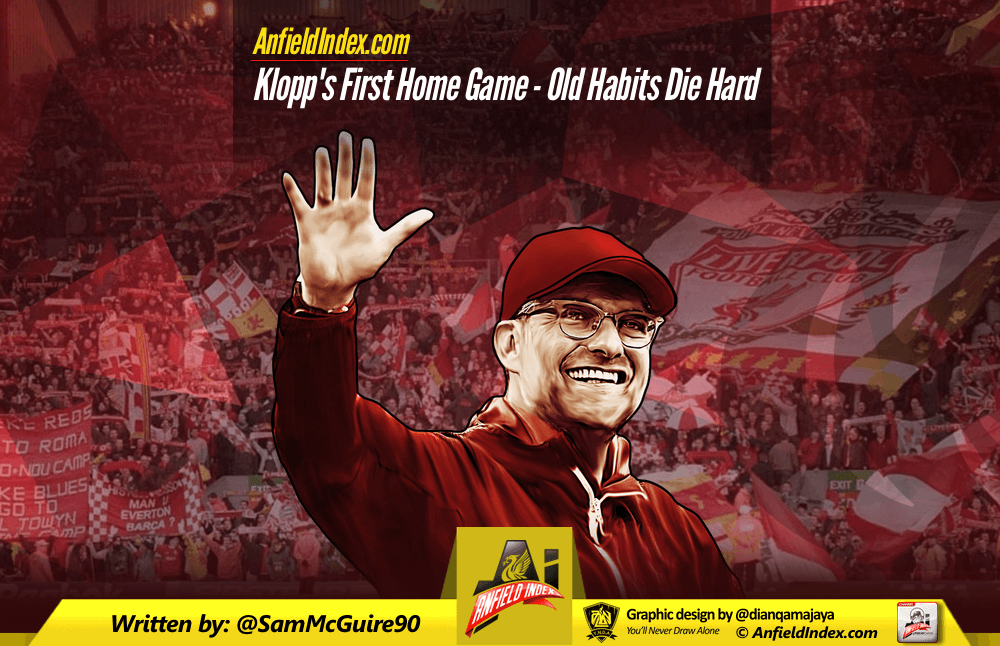 You can't just chuck some oil in the engine and assume it'll be ok. You can't just appoint a new manager and expect the old habits we'd fallen into to just dissipate. In a variety of ways last night the fans and the players mirrored one another. There was a lot of effort and intent on both fronts but a lack of confidence all around had an impact on proceedings.
There was a buzz outside. I wouldn't say it felt like a return to fortress Anfield but there was an air of excitement and expectancy that had been missing for a while. It was a jovial atmosphere. I stumbled across this burger and I thought it'd set the tone for the night. BBQ pulled pork and crunchy coleslaw on a brioche bun. I didn't expect that to be the highlight of the night but unfortunately it was.
The pre-match excitement seemed to dwindle away quicker than any of us could've imagined. The scars from the previous manager still have a psychological impact on the fans. A buoyant Anfield returned to it's default mode as of late; edgy. Nobody turned on the players, there were no boos but there wasn't an inevitable feeling that'd we'd grab the three points. In the pre-match warm up there was a big roar as the players made their way out, then the biggest of the night arrived when Jurgen Klopp set foot on Anfield for the first time as Liverpool manager in a competitive game.
The warm up looked positive with Emre Can, Divock Origi and Philippe Coutinho all scoring a worldie or two from outside the box. Even Alberto Moreno chipped in with a right footed curler from 25 yards, clipped the post on it's way in much to his delight.
Jurgen Klopp spent most of the warm up watching the Rubin Kazan players train. I realise this may sound ridiculous and maybe, definitely, it should be the other way around but last night I wanted to impress our new Kaiser. I wanted to one-up the famous Yellow Wall of Dortmund. I wanted to make him forget about his past and help hit home why he chose to give a redhead a chance.
Ignore the lies Jurgen, blondes don't have more fun.
"You are a very special group of supporters and the atmosphere you create is unique."
– Klopp in his programme notes.
We as fans tried last night. We tried to forget about the past 16 months and we tried to create an atmosphere that would push the team on and intimidate the opposition. The Luis Garcia song got an airing, Gerrard's song was sang in the second half as well as the usual suspects in terms of songs. Much like the players last night the fans tried but ultimately couldn't deliver what so many had hoped for. A memorable night. There were glimpses of what could be. A united Anfield chanting Sakho's name just felt right and he seemed to revel in the love for him.
The players, likewise. A week of training with a new manager isn't enough to change everything that had gone before it. Glimpses of what could be with the intricate passes in and around the area. Emre Can bossing the midfied. Mamadou Sakho owning the left hand side of the pitch. The fact we hemmed Rubin Kazan in for practically an entire half. The fella next to me remarked how this was a refreshing change, to 'be turning the screw' on the opposition. Despite all the positives though how many times did we work the Rubin 'keeper? How many times did we really look like scoring?
On paper having 30 plus shots yet drawing 1-1 is a bad habit to get into yet it's happening. Martin Skrtel dropping deeper and nullifying a good defensive line that the other three had kept is a bad habit. The fact we don't have a player capable of taking a corner.
You can take positives from those though and that's what I'll  be doing personally. The fact these 30 plus shots weren't just long distance shots due to lack of ideas. Many may have been from distance but it was after Liverpool had retained the ball and worked the opportunity. You didn't see Martin Skrtel blazing a shot over from 40 yards. The defence isn't perfect but the fact the other three kept a perfect defensive line means maybe the defence isn't as poor as it looked in the past, maybe all it needs is Skrtel to be replaced?
It's like when you've had a traumatic life experience, you won't be the same after a week or two. It takes time. It could be week, it could be months but you need patience and a positive from all this is it looks like the fans are prepared to give Jurgen and his boys that patience. No harsh judgements. Rome wasn't built in a day.