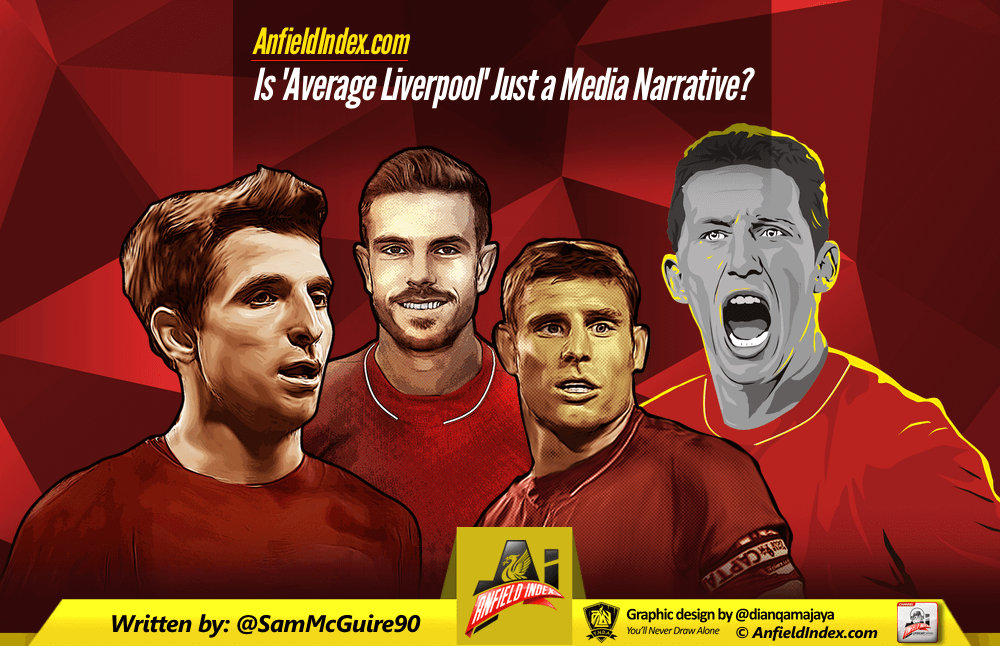 Is 'Average Liverpool' Just a Media Narrative?
Even before Jurgen Klopp took over as Liverpool manager the English media had been pushing the idea that this Liverpool side is average. The same media were the ones praising the signings of James Milner and Christian Benteke saying they'd take the Reds up another level. So how can a team finish 6th last season, make signings that supposedly improve the side but on the whole become worse?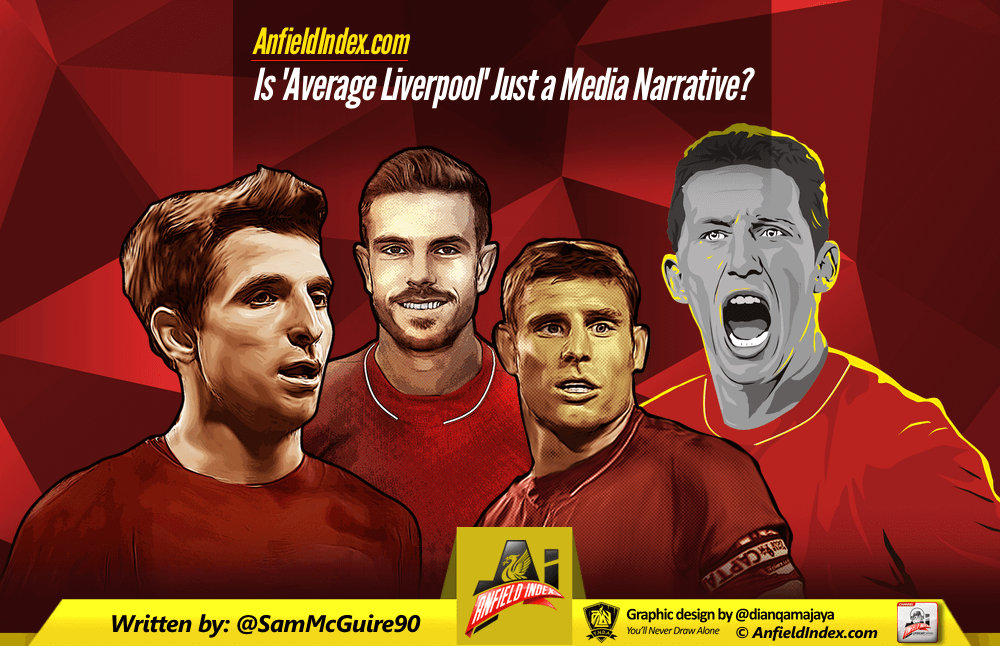 I don't give much credence to what the likes of Harry Redknapp has to say so when he piped up to say this current side is 'bang average' and the worst he'd seen in years I laughed it off but it seems others have taken that opinion on in the quest to sell newspapers and generate clicks.

Liverpool have Jurgen Klopp at the helm, he's the type of manager to push his players and instead of getting 100% out of them he'd get that little bit extra that can transform your season from okay to brilliant. Immediately that puts Liverpool at an advantage by having one of the best man managers in world football.
Then you look at the squad and break it down into components. How many Liverpool players get into the squads of last season's top four? Nathanial Clyne, Mamadou Sakho, Philippe Coutinho, Roberto Firmino, Daniel Sturridge, Emre Can and even Christian Benteke. That's seven Liverpool first team players that would get into the squads of our rivals. Obviously that's my opinion and it's up for debate but it's easy to argue those players getting into match day squads for our rivals. How many other sides outside of the top four could boast about that? Peculiar how a bang average side has so many decent players isn't it?
On paper Liverpool's attacking threat is second only to Manchester City in terms of excitement and potential. Arsenal get an honourable mention because when it clicks for them they're a joy to watch, what with the mercurial talents of Mesut Ozil and Alexis Sanchez. I do however think their strikers let them down. Again I'd like to reiterate the fact this is purely my own opinion but for me the likes of Firmino, Benteke and Sturridge are superior to Theo Walcott and Oliver Giroud. It's safe to say, on paper, Liverpool have a top four attacking unit.
In midfield is where Liverpool let themselves down. The likes of Joe Allen, Jordan Henderson, James Milner and Lucas may all be decent players but they fall short when you look at our rivals. A top four midfield offers the defence protection and adds goals to the team and unfortunately for us our midfield does neither. You look at the likes of Chelsea and see Matic shielding the defence with Fabregas pulling the strings and Oscar scoring goals. Likewise, Manchester City have Fernandinho in the middle doing his thing with Yaya Toure changing the game from midfield and the likes of Kevin De Bruyne and David Silva chipping in with goals. Manchester United now have Morgan Schniederlin aiding their defence, Bastian Schweinstiger or Michael Carrick setting the tempo with Ander Herrera having that enviable knack of scoring big goals from midfield. The imbalance in the Arsenal midfield has been addressed to some extent with the introduction of Francis Coquelin. He does the dirty work so the likes of Aaron Ramsey and Santi Cazorla can contribute in the final third.
Then looking at the back four it's not so outlandish to make an argument for the fact Liverpool have 3/4 of a decent enough defence, for the Premier League standard at least. Nathanial Clyne, Alberto Moreno and Mamadou Sakho have all shown just how solid enough they can be in Jurgen Klopp's opening two games. You don't have to be the best individually, it's as a collective that matters and it's only really Martin Skrtel that's failed to impress lately. You shouldn't judge defences on a one to one bases but as a unit. The Arsenal unit may take a few thumpings in a season but generally they're solid enough to see them into the top four places. Chelsea are usually so tight defensively they squeak when they walk but something has gone amiss this season so far, I'm fairly confident they'll recover though. Likewise, Manchester City don't concede many in the league and I expect this to carry on as they look for their third Premier League crown. I do however have question marks over the Manchester United defence. It can be breached but I don't see how it's any better than what Liverpool can offer.
Goalkeepers can singlehandedly win you games. Thibaut Cortouis, David De Gea and Petr Cech are all elite 'keepers capable of changing a game. Then on the tier below this you have Joe Hart and probably Simon Mignolet. They're both good shot stoppers but they're lacking consistency and other aspects of their game to put them amongst the Premier League's best.
You can't look at all of that and say Liverpool are that far off the top four squad wise. Of course football isn't played on paper but many are forgetting just how poorly the Reds were set-up at the beginning of the season. Players being misused meaning they're not playing to their full capabilities which in turn means Liverpool aren't at their best.
It's naive to call us average and it's premature to write us off.
You then have to factor in that we've missed our captain since the second game of the season. Daniel Sturridge has been injured for all but two matches. Christian Benteke needed time to bed in but picked up a knock, as did Roberto Firmino. We're being judged whilst playing our fifth choice striker.
I'm sure if City lost Aguero, Toure, De Bruyne and Silva they'd look pretty ordinary. Chelsea do look pretty average when Costa isn't leading their line, take Fabregas and Hazard away and it'd be interesting to see. Had Arsenal missed the likes of Ozil, Sanchez, Giroud and Ramsey I'm sure they'd be far from effective.
The Liverpool side is filled with talent and potential. They've got a manager capable of unlocking this talent. It's a genuinely scary prospect and the media don't seem to want to acknowledge this.