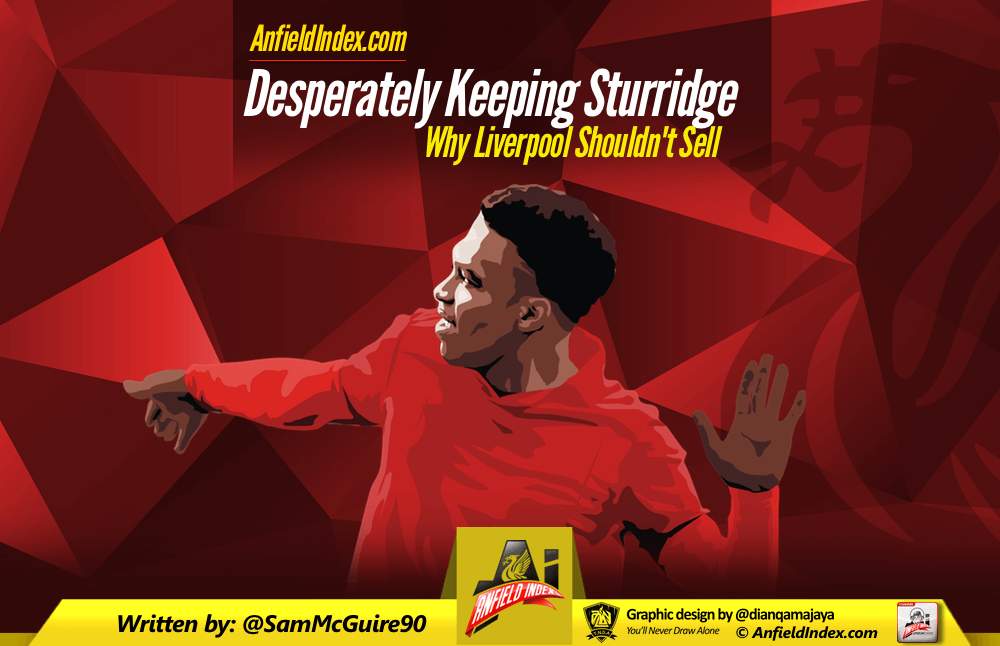 Desperately Keeping Sturridge - Why Liverpool Shouldn't Sell
Daniel Sturridge is a bit of an enigma. Potentially world class but rarely available. The main man when he plays but that's not much use when you've missed more games than you've started for the previous 18 months. His quality is unquestionable. His reliability is undesirable.
This is a recurring debate. Should Liverpool keep Daniel Sturridge or should they cut their losses and look to replace him? Mass hysteria follows any news of a Sturridge injury and if you check Twitter you wouldn't know he was out with swelling around his knee and potentially back playing next week, you'd think he was ruled out for the season. The over-the-top reactions, the ridiculous question marks over his mentality and the laughable comparisons to Luis Suarez.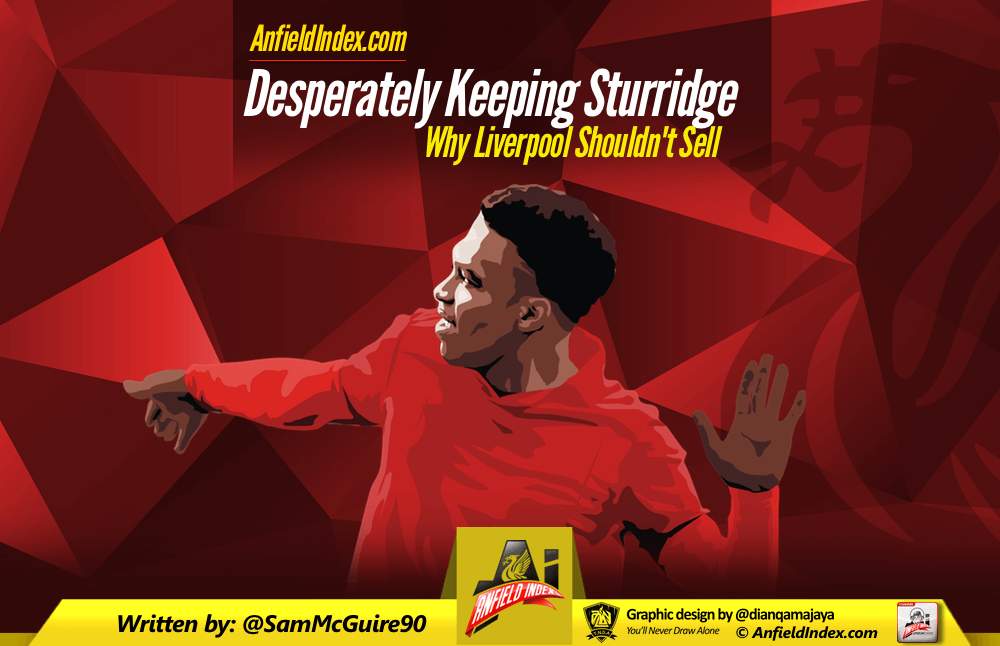 Let me address the claims he's mentally weak. There have been reports this week in the media that the club hoped Sturridge would play, implying they think he's able to play but it's the player himself not fancying it. I'm not debating the qualifications of the medical staff at the club but I think we all know that we know our bodies better than anybody? Stats, numbers and tests may all indicate you're fit enough to play, not to your full ability, but if you feel something isn't right would you risk it?
Could you not argue it's sensible of the player to miss games in the short term but be available permanently in the long term? There's no reasons to suggest otherwise, after all the injury that plagued him last season was supposedly fixed in America. The broken man shouldn't be broken anymore. You can't account for a clash of knees in training, you can't ignore his history but you can't beat him over the head with it whenever he picks up the odd knock.
Then the comparisons to Luis Suarez. He may have played when he was only 75% at times but his style is completely different to Sturridge's. Not to mention no two players are alike and furthermore, Suarez doesn't have the history record that Sturridge has. Two players can get identical injuries yet one recovers a month earlier, does that make the other player mentally weak for dragging out an injury?  I'm not a psychologist or a sports scientist. It's also interesting to add Luis Suarez has missed 34 league games in 5 seasons due to suspensions.
I wouldn't sell Sturridge because as things stand Liverpool aren't in a position to sell a player of his calibre. It's as simple as that.
We may now have Jurgen Klopp as our manager but we aren't a Champions League club and we aren't famed for paying massive wages. Two decisive factors for the players we'd likely be targeting if we were to replace Sturridge with a player of his ilk because make no mistake about it, when he's fit Daniel Sturridge is the second best striker in the Premier League behind only Sergio Aguero.
Whilst we're on the subject of Sergio Aguero, Manchester City persist with their injury prone striker. The prolific Argentine has missed a total of 34 league games since making the Etihad his home in 2011. In the 2013/14 season when City pipped us to the title and scored an impressive 102 goals they did it with Sergio Aguero only appearing a total of 23 times that season. City built a strikeforce capable of doing a job even if Aguero wasn't available. The likes of Edin Dzeko, Alvaro Negredo, Stevan Jovetic and Wilifred Bony have all been tasked with filling the Aguero sized void from time to time.
Manchester City realised their talented striker needed adequate replacements because it'd be highly unlikely he'd play an entire season.
It seemed to me as though Liverpool realised the same thing this summer and bought a striker to play alongside and instead of Sturridge in the likes of Christian Benteke, Roberto Firmino, Divock Origi and Danny Ings. Over £70 million spent and we as fans are still hoping the ground opens up and swallows us whenever Sturridge picks up a cold. That to me shows just how important Sturridge is. £70 plus million spent and he's still needed, on paper, to make us tick. It's not as simple as buying goals either, you need the style to suit the identity of the team. Myself, I'm not so sure how Benteke fills the Sturridge void when they're completely different players.
If you have an elite player, which Sturridge is when you look at his goalscoring record for the Reds, you persist with him. He's scored 42 goals in 68 which is roughly 0.6 goals per 90 minutes. It's an elite record.
Arjen Robben has only managed to appear in 124 league games for Bayern out of the 204 he's been at the club for. He's missed almost three season's worth of games. When he plays though he always delivers and it's much like Daniel Sturridge in that sense. A club as rich and powerful as Bayern weren't naive enough to sell a player of that ability due to a poor injury record.
Likewise, the original and real Ronaldo. During his five full seasons at Inter Milan he managed 68 appearances. That means he was fit for the equivalent of less than two seasons in terms of games played.  That didn't stop Real Madrid playing 46 million euros for him. During his time with the Spanish giants the Brazilian hitman missed 32 league games, almost an entire season. He was only there four full seasons.
The teams these players turned out for set up an environment for these players to flourish when fit. There wasn't a dependency on them as such. If we're being honest there shouldn't be a dependency on Sturridge when you look at the money spent on alternatives. We should have other players capable of getting the best out of Coutinho on our books already, that's the key.
Potential  and realistic replacements
Are there really any?
People on Twitter are saying they'd sell Sturridge for as little as £20 million, which in today's market is next to nothing. You then have others saying they'd not sell for less than £50 million because of his frightening ability. Why would any team pay that much for an injury prone striker? It's never happening. You can't have it both ways, he can't be injury prone but not be sold for less than £40 million.
There are very few in world football with the potential to be on Sturridge's level, and that's what we'd be looking at once again, potential. The likes of Domenico Berardi of Sassuolo and Kevin Volland both have quality. Both are left footed, both can score goals, both have great movement and both do a lot of work off of the ball which is necessary in a Jurgen Klopp system. Like I've said many times before, there's no guarantee that goals are transferable. It's all theoretical and it's all a risk.
I wouldn't sell Daniel Sturridge, not yet. I'd have bought better in the summer, somebody identical to him in terms of style so it's not a dramatic change when he isn't available. Keeping him doesn't damage his resale value, we're always going to make a profit on him as Premier League clubs are always after players that guarantee goals and Daniel Sturridge is one of the very few players that can.