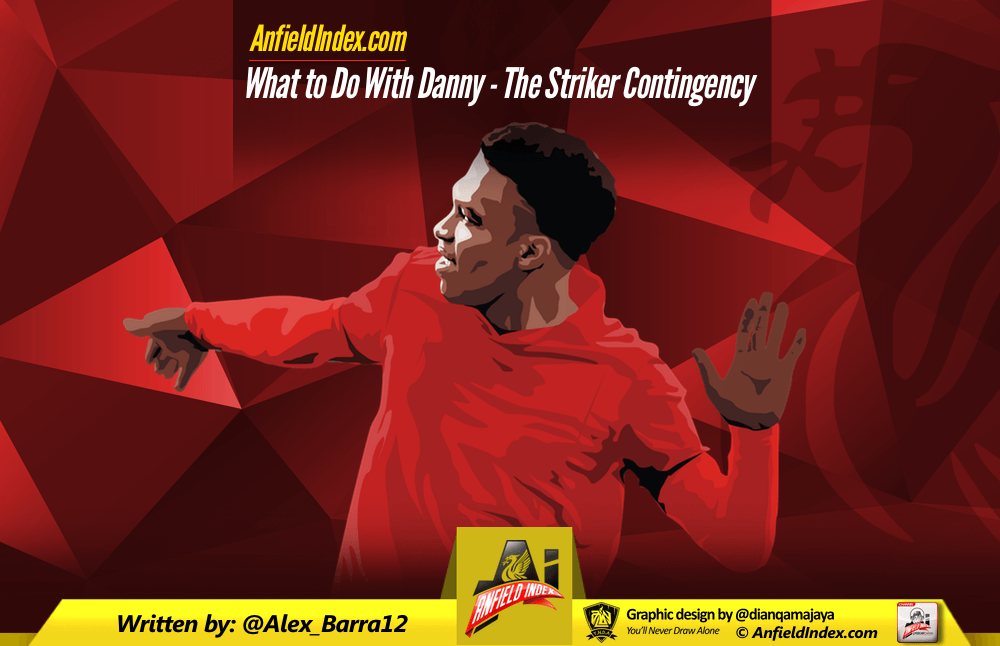 What to Do With Danny - The Striker Contingency

Sturridge: 42 goals in 68 games.
It's a phenomenal record that outranks some of the most prolific and proficient strikers to ever spearhead a Liverpool attack.
However, 73 games in which Daniel Sturridge was sat, frustratingly, on the sidelines, not simply due to one key weakness in his frame either. Suffering from two ankle injuries, one knee injury, one hip injury (admittedly a misdiagnosis prolonging his time on the sidelines), two hamstring injuries and a groin injury, Sturridge is not a dependable striker, he's not someone a manager can build a team around, just ask Brendan Rodgers.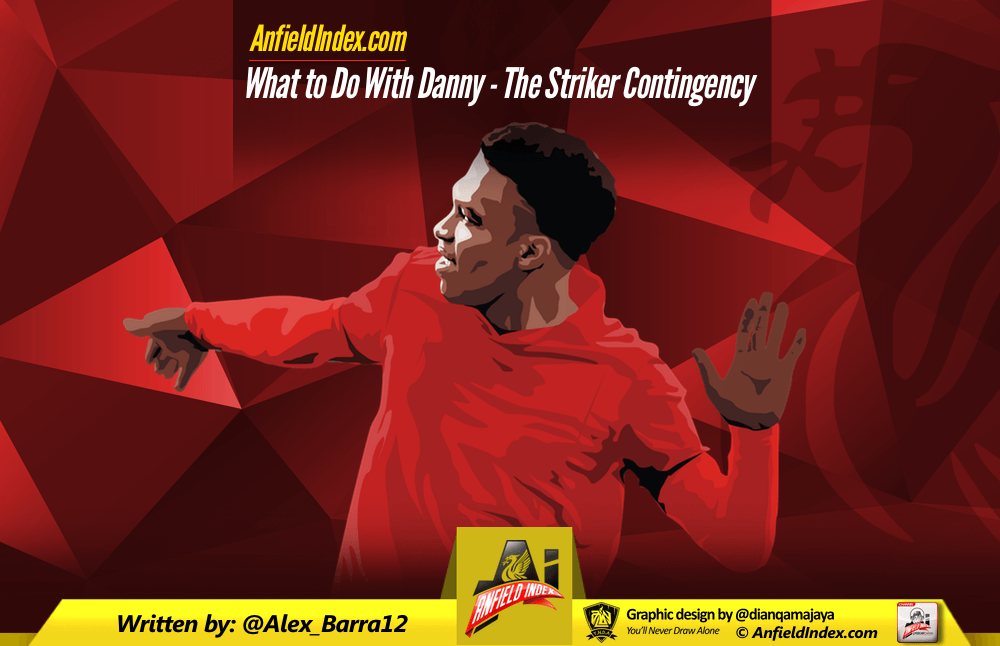 So what do we do with our frustratingly incredibly talisman?
Firstly, let it be known that this writer does not believe selling Daniel Sturridge for anything less than he's worth; at least £35 million even with his persistent injury plague. However, conditions must change, things must be considered, and Daniel Sturridge's importance to a team which desperately requires consistency must be addressed and rectified.
The facts have been stated, as has recent history: injuries happen, the knock to his knee which has seen him miss games against Spurs, Rubin Kazan and most likely Southampton was sustained by a challenge with Jordon Ibe. But it must also be stated that the fragility of a striker's frame means he can be conditioned to injuries such as this: a lack of steel in certain body parts, in layman's terms.
The key factor is not his injury record, however. It's Sturridge's role, importance, and dependability in Jurgen Klopp's Liverpool team.
A spine of Mamadou Sakho, Jordan Henderson and Daniel Sturridge, with a medical team seemingly questionable regarding maintaining the fitness of their star players, is, with the best will in the world, not reassuring. Missing key players became a key instigator of Borussia Dortmund's slump in Jurgen Klopp's last season in charge, granted it was an extremity.
Can Klopp afford to rely on someone whose reliability hovers at the 50% mark?
Especially when that someone is already an immense gamble when fit.
Most people believe goalscorers score goals no matter the system; a flawed belief in itself. There's no guarantee Daniel Sturridge would fit in at Barcelona or Bayern Munich, despite possessing a goalscoring record capable of that. For Sturridge, he has to fit into a system and philosophy that doesn't suit him; he's going to be forced to work for the benefit of the team and if he can't do that he won't play.
It's a role that Divock Origi has burgeoned into in his first two games under the new Ulsterman. He pressed, worked hard, and Klopp spoke of it in his press conferences. Robert Lewandowski possessed a similar trait, working for the good of the team: and when combined with the in-box presence currently used as a hallmark for "the prototypical striker", he reaped rewards.
It won't be a case of Sturridge being played when he's fit. In the same way that Christian Benteke's price tag makes no guarantees he'll be in Jurgen Klopp's plans following the impending summer transfer window. It's this writer's belief that we'll cut our losses and look to ship him off for the pure purpose that he isn't a Jurgen Klopp striker and would require a tremendous amount of work to become one.
Benteke doesn't press, isn't mobile, and whilst he possesses little finishing skills, is often swept up and left behind in blistering overloads and link-up play between attacking midfielders; a trademark of Jurgen Klopp sides. While many believe in Benteke's similar stature to Lewandowski, the reality is that Benteke represents a project that needs to be developed and fine-tuned; one which won't be given attention should Daniel Sturridge be the key figure in the side.
And yet, we can't possibly be forced into a dependency on Daniel Sturridge if we want our team to function at its best.
It may not be the popular opinion, but a bid worthy of Sturridge's goalscoring record should be considered, at the very least. It's a possibility that needs to be entertained, in the world of the hypothetical.
In the land of reality, however, we have Daniel Sturridge missing yet another important game, and excuses being made amongst the fanbase to counteract that.
Injuries curtailed Jurgen Klopp in his final season in charge of Dortmund, they can't be allowed to hinder him again. The best thing needs to be done for the team, and in this writer's mind, that is to create a side not dependent on Sturridge, but merely enhanced by his tremendous goalscoring record.
The elucidation of the matter comes through a vibrant, young, Klopp attacker. One who completes the attack and embodies Klopp's desire for a quick, dynamic player who's capable in the pass and in front of goal. The immediate name that springs to mind is Domenico Berardi, of Sassuolo, a mercurial Italian marksman who's been tearing up the Serie A going on two seasons now.
Berardi encompasses the ideology Klopp is striving towards. Last season Berardi averaged 1.7 tackles per game. For a striker that number is immense, though he is versatile, playing on the right side too.
Kevin Volland, equally adept at playing both on the right side of an attack and as the central key figure, would be a similarly inspired addition. Reuniting with his old defence-ruining partner in crime in Roberto Firmino would be a thing of beauty, and his energy and willingness to put in the hard yards fits Klopp's system to a tee.
Both can play up front, both can also be accommodated into the side in the midfield three with Coutinho and Firmino, the latter of whom combined with his partner in crime at Hoffenheim to score a whopping 27 goals in 2013/14: numbers that beat Daniel Sturridge's form in that same season; when he put 21 goals in the net in 29 games.
There are other names too, the likes of Mauro Icardi and Luciano Vietto are previously touted names, ones who would take some prying away from their respective clubs but ones that would fit the prospective Jurgen Klopp side moreso than Sturridge is projected to.
Of course, it could be all smoke and no fire. Sturridge could recover from the knee injury, receive proper care from the medical staff and blitz the league, pressing maniacally under the newfound guidance of his new boss.
But we shouldn't need to rely on that possibility.
Daniel Sturridge is a risk. He's also a phenomenal player, one who's goalscoring record is only replicated by Sergio Aguero in the Premier League, another injury prone striker in himself. But in Kevin De Bruyne, Manchester City found their contingency plan, the man who would bang in the goals when Aguero wasn't present.
Liverpool need that player. Liverpool need their contingency.