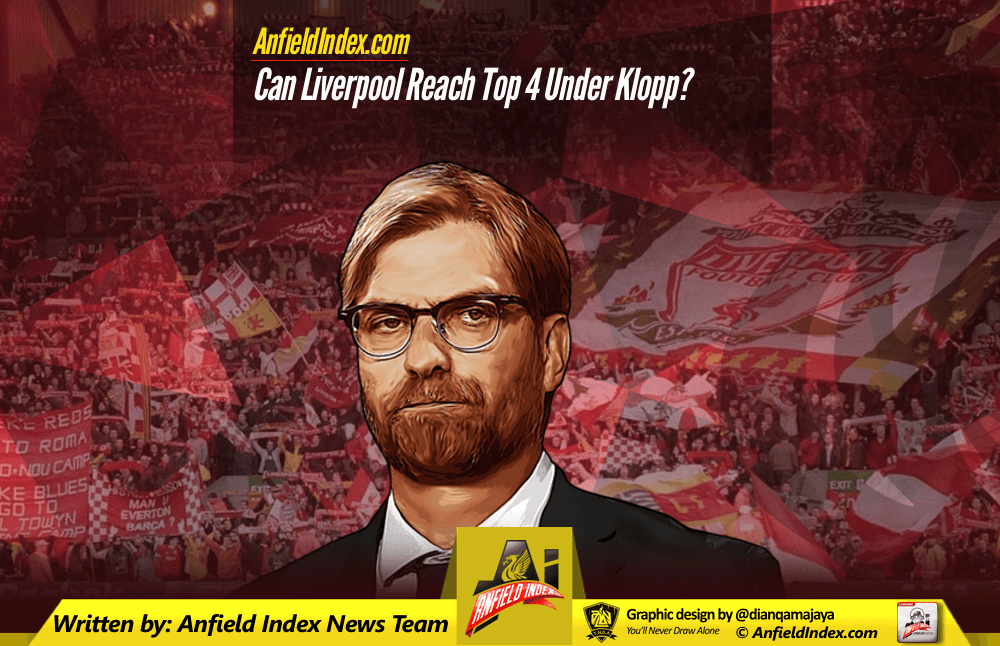 Can Liverpool Reach Top 4 Under Klopp?

Unless you have been living under a rock in recent months, you are aware that Jurgen Klopp is the new manager of Liverpool. While there's no doubt that Klopp's appointment has galvanized the Liverpool fan base and is sure to bring drastic changes, will it be enough for the team to reach the top 4?
No matter what you thought of Brendan Rodger's time as Liverpool's trainer, you must admit that towards the end, there was a feeling of staleness. But, with Liverpool's acquisition of Klopp, a new dawn is on the horizon and everyone can feel it.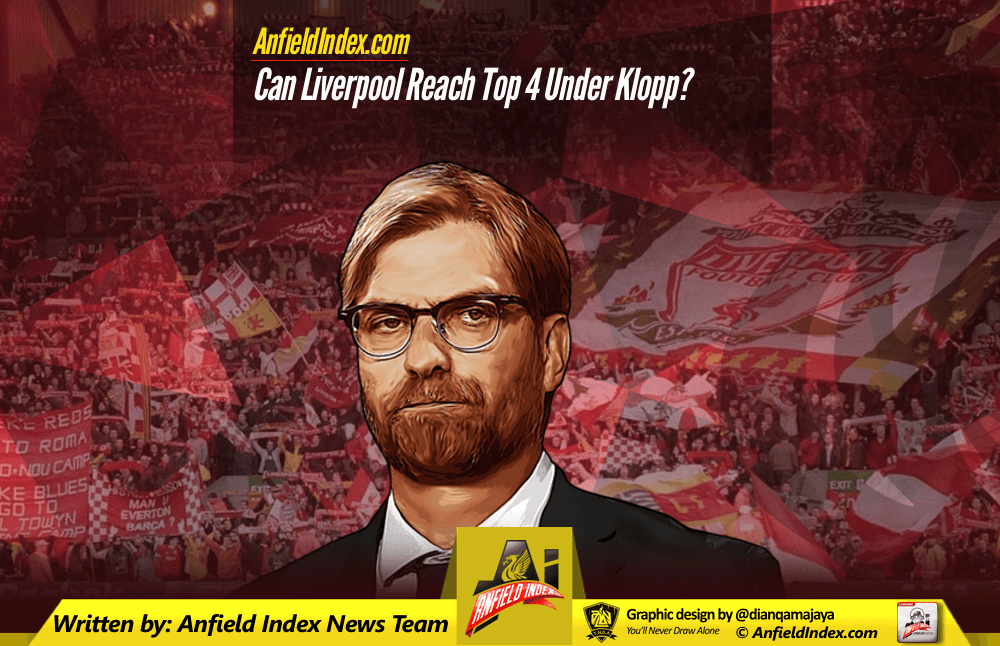 Klopp's potent charisma and his unparallelled expertise have catapulted him onto the upper echelon of managers in this game. Since he has taken over the training of the team, Klopp has been true to form and is handling the transition masterfully.
He recently spoke about the challenges ahead, peppered with his optimistic attitude and infectious personality, and his plans for the future of the Liverpool team. But, this doesn't mean that he has blinders on, he understands that everything isn't all roses and rainbows. He also recognizes that the team isn't too far gone. In other words, it's possible to bring them back from the brink of failure and achieve success.
It will not be easy to overcome the challenges ahead, especially when you consider all of the obstacles that stand in Klopp's way. A manager in the English Premier League must have a particular skillset that few have and it's going to take a significant amount of resources to finish in the top four. This is a feat that is easier said than done. While the League isn't the best, in terms of quality, but the level of competition is unsurpassed. Klopp will have to pit his wits against some of the best and most experienced managers in the league.
For this, and other reasons, Liverpool will not finish in the top four this season, but this doesn't mean that they are down for the count. This is contrary to the belief of many critics, who seem to take delight in Liverpool's failings. They seem to have forgotten that Liverpool is an elite club with a rich history and a worldwide fan base. Plus, with all of the missteps that the team has made (bad signings, lack of visionaries, etc.) they've still managed to make it to the Champion League finales twice in the past decade. And aside from never quite attaining that title, Liverpool has had a decent of success in the past 20 years or so.
While Klopp's appointment doesn't increase Liverpool's level of relevance, what it does is show that the club still has the ability to attract top-notch talent. This fact, in itself, is very encouraging and many fans hope that Klopp will l be the catalyst needed to create some lasting change for the team of underdogs. For more in the UK, go here.
One thing's for sure, Klopp will be put under scrutiny the likes which he has never experienced and he will be held to a high standard while everyone waits on bated breath to see what will happen next. This is good news because, if the club wasn't relevant, journalists and the like wouldn't try to convince their audience of Liverpool's inferiority. Clubs that lack promise are not subject to such scrutiny.
Hopefully Klopp recognizes the truth of the situation and doesn't crack under the pressure. But, he will be have to be mindful of the media, which are quite skilled at building people up and knocking them down. If you would like to place bets on his odds of success or failure, check out Grizzly Gambling Online.