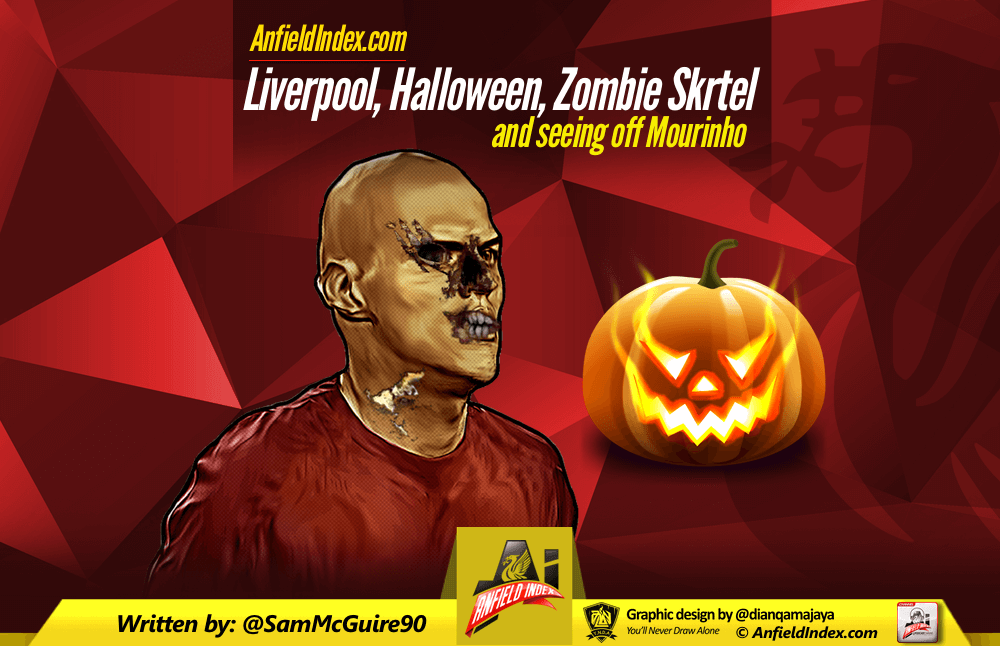 Liverpool, Halloween, Zombie Skrtel and seeing off Mourinho

It's that time of the year again. The time as a kid where you stick your hand into a bin bag marked 'Zombie Brains' and hope it's jelly sweets and not a mash up of frog spawn and boiled eggs. Liverpool's performances over the past 11 seasons on, or just after, Halloween have been similar to that. Everyone starts off in the hope of a victory; let's call it a Haribo cola bottle, but it's not always the case, sometimes you end up with a loss, a liquorice allsorts. Leaves a bad aftertaste and ruins a good evening.
We're three games in to the Jurgen Klopp reign at Liverpool and the mood amongst the fans is one that resembles a child knocking on a door on October 31st, saying trick or treat and being asked to do a trick. It's not what was expected. I'd describe it as a bag of Rowntree's Randoms. There's been a few positives and negatives but overall it's underwhelming.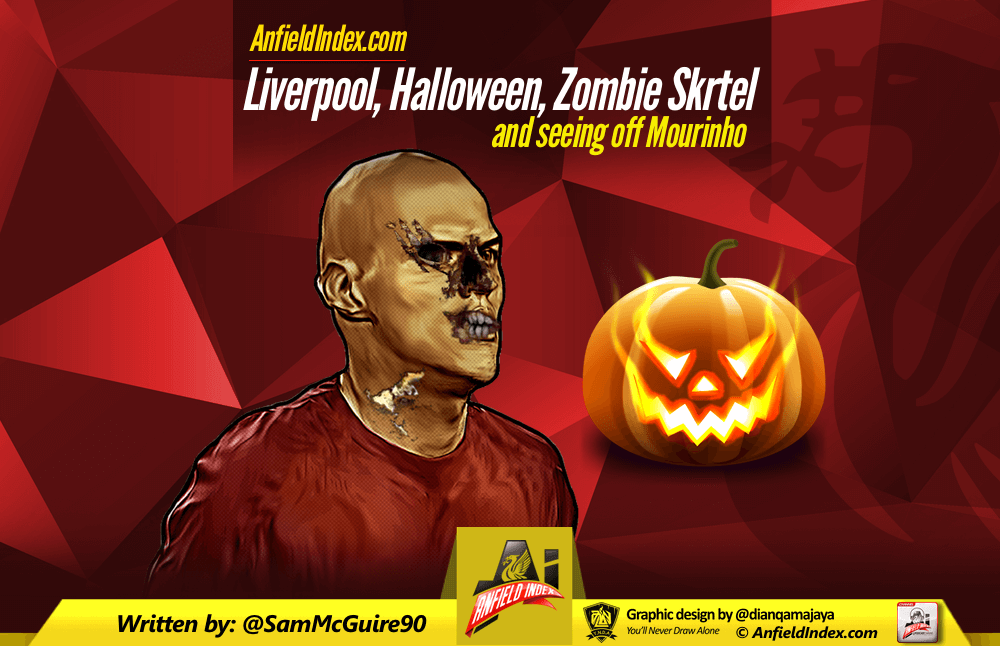 Did the appointment of Klopp give The Reds false hope of turning their stalling season around? Are we now only realising the size of the task at hand? In the German's opening press conference he spoke about turning the doubters into believers and many, myself included, were under his spell immediately. It was an illusion though. Nobody expected instant results but did many of us fully realise the mental state of our squad? It's fragile. It's going to take a lot of work from Klopp to restore some confidence to this team and all eyes are going to be on the match this Saturday.
Unfortunately in the eyes of some, the game on Saturday falls on Halloween. During the Halloween period Liverpool have had 5 wins, 5 losses and a solitary 2-2 draw coming against Blackburn in 2004. Throughout these games Liverpool have lost to Spurs, Fulham, Swansea, Newcastle and Arsenal, three of those losses being away from home which may play a part. Who could forget the horror movie that was Fulham defeating a 9 man Liverpool side on its knees? Or the mighty Newcastle getting a 1-0 win last season in a dire match. It really has been a case of Halloween being a frightful time of the year for Liverpool fans, if you scale the results down from the last 10 to the last 6 Halloween games you'll see 5 losses.
It's something that predates Brendan Rodgers. Liverpool just don't seem to perform around Halloween. Will Jurgen Klopp buck the trend or will he fall like many managers before him to the Halloween curse?
The upcoming Halloween match is against Chelsea at Stamford Bridge. It's a bit like a graveyard there for The Reds with results being scarce. However, a loss to Liverpool may be the final nail in the Jose Mourinho coffin. Quite the incentive. If Liverpool do take the lead this Saturday I want them to take notes from practically every single slasher movie ever made and remember 1 is never enough. Continue the onslaught because you know there's always a chance of them coming back. Something the Scream movies taught me. 
"Where there is no imagination, there is no horror."

Sir Arthur Conan Doyle.
Whisper this but I can imagine a win. It's looking likely we'll see Benteke and Firmino restored to the starting XI and with Chelsea leaking goals this can only be an advantage for Liverpool. Don't be afraid to picture a victory.
My fear of walking away from Stamford Bridge with three points is Martin Skrtel.
The erratic Slovakian has been tinkering on the brink of self destruction in Klopp's first three games, almost undoing all the defensive hard work. If Martin was a Halloween costume he would be a Zombie Burlesque dancer. Hear me out with this, I know I'm not giving zombies enough credit for their movement, after all they've lasted 6 seasons on The Walking Dead and they seem to have walked across the length of the America. I doubt Martin could do that.
Slow, sluggish and not particularly reactive, three things a zombie and Skrtel have in common. Why the Burlesque aspect of the costume? Well burlesque dancers don't* get naked, they tease you and imply you may see more than you've bargained for. Try not to imagine Skrtel with nipple tassels on, though. Anyhow, with his style of play he's effectively a tease. He teases the referee on set pieces into maybe awarding a penalty. He has the look that implies you're getting a real defender when in reality it's just a very realistic looking costume.
(*I can't be 100%, I'm basing my findings off TV shows)
'Oh look at me; I'm man handling the opposition. Yep, I've got a good handful of his shirt here. He can't win a header against me, not with me dry humping his leg. I can't believe I'm still first choice here, I wonder what the world record is for longest con?'
(Again, I can't be positive, but I'd imagine this is what goes through Martin Skrtel's head during set pieces)
To summarise, Ref = Man at Burlesque club, Skrtel = Dancer, Nipple = shirt pulling. Skrtel + Nipple = Interested Ref, but if the opposing player (Nipple tassel) doesn't go down then you can't be sure if it was a figment of your imagination or you did just get an eyeful.
On a side note, whilst we're on about Halloween costumes, how good would Jordan Henderson would be as Patrick Bateman, you know the main character from American Psycho. Impeccable hair but a little bit crazy. The passion he has for the club, and  for winning, is scary. Surely it can't just be me that's watched that movie and thought of Jordan Henderson running around naked with an axe?
I could also envisage James Milner as a Scooby Doo villain, you know the kind that chases those meddling kids through infinite amount of doors without actually getting anywhere?
Back to the point at hand, can Liverpool deliver a treat this Halloween for their fans, and give their new manager his first league victory or are we going to see another corpse like showing on what feels like a jinxed period?