If you're a Liverpool fan and unfamiliar with Jürgen Klopp and you took the twitter narratives as gospel, then it's fair to suggest you are under the false illusion that Klopp will win us the league and by the end of the season we'll be playing in Dortmund yellow circa 2010 because we're definitely signing the likes of Reus, Hummels, Gündogan and Lewandowski in January. The fume has evolved into delusion.
After the announcement of Jurgen Klopp as manager of Liverpool FC I can assure you there was no one more delighted than I. Not only because of his impressive CV or the great things he achieved at Dortmund, rather I was more bowled over by the relationship he had with the Dortmund fans, the mutual love and admiration that was so visible even to this Liverpool fan. I would be lying if I said I wasn't slightly envious, their relationship made me reminisce about the Rafa era. So the fact that he came to Liverpool over any other club gives me hope that there are a few old hopeless romantics left within the game and finally we have a manager that we can take to our hearts and have full belief in his brand of football.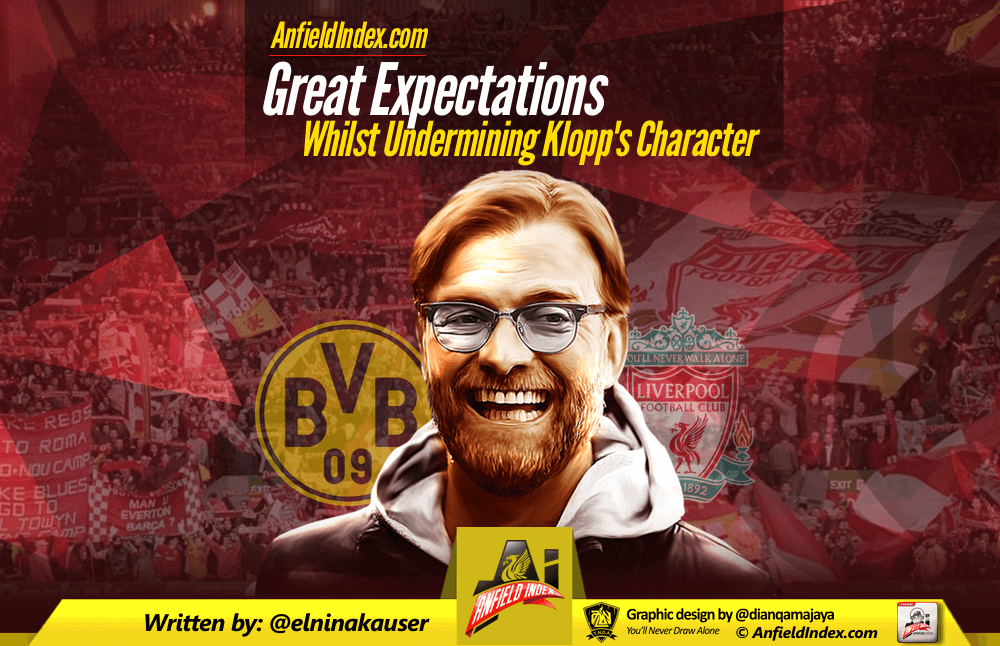 The good times could return under Klopp but I fully know that he has a large task at hand and needs to be given time to stamp his mark on the squad. I wasn't under the false pretence we would hammer teams 6-0. His philosophy and pressing style of football will require time. One of the first things Jürgen Klopp stated when he arrived at Liverpool was that he is not Jesus and he can't perform miracles overnight like changing water to wine. Well, a portion of the supporters expect him to turn urine into wine and I'm not slating the players here, it's just an overall observation that includes even the fan base. It's all a shambles. He's got a job on his hands like making the players believe in themselves, not letting their heads drop like they did against Southampton. Press every single time, something that we didn't do at all last season, to make our players more cut throat in the final 3rd because again their decision making has been poor all season and finally getting that legendary atmosphere back at Anfield which will return once the Reds get back to winning ways.
I reiterate that this won't happen overnight and I remain patient and witness the work and progress he's making with the players he has at his disposal. The players seem to believe in Klopp and even the likes of Lucas are flourishing under their new manager. The three draws under Klopp don't worry me so much either, sure it would be great if we'd won all three but I'm a realist and like I stated earlier, Klopp needs time and whilst some people have called me out on Twitter for being disappointed when Rodgers drew a game there's a slight difference. Brendan Rodgers had over three years and spent the best part of £300m on transfers.  Jurgen Klopp has had three games! Perspective required! Also, digging up old tweets to get one over is the Twitter equivalent of being followed home, Rodgers has gone, move on! Jurgen Klopp is our new gaffer, and he is doing a great job with the players that have been left behind by the previous regime.
Like most Liverpool fans I am very excited about the prospect of having a marketable manager who is able attract high quality players to Anfield. I'm more intrigued about what position he will look to strengthen first. The one scenario I don't expect to happen is him raiding Dortmund of their finest. So when I see the likes of Hummels, Gündogan and Reus being casually thrown around on twitter, I do chuckle to myself not because I don't rate those players, of course I do, they are quality players but can you honestly see Klopp unsettling those players? Can you envisage him sticking the knife into his previous club and twisting it? He's been loved by both Mainz and Dortmund supporters so do you feel he's capable of screwing them over? Sure the counter argument, by those who think him capable of this act, is that he took Subotic when he made the move from Mainz to Dortmund so why wouldn't he do the same here? Well, Mainz were in the second division and they probably needed the cash and the transaction went smoothly, no glitches. I can't contemplate the same happening if we tried to disarm Dortmund of their best assets. If contracts are coming to a natural end and players have expressed a wish to make a move then of course that's a different story. He built a special squad there and I genuinely can't see him destroying his legacy after all he is a football romantic.
For any Liverpool fan the preference should be that Klopp builds a new legacy and team at Liverpool, something we could call our own and not worry about the inevitable time in the future when Klopp leaves that he's taking our best players with him. After-all karma is a bitch and what goes around comes around.