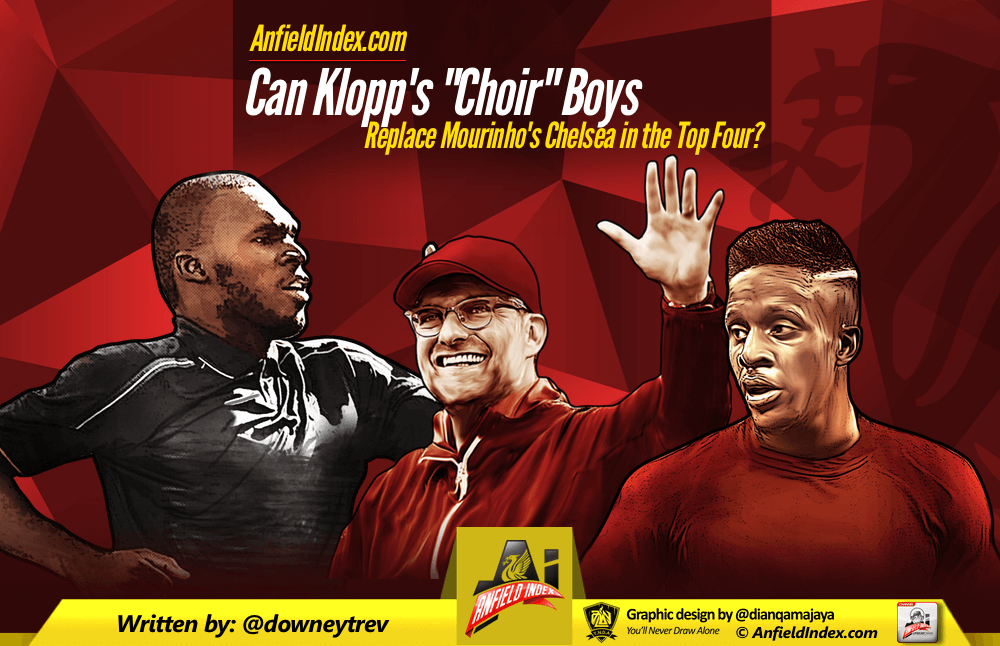 Can Klopp's "Choir" Boys Replace Mourinho's Chelsea in the Top Four?
Perception is a wonderfully subjective thing. You, dear reader, delightfully urbane aesthete that you are, may consider the ideal evening to consist of a few glasses of Pinot noir and a poetry reading from a celebrated bard, whereas you, equally treasured reader, might prefer a night of sticking sharp objects in your sensitive regions to faffing about with wine and earnest versifying. After all, there appears to be a cache of strong lager in the fridge and you've just bought the new Call of Duty. The point is, our various takes on what represents quality and acceptability can vary as wildly as the array of expressions on Jürgen Klopp's face within any given sixty second period.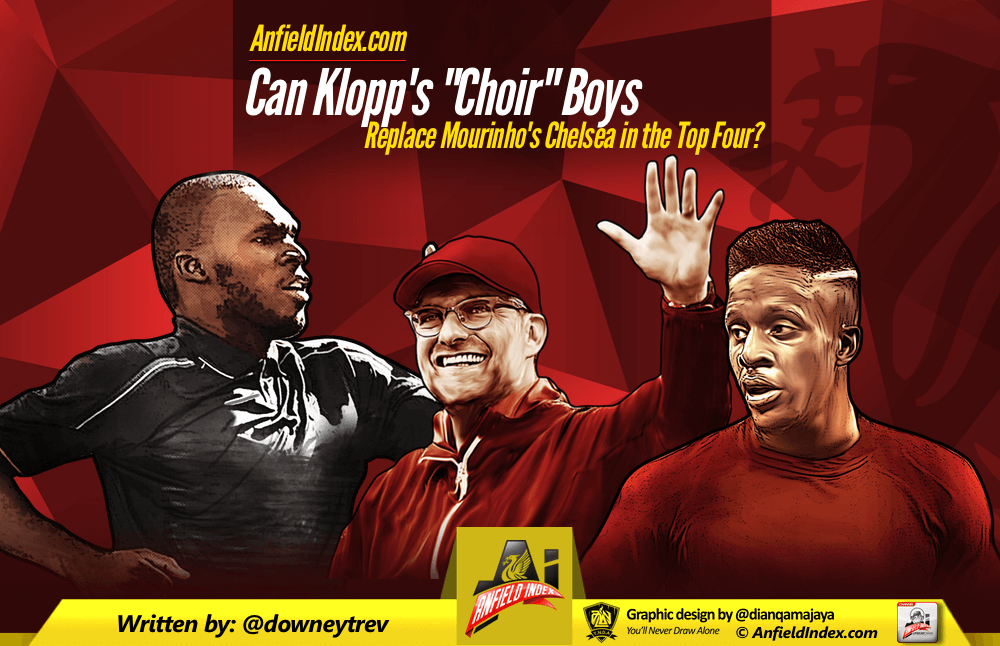 Liverpool's halting start under their new Swabian gaffer has left some impatient souls already griping and kvetching about lack of progress whilst others are basking in a world of post-Rodgersian ecstasy in which things like results and performances matter not a jot. As ever, the truth is somewhere in between. Liverpool, under Klopp, have shown some encouraging signs, they are unbeaten and they have only conceded two goals in three games whilst looking far more defensively stable.
However, all but the most one-eyed Kloppites can also see that the players will take time to adjust to the new manager's methods and whilst some have stepped-up their performance levels immensely, others have not, at least not as yet. The upshot, for the majority of even-handed observers, has been a general impression of renewed impetus which has been hobbled a little by the lack of a win and yet enhanced by a kind of abstract joy at observing a genuinely world class manager begin his term in Anfield office. Pepjin Lijnders, Liverpool's Einstein-quoting and highly-rated Dutch coach is working closely with the new man and his take on events, in particular the most recent draw with Southampton, is likely to be as cogent as you will read.
"[It's] disappointing in the sense that Jürgen came in with a clear idea of how we wants to play and you see in the sessions and the games that it starts evolving, that the team starts developing to a common idea," opined the former PSV and Porto man. "Then you see that they are implementing the ideas, that they are trying to become more efficient and working together in a certain way. And then you get the goal! It's in the perfect moment, close to the end, and you think that finally Anfield [will see a win].
"The way the stadium reacted it felt like a relief of course because we know that we have drawn a lot of games, we know that we are the team who always brought the ball more into the opposition half, that we were the team who were playing, the team who could control the game. So then it's disappointing that you get a goal against and especially from a cross coming in or a set-piece – that would probably be the only way for them to score in the last 15 minutes. That's disappointing, everybody feels that, and that's a good thing by the way because it shows that we feel and know that we are good and the better team."
I don't know about anyone else reading these observations, but this scribbler was nodding along at the calm logic of the Dutchman's assessment. Yes, the results are not what Liverpool fans would have wanted, but equally there is ample evidence that the situation will change. In fact, Klopp's Liverpool are about to be presented with a unique opportunity to kick-start the Black Forest man's reign when they travel to Stamford Bridge for Saturday's clash with a Chelsea side on an unprecedented run of poor form led by a manager who appears to be on one of his self destructive down-spirals.
José Mourinho is first and foremost a truly remarkable manager. In terms of success, he is the nonpareil. This season, for the first time since his career truly took off with Porto, the self-regarding Portuguese coach is faced with something of a crisis. Five defeats in ten matches is a win-ratio that even Tim Sherwood would sneer at and speculation has been rife that Mourinho may follow Brendan Rodgers and the aforementioned gilet-fancier in the parade of misery that is the Premier League's annual sack race.
Only an idiot would question the ability of modern football's most medal-laden manager to turn the Pensioners' form around and rescue the season, but Mourinho himself has been so out of sorts, so choleric and melancholic in his pronouncements, that it has made the talk of his exit seem less fanciful. His demeanour is unfamiliar and seems to betray a level of disillusionment that might imply he is ready to move once more. After all, his belligerent stance has begun to embrace defiant stares towards his employer, a man not noted for his patience. Remarkably, one British red-top today ran the caption "Where's wally?" under a picture of the double Champions League winner standing forlornly amongst West Ham fans as they celebrated their team's winner. Is the worm turning once more for José? And might that open up a spot for Liverpool to eventually elbow their way into a top four berth this season?
In order for such a pleasing eventuality to materialise, Klopp's Redmen must discover their scoring touch and address what stand-in captain James Milner calls the "mental problem" that might develop if he and his teammates do not stop shipping equalisers. He was, however, buoyed by the impact of Christian Benteke, whose stunning header was assisted by Milner himself.
"That's something [conceding goals] that we have to address and make sure it doesn't become a mental problem," Liverpool's hard-running midfielder insisted. "It is frustrating. It was a disappointing way to draw. We didn't have too many chances after they scored and that was another disappointment. We didn't react and, mentally, we didn't have that reaction to go again after they scored. To get Christian back is great. The strikers we have at the club offer different things, they're a good mix, and there will be a lot of changes to the way we play."
Milner is not the only one in tune with Klopp's approach to the game. Nathaniel Clyne also spoke tellingly about how the manager has asked his players to become "mentally strong machines" and on the opposite flank, Alberto Moreno has been the ebullient embodiment of that same attitude. It  is noteworthy that both have been excellent over the last three games and, on Sunday, both made the type of rousing recovery tackles that can lift a stadium almost as much as a goal. Similarly, Emre Can has looked a man transformed in the new set-up. Alas, Divock Origi has not been an instant success, and with Philippe Coutinho off-form, Benteke and Roberto Firmino only on the way back and Daniel Sturridge still made of wet paper, goals have been very hard to come by.
Jamie Carragher, after initial enthusiasm, seemed excessively harsh when he derisively referred to Klopp's boys as more "church choir" than "heavy metal football," lambasting the lack of width, poor chance creation, the lack of "aggression" and what he called the "boring" build-up play. The Bootle man has clearly decided that Jürgen Norbert's honeymoon period will be brief. Luckily, the man himself is unfazed. For a fellow whose rapid mood changes combined with his imposing physicality must be marvellously unnerving to be around, he is simply espousing that we all "calm this down," noting, not unreasonably, that "not all things will work from the start."
A win against Chelsea would be the perfect way for Liverpool's new era to announce itself emphatically. A certain sullen Iberian may have something to say about that.