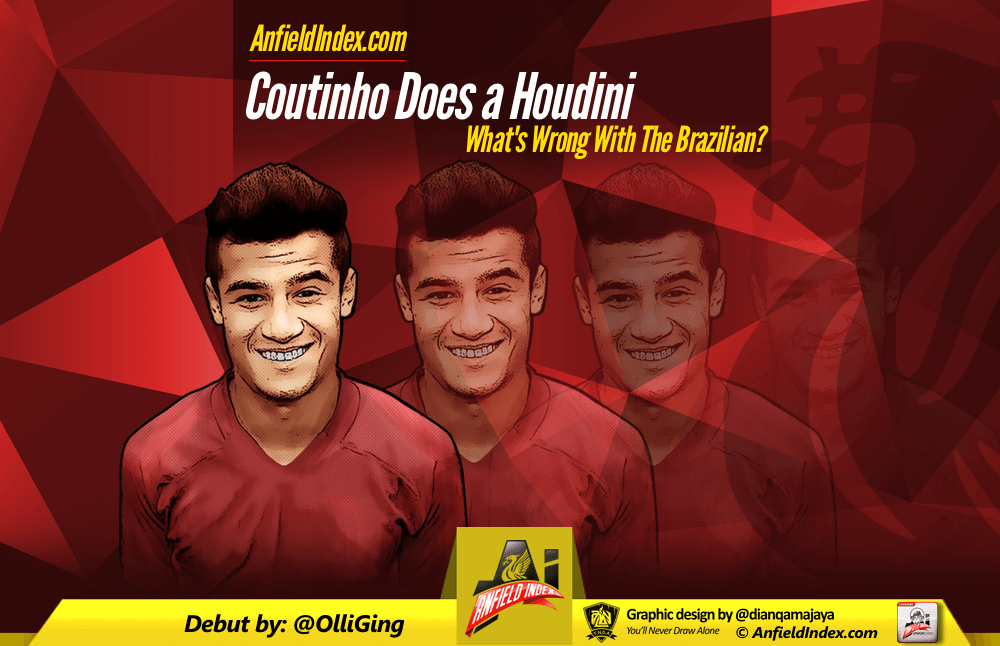 Coutinho Does a Houdini - What's Wrong With The Brazilian?
During the latter years of his time at Liverpool, Steven Gerrard famously nicknamed Philippe Coutinho as 'the magician'. If that is the case, and the Brazilian does indeed have special powers, it may explain why he's gone missing so far this season.
Alas, he hasn't quite disappeared. His cheesy grin, flamboyant step overs and flair for long range shooting still remain, but what's lost is the form that saw him crowned as Liverpool's Player of the Year back in May.
Now, I've started rather negatively. And I'm trying not to, as I, much like many of you, am a big fan of Coutinho. However, when you're getting less praise than the opinion splitting Adam Lallana, something's not quite right.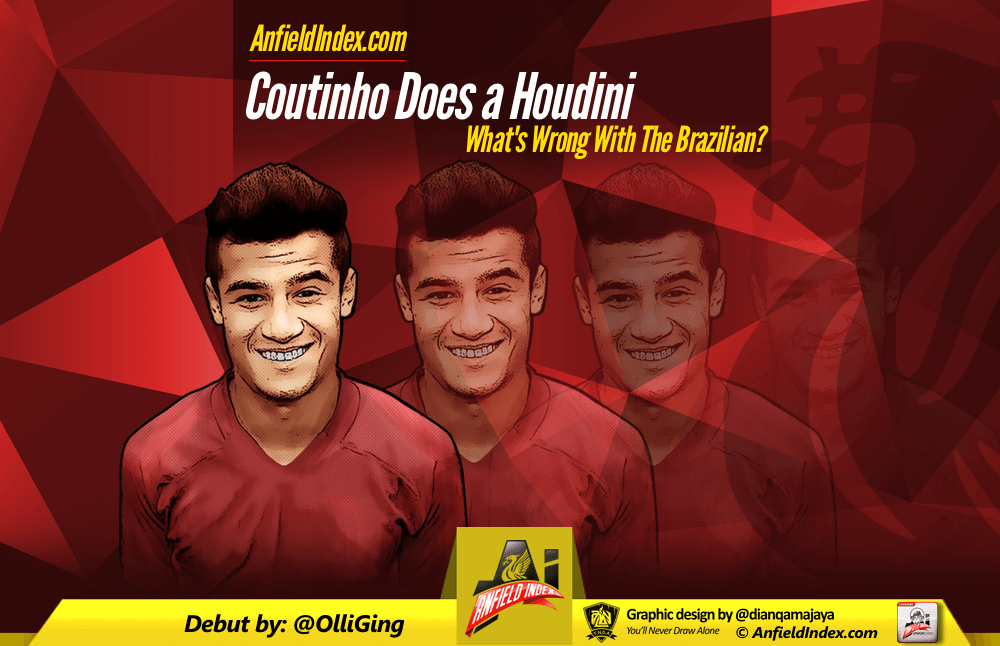 Looking at the bare facts, Coutinho has scored one goal and provided two assists in nine league games so far this season. The goal being his memorable strike to secure a late 1-0 win at Stoke City, whilst both assists came in the 3-2 win over Aston Villa.
Those simple statistics don't make for great reading, however when compared to Liverpool's season so far, they're not surprising. Therein lies the problem, the Reds aren't performing particularly well, and with Coutinho struggling for form and Daniel Sturridge injured, their star players can't help pull them out of it.
Sturridge's absence may go a long way to explaining Coutinho's sudden drop in performance levels, due to the sparkling relationship the pair hold on the pitch.
Evidence of their on field relationship is there for all to see. When the pair were first starting out for Liverpool, in the second half of 2012-13, Coutinho's excellent form saw him register seven assists after signing in January. Three of those were for Sturridge.
In the unforgettable 2013-14 season, Coutinho had eight assists in the league, again three of those being for Sturridge. Last season, Sturridge's injury woes prevented them from linking up so well, with Coutinho attempting to take on the goalscoring mantle for Liverpool. He still managed six assists though, one for Sturridge.
As previously mentioned, this season he's got two assists, and one of those was for Sturridge, who scored a brace on his return to the side against Villa. Adding this all together, and you find out that 8 of Coutinho's 23 assists for Liverpool have been for Sturridge.
Eight in 23, otherwise known as 34.7% or more than one in three. This means, in layman's terms, that when Sturridge isn't on the pitch, Coutinho's ability to create decreases by more than a third.
Of course, it's not like Sturridge has a magical ability to score every time Coutinho passes to him. It's what makes him such an option for Phil, his movement off the ball is what our man in question thrives off.
This isn't to say that our injury hit striker is the only player Coutinho can play in on goal, but it offers an explanation as to why he's struggling this season. Luis Suarez and Raheem Sterling were his other two favourites, and both have left, leaving Liverpool with a lack of clever movement off the ball.
Perhaps it started with Coutinho making passes, only for the likes of Christian Benteke to not make the right runs to receive them, or maybe he just didn't have confidence in the other players at all. But the underlying point is, Coutinho isn't creating for the Reds' remaining attackers.
So, if he isn't creating, what is he doing? The answer seems to be shooting. Coutinho is averaging a shot every 18 minutes this season, or five a game. In comparison to his other job, assisting, he's creating just one chance every 83 minutes.
You may be thinking that this isn't all bad. After all, the magician scored eight goals last season, a fairly impressive return. But scoring long rangers every week is hardly sustainable, and it's showed. Coutinho has had an astonishing 43 shots this season, scoring just one goal.
Of these 43 shots, 24 have been from outside the box, meaning that it's very often in desperation, rather than to take advantage of a clear goalscoring opportunity.
In vain of all this negativity, there may well be light at the end of the tunnel. There's something about Coutinho which always seems to make him come alive in the second half of the season, which we're slowly approaching. Adding to this, it's possible that when Jürgen Klopp finally gets Liverpool to click (which we all know is definitely happening), everyone's favourite number 10 will click too.
Oh yeah, we've also got Jordan Henderson, Roberto Firmino and the aforementioned Sturridge to return to full fitness too, and they can all help Coutinho to return to form.
So, whilst Coutinho's bag of tricks appears to be empty at the moment, it can't be too long until he pulls a rabbit out of his hat.