During the summer months, most agreed that the arrival of James Milner was a coup for Liverpool. The Reds beat off stiff competition from Arsenal to land the England international, who allegedly chose us because of the promise of regular first-team football in central midfield – although I'm sure the £150,000-a-week wages helped, too.
That Manchester City were so desperate to retain him spoke volumes for his value to the wealthiest team in the league. For all the stars they have bought, Manuel Pellegrini said that he is "Milner's No. 1 fan" and that the Yorkshire-born midfielder is the "most complete English player".
So far, so good.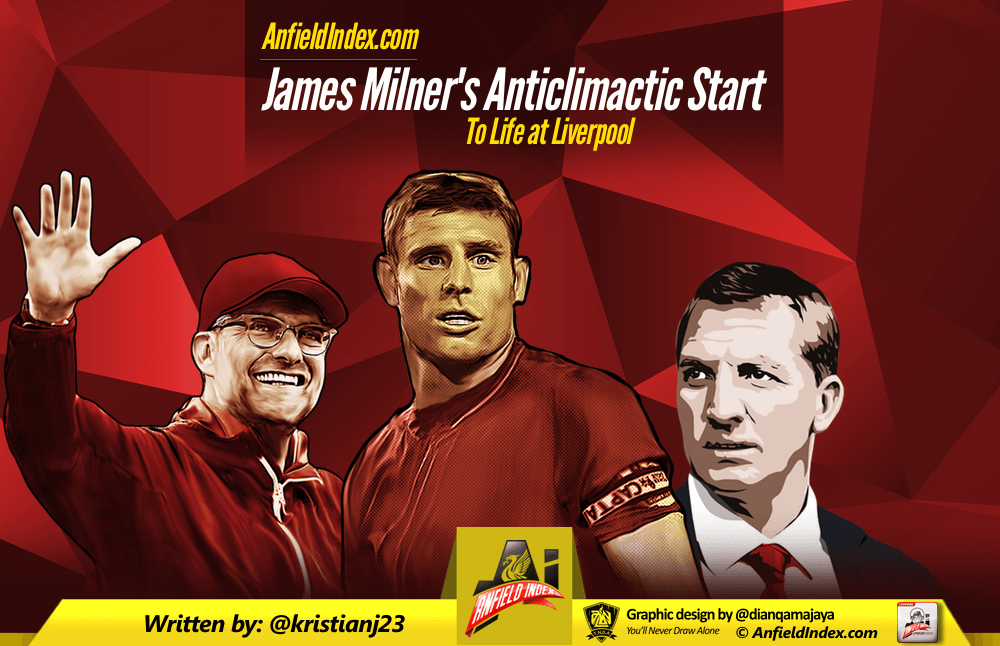 His first few performances for Liverpool in Asia and Australia promised much as he struck up an instant rapport with Jordan Henderson, albeit against limited opposition.
He continued his quietly impressive form into the first few games of the season and immediately won fans over by upending Charlie Adam at the Britannia. I'm sure all Reds fans would have been happy to chip in for the fine that the yellow card incurred.
However, Milner has been worryingly abject in the aftermath of the Bournemouth game. Ever since taking over the armband from the injured Henderson, his performances – particularly against sides such as Norwich City and Carlisle United – are of increasing concern.
No-one can accuse Milner of not trying. The tee-total midfielder's attitude is just as impeccable off the pitch as it is every time he pulls on a red shirt.
Another supposed quality in the Milner repertoire is an ability to supply menacing crosses. Although his assist at home to Southampton lends support to the fact that he can put the ball on a plate for a striker, his crossing has generally been poor – especially when it comes to set pieces. He found his intended target with just one of nine crosses in the 1-1 draw with Norwich.
However, it's often his lack of game intelligence that is infuriating. The way that Milner goes into every game wanting to play at breakneck speed means that he will misplace a fair few passes. This, in itself, is understandable, but the ease and regularity with which Milner gives away possession is startling.
So too is his propensity to commit innumerable fouls. I wrote in the summer of the need for Liverpool to show more bite, but while we applauded the shuddering challenge on Adam on the first day of the season, his needless late tackle on Ryan Bertrand against Southampton was costly.
Yes, the foul occurred 40 yards from goal, but we all know the Reds can't defend set pieces. Milner did not need to bring down Bertrand in that situation. Had it been 21-year-old Emre Can making the foul, it might have been understandable, but Milner is meant to be the elder statesman in the side who discourages others from making such silly decisions in crucial periods of games.
It's not a one-off. Having come to Liverpool demanding first-team football with more than a decade of top flight experience under his belt, Milner shouldn't need the safety net of Henderson to play well, but his displays of late don't resemble a seasoned professional in the slightest.
Milner's insatiable work-rate and unrivalled fitness make him a perfect fit for Jurgen Klopp's relentless brand of counter-attacking football, but it's the very basics that he must improve upon if he's to become an important player under the new regime.
Shortly after his arrival, Milner said: "I feel here if I play well, I'll keep the shirt. It's down to me".
It undoubtedly is down to him, but if his performances continue on the same trajectory he's likely to find himself where he so often was at Man City – back among the substitutes.