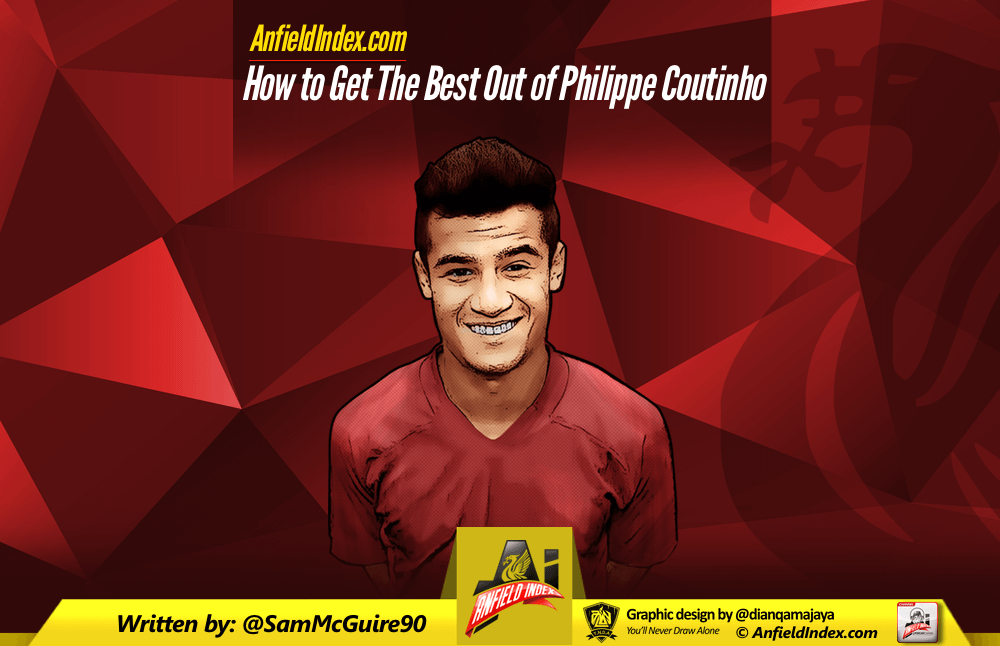 How to Get The Best Out of Philippe Coutinho
Philippe Coutinho has been the main topic of a lot of debates so far this season. The mercurial maestro is perceived to be in a lull of form and this inconsistency in his game is becoming all but too familiar for Liverpool fans. It seems whenever the Brazilian international is out of sorts then so is the team and with the Reds chasing top four in a weak-looking league they can't afford to be so erratic.
It's not really news when I say our number 10 isn't best suited to the role his number suggests.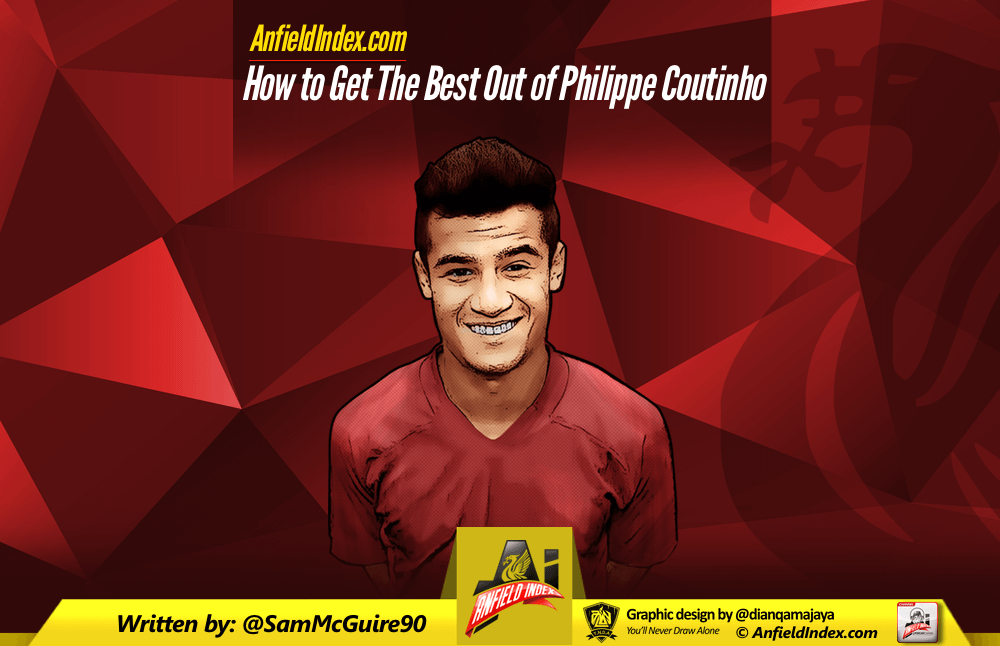 Coutinho's best performances for Liverpool undoubtedly arrived when he was a side of the diamond in 2013/14. He had the likes of Jordan Henderson, Luis Suarez, Raheem Sterling and Daniel Sturridge ahead of him, all creating space for one another and making runs and he, Coutinho, was able to savage teams from deep. His job was to carve teams open and create chances for the forwards, there wasn't really any pressure placed upon his shoulders to be the match winner. When he's on top of his game he's both irrepressible and irresistible to watch.
However, two of the four aforementioned players have left the club and the other two are currently on the sidelines injured and it's as though all that responsibility has been self imposed on his shoulders. Throughout games this season we've seen him try to take on that one extra person when a simpler pass was on. We've seen him try a speculative effort from 30 yards when better options were on ahead of him. We've seen a frustrated Philippe Coutinho punch the floor more times than I'd like to admit. It's a far cry from the player that made everything look so easy in 2013/14.
There are lots of rumours swirling around about what the problem may be. Could he be angling for a move away from the club? Is he not the player we all thought he was? Is he just burnt-out after carrying Liverpool for the latter half of last season? It's a huge weight for such a young, incomplete talent to burden. My opinion though is he's being misused. Not purposely of course, he's versatile enough to play in the positions he's being used and do a job there but to see an effective Coutinho he needs to be withdrawn into a deeper position.
Remembering what he did well
Coutinho has picked the ball up deep. Ahead of him are players with pace and just off the picture on the right hand side there is another Liverpool player. You see how effective Coutinho can be from deep when he has space ahead of him and runners. In this clip he puts Sterling through and Liverpool win a penalty after he's tripped by the on rushing Tim Howard.
In the very same match against Everton we see Coutinho picking the ball up very deep, bypassing Ross Barkley's attempted tackle, before playing the ball between three blue shirts to Henderson. In this still alone you can see the benefit of Coutinho deeper, his dynamic feet and quick thinking means he alone is able to bypass the Everton press and it takes 7 (yes seven) Everton players out of the game.
In this game against Spurs we see Coutinho driving forward from deep with players ahead of him. The pace of Sturridge and Sterling keeps the Tottenham backline occupied and Coutinho is able to carry the ball forward before lashing it past Hugo Lloris. He's a different player when he's coming from deep as opposed to drifting from the wide areas.
The match versus Arsenal was probably Coutinho's best performance in a Red shirt. In this still we see Coutinho winning the ball back five yards outside of his own area with four Arsenal players within 10 yards of him. Most players in this scenario would look to get rid of the ball and there'd be a turnover in possession and with Arsenal having so many men in the Liverpool half that would lead to more pressure.
Coutinho uses his dribbling skills, tenacity and confidence to bypass four Arsenal players, drive into the space ahead of him before playing the most perfect of passes to Henderson (you can see his head at the bottom of the screen) who then tries to chip the keeper and get's it horribly wrong. The chance came about because of Coutinho picking the ball up deep and coming onto play, in fact he didn't just come onto play he's the one that created it.
Philippe Coutinho in a deeper position creates more space for the rest of the team. Instead of him getting man marked in the final third and clogging up play he can get by challenges from deep, which takes these players out of the game and creates more space for those ahead of him. How many times have we seen Coutinho wriggle past 3/4 players before running out of pitch as the ball trickles out for a goal kick? From a deeper position he has a lot more space himself to create and dictate from.
I've heard plenty of people say since Jurgen Klopp came in that Liverpool lack somebody to dictate the tempo and control the midfield. One could've been staring us in the face all along. He has the vision, dribbling ability to drive the team forwards, he has the discipline, that bit of bite about him to handle himself in that position in the Premier League and he is undoubtedly talented enough to fulfil that role.
I think the majority of the fans would acknowledge the fact Liverpool have been lacking that something special from the midfield and Coutinho would bring that in abundance. Let Coutinho be our version of Iniesta.
Yes he did score important goals last season. However, with the club adding players in that area and it being common knowledge Coutinho isn't the best in front of goal, would it be such a bad idea? With teams dropping deeper against Liverpool, why not give their playmaker a view of the whole pitch ahead of him so he's better situated to pull the strings. Give your best player more of the ball and you're more likely to win.