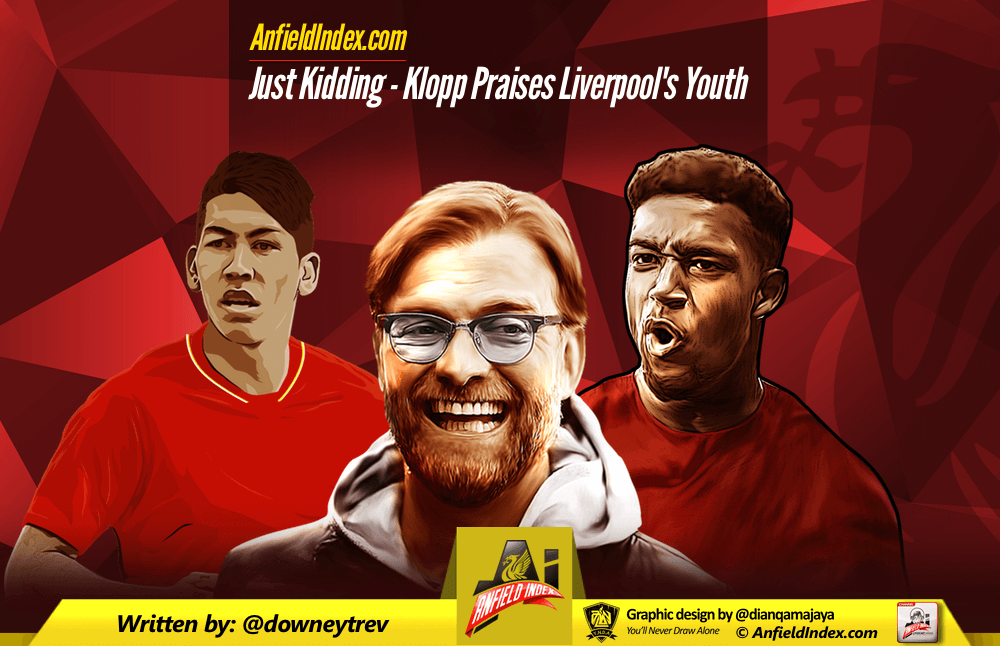 Just Kidding - Klopp Praises Liverpool's Youth
"Maturity is often more absurd than youth and very frequently is most unjust to youth."
Thomas A. Edison

"Youth is happy because it has the capacity to see beauty. Anyone who keeps the ability to see beauty never grows old."
Franz Kafka

"It takes a very long time to become young."
Pablo Picasso
One of the most profound ways in the world to inspire loyalty and inculcate respect amongst the younger generation is to offer one's trust to them. It's the simplest psychology there is and all the richer for its honesty. There are no games being played, no versions of reality being presented and no agendas, just a bold statement – you may be young/wayward/inexperienced/a potential arsonist/whatever but I BELIEVE in you. The impact of hearing that can be stunning when one is in the process of developing what kind of person one wishes to become.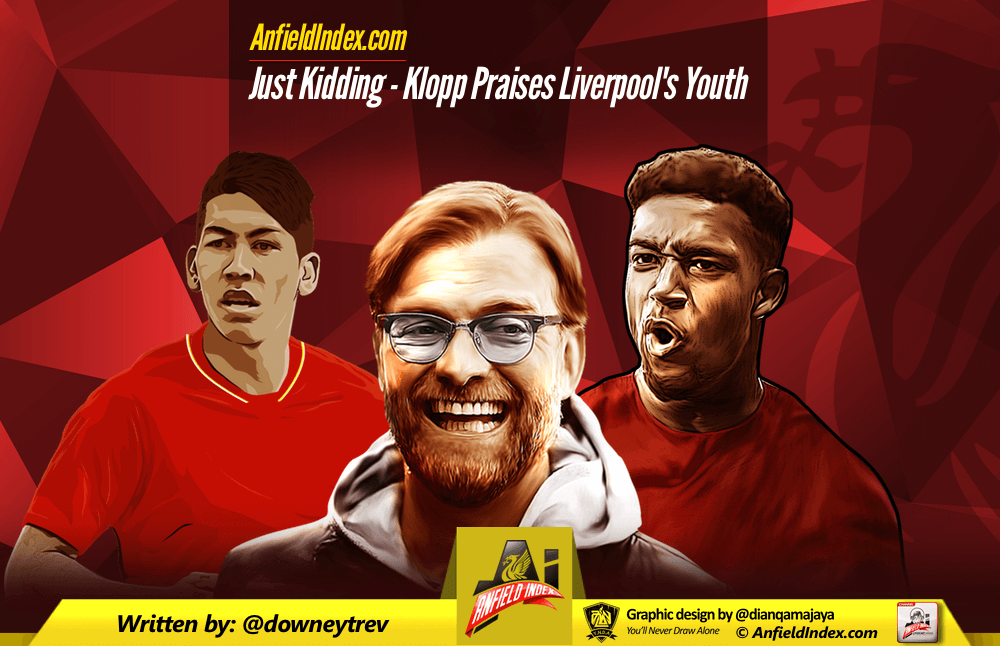 As a teacher of adolescent males, your scribbler's day job is full of opportunities to express that exact sentiment to the impressionable youth of the region. The looks of quizzical concern on the faces of some of the students as, on occasion, I offer my car keys to a kid with a wretched disciplinary record, never fails to amuse me. I ask the lad in question to get some copies/texts I've deliberately left in my treasured old jalopy and simply bring them to my class. Now, one of theses days, I suppose, it is eminently possible that my reward for such faith in humanity's basic decency will be a long walk home and an unfortunate protracted insurance wrangle, but to date, the reaction of the trusted youngsters has been uniformly positive. They respond enthusiastically. They enjoy the feeling of responsibility. They want to do the right thing. Most of us do, you see.

Watching the Jürgy Bear-hugs being doled out by Herr Klopp after Liverpool's victory over Bournemouth in the Capital One Cup on Wednesday night, it was hard not to think of the impact such avuncular affection and affirmation would be having on the players. This is a man who gets it. His motivational skills are not overly complex. Like any good pater familias, he knows how to roar unexpectedly and unnervingly when the errant young ones have strayed from the path but similarly, when approval is warranted, it is lavished, with a little playful hair tousling and head-locking thrown in for good measure.
With the first team squad decimated by injury and suspension, the bespectacled Swabian resisted the pull of leaning on eleven healthy and experienced players and, instead, selected Joao Carlos Teixeira, Cameron Brannagan and Connor Randall for their first senior starts. He also pointedly kept faith with Divock Origi and saw Jordon Ibe finally produce his best form, tormenting the Cherries' defence with a delightful array of dribbling, pace and trickery, including one pass that ranks as this Irishman's highlight of the season so far.
It was a clear statement from the manager, who would likely have selected Jordan Rossiter too, were he available. Men of all ages and abilities have responded to Klopp's animated style of cajoling and critiquing over the course of his career – his public interactions with Lucas Leiva are proof of this, although Joe Allen seemed a little weirded out by his gaffer's tactile approval –  but it has a particular resonance with those who are starting out in the senior game and forming the habits that will define the impact they make in the future.
Liverpool's new boss cleverly disguises his impatience with the media with a succession of grins and strangely inappropriate laughs in response to the inquiries of the various agencies. Whereas one could always sense the anxiety and earnestness in Brendan Rodgers, whose politeness was unfailing, the Black Forest man is a very different prospect. Looming over his inquisitors with those disquieting choppers on display, one never doubts for a second that a withering dismissal is only one more idiotic question away. On the topic of his team's first win and the contribution of its youngsters, however, he was emphatically upbeat.
"We saw these young guys together with these experienced guys, Dejan Lovren, Kolo [Toure] – it was a shame he had to go out so early," Klopp offered. "But for Dejan it was very important, 90 very intensive minutes in this game. I've been here round about two weeks and I saw these guys in training, and not only them but Pedro [Chirivella] and [Jerome] Sinclair. They were with us most of the time in training. I saw them and it was clear the first chance I could give them I would do it. That was tonight because we needed some players to have this break and not to play today again. And I was completely sure these players had the quality to help us tonight and that's what they did. It was not easy.
"One week ago I said it's not so easy to rotate, if you bring players to play together," he continued. "That's what we saw tonight – it was not all of them but it was the best they could do and so I'm completely satisfied. Cameron Brannagan was in a very difficult position in the system we played today, the half space as a No.8. It's really not easy to defend that position. Connor Randall – all the long balls they played were in his space. If he was not a good header before this game, now he is much better! Because he had the chance to improve 20 or 30 times. I'm really fine with these guys. And, very importantly, the other players didn't think because the manager did this it's not such an important tournament. I saw in the eyes of all the players that they wanted to win tonight. That's very important."
There's a lovely trend emerging in the manager's method of the public assessment of his charges. He rarely goes for blanket descriptions of the group, preferring instead to send typically paternal messages to the players, individually. He will highlight a positive and simultaneously remind them of what needs to improve. Klopp is like a little like Rafa Benítez in that regard, but with added hugging. One fancies Steven Gerrard would have loved him in those affection-starved days when the Huyton man was playing his best football and Liverpool were the top ranking European team under the Spaniard.
Inevitably, however, given the Teutonic connection, the topic of Roberto Firmino arose. The Brazilian's patchy, injury-impaired start has been a cause of much angst and impatient carping amongst the burgeoning coterie of malcontents in the club's fan base. Against Bournemouth, in a central withdrawn forward role, the dramatically coiffed number 11 looked to be hitting his stride, carrying the ball strongly, spotting passes in tight situations and zeroing-in on his first goal with a series of fine attempts.
The naysayers will point to the fact that Adam Lallana and Philippe Coutinho play in the same role and say it is impossible to accommodate two of them in the same team without lessening their impact. The rest of us will simply smile at the possibility of Jürgen Klopp finally having his choice of those three plus Christian Benteke, Daniel Sturridge and Jordan Henderson. Observe the manager's take on our smiley forward's performance for ample evidence of that double-edged feedback mentioned earlier:
"It is important for a new player when he comes to a new club to show this, but he doesn't have to show me anything because I know him very well," insisted the increasingly-bearded German. "We all now know a little bit more about him and that's important. It was very intensive for him tonight and if we hadn't had to make a change in the first half with Kolo, we would have changed him [Firmino] a little earlier. We had to wait because maybe we would have to go into extra-time, so it was not easy [for him] but he worked really hard. He is ready, he is prepared for this league for sure, he is physically strong and a good technician – everything you saw. And usually he is a good finisher! He is a good player."
See? A little kick in the posterior, followed by a pat on the back. Tremendous. Liverpool's players, young and old, will be revelling in Klopp's management and motivational prowess. He is that rarest of coaches – the type that inspires savage devotion and loyalty in men who desperately want to impress the grinning mentalist. That said, if I were Jürgen, I wouldn't lend my keys to José Enrique.