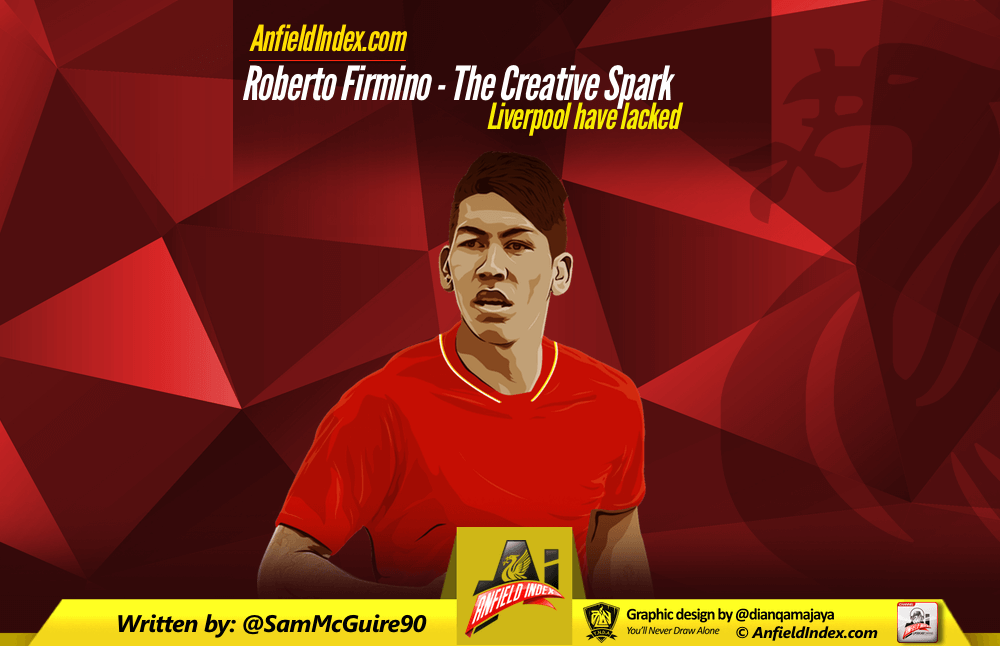 Roberto Firmino - The Creative Spark Liverpool Have Lacked
Prior to kick-off against Bournemouth there was an article from the Daily Mail on Roberto Firmino. I won't share the link because it's not worth your time but in this piece the writer states how our newest Brazilian is failing to live up to the hype, how he's had ample chances to impress (he states he's appeared in x amount of games without actually adding any context to this as it wouldn't suit the narrative obviously) and for some bizarre reason he mentions the apartment he lives in.
Injuries, lacking fitness originally and constant formation and position shuffles have played a part in Firmino's slow start at Liverpool but he's not even played 600 minutes yet and the British media seem intent on writing him off. The fools.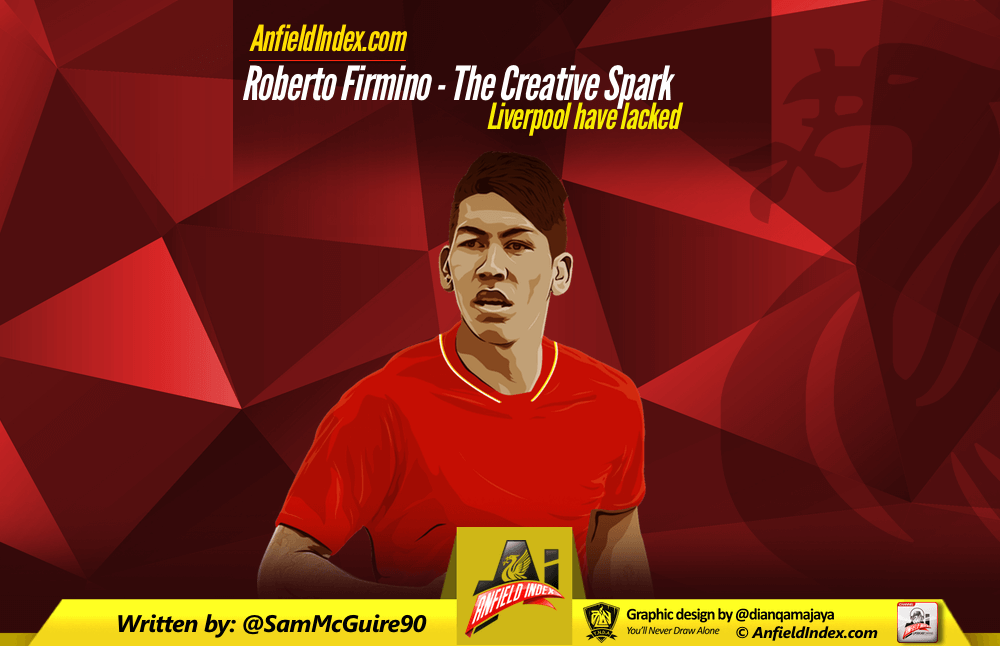 This isn't a kneejerk statement either when I say most of the British media won't know what's hit them when Roberto has fully adapted to his new surroundings and Liverpool aren't in the midst of an injury crisis. Plenty have asked what his best position is, well if his performance against Bournemouth didn't highlight how he's a number 10 then nothing will. He was at the heart of everything good for Liverpool in Jurgen Klopp's first win as manager. Not just any number 10 either, the sort Liverpool have been crying out for.
The Liverpool number 11 finally got to start centrally tonight and showed no reasons why he shouldn't be able to make that position his own in a Jurgen Klopp side. What Liverpool have been lacking lately (yes there are a few things) is players getting beyond the striker. Divock Origi has taken a lot of criticism lately whilst filling in for Daniel Sturridge, Christian Benteke and Danny Ings but tonight he too showed glimpses of what he could potentially add to a team and that was partly down to Firmino supporting him.
The pressure wasn't on Origi to drift wide, create space centrally and then fill that space himself. He had Firmino taking up central positions when the Belgian drifted. You saw Firmino appear on the shoulder of the last man at times when Origi had dropped deep to link play. His movement and awareness of those around him just seemed to bring everybody into play. He knitted it together.
Firmino didn't just support the attack though, he also assisted the midfield at times and this is important in a Jurgen Klopp side. Often during his Dortmund days the number 10 (Kagawa or Goetze) would drop a little deeper to ensure the two man midfield didn't get outnumbered by the opposition's three. There were moments when Firmino was tackling back in the defensive third.  His work rate was something he was famed for in Germany (he used to average over 1 tackle per 90 mins, which is rare for an attacking player). You can tell he has that grit and determination. Whisper it quietly but he's got some Luis Suarez characteristics about him.
He helps the press too. The chance he really should've scored from all came about after Brannagan, Ibe and Firmino pressed the ball and the man and it culminated in Bobby dragging his shot wide. He's one of the few players that is probably suited to the Jurgen Klopp gegenpress when he eventually starts to use that tactic properly. He's already a pressing fiend as he showed against Arsenal at the Emirates, something I wrote about here. In that game he was set to break all pressing records. Just imagine Firmino, Coutinho, Lallana and Henderson all pressing opponents in a pack, they'd get no time to breath let alone pass the ball.
What's interesting from the Bournemouth game is how creative we seemed to look in the final third with Origi, Firmino, Jordon Ibe and Joao Teixeira all linking up well. At the heart of most attacks seemed to be Firmino but it didn't detract away from the impact the other three had. What we've seen lately with Liverpool is Coutinho playing as part of a three with Origi and Lallana, trying to do it all by himself and by default it has an impact on the other two. Origi sees less of the ball, opponents have less to worry about if they see players lining up shots from 25 yards and just generally we seem to pin everything on Coutinho. I still believe if we withdraw Coutinho a little bit so he's more of a central-midfielder and we then use Firmino as the 10 we'd see both the Brazilian boys share the responsibility of being the creative players for Liverpool. Coutinho looks like he's playing with the weight of Liverpool on his shoulders and that sort of pressure hinders a creative player. Firmino on the other hand looks to be playing with freedom. Even in his cameo appearances under Klopp.
It's also been said that Coutinho only seems to perform properly when Daniel Sturridge is ahead of him. With movement in front, Coutinho is like an assassin but with Benteke he seems to be a little blunt and bereft of ideas. It's something he needs to learn as opposed to Roberto Firmino. Firmino, whilst at Hoffenheim, served his time playing behind Anthony Modeste, a bargain buy Christian Benteke. Tall, strong, powerful in the air but hasn't got explosve pace and needs people to create chances for him to score. He wasn't self sufficent like other strikers. He also played behind Kevin Volland from time to time, and the German striker is more of a traditional 9 with pace who makes the runs you'd expect from a striker. The Hoffenheim equivalent of Benteke and Sturridge. Firmino adapted to both players. He's like a Chameleon.
I for one am excited to see how Firmino progresses under Jurgen Klopp. He needs to be played centrally though, that's clear already and I think he'll be the difference in winning games and drawing them. How different the season could've been already had he been fit from matchday one. It's immeasurable the difference Bobby could make to Phil's game and it's something Klopp should build around, as with those two Liverpool have players capable of unlocking any defence. Irresistible and irrepressible, the nicknames for our number 10 and 11.