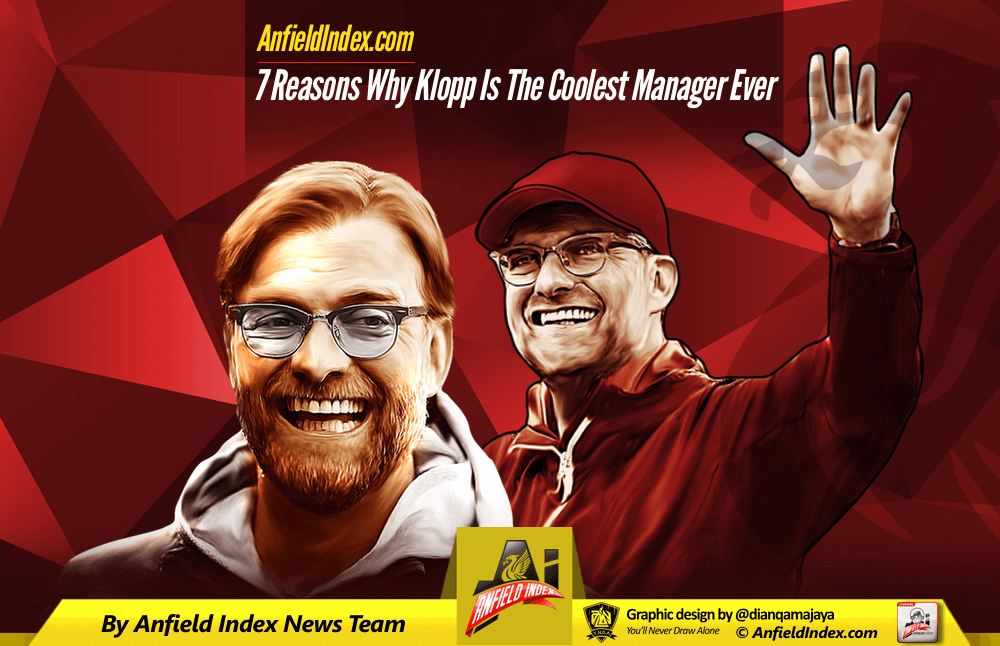 7 Reasons Why Klopp Is The Coolest Manager Ever
You can't go a minute without hearing something about Klopp these days – and it's no wonder. Even though he's barely warmed his feet managing Liverpool, Klopp's already shown that he knows what he does and that he puts his heart into this which is probably a big reason as to why everyone seems to like him. The coolest coach ever? I say, that's rather likely!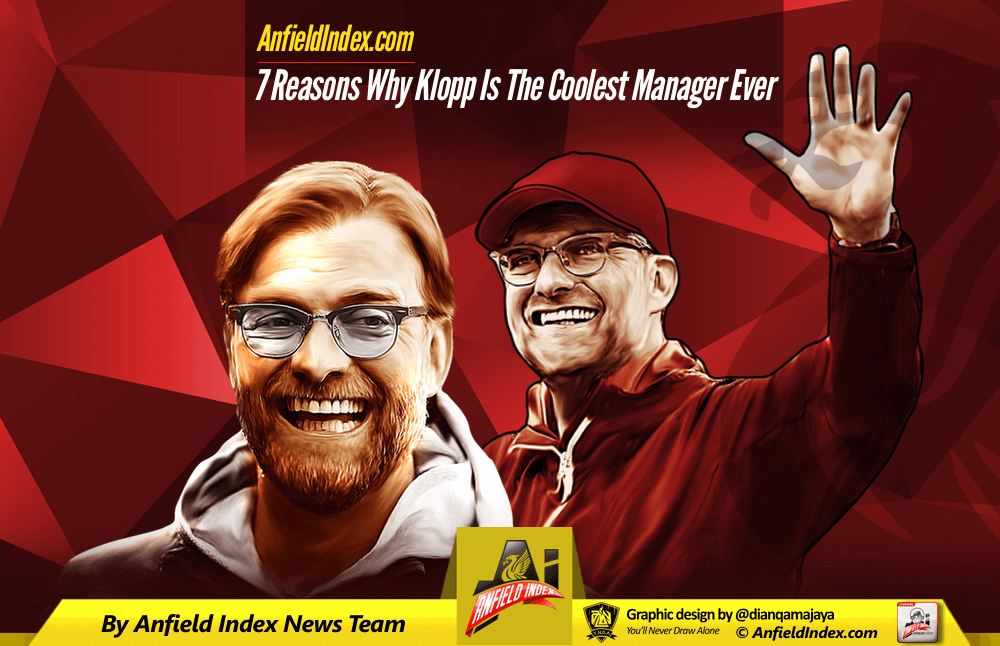 Let's get to the facts:

Clean Sheet after Three Days of Prep
Imagine having three days to prepare for a really important exam that is going to be televised live across the nation with media and fans watching your every move – and somehow managing to not disappoint everyone. Klopp's first game turned out to be a really tough test, as not only did the team have to face a top-tier Tottenham, but the squad also had players dropping like flies with injuries. And yet, the Reds came out with a clean-sheet draw: that was a clear promise of good things ahead for Liverpool.
We Will Never Walk Alone with Klopp
Now first of all, football is a team sport and its spirit as a sport is why it gathers so many fans and has people going completely bonkers over their team. And this coach completely gets that:  "We have to open our chests. Let's run and fight and shoot, defend together and attack together, like your best dream about what football looks like. I want to see more braveness, more fun in their eyes. I want to see they like what they do," Klopp told The Guardian.  "You'll never walk alone" indeed – this kind of passion is exactly what Liverpool is all about!
He Really Has His Heart in the Game
Have you seen him during his first Liverpool match? No sitting on the bench for Klopp – he was all into the game. All these emotions after only three days really do say something about how devoted the German coach is to the sport. After all, there's this extra mile that a good manager has to go in order to achieve truly superb results, and it's not only just being a strategic genius. Klopp's infectious enthusiasm could have a really good impact for the team as a sentient mechanism and tie the squad together to act as one.
Klopp's a Hugger
It's easy to be a stern and well-feared coach, but there's a fine art to being both tough when needed and also knowing when to just give a bear hug. During the first match, Adam Lallana was the one that needed the latter – and it's heart-warming how human and sincere this moment looks (although we can never know whether what he was saying was just as endearing – but I bet it was). Seeing Klopp act like that pretty much leaves you no choice but to like him, and also kind of want he coached you, too.
Run, Liverpool, Run!
Two of his former players – Hoogland and Owomoyela – have said that the most important rule Klopp had was to simply run. He wanted to see his footballers run at least 120km (~74.5 miles) each game as a team, and then to build on that. This may sound simple enough, but you can already see him in a Hollywood-type of an inspirational sports movie where he tells a rookie with a huge potential to "just run!" and then of course they win everything. In a more feet-on-the-ground-no-one's-making-a-movie scenario, Klopp has a clear plan and his team knows what he wants from them, which is arguably not really the case in a lot of situations. Also, this actually works – at least it did for Borussia Dortmund!
Want to Grab a Pint?
When he was a coach in Dortmund, he used to go to the pub with his players every Christmas time to have beer with the fans! Yes, really. And when the team did badly in the Bundesliga, the whole team got together with the fans in a pub, signed autographs for more than two hours and poured them pints as a "thank you" for their loyalty. Fingers crossed he'll do something like that in Liverpool! In fact, he's already been spotted in the local pub and he gladly took pictures with the fans. Nobody can say Klopp isn't the most down-to-earth manager you could imagine in the Premier League – and if he can take the Reds to the top 5 this year, his reign will surely go down as an era. Also, expect a whole bunch of little British boys named Jürgen. Or Klopp, even.
Drop it like it's Klopp
Okay, so this last one is not a fact as much as it is a result of what happens when your new club's fans welcome you with open arms. And what do you know, maybe one day he will actually have a music video of his own– he did star in a car ad, after all. Funny enough, I feel like he's just cool enough to not look ridiculous in this. That's Klopp for you, everyone!
How will Klopp's management change Liverpool's course in the Premier League? At the moment, most of the people feel positive. The UK-licensed bookie TonyBet gave Liverpool only 59/1 odds at becoming the champions, but that's influenced by how they did without the German coach. Now I'm not saying that his unique ways of coaching and passion for football will have the Reds celebrating a truly glorious season – but hey, it's going to be a really interesting one in any case. And who knows – maybe next year Liverpool winning the EPL will sound just about right.