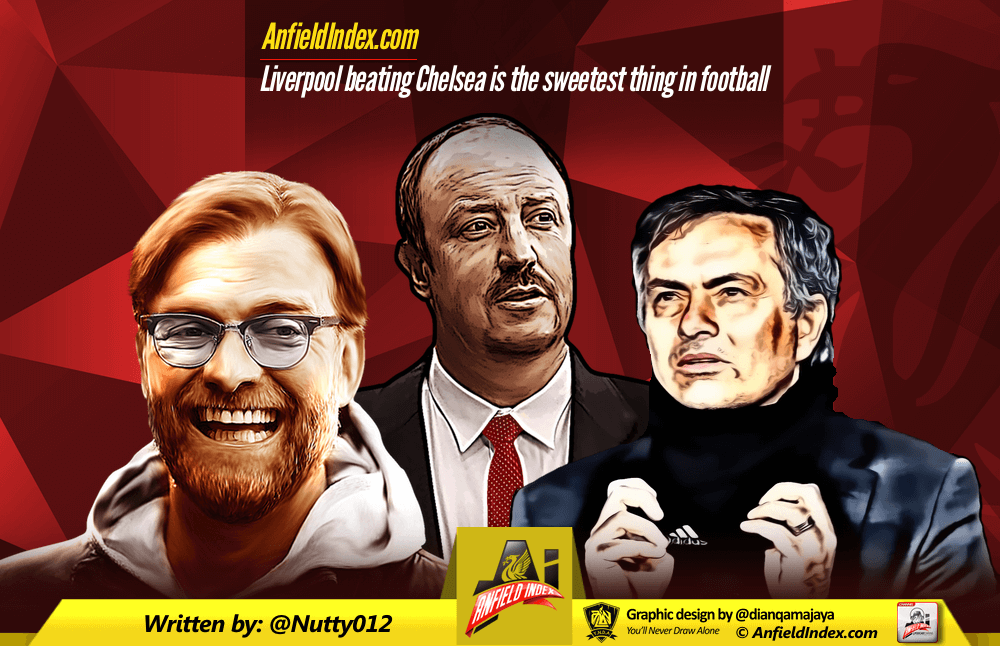 Liverpool beating Chelsea is the sweetest thing in football
For  a Liverpool fan, there are very few feelings that can top the joy at the final whistle of a victory over our age-old rivals, Everton and Manchester United. What could be sweeter than wins over your local rivals and long-term competitive rivals? Well, the answer to that of course is beating Chelsea.
The Liverpool Chelsea rivalry really blossomed into a thing of dark and twisted beauty when Messrs Benitez and Mourinho took control of their respective clubs in 2004. We seemed to play each other four or five times a year during a 3 year period, and given the two managers' belief in their abilities and their methods, it was no surprise that sparks regularly began to fly. So began a decade long series of controversies and altercations, that has artificially created one of the best rivalries in the Premier League.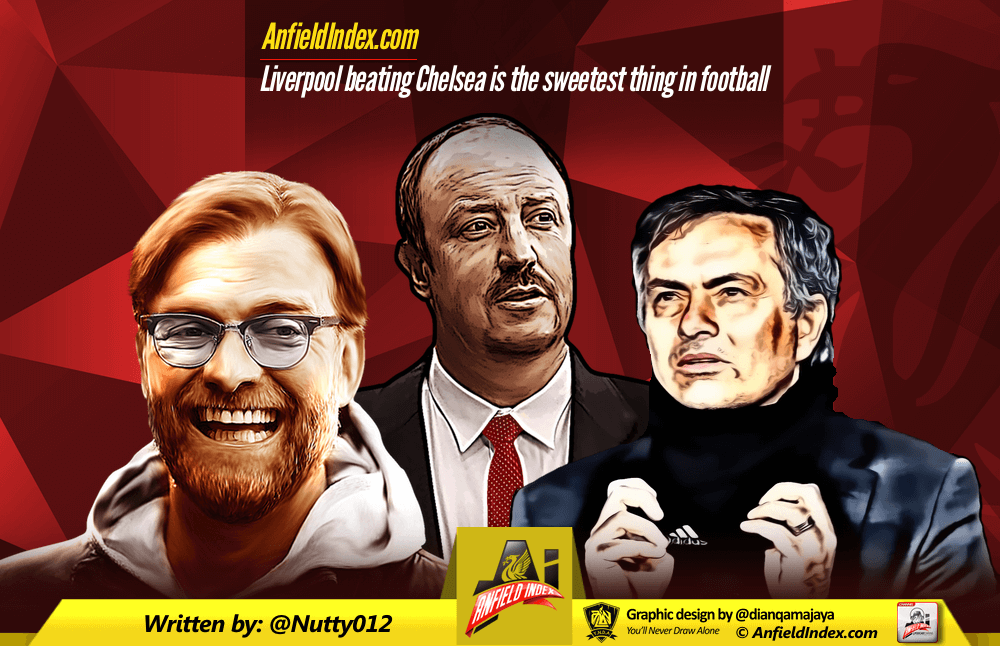 Chelsea won the Carling Cup Final in 2005 after extra time; later that season it was remedied of course by the Luis Garcia ghost goal, which snuck Liverpool into the Champions League Final. To say that Jose Mourinho didn't take the loss well would be putting it mildly. Although Chelsea had the better of Liverpool in terms of League finishes, our success in Europe continued alongside disappointing campaign after disappointing campaign for the Blues.
Some epic games were played out between both teams in Europe, perhaps none more so than at Stamford Bridge in April of 2009 when we saw a frankly silly 4-4 draw play out which included some obscene individual efforts. Of course, Chelsea found European success through the bravest/luckiest Champions League win you will ever see under Roberto Di Matteo (they had less shots than their opponents in every game in the knockout stages that season).
After a relatively low key two years, Luis Suarez thought he would kick things off again by sinking his teeth into Branislav Ivanovic's shoulder. The Chelsea manager that game was obviously Rafa Benitez, appointed to the chagrin of Chelsea fans, who's successful reign couldn't have annoyed them more. Also part of the blues squad that day was Fernando Torres. His departure to South-West London on the final day of the 2011 January transfer window left a very bitter taste in the mouths of Liverpool fans, at least until recent times when we touchingly saw him forgiven and redeemed at Gerrard's charity match.
After Mourinho returned to Chelsea in 2013, it was almost inevitable that his cynical time-wasting tactics would be the banana skin for Liverpool's title rampage, thwarting once Chelsea youth coach and student Brendan Rodgers in the process. Diego Costa's subsequent arrival has led to most of the talking points in recent times, with him stamping with reckless abandon on Liverpool players' ankles, until Jordan Henderson so brilliantly squared up to him at Anfield last season.
But it is not just the competitive rivalry that has fostered this tension between the clubs. As a Liverpool fan I look at Chelsea and see a club that is the antithesis of everything Liverpool should be about. There are lots of individuals over the last ten years who I have had a lot of respect for: Carlo Ancellotti, Frank Lampard of course, Petr Cech, and a good handful of very exciting attacking players. However, by on large Chelsea football club is home to a rotten culture and some rotten behaviour.
In Jose Mourinho they have the cynical, paranoid egomaniac leading their team that they deserve. Jose Mourinho has literally gauged the eyes of an opposition manager (Tito Villanova), regularly abuses referees when things aren't going his way, and is the only manager who consistently feels so above his contractual obligations that he does not bother with post-match interviews when his team loses.
Its never enjoyable seeing the half the British media pander to Mourinho either. No other country in the world does it, but by declaring himself 'The Special One' in his first interview, and then backing it up with an impressive CV, he has developed aura perhaps even on-par with Sir Alex Ferguson in recent times. There is some pathetic sycophancy on the part of some of the British press, the same press who Mourinho so distains, highlighted best when he is given the privilege to ramble for 10 minutes on Sky whenever he does bother coming along for an interview. I was trying to breakdown why he does this – my conclusion was that Mourinho thinks he is so much better than everyone else in football that he is occasionally obliged to educate us all, imparting some of his wisdom on the dumb public. How kind of him.
Barring the period around Ancellotti's reign, Chelsea have never been fun to watch as a team either. In its current iteration, wonderfully talented players like Hazard, Fabregas, Willian and Pedro are struggling to flourish in the attritional machine that is a Mourinho-Chelsea side. Watching Chelsea is probably only comparable to watching a very biased American cold-war depiction of depiction of a Communist Russia factory: grim faces on all the workers, being forced to tow towards some greater goal of success at the cost of happiness and creativity, all whilst being abused by their psychopathic dominatrix megalomaniac bully of a boss.
Talking of Soviet Russia, Chelsea's success has all been bank-rolled by a Russian oil oligarch whose money trail is apparently quite dodgy. My first point on this is that there is no Liverpool fan who is not jealous of the investment and subsequent success of Chelsea. We have to lay our cards on the table and admit this. However, there is no Liverpool fan who would be comfortable with the club culture that has been created under Abromovich. Managers get sacked on a yearly basis, players go there and see their careers suddenly stall, and fans are forced to defend and support the indefensible. The Abramovich mantra is victory, but at the cost of everything else.
Chelsea's disrespect for the rules that everyone else has to follow was merely exemplified by Mourinho's antics. The way they game the transfer system by loaning out over 60 players every season, hoarding talent and guaranteeing their own financial domination of smaller clubs couldn't endear them less to every club in Europe who's first XI is not compromised of Chelsea loanees. Sure it is all within the rules, and football is not a sport like cricket places great value on fair-play, but it still is some unsporting behaviour because it secures their elite financial status through clever admin and accountancy, rather than good football.
Chelsea fans also come under a lot of stick. There is of course the 'plastic fans' insult, which does hold some truth when you go to Stamford Bridge and see all the flags that are left on the seats before the match, the club-paid employees who have to wave the club-made banners, and the appalling A4-printed laminated signs that dot around a game. It is fun seeing their hero Jose Mourinho criticise their home support, because at Liverpool we pride ourselves on being the opposite in almost every way I just described.
However, Chelsea fans are only really guilty of supporting Chelsea. They are just passionate fans like any other club has, whose admirable and unwavering support is undermined by the behaviour of the actual club. They have an excellent travelling support. Chelsea's poor home support is a symptom of poor home support across all clubs – especially Liverpool. Anfield is not a weekly bubbling cauldron, as nostalgia suggests it was in the 80s. Liverpool fans only bring our own flags and banners and sing our own songs because we have been raised in a culture that encourages that behaviour. We must consider ourselves lucky, and not look down or ostracise Chelsea fans. We are surely united with them on many issues common to all fans, such as ticket prices, and it does no good to anyone to hold personal vendettas.
In the spirit of being nice, I have left a special place at the end for the lovely fellah that is John Terry. How I wish our captain had been accused of racially abusing a fellow professional (and in doing so ending the international career of that professional's brother), not once but twice. How I wish our captain had apparently knocked up his team-mates wife and then made her get an abortion. How I wish our captain had been fined two weeks wages for mocking 9/11 victims. How I wish our captain had been charged (and acquitted) for "glassing a nightclub doorman" – Terry had of course not glassed him, but merely punched him. And of course, how I wish our captain had been charged, not once, not twice, but three times for parking in a disabled parking spot!
But alas we must make do with the memory of this tweet:
Terry painfully has to recount to court the song from Liverpool fans about his "mum loving Scouse cock"

— Matt Dickinson (@DickinsonTimes) July 11, 2012
This weekend I really would enjoy it if Liverpool could beat Chelsea, because I don't much like Chelsea Football Club. There is a decade of extremely competitive rivalry, but it is more than that. They are very unpleasant. Their striker is an unpleasant man. Their captain is an unpleasant man. The manager is a very unpleasant man.  In fact, we could even get him sacked if we beat them, and that would certainly do me nicely.