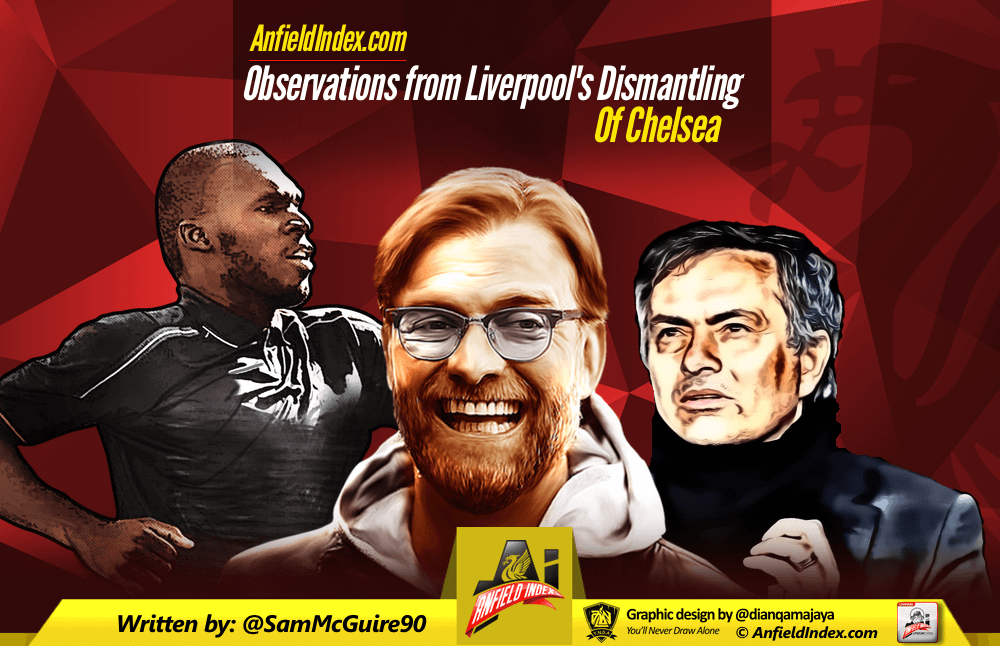 Observations from Liverpool's dismantling of Chelsea

The title is not misleading; Liverpool dismantled Chelsea. Jurgen Klopp had a gameplan and executed it to perfection.
I would be lying if I said I was shocked at Liverpool truly putting Chelsea to the sword.
I have been confident about it this week and, had Christian Benteke been fit enough to start, people may have been asking me for my Euromillions numbers after my prediction of the Reds scoring 5 came true. Alas, it didn't but you won't find me cursing my luck. We have beaten one of the top four, away from home, for the first time in what feels like eternity. Not only that, we did it convincingly.
What did the performance against Chelsea tell us other than Jurgen Klopp is the hero we've long been waiting for?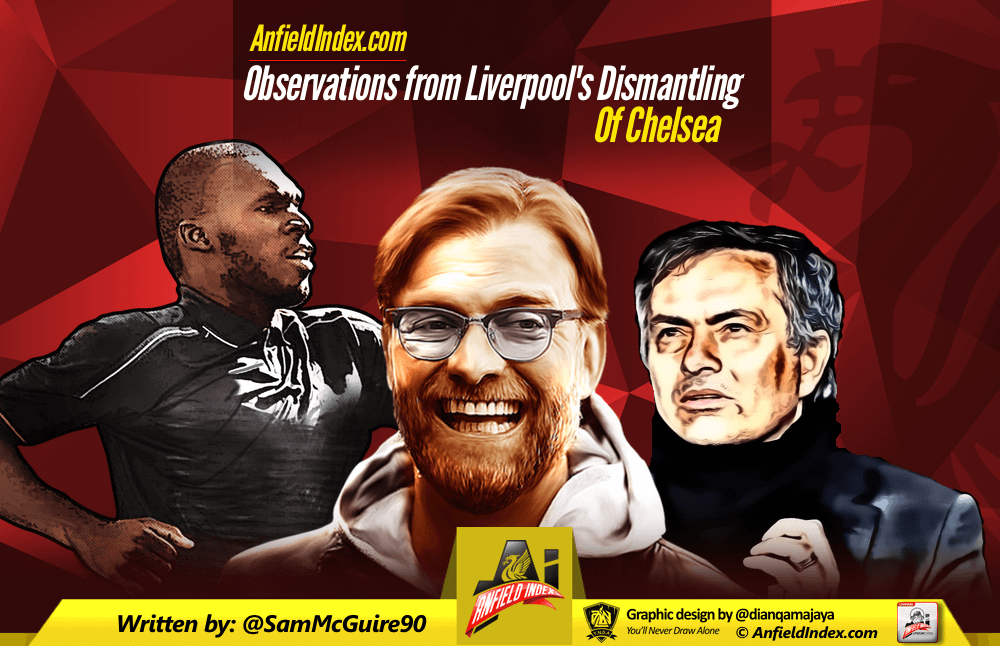 The Reds return from the dead
Since the beginning of 2014/15 Liverpool have conceded the first goal fourteen times before today and only managed to win one of those games. That stat came from Andrew  Beasley on twitter for those interested. If I remember rightly, it was against QPR. It's very apt that Liverpool choose today of all days, Halloween, to come back from the dead.
There was a different feel about the team today. They went 1-0 down but you didn't see the towel being thrown it. Klopp stayed calm, the players stuck to their instructions and they grew into the game. There was a resilience we hadn't seen from a Liverpool side in quite some time and they didn't look likely to concede a second either.
Getting the substitutions right
One of the criticisms aimed towards Brendan Rodgers was his baffling substitutions that often made very little sense and caused the team to shuffle around. Jurgen Klopp got his changes spot on today. James Milner wasn't having the best of games and it would have been easy for him to just bring Jordon Ibe on, but instead he made an attacking change which changed the game in our favour. Benteke was everything you expect from him. He was big, bullish and he gave Liverpool a presence in the final third. He took his goal well and played a huge contribution in Coutinho's second.
Likewise, when Jordon Ibe did come on it was at the right time. The Chelsea defence isn't blessed with pace and their defensive line was much higher with them having to chase the game so Ibe's pace was perfect.
Persistence pays off
There has been a lot of talk about Philippe Coutinho over the past few weeks. The flashes of brilliance becoming less common. The frustration etched all over his face as he put another shot wide. It would've been easy for Klopp to start him on the bench today. Many fans had called for it but the manager kept faith with his maestro and it paid dividends today.
Two calmly composed finishes later and all that had gone on before today has been forgotten; Coutinho delivered in yet another big game for Liverpool. He's becoming that player, isn't he. Big goals against City in previous seasons and now Chelsea.
The Henderson hole in midfield
There is no denying Liverpool have missed Jordan Henderson. We signed Milner in the summer which was expected to ease the reliance on Henderson to play every single game, but if anything it has highlighted just how important our captain is and how much of a loss he has been.
Milner may offer the same qualities as Henderson but he misses the dynamism and creativity that Liverpool number fourteen brings in abundance. Unfortunately, there is no date for his return yet but with him in the side, Liverpool will look even stronger and be even more efficient. It may also ease the pressure that is mounting on Milner's broad shoulders.
Benteke
I'm not the Belgian's biggest fan but his cameo today showed Liverpool, specifically Jurgen Klopp, know how to get the best out of the £32.5 million striker and that can only be a positive for Liverpool. He has come off the bench in the last two Premier League games and made an immediate impact. We are no longer hoofing the ball up to an isolated figure but are building the play and supporting him. I may not be a huge fan but I said from the beginning if we play to his strengths he would score goals and he has been doing exactly that.
There have been plenty of ups and downs already this season but it's worth looking at the bigger picture and taking the time to evaluate it. As things stand, we have played Arsenal, Manchester United, Tottenham Hotspur, Everton and Chelsea away from Anfield and are only three points from the top four.