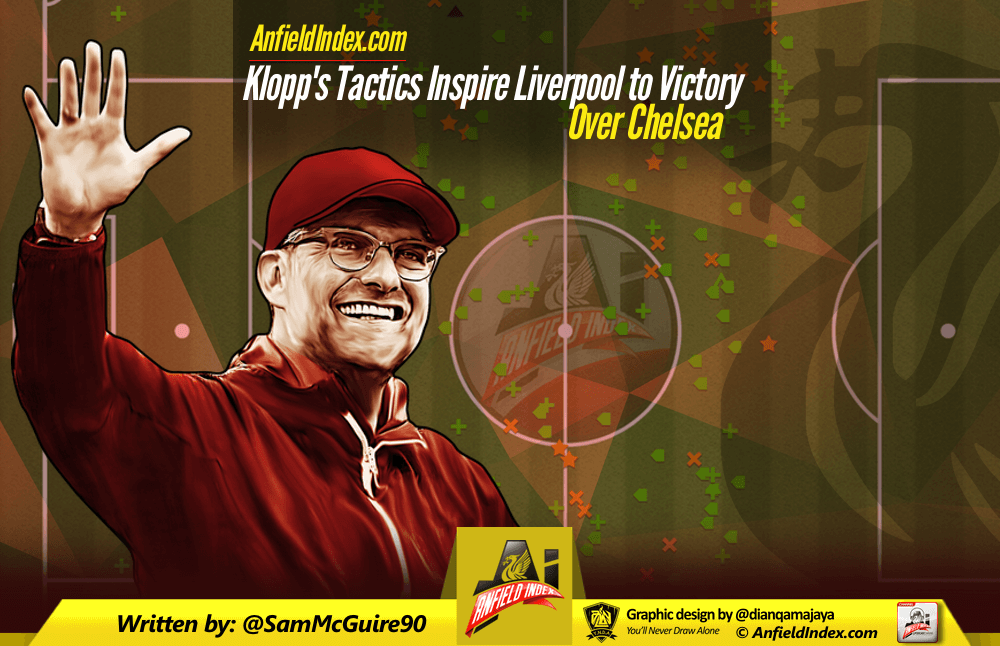 Klopp's Tactics Inspire Liverpool to Victory Against Chelsea
Jurgen Klopp hasn't had it easy since taking over as Liverpool boss. He's had to cope with an injury crisis  of unparalleled proportions. It's not often you have your three first choice strikers out injured as well as your captain. Not only this though, he's had to put up with the British media way of things.
The media, pundits and even fans have all been saying the same thing lately.
"Has Jurgen Klopp changed anything?"
"Has he done anything Brendan Rodgers didn't do?"
"It's an average squad, he can't do anything spectacular with it".
A prime example of this is Harry Redknapp. On Friday the out of work manager said "Jurgen Klopp has not made a difference to Liverpool and reckons they do not have a team capable of mounting a title challenge".
A mere day later Jurgen Klopp had masterminded a 3-1 victory against Chelsea at Stamford Bridge. It wasn't a fluke. It wasn't an accident. Klopp got everything right in the victory and it was a Jurgen Klopp performance if ever there was one. You could watch Dortmund matches from any of the seven seasons the German mentalist was at the helm and you'd see identical performances to the one we witnessed against Chelsea.
The hallmark of a Jurgen Klopp team is their direct style, their controlled (yes, I said controlled) pressing and their defensive structure. Liverpool showed all of that and much more tonight.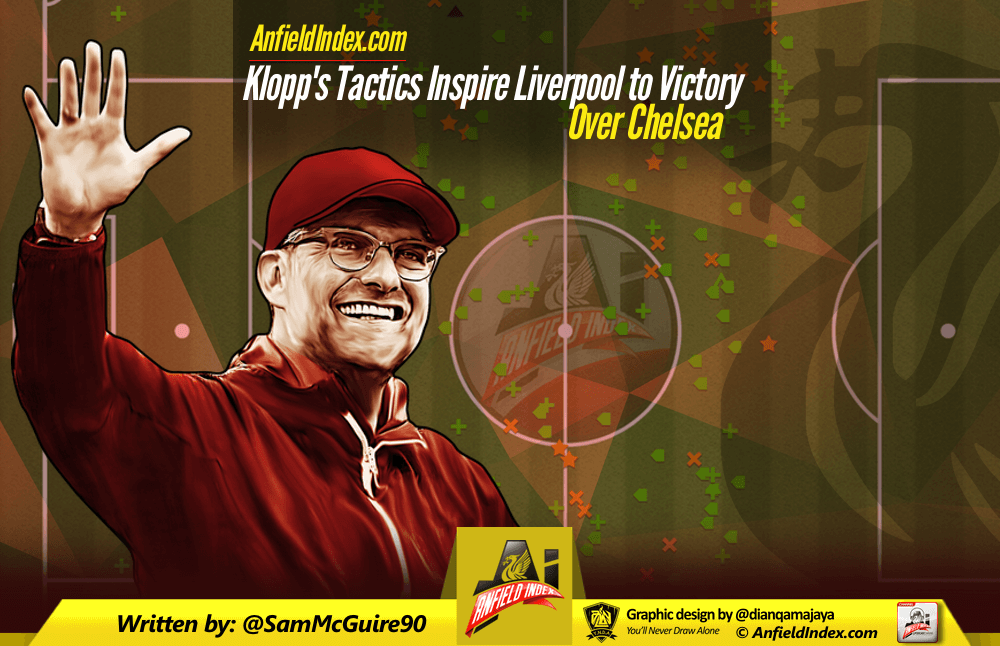 The First Liverpool Goal
Liverpool got a foothold in the first half after falling behind early on. They started to dominate Chelsea.  In the lead up to the goal Liverpool lost possession twice and within 3 seconds had regained possession. Signs of the gegenpress tactic were evident today and Chelsea couldn't cope with the ferocity of the press.
In the vine above you'll see Adam Lallana lose the ball but then you see Philippe Coutinho, Lallana and Nathanial Clyne all pressing the opposition immediately and it meant there was a turnover in possession and Liverpool had players in an attacking position already.
After Liverpool win the ball back you see Lucas lining up a pass. You can see Roberto Firmino to the right of the screen with John Terry marking him. Nothing looks on at this point but it will be Firmino's movement that plays a key part in the goal eventually.
The next shot is after Lucas has played the ball out wide. It may look like a random picture to have taken but if you look at Firmino again, he's taken up a position centrally now.
However, unlike a traditional striker he doesn't linger in the middle or even move to the back post, instead he spots the space and moves into it giving James Milner an option and to his credit the Englishman executes the pass. At this stage John Terry is in a position he doesn't want to be in. He ideally wants to be where Ramires is at this stage.
Firmino lays the ball off, Coutinho feints to shoot and cuts inside and curls the ball past Begovic. You see John Terry sprinting to get back across to shut the shot down but he was too far out of position that he could get across in time. Firmino may not have done much with the ball in for this goal but his movement was vital and it all stemmed from a press.
The Second Liverpool Goal
I had the misfortune of having to listen to Trevor Francis commentate. After Liverpool scored this goal he kept reminding the viewers had Benteke not been on the pitch Liverpool wouldn't have been able to create this goal because there wouldn't have been an option to play the long pass that Sakho did. What you don't see though, and what Francis continuously failed to acknowledge was the fact Liverpool kept the ball before this goal. They completed 8 passes before Sakho played the pass long. Lucas, Emre Can, Adam Lallana and Martin Skrtel all had a touch of the ball, teasing the Chelsea midfield into pressing a little higher as shown in the picture above.
As was mentioned earlier, a trait of a Jurgen Klopp side was to be direct. People often think direct means counter attack but he's not afraid to go route one. In earlier games this season we saw Christian Benteke as an isolated figure but not today. You can clearly see Adam Lallana and Phil Coutinho supporting him. During his Dortmund days you rarely saw Lucas Barrios or Robert Lewandowski without support and it's good to see Liverpool adopting this with Benteke.
The third goal had similarities. Liverpool had the ball in the back of the net after three passes. Simon Mignolet found Benteke with a goal kick, the big Belgian then flicked it to Jordon Ibe who carried the ball forward before returning the pass to Benteke (Adam Lallana did well with a decoy run and a dummy). The Liverpool number 9 then effortlessly stroked the ball past Begovic. This could have been a Lucas Barrios goal from 2010.
So simplistic. So devastating. This is a Liverpool side in Klopp's image.
The Press
In the past few weeks I've noticed the Liverpool squad adopt a certain sort of press. They'll position their body as if to dictate where the opposition can pass. It gives off the impression that they aren't passing where you don't want them to pass. You'll see Jordon Ibe at the top of the picture and the shape of him means the Chelsea player is more inclined to pass backwards. If the ball goes back to Terry (it did) then Lallana can press him, Lucas can push on to Fabregas, Benteke is covering Cahill and Emre Can can shutdown Ramires if the ball goes there. It forces Chelsea to go long and there to be a turnover in possession.
This last one made me laugh. Trevor Francis described it as schoolboy with everybody chasing the ball but if you watch it it's a controlled press. Liverpool work as a pack to move Chelsea backwards. It's originally Ramires on the ball but both Emre Can and Lucas press him and he has to play the ball backwards.
The press doesn't end there though. Firmino joins in and as a three they push Chelsea out of the Liverpool half and gives Liverpool a chance to get set once again. Not only that it also means Azpiluceuta (who is just off your screeen) has to get back into a defensive position to start the attack once again.
Exclusive Anfield Index Pressing Stats
Liverpool pressed in groups on a total of 27 times yesterday, whilst this was below the 32 against Tottenham it was still impressive. A total of 212 pressing actions were attempted against Chelsea, this was the highest collected on the site this season and close to the record of 223 against Spurs last season at White Hart Lane. If you listen to the episode 90 of the Anfield Index Podcast you'll get further details on these statistics as Gags states that this performance was the best in terms of overall pressing since he started to collect the stats with Liverpool pressing every 1.96 passes that Chelsea attempted. The previous best was Jurgen Klopp's first Premier league game against Spurs where Liverpool pressed every 2.3 passes that Spurs attempted.
This is with Jurgen Kloop coaching the squad for three weeks. It's come on leaps and bounds in such a short space of time and it's only going to get better the longer he has with these players.
The win against Chelsea was a Jurgen Klopp masterclass. The influence he's has is there for all to see.