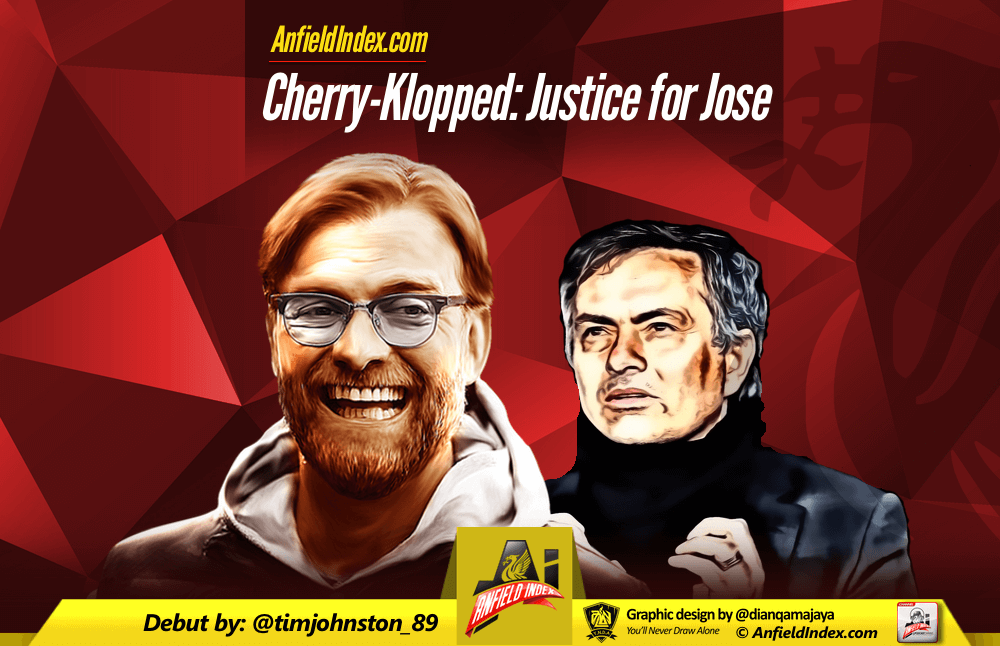 Cherry-Klopped: Justice for Jose

"Bück dich, befehl ich dir.  Wende dein antlitz ab von mir. Dein gesicht ist mir egal. Bück dich!" – Rammstein, "Bück Dich."
60% possession. 20% conversion. 100% killed-it.
The Heavy Metal Juggernaut has arrived.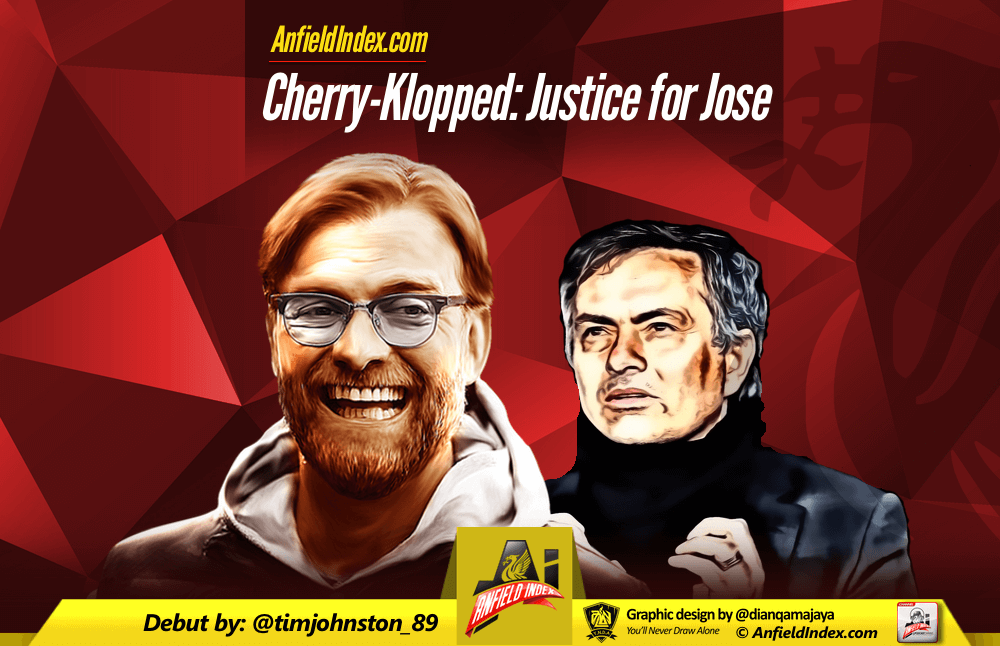 If people thought Klopp was going to iron-out the creases, then they've got more than they bargained for. He bulldozed them.
This was a game in which we out-classed and out-performed the Premier-Plastics – Petro-dollars fuelling the Ford Focus shadow of a Maserati Mourinho team.
Hitting 73% possession, we entered the Prog-Rock phase of our Heavy-Metal-journey; a period in which we achieved pornographic levels of dominance.
With 63% of our 16 shots coming from inside the box; greater accuracy was afforded with over 40% of total shots hitting the target; 20% converted.
But for anyone thinking this was merely an achievement on-par with Southampton's 3-1 win at the Bridge three weeks ago, they couldn't be more wrong.
Liverpool's 15% higher passing accuracy, 33% more tackles and 20% more possession is enough to show the difference between us. This was a much better performance against a much-improved Chelsea team.
For a side that had been accused of being a disinterested, hostile and all-round-unhappy-bunch, Chelsea did a good job of dismissing it.
Liverpool struggled in the first 10 minutes against a high-octane, highly-motivated Mourinho machine. Following poor defending from Milner, Moreno and Skrtel, Chelsea deserved some recognition for their efforts, culminating in their only goal of the match.
But what followed was not part of the script…
From frustrated and off-the-pace to free and effervescent, Liverpool fizzed into life, parking themselves in the opposition third and toying with a terrified Chelsea defence.  Maybe it was the early concession and the amount of time left, but Liverpool displayed a new mental strength that couldn't been seen even a week ago.
Coutinho will take the plaudits, but this was a team performance littered with quality.
Firmino shone in the infamous 9-½ role, completing 90% of his 22 passes in the attacking-third. Coutinho made 5 more passes but, as with Firmino, only 20 of these met their target.
Interceptions, blocks, clearances and ball recoveries: Liverpool players were in the top three for each of these categories, in addition to take-ons, aerial duels, tackles and chances created.
Besides the three goals scored through moments of world-class and individual brilliance, this was a deserved victory for every member of the team; something that cannot be said for a lot of games in the season so far.
Vengeance
But this game was always about more than the result. This was an opportunity for vengeance.
Think back. A year and a half ago Jose Mourinho had parked his perennial Chelsea bus at Anfield.
We played well. 70% possession. 19 shots. 50% on-target. 30 crosses… and lost 2-0.
Jose Mourinho was beating his chest with joy at the coup he had just executed by cheating, time-wasting and all-round-bullying.
He had stolen the title from us. This was his vengeance. His chance to make amends for the perceived "ghost goal" all those years ago.
Now, the tables have turned.
Beating Chelsea 3-1 wasn't just good because we needed the win or because we hate Chelsea. It was good because it was deserved. Not just for our own performance. But for his.
Jose's performance over the last 3 years has been dire. His pettiness. His rudeness. His willingness to throw fellow professionals under the bus or out of a job. Well, now we've made a valuable contribution to throwing him out of his.
Turning-Point
Today was a monumental turning-point for the resurrection of our club.
We now know we can score goals. We know we can win games. We know we can take the prized scalps of the League… and we've done it all without some of our best players.
When Klopp arrived he said he "[understood] the challenge here." If the challenge continues to be this easy, he might want to go elsewhere for a better one.
In the mean-time, I'm happy to watch Jose "bent over"; cherry-Klopped.