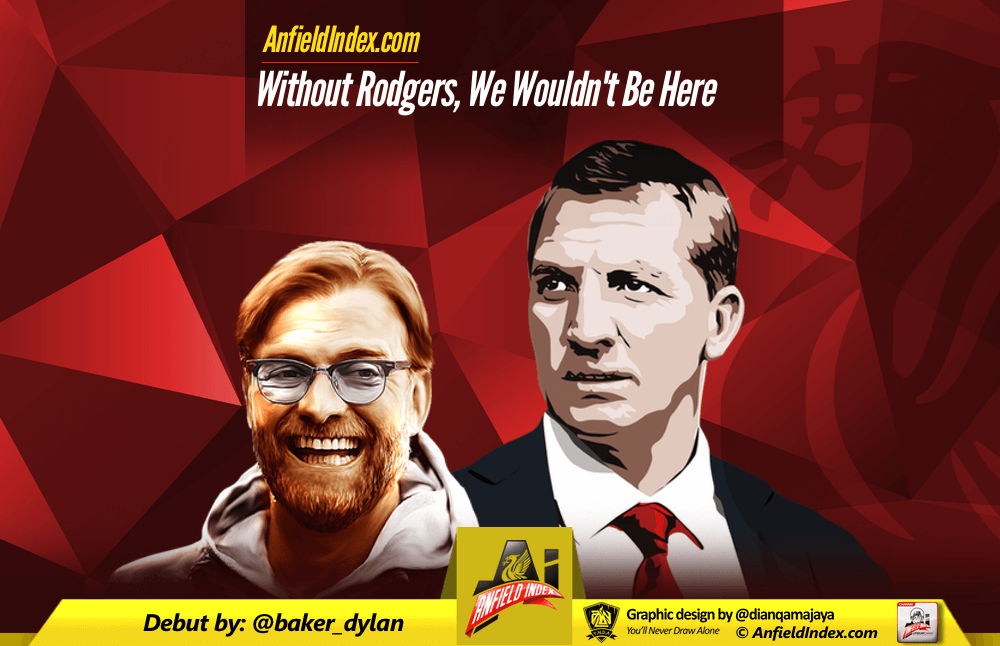 Without Rodgers, We Wouldn't Be Here

You all know, I'm no advocate of Brendan Rodgers.  There are have been several articles and podcasts that I've been on where I've slated, bemoaned, and even be-damned our former manager.
But, if we're honest with one another, we wouldn't be in this current position without him.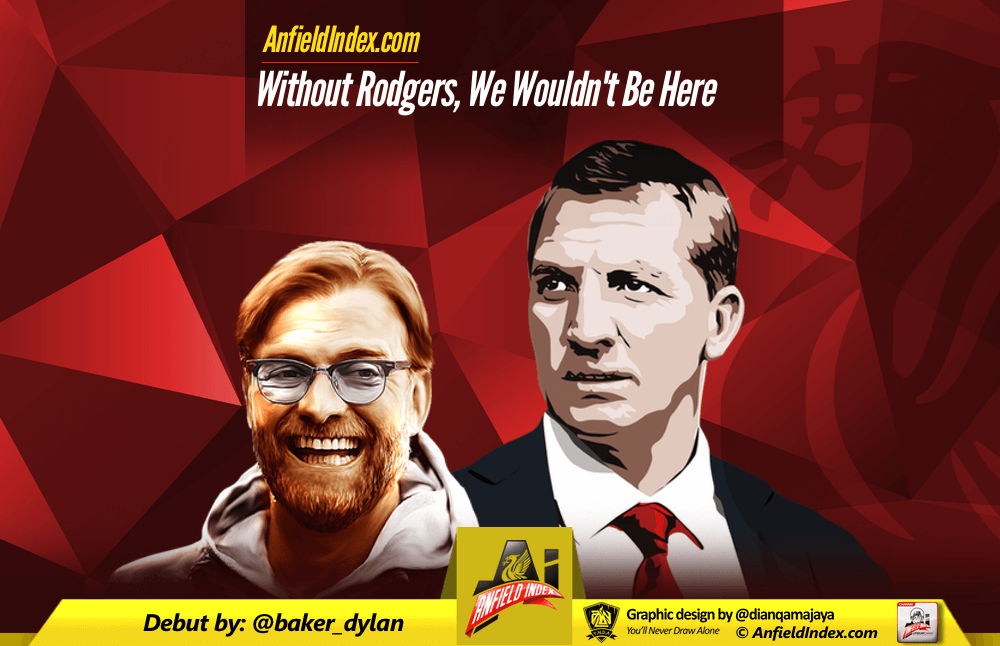 Going back a little, we were a club that was nearly drowned in anonymity.  After Hodgson (#HeWhoMustNotBeNamed) and Dalglish, Fenway Sports Group hired Brendan Rodgers with the hope that a new era would be born.  New manager, new promise, new passion for a kind of football that we inherently love.
And, for a time, we had exactly that.
After a mediocre start to the 2013/14 season, fireworks constantly burned bright over Anfield.  We scored, and when we defended poorly we scored thrice more.  It was frenetic, but it was ecstatic and exciting.  There's little more that a football fan can ask for.
In more recent memory, however, there was less excitement and more indictment as Rodgers failed to impress on the league and European stages.  A 6th place finish, an abysmal exit to the European competition, and lack of domestic trophies ultimately led to his departure three weeks ago.
And yet, we find ourselves now appreciative of a 1-0 win over AFC Bournemouth in a cup fixture and an admittedly astounding 3-1 win over Chelsea.
So, how did we get here?  What travels did we endure to witness the first win against Chelsea since 2012?  The first win at Stamford Bridge since the year prior?
We attribute much of this to new manager Jurgen Klopp.  And, to be fair, there is reason for it.  Though Chelsea have lost to many opponents this season that they shouldn't have, they scored in the 4th minute. Their play at the beginning of the match was astounding, and Liverpool couldn't cope with it.
So where does this outstanding feeling come from?  As much as I loathe to admit, at least partially from Brendan Rodgers.
Now, there is some credit that cannot go the former manager's way.  Klopp worked Roberto Firmino into the side when, after injury, it seemed less and less likely he would be used up front at all.  The more forward Brazilian was given a proper sixty minutes in which he recorded an assist to his national teammate, Phil Coutinho, and displayed some quality with his hold-up play and pressing from the front.  Alberto Moreno and Nathaniel Clyne looked far better with license to roam forward, and there's no one that can truthfully admit that Adam Lallana looked as abysmal as he did twelve, six, or even two months ago.
Yet, without the battle between an anonymous transfer committee and Brendan Rodgers, we might not have some of the players we have today.  Coutinho himself, as well as perennially injured Daniel Sturridge, came under the Brendan Rodgers reign.  Lallana, Mamadou Sakho, and, if not somewhat surprisingly, Firmino came to the club while Rodgers held the title of manager.  The same can be said for the emergence of Jordan Ibe, as well as the blossoming of Emre Can.
At the current time, though, in the midst of Kloppmania, we sometimes forget the love we had for the Irish manager and the brilliance he brought to the club.  Why he must be credited, at the very least, is a point made rather shortly.
If Liverpool as a club continued to flounder in the league, drop out of domestic competitions, and waste away in Europe, a figure like Jurgen Klopp would have no interest in Merseyside.  Period.
If fans, players, and the world hadn't been shown in a brief, fleeting moment of ecstasy that the Liverpool side could punch above their weight and aim for the top four, Klopp might not know Liverpool existed in the sphere of international football.
Instead, we have Klopp, a man in love with what Liverpool might be.  We have a squad willing to work for him.  We have a fan base mainly united underneath an organisation that looks to the future of the club rather than a quick exit.
We have hope.  Therefore, there are things that we, as Liverpool fans, have a duty to remember about Brendan Rodgers and his tenure at Liverpool.