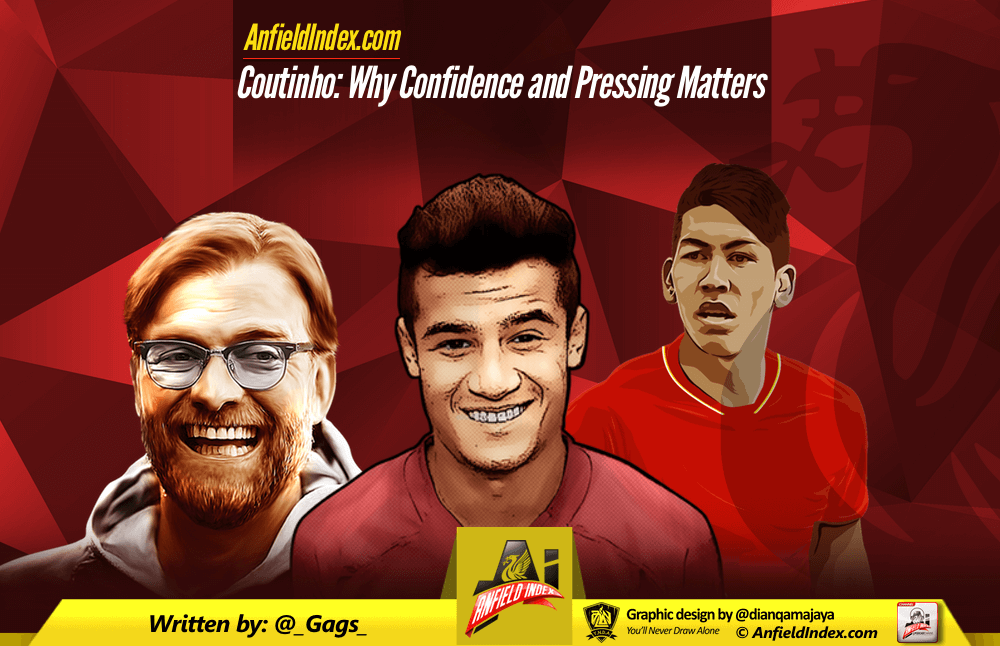 Coutinho: Why Confidence and Pressing Matters
The struggles of Philippe Coutinho in recent weeks have been well documented on this website. The diminutive Brazilian hasn't had the best of times since his beautiful long-range winner at Stoke City on the opening day of the season.
So what has been the issue for Coutinho? Lack of options in front of him? Lack of players he trusts around him? External factors causing a loss of confidence? Or all of the above?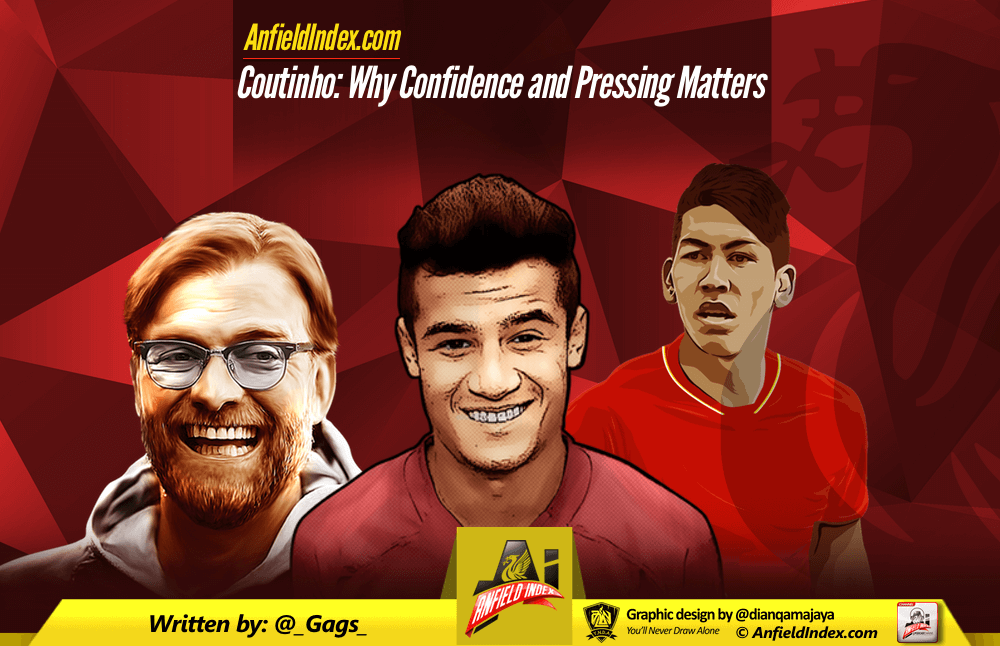 Let's look at the lack of options to start with. The Coutinho and Sturridge partnership looked on fire in Brendan Rodgers' last win as Liverpool manager against Aston Villa, as they carved through their defence in the second half with some lovely football. This scenario has been few and far between, especially in recent games, and Coutinho has been working with Divock Origi ahead of him as his main striker option. Divock is a young player that is still adapting to the league, I hope he succeeds at Liverpool and mean no disrespect to him but it hasn't clicked. Does Coutinho trust him? No one can say for sure but they've not linked up very well which forces Coutinho to go alone or go into a shell. His first two Premier League games under Klopp, both with Origi, resulted in five shots over the two games with only one on target. In the final third against Southampton he managed 21 passes and against Spurs 19.
Moving onto the Chelsea game where a certain Roberto Firmino started the game and in my view this aided Coutinho. It's tough to say but little Phil did pass to his countryman more times against Chelsea than he did to any striker in the last four games (credit Simon Brundish). Firmino also got the assist for Coutinho's first goal and Coutinho's passing in the final third went up to 27 passes; more "trusted" options maybe?
I had said this on the post-match call in of the Capital One Cup game against Bournemouth that Coutinho needs to have more quality around him and maybe the addition of Firmino will give him that shot in the arm. It's only one game so it's difficult to judge but let's hope the addition of Firmino spurs on one of our star players to reach greater heights and consistency. Consistency is the key for Coutinho.
It's very difficult to measure what leads to an improvement in form or performance, nevertheless there are some pressing stats that could provide some evidence from the Chelsea game that showed just how much Phil Coutinho needed that goal in added time of the first half. As highlighted in the graphic below he attempted only seven pressing actions in the first half but after his goal it seems his off-ball game improved and he more than doubled his pressing actions in the second half.
This is unusual because players usually dip in the second half of games. I've been collecting these pressing action stats for nearly two years now and it's very rare for a player to more than double his tally in the second half. Jurgen Klopp could well have had a word in his ear after a subpar performance in the first 45 minutes but the goal would have been a shot in the arm for Phil and given him some much needed confidence.
A very small sample size but there is some evidence to suggest that the boost our babyface Brazilian got in the second half was down to his goal. In the pressing stats that I have collected for the previous games this season Phil has regressed in the second half for everyone single one.
Coutinho Premier League Pressing Stats
– Vs Stoke: 9 pressing actions in the first half and 5 in the second half
– Vs Bournemouth: 8 pressing actions in the first half and 4 in the second half
– Vs Arsenal: 5 in the first half and 2 in the second half
– Vs Spurs: 19 in the first half and 15 in the second half
– Vs Chelsea: 7 in the first half and 16 in the second half
Note: I'm still collecting the Southampton game stats as it is difficult to collate Sunday afternoon games as I'm back to the day job on Monday's and then it's tough to collate, but rest assured I'm on the case!
The external factors mentioned that may have caused Coutinho's loss of confidence leading up to the Chelsea game could be because he's been dropped from the Brazilian squad, which he worked really hard to get back into, and also because he and his wife are expecting their first child. We often forget that these players are human beings and Phil is still young, all of this must be daunting for him. On top of that if the results and performances in your day job aren't going as you'd want them to it's very easy to lose that spark which we have seen.
Coutinho's a player that has immense talent but his decision making has been very suspect as of late. His shooting has been erractic and it's been very frustrating to watch. The point made earlier about having a lack of options ahead of him could be the reason why he's deciding to shoot himself. A look at some of his numbers this season in the Premier League show exactly that: 47 shots, 27.6% on target (13), 42.6% blocked (20) and 29.8% off target (14).
As I mentioned on episode 90 of the Anfield Index Podcast the skill for the first goal against Chelsea is one of the tricks Coutinho should use more often. He needs to feign to shoot way more than he does and he's talented enough to fool many a defender with these. The goal was sublime and left Ramires for dead! More of the same please and hopefully the ratio of blocked shots will drop.
There's never any guarantee in football but I am hopeful that Coutinho will kick on from the Chelsea game. Jurgen Klopp has shown he will play Firmino and Benteke when they are fit and both of these players should aid Phil's game. A fit Daniel Sturridge and Jordan Henderson are also key as they are players he already has forged relationships on the pitch with so there will be much more to come.
There's no doubt he's a big game player for Liverpool as his goal stats prove: in the Premier League he's scored 16 goals for us with eight of them coming against our top four rivals, oh and one against Everton! In my opinion he's the player the team should be built around and if everything is perfect infront of him (flashback 13/14: Suarez and Sturridge) he's unplayable and his creativity can be off of the charts. He can press and he's got that that hereditry flair but all he needs now is to mature and make the right decisions within the game.
Maybe then we'll see a consistent and world class Philippe Coutinho.