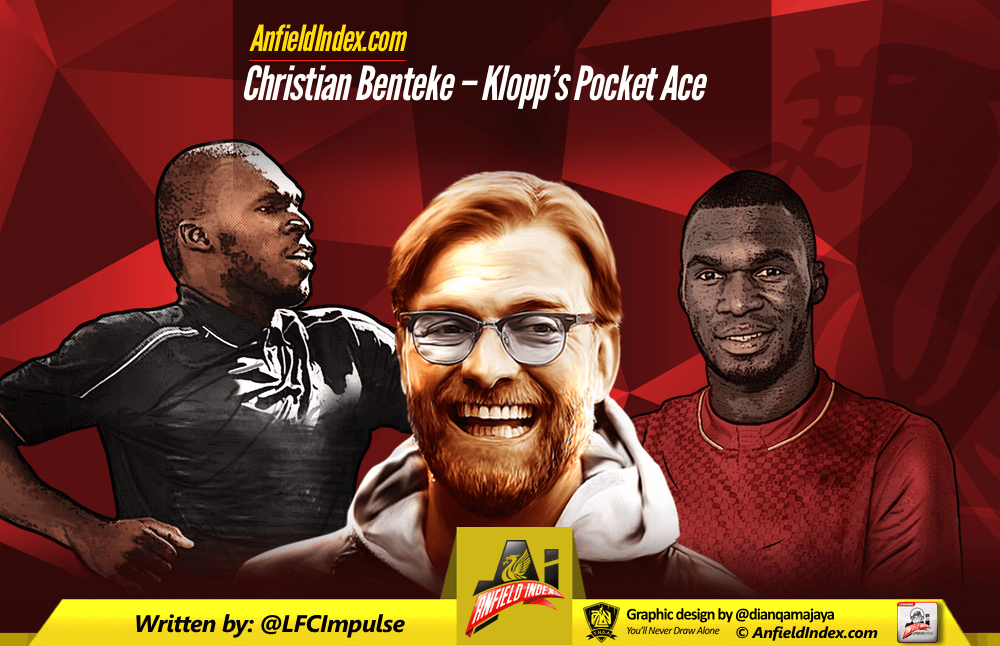 Christian Benteke – Klopp's Pocket Ace

While it's arguable as to who is the top dog in Liverpool's strikers – whether it's Daniel Sturridge who is the favoured spearhead or Christian Benteke who leads the pack – one thing that's for certain is that they are different types of players. One is your agile, pace-driven striker with a fiery left foot and the other is an aerial-duel machine.
There are similarities in this scenario when contrasted with Rafa's options in the past: Sturridge was your Fernando Torres and Benteke is your Peter Crouch, albeit both comparisons having inherent variances in certain traits and skill levels, but that's not the point. What was clear at that time was that both strikers had their roles to play at different times, in different games, against different teams and defences, and in different situations.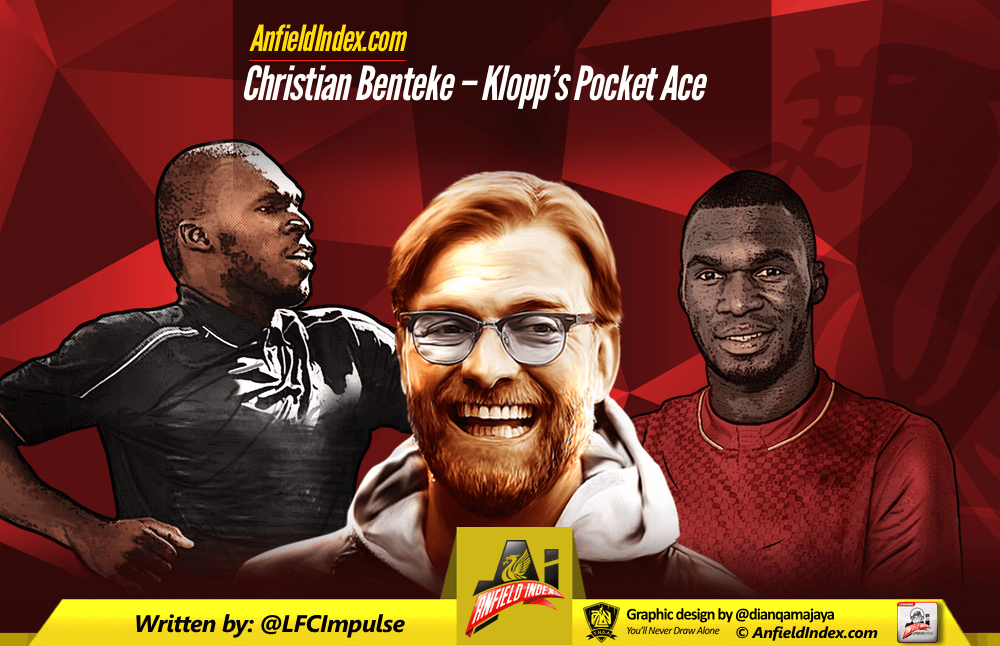 The reason Brendan Rodgers opted for a striker like Rickie Lambert wasn't because he was English or that he was from Southampton (well, maybe a little). It was because of the Chelsea game – that low block of four defenders, with the full-backs tucking into areas just within the box, the wingers pulled back to become pseudo-wing-backs, and the midfield was anchored by two defensive-midfielders.
Situations like those calls for quick switching of the ball between flanks and getting the ball into the box by way of crossing given how scarce space was on the ground when occupied by a minimum of eight players. The same could be said about Christian Benteke.
Before the arrival of Jürgen Klopp, the Belgian wasn't in the best possible state. He had debatably subpar performances bar a superb overhead-kick goal against arch rivals Manchester United, he wasn't bringing others into the game, and he was injury-stricken when the German maniac arrived at Merseyside.
Perhaps being injured was a blessing in disguise for Christian Benteke. It forced Klopp to be a tad bit more cautious with his playing time, coming off the bench on several occasions, rather than starting games. The ace in Klopp's pocket in the form of the bulky Belgian comes by way of a significant change in play-style.
The Southampton game is an excellent testament to the aforementioned change. As I mentioned in the post-match review podcast on AnfieldIndex, that change in the style of play from half-to-half makes it difficult for opposition teams to cope if they do not adequately prepare for it.
In that particular game, as observed by Srikanth Bala on the same podcast, when Divock Origi was the striker, low crosses were played rather than ones that float into the box. Build-up play had the wide players coming short into the centre to receive passes and dishing them out again, with the full-backs providing width but often cutting infield rather than driving to the by-line.
The introduction of Christian Benteke changed that.
As seen above, Milner had acres of space ahead of him to make the run infield when he first received the ball (the red arrow indicating the run he could have made). He also had Lucas and Martin Škrtel (circled in yellow) as the possible passing options if they cleared space for themselves and called for the pass. Nathaniel Clyne (circled in blue) was just ahead of him too. If Benteke wasn't substituted in, either of the above options could've been taken.
However, with the option of a striker who is more likely than not to score from aerial balls, it opened up the option of crossing the ball into the box rather than to only try to make plays via passing on the ground. This was exactly what James Milner did – he made the cross into the box and it resulted in a goal. Also take note of how much space he had whilst crossing, possibly due to the fact that Southampton expected a slower build-up and not a direct cross from deep along the flank.
With strikers, there are specific tactics and tendencies that propel them to become good and with Benteke, it is to ensure that he does not become a Torres-type striker. He's not blessed with exhilarating pace or positional awareness to constantly make runs in-behind defenders to meet the ends of through-passes.
As seen with his goal against Chelsea (albeit, deflected), he actually received the ball just within the box (as per the red circle). He draws both of the Chelsea defenders to him (blue circle) and actually frees up Philippe Coutinho (in the yellow circle) for a free run at goal if the ball was passed to him.
Benteke then takes a few touches but only moves for a very short distance before taking the shot on goal as seen in the image above just before he takes the shot. This is the type of run he should be making, rather than to carry the ball for long distances into the box or to try to outpace his defender.  What he has is a particular set of skills that allows him to flourish as a target man; drawing defenders to him whilst having the ball at his feet, using his strength to hold them off and either lay the ball off to supporting attacking players around him, or take a handful of touches to turn around the defender and take the shot at goal.
While this 'secret weapon' of Klopp's has the potential to be a game-changer, the key is to ensure that Benteke is brought in for games that would call for his skill set to come into play as well as to ensure that he actually plays to his strengths as mentioned above.
What's left now is to wait and see exactly how Jürgen Klopp gets a royal flush from his pocket ace that is Christian Benteke.