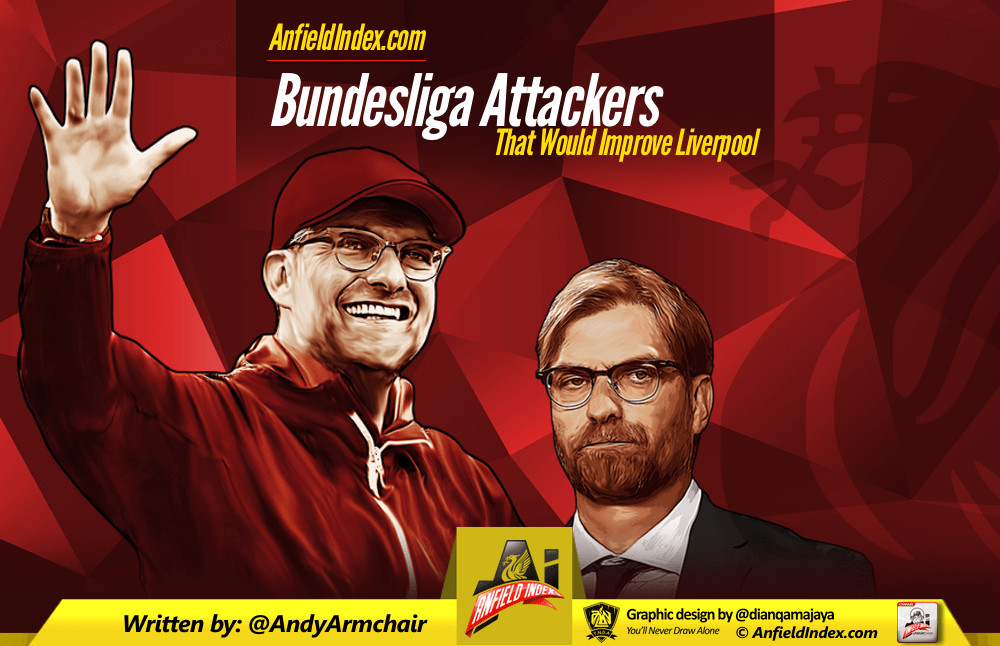 Bundesliga Attackers That Would Improve Liverpool
Liverpool's lack of goals, both this season and last, have become something of a concern. So far this season, before victory against Chelsea this past weekend, Liverpool had scored more than one goal in a Premier League match on only one occasion, against a woeful Aston Villa side. A tally of just 52 goals last season suggests this is not a new problem and it can't just be put down to the loss of Luis Suarez or the injuries to Daniel Sturridge. Certainly, confidence plays a big part, but I think our inefficiency in front of goal can be a psychological boost to the opposition, because they know not only that we are not scoring many, but also we have a record of conceding often. So even if the opposition go behind, they will undoubtedly feel they are still in the game and conversely, our players will also feel that. So, an improvement in our confidence will help, as will an improvement in our defensive record, but a boost to our attacking play could help realign the psychological scale back in our favour.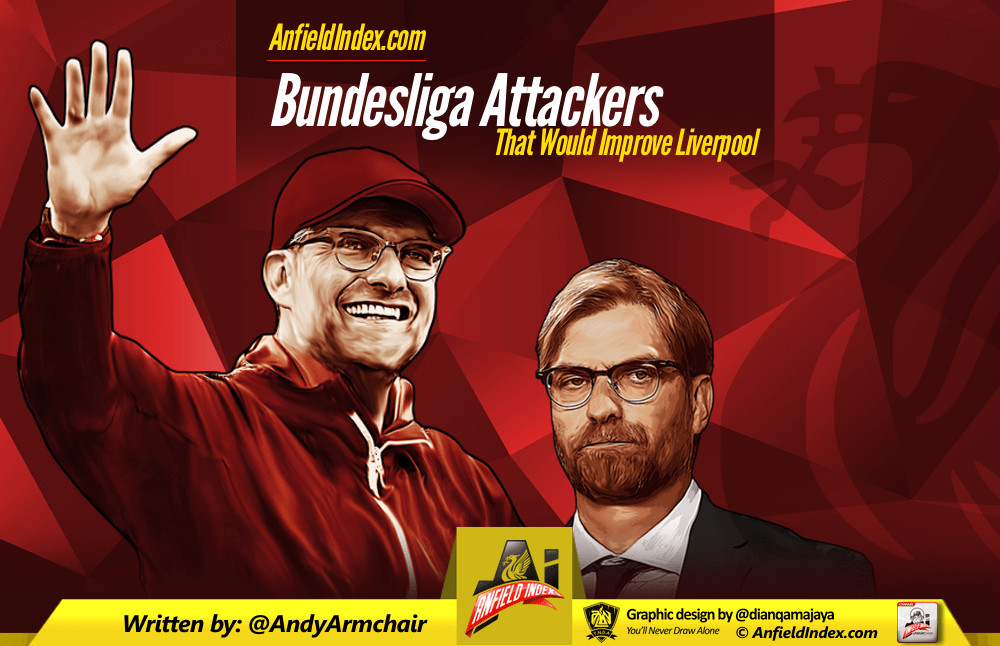 One of the issues we currently have is a squad imbalance; we are possibly over-manned in certain roles, but thin on the ground in others, such as the full-back positions. One particular lack of depth that is hurting is in wide attacking areas. The sale of Raheem Sterling left us with just three wide players on our books: Lazar Markovic, James Milner and Jordan Ibe. Markovic was sent on loan, Milner was used as a central midfielder and Ibe is still raw and would probably benefit from another loan spell. We've tried other players out there to limited effect, so what our squad needs are one or two wide players that can also offer a goal threat. I've identified some potential targets to solve these problems for us from the Bundesliga, not just because we now have a German manager who knows the market well, but because there is such a plethora of talent there.
Leroy Sane (Schalke)
Listeners to the recent Bundesliga special edition of the AI Committee podcast will know I've been hugely impressed with Sane from the first moment I saw him play and this past summer I predicted that he would one day become a superstar of the game. That's a prediction I stand by because he is a very special talent. He has a composure that you don't normally see in a player so young and acceleration so explosive, that mere words could not do it justice.
He is your ultimate modern winger – fast, skilful and capable of cutting inside to score goals. Statistically, his 4 goals and 2 assists in 11 Bundesliga games this season may not be breath taking, but his football is. With fantastic pace, technique, a beautiful left foot and sky high potential, he will be worth the high transfer fee he would likely command, even at just 19 years old.
Kevin Volland (Hoffenheim)
Kevin Volland would offer us a number of different options, he's equally effective as a striker or as a wide player and despite Hoffenheim being very poor this season, he has been a shining light for them. A certain Roberto Firmino had a terrific understanding with him during their time together at the club, so he could bring with him that immediate kinship on the pitch. Versatility can be a double edged sword for some players, but Volland is one of those rare players that offers quality in all positions he can play and could really help us, whether that be out wide or up front. His career goal record of around 1 in 3 is not prolific, but when you consider he's played wide for a lot of it, it's not to be sniffed at and this season he has played at centre forward more and has notched 5 goals in 10 Bundesliga matches. Having turned 23 in the summer and recently been brought into the full Germany international squad, he's a player on the up and Hoffenheim's poor start to the season could provide us with the ideal opportunity to sign him in January.
Patrick Herrmann (Borussia Mönchengladbach) and Karim Bellarabi (Bayer Leverkusen)
Anyone who follows me on Twitter will be well aware of my admiration for Herrmann and my belief that he would suit us down to the ground. His work-rate, tactical awareness, versatility, blistering pace, technical ability and eye for goal would undoubtedly improve us. Tragically, a knee injury (ACL tear) has disrupted his season and could yet put him out until May. With this in mind, Karim Bellarabi at Bayer Leverkusen is an ideal alternative, a player I have written about before. He possesses many of the same qualities that Herrmann does, though he's probably more of a wide forward than Herrmann, who's more of a wide midfielder. A subtle and minor difference, I know, and perhaps one that many don't actually consider a difference at all, but Bellarabi is more direct and the better dribbler, but either would not only suit us, but improve us.
Julian Brandt (Bayer Leverkusen)
He may only be 19 and low on experience, but Brandt is a winger of huge promise, with a lot to offer. Having made the breakthrough into an exciting Leverkusen side, he's fast becoming a regular starter under Roger Schmidt. His pace and crossing are reminiscent of a traditional orthodox winger, but he also has an eye for goal and an impressive set piece delivery – although it's difficult for anyone to show their ability from a set piece when they have the incredible Hakan Calhanoglu as a team-mate. Brandt is one of German football's big hopes for the future and Jürgen Klopp and his backroom team will know all about him and his potential, so if other avenues are not possible than perhaps Brandt could be a surprise target with the long term of the club in mind.
What I've tried to do with the players I've recommended are identify realistic attacking targets because I feel it's pointless dreaming about signing the likes of Lewandowski, Reus and Aubameyang as I firmly believe they simply won't happen, despite Jürgen Klopp being our manager now. Improving our goals return does not necessarily mean signing another striker, hence why most of the players I've identified are predominantly wide men. Also, quite importantly, it's about identifying players that would improve our team and its attacking play and players who fit the profile of the club and our manager; to my mind, any of the above would do that for Liverpool Football Club.