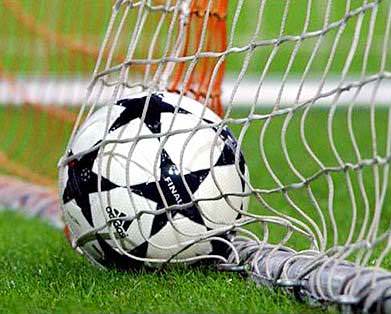 When Liverpool Score

Goals are everything in football, but i'm guessing you all know that already.
What is interesting to look at though, is when the goals actually come – meaning at what point in the game do Liverpool score? We hear all to often of teams who leave it late to win the game, often enough that is applied to Liverpool – but is there any truth in it??
For the purposes of this post, the only goals that will be looked at are Premier League goals – all 19 seasons worth right up to the present date.
In total, Liverpool have scored 1,172 Premier League goals, an impressive tally. Our lowest number of goals scored came in the 99-00 season when we managed just 51 League goals from 38 games, our best tally came in arguably our best Premier League campaign in 08/09 with the reds racking up an impressive 77 goals.
Of those 1,172 goals, 491 have come in the first half (43%) and 681 have come in the second half (57%).
Of those 1,172 goals, only 1,138 have been scored by Liverpool players, the other 34 have been own goals – but every little helps.
The table below illustrates exactly when the goals come: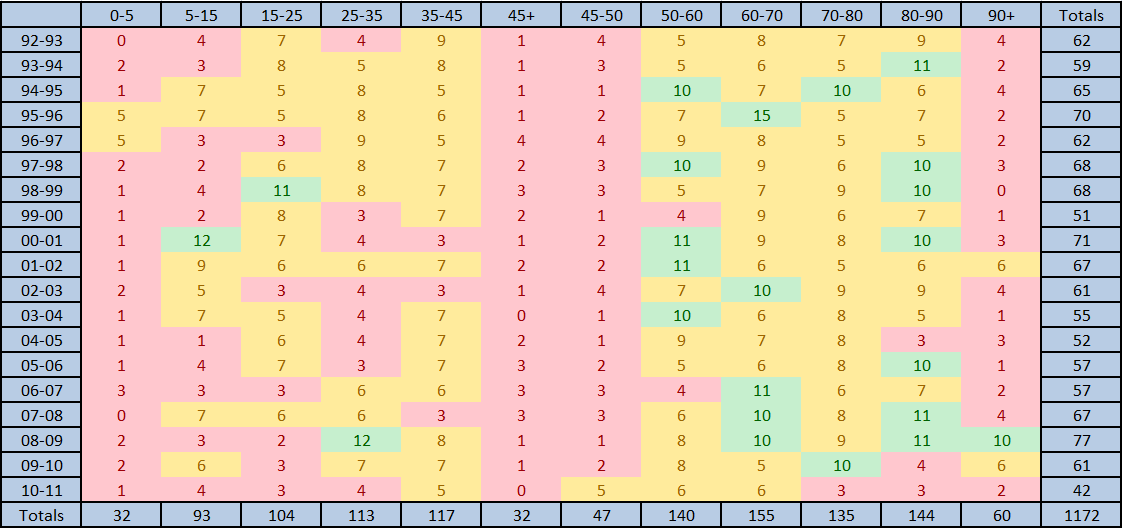 As you can see Liverpool are not very prolific in the opening 15 minutes of games, or in first half added time, the first 5 mins after the break or in second half stoppage time. It would appear that Liverpool are most prolific in the final 30 minutes of games, being at our most productive between the 60th – 70th minutes.
So it is safe to say that we aren't very good at take the opposition by surprise early on, nor are we particularly well at coming out second half and causing immediate damage.
One thing that does deserve pointing out is that in the season that we so very nearly won the league, 08/09 – we scored 10 goals in added on time at the end of the game, 4 of those proved to be decisive winning goals, also those 4 goals are the most injury time winners we have ever managed in a single season. There was a real attitude to the team that season and they quite literally never gave up until the end, that is they say, the mark of champions, but silly draws let us down immensely.
The table is what it is, you can read it and see when and how mang goals have come our way, but looking through so many games there are a few other stats that we can look at whilst at the same time expanding on what we have already looked at: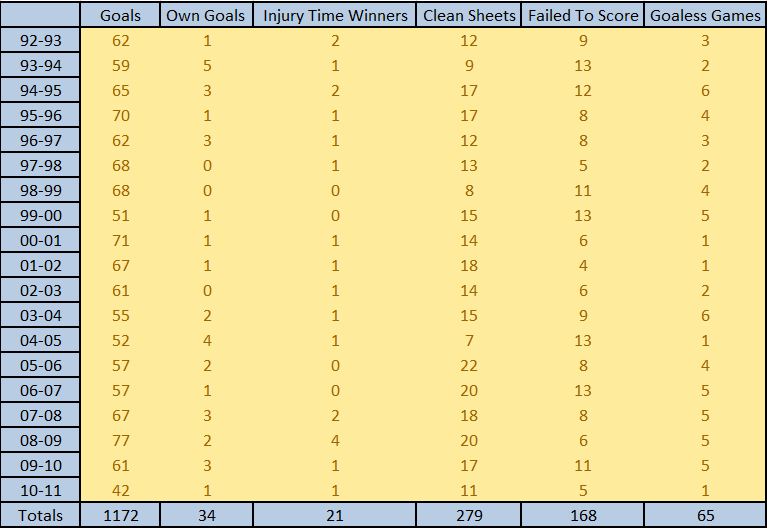 Now this table shows us some interesting things, as well as confirming Pepe Reina as the clubs best goalkeeper of recent years, responsible for 108 (38.7%) of our Premier League clean sheets! Now, for own goals, they are not ones that we have scored ourselves, but own goals that we have benefitted from.
As far as injury time winners go, we are probably not as prolific here as we should be, lord knows we can all think of numerous times when we have caved in right at the end – but thats a different post! Now something that should have been mentioned earlier is that we have played 727 Premier League games to date, that puts the 'Failed To Score' margin into context. We have failed to score in 168 (23.1%) of our Premier League games. Now until last season it looked as though this stat was on a nice decline, even so far this season we have scored in more games than we did in 08/09, score in each of our remianing games and that stat will remain.
Even when considering the number of goaless games, it only highlights just how bizarre a game football can be. Only one goaless game this season – interestingly for the superstitious folk out there – last time we went a season with only 1 goaless game we came 5th with 58 points – there is still a chance we could finish 5th although, 58points would be a poor total (13 from 21 remaining) – not impossible to scrape into 5th – highly unlikely. The figure of 65 goaless games is 8.9% of our 727 Premier League games – not sure what to make of it but i would hazzard a guess that it isnt the worst tally out of all the Premier League's everpresents.
Now things always look good in a chart, dunno why – so i will leave you with this little pie chart showing exactly when the goals came as a % – enjoy.