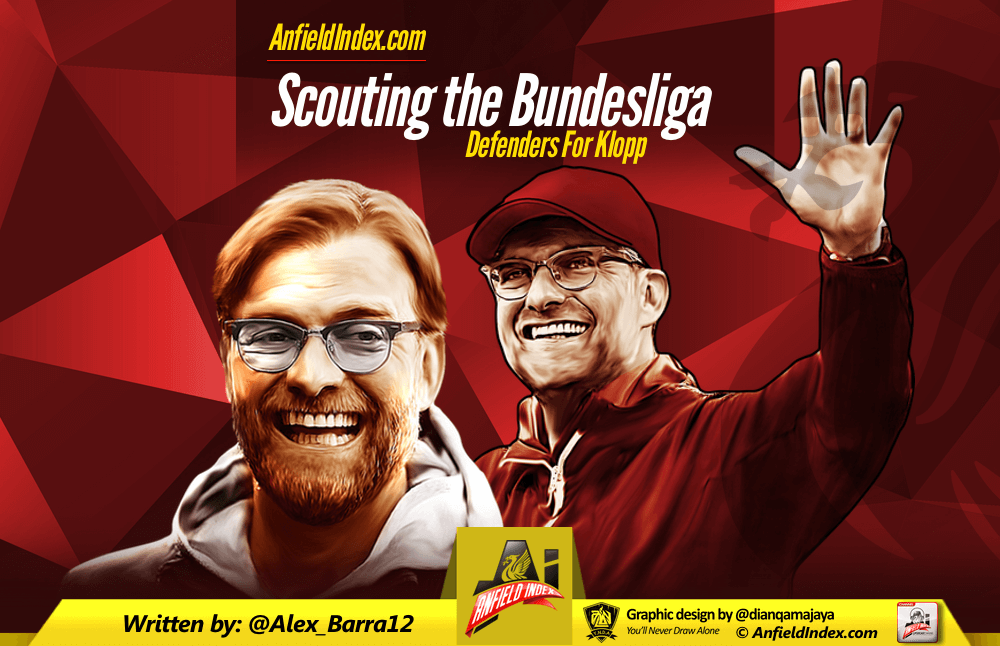 Scouting the Bundesliga: Defenders for Klopp
"The first thing you need, maybe in life, is a stable defence." He said, enthralling the world's Red collective.
"Because you can only stay confident in a game when you know not each offensive move of the other team is a goal. That's the first thing and when you start a development nobody starts a development from the top of the table, only a few teams"
Pieces from Klopp's first conglomerate of words; each of them lapped up by every Liverpool fan dreaming of a new horizon: one filled with hope and stability and excitement.
Amidst Borussia Dortmund's high octane, gengen monstrosity which saw teams overwhelmed and encumbered by a blitzkrieg of Jurgen Klopp's immense counter-attacks, the foundations were very much set on a stable defence. In 2011/12, possibly Dortmund's finest season; winning a second straight league title as fiercest rivals Bayern Munich properly took notice of a challenger to their throne, Dortmund conceded a mere 25 goals, centre half pairing Mats Hummels and Neven Subotic working together extremely well.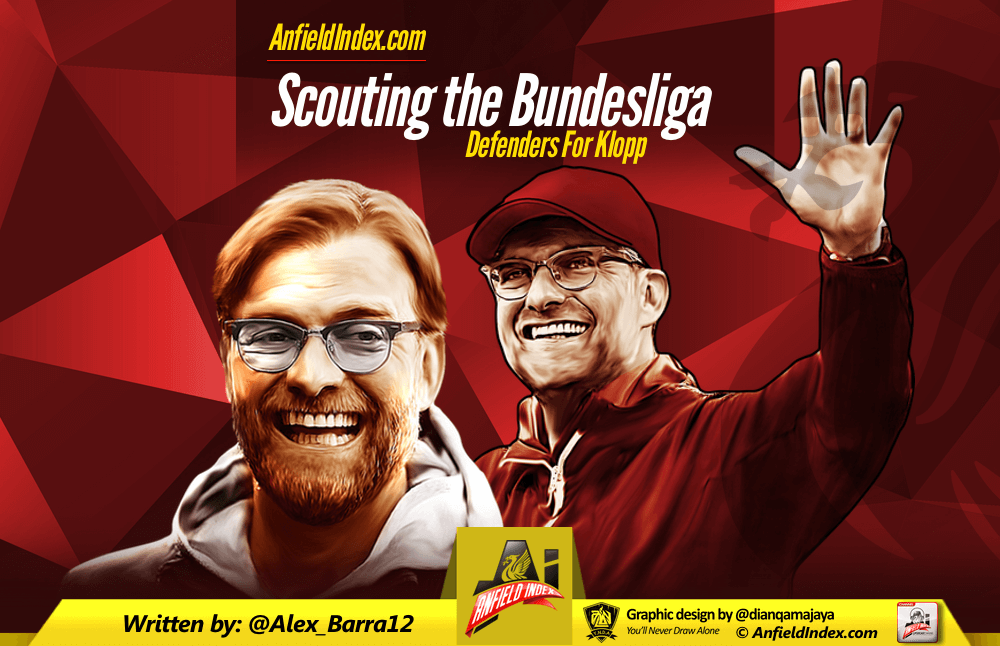 Now, Klopp will seek to replicate his Dortmund successes through a new way, with a new squad. Of course, there's no indication; or need for Klopp to simply come to Liverpool and replicate his Dortmund tenure; all good managers – of which Jurgen is certainly classed under – adapt to their surroundings and create something new in every job. Klopp's first task; and it's a monumental one, is to turn Liverpool from a side which conceded leaky, dreadful goals stemming from a poorly constructed back line into a side which can be confident of not conceding every time a pacey striker gets near Martin Skrtel or Dejan Lovren gets anywhere near the ball.
Given Klopp's affiliation and reputation within the Bundesliga, it makes sense that Klopp's first stop to improve his new side would be the German Premier competition, which, with Germany's rise to power, contains some exceptional young defenders.
Ricardo Rodriguez – Left-Back – £15-25m
Perhaps six months ago, as Wolfburg rode the crest of possessing one of the most energetic and dynamic squads in German football, this move would've been incredulously optimistic. But amidst a Volkswagen financial crisis and with a manager whose name possesses huge draw in Europe; especially Germany, it's not all that unreasonable to suggest the Swiss sensation on the left flank could be Liverpool-bound, should Alberto Moreno suddenly encounter a shock turn of form.
Wolfsburg's Swiss star burst onto the world scene at the World Cup; though he was noted before that for being a consistent and evolving performer on Wolfsburg's left flank. Often utilising the space carved out by Kevin de Bruyne or Vierinha, depending on who occupied the left side of Wolfburg's attack, his viciously pinpoint delivery and tendency to continue runs inside the box would make him a dominant figure in Klopp's energetic gameplan; his ability to exploit space created by a counter-press (Klopp's trademark) complementing his crossing ability.
https://www.youtube.com/watch?v=w1yJOH8Rs3o
As of right now, Alberto Moreno has Joe Gomez as backup; both players could very well be instrumental in Klopp's plans – this writer is of the firm belief that Alberto Moreno could very well become one of Klopp's biggest assets – just as Marcel Schmelzer was turned into a bundling ball of energy on the left hand side. There will, however, need to be tweaks in Moreno's game; to adapt his starting position deeper, rather than 20 yards ahead of his defence. From that deep position, he can run into the space created by the bustling energy ahead of him. Exploiting that space will be pivotal to the team's width, rather than being caught too up-field when the opposition team recover the ball. Should Moreno not fit in with Klopp's plans, Rodriguez would be a tremendous signing.
Niklas Süle – Centre-Back – £14-20m
The hulking figure at the spine of Hoffenheim's defence for the past two seasons, Niklas Süle broke into the Hoffenheim fray in the 2013/14 season, an incredible achievement at the tender age of 18, and subsequently started in 23 of his 28 appearances. Embroiled in a Hoffenheim side with defensive problems this season, it should be Jurgen Klopp's prerogative to seize on the opportunity to bring one of the best young defenders in the Bundesliga to his incumbent Liverpool side.
Standing at 194cm tall, the beast of a physical specimen exerts his dominance in the air. In 2014/15, he won 4.5 out of the 6.5 duels he would contest per game: this coming up against the physical Bundesliga forwards like Bas Dost and Adrian Ramos.
https://www.youtube.com/watch?v=ICwjdZF5zCo
Süle differs from the traditional standard bulky, physical defender in that he likes to bomb forward with the ball at his feet, possessing both the physical prowess of a covering defender and the natural calmness on the ball. In the video above, the audacity to strike a long range shot against a defence camped inside their own box is matched by a hulking header that beats a charging goalkeeper; traits that identify Süle as a player. What is more difficult to see in a highlights package is the natural presence he has as a defender: positional awareness and the natural ability to act unexcitedly and innocuously whilst on the pitch; it's rare to find Süle flustered by defenders outwitting or outsmarting his defensive awareness. He is very much a jack of all trades when it comes to being a traditional defender, and last season he made an exceptional 2.5 tackles per game, with an even more impressive statistic alongside: 0.6 fouls conceded per game, one that he's bettered this season with just 0.5. That's a foul once every two games, a far cry from Martin Skrtel and Lucas Leiva.
Marcus Gisdol, the now deposed manager of Hoffenheim following their start to the season, warned Süle off of the tendency to make aggressive challenges and effectively banned him from challenges that would even remotely endanger his position on the pitch; and so the calm, composed nature properly developed within the young German.
The biggest selling point for Süle however is his natural ability to lead a defence at the tender age of nineteen. Considering defenders don't usually fully mature until their mid-twenties, to find one so young with such immense abilities to lead an otherwise shaky defence through tough periods in games is a hallmark of Süle's talent, and one which Jurgen Klopp would be clever to make use of.
Benedikt Höwedes – Centre-Back – £10-20m
Perhaps the most well-versed defender of the lot, certainly the most notorious amongst Liverpool fans, the FC Schalke Captain properly came to prominence during the 2014 World Cup when he deputised for Low's men in Brazil. Höwedes exudes confidence and presence in the centre of defence, and whilst he may not be the best tackler (just 0.4 successful tackles per game in the 3 starts he's made this season, compared to the aforementioned Sule's 1.6) his ability to read the ball and position himself accordingly is immense; averaging 3.3 interceptions per game, but as is always the case with defenders, stats need to be kept at a distance; the ability to read the game and avoid disaster is the most pressing factor, one which makes Benedikt Höwedes an enticing commodity.
Alongside Mamdou Sakho, he would be as comfortable on the ball as he is with the dynamism and energetic attacks of the Bundesliga surrounding him, and possesses enough composure on the ball to supply the Klopp-infused blitzkrieg style that Liverpool are sure to see. More than that, the ability to direct a defence; often covering for marauding fullbacks and preserving possession right as the opposition get numbers forward is a trait not seeing in a centre half since the days of Daniel Agger; as well as a capability in possession to boot.
Similarly enticing is his dependability to play anywhere across the defence, having begun his career in a hybridised role as a centre half and right full-back. Höwedes' ability in possession can often lead to a nicely weighted pass or marauding run through the heart of the opposition midfield. Alongside Mamdou Sakho, Höwedes would be simply tremendous.