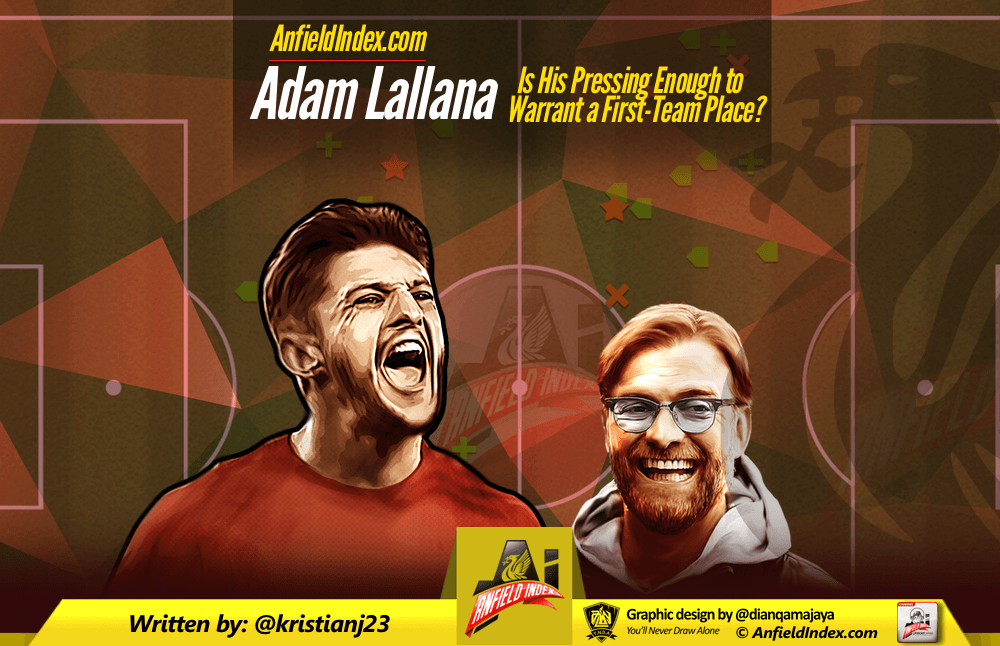 Adam Lallana: Is His Pressing Enough to Warrant a First-Team Place?

Adam Lallana's a funny one, isn't he?
He throws in a sexy little Cruyff turn one minute and follows it up with a weak shot. He draws gasps from the crowd as often as he does groans. His Liverpool career to date has been the very definition of stop-start, as niggly injuries have struck just as he's getting a run in the side.
However, Jurgen Klopp clearly sees something in the attacking midfielder, who has started in every game the German has overseen, bar the League Cup win over Bournemouth when a host of first-team players were rested.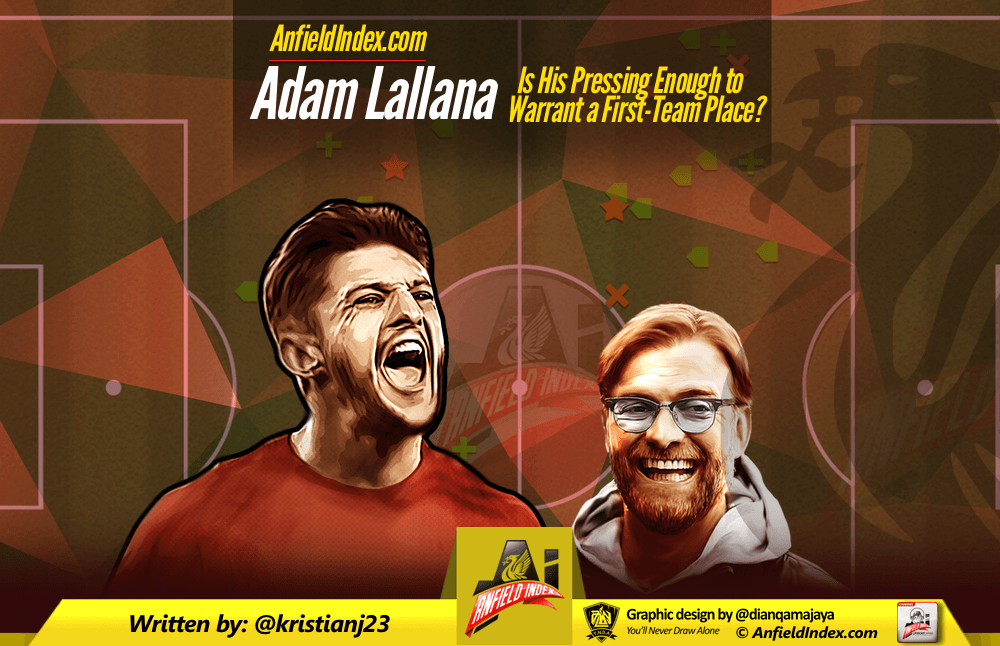 Lallana is evidently eager to impress, too, and the picture that is now synonymous with Klopp's first game in charge – Lallana collapsing into the German's warm embrace after being substituted at White Hart Lane – shows a mutual respect between the two, not to mention the sheer effort that the midfielder put into his 81 minutes on the pitch.
While the 0-0 draw at Spurs was promising, no-one can dispute that the 3-1 win at Chelsea was the finest result of Klopp's short Liverpool tenure thus far. It had his blueprint stamped all over it. Aside from an early lapse in concentration, the Reds were solid defensively and they combined this with bursts of direct, attacking football and – of course – high-octane pressing.
However, it wasn't James Milner or Emre Can who completed the most pressing actions at Stamford Bridge. That accolade fell to Lallana, who amassed 44 pressing actions across the 90 minutes.
That's one every two minutes.
For all his fancy footwork, Lallana's most telling contribution came in his unselfish contribution off the ball as he hassled and harried a beleaguered Chelsea side throughout.
Lallana almost played as a nine-and-a-half alongside Roberto Firmino for an hour and was often the player at the tip of the Liverpool formation in the first half. Predictably, he kept the ball ticking over and brought others into play with neat passes, but far from being a luxury player, Lallana managed an impressive 21 pressing actions before the break. Only Lucas (22) amassed more.
In the second half, only 4% of Liverpool's pressing actions were in the final third as the Reds were content to soak up Chelsea's blunt attacks before pouncing on the ball inside our own half. The introduction of Christian Benteke undoubtedly helped this too, as Liverpool were able to play a much more direct style in the knowledge that the big Belgian would likely keep the ball.
Benteke is no longer isolated like he was in the early parts of the season, with red shirts now swarming to support him. Both of Liverpool's late goals came in this fashion, but also playing a big part was Lallana.
He's often criticised for waning after the hour mark, but Lallana made a staggering 23 pressing actions after the interval, which was seven more than the next two players in the list – Phil Coutinho and Lucas. To make so many high-intensity runs without the ball is incredibly rare – particularly in the second half – but perhaps Lallana's fitness is improving with his consistent run of games.
What's more, he played his part in the 74th and 83rd minute goals that won the Reds the game.
Benteke's knockdown just evades Lallana in the build-up to our second goal, but his movement towards the ball forces three Chelsea defenders to retreat, which allows Coutinho time and space to pick his spot. The fact that Lallana has sprinted into such an advanced position to support the striker is testament to his desire to get forward.
For the third, Lallana again springs forward to dummy Jordon Ibe's pass, which deceives John Terry and Gary Cahill. Benteke still has a lot to do from that position, but Lallana's influence cannot be underestimated.
Although he put in a sterling display at Chelsea, there are still big question marks surrounding Lallana's final product. No league goals in seven appearances this season tells its own story, and with the likes of Jordan Henderson and Daniel Sturridge yet to feature under Klopp, Lallana's position may well come under threat.
Nonetheless, the 27-year-old has shown that his insatiable work-rate makes him a key component in the current set-up and he could drop further back to replace James Milner in a deeper midfield position should Klopp decide to remove the former Man City man.
Even if Lallana is relegated to the bench, his impact as a substitute may well be what is needed in certain games that are tight after an hour – as was the case at Chelsea – where his relentless pressing may draw mistakes from a tiring opposition.
The beauty of the matter is that Klopp has these luxurious decisions to make. In years gone by, Liverpool have turned in vain to the likes of Iago Aspas, Suso and Jay Spearing in times of need. Just because Liverpool now have expensive, talented options on the bench, it doesn't mean it's money wasted. Chelsea often leave Oscar on the bench. Arsenal regularly turn to Olivier Giroud or Theo Walcott, while Man City have talent in abundance outside the starting XI.
Klopp will want just that little bit more from Lallana in the coming weeks, but if he finds the back of the net regularly he'll be earning plenty more bear hugs from boss.
N.B. All pressing action graphics are courtesy of the ever-excellent Gags Tandon. If you like what you see, make sure to follow him on Twitter @_Gags_.