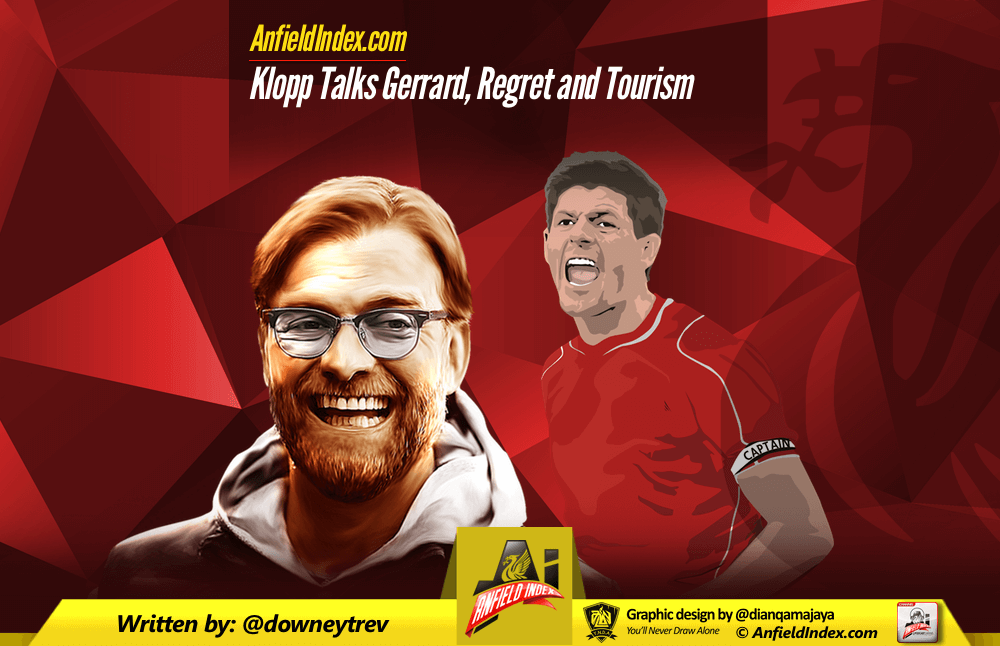 Klopp Talks Gerrard, Regret and Tourism
"My one regret in life is that I am not someone else."

Woody Allen
All of us know the irksome sting of regret. How many times have you, dear reader, walked away from a verbal confrontation, thwarted by your own inarticulacy, only to be imbued later with what the French call l'esprit de l'escalier – staircase wit – that moment when, too late, one thinks of the perfect riposte. However, as bad as it is to be tortured by what one should have said, it is infinitely worse to be tormented by what one shouldn't have said.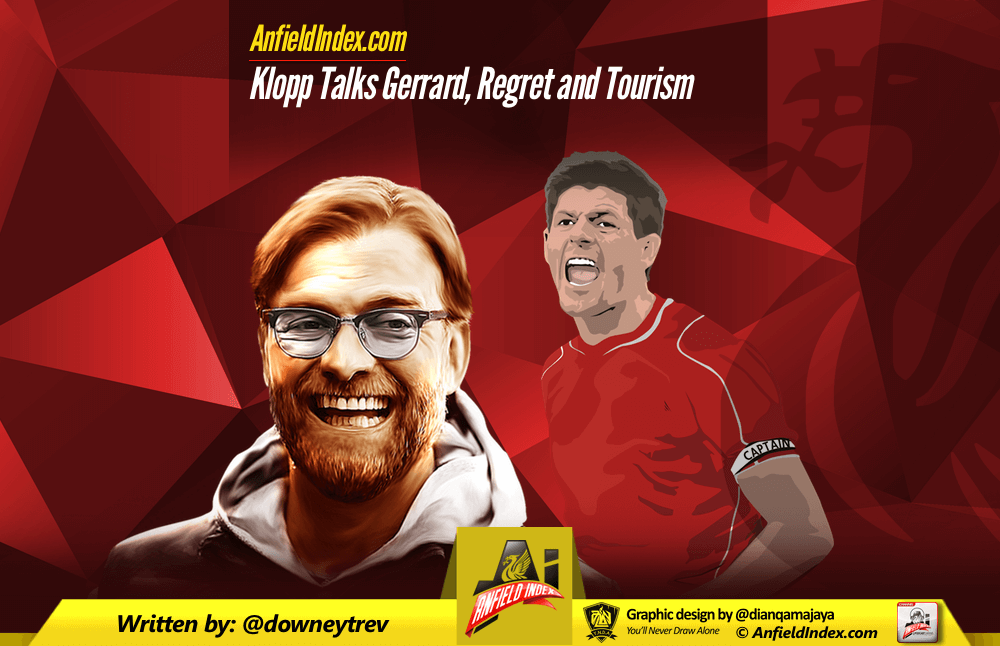 There are few things worse than that overwhelming feeling of utter self-loathing that sits like a ball of angst in your chest as you mull over an embarrassing, foolish or ill-conceived public utterance. When I was a child, I went on a play-date with a girl of my acquaintance. Her parents collected me and as I bounded excitedly into the back seat beside my little chum, she leaned in to kiss me. On the lips. A look of devilish intent had transformed her cherubic face and her eyes were almost unrecognisably narrowed as she warmed to her task. Horrified I blurted out the first thing my wheedling pre-pubescent voice was sent from the terror-stricken brain that controlled it.

A blind panic had seized me, you see. I just needed to say something, anything, to stop whatever the hell it was that was occurring in the back of that 1980's Toyota. Imagine the indignant disdain felt by the kindly couple in the front seats when the seven year old proto-curmudgeon behind them was suddenly and insistently screeching something about how late they were and how bored he'd been waiting for them to arrive. The tone and content of it was so horribly jarring. Wasn't this the shy neighbour boy? Is this cheeky little twonk for real? It may have put a quick stop to the amorous advances of my would-be child-bride but it also left your scribbler with the kind of toe-curlingly, buttock-clenchingly humiliating memory that never really fades.
Jürgen Klopp, that most eminently quotable of gents has been having a little trouble in this regard himself, of late. The charismatic Swabian with the unsettlingly toothy grin has become quite the focus of British media attention since his arrival on Merseyside. One expects a certain level of hysteria from the red-tops and satellite television channels, what with their incessant need to fill column inches and type inanities on their yellow ticker. Jim White needs a constant stream of utter bilge to squawk hysterically about, after all, now that Harry Redknapp's texts have dried up.
The Redmen's manager, however, has managed something quite remarkable. The normally histrionic levels of attention given to a new foreign manager have been comfortably surpassed. In fact, it's been a little like Beatlemania since the Black Forest native took over at Liverpool Football Club and his press interactions have never ceased to be entertaining. Unlike many of his peers, Klopp, whilst always courteous, is not afraid to call out blatant stupidity. His response to a daft question about a title challenge after the weekend's win over Chelsea ("Are you crazy?") was typically humorous but also betrayed a clear impatience with any nonsense. And nonsense is something he has had to wade through constantly, with his previous utterances being dragged up at every turn. So much nonsense.
I'm sure you too have cringed at the number of times some uninspired hack has mentioned "heavy metal football" to the bespectacled gaffer, but kindly Jürgen Norbert has enough self-awareness to simply grimace and try to move the conversation on. It bothers him, clearly, but, as yet, he has not been cruelly dismissive. In fact, in his latest chat to the assembled media, Klopp was candid enough to accept a lot of the responsibility for the lack of imagination in his scrutineers' enquiries. He has, he admits, been a victim of his own quotability, or as he somewhat less delicately put it, "the problem with my life is I have said too many s*** words in the past! And no one forgets it."
Ahead of the match with Rubin Kazan, the bearded cuddle enthusiast was predictably frank about the task facing his Liverpool charges in Russia. He acknowledged the size of the challenge and defended the previous draw many had been critical of. Most fans will be thrilled to hear a Liverpool manager speak about the importance of European competition and he insists that himself, Peter Krawietz and Zeljko Buvac have done their homework on the opposition.
"It's not always the biggest advantage to play 11 against 10 and Rubin Kazan did well on that evening, of course," Klopp said of the underwhelming Anfield encounter. "As I remember, we had our chances and the best moments from Kazan were for sure in the first half when they were 11 against 11. It's not a problem, it's football. We know that it's pretty hard tomorrow so that's why we are here, that's why for us the Europa League is a very, very big challenge because all of these teams in this tournament have their targets. But we have our targets and that's the only thing I'm interested in. When I prepare my team for a very important game, like it is tomorrow, I only watch the game and the style of the other team and not a single player, so I don't think about one player. They have a few young players in the squad that I didn't know before, but now I know them."
When a local journalist asked if the manager had had a chance to take in the surroundings, Klopp's wry humour was again evident, as he insisted that sadly there had been no time for such niceties and that while the facilities were splendid, he would be unable to pen a Lonely Planet guide to the region.
"We are not here for visiting Kazan and I hope you will see that tomorrow," said Klopp. "(But) it's very comfortable. The dressing room is much bigger than at Liverpool! I haven't seen the pitch and that's the most important thing in the stadium. We have to go out and see how it is and train, then we'll know more about it. From outside, what we could we see when we drove here, it's very nice."
It's never just about the matches for a Liverpool manager, however, and the latest sideshow for him to deal with is the media furore over a possible early return for Steven Gerrard, with many suggesting that the Liverpool legend, whose form has not exactly been scintillating in the MLS, could be in line for an opportunity to play in red again. One can easily imagine a different manager being caught up in a kind of fawning reverence for a club icon, but Klopp was delightfully direct and honest. The former captain will be welcome at Melwood, but he will not play this season and the future will take care of itself.
"I spoke with Stevie. One phone call and a few messages. He is a very nice guy I must say," said Klopp of the man with the smallest forehead in football. "He's a Liverpool legend, of course, but his contract as I know is in the USA. But now his break starts and I told him 'When you are here of course you can come whenever you want, you can train with us if you think it is good for you. Of course our doors are always open for him, that is clear. But nothing else. [To the journalist who asked] Do you think he should play at this moment or next year. No? Why did you ask me?
"Stevie has a contract with LA Galaxy, he loves this club and he is a legend and when his contract has ended we can talk about different stuff. We will find for sure something for Stevie when he comes back and whatever he wants to do we will help him but not at this moment – we are in the middle of the season. Everything is fine, perfect between LFC and Stevie, but I don't know him until now and I'm looking forward to the moment we meet each other and we'll talk about his ideas for the future, maybe, if he has some. The door is always open. Of course."
Jürgen Klopp, folks. He just gets it. A potentially thorny and fraught subject dealt with expertly via disarming frankness and ample respect. It shouldn't be so remarkable but it is. It is literally impossible to remain unexcited about the potential of the union between Liverpool Football Club and this enigmatic German, so don't even try to be "cool" as ol' Jürgy Bear would have it. Within reason, this scribbler doesn't even care about results. Being a Liverpool fan is fun again. A gift. A bloody tonic. No regrets about that.