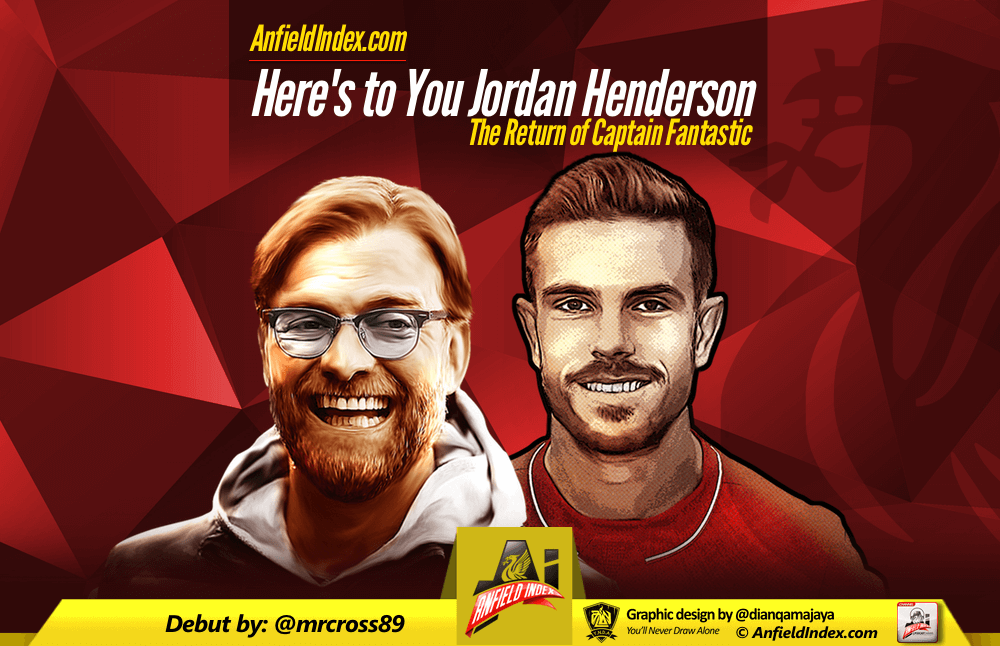 Here's to You Jordan Henderson - Return of Captain Fantastic

The good news keeps on coming for Liverpool FC, Jordan Henderson has returned to training and should be available to play after the international break!
The Liverpool captain, who still divides opinion amongst fans and pundits, has been absent since August after he broke a bone in his foot during training. Before the bone break, Henderson had been in and out of the side due to a heel injury and had therefore only played two games for Liverpool this season.
Jordan Henderson's absence from our team has had an effect on the teams performance.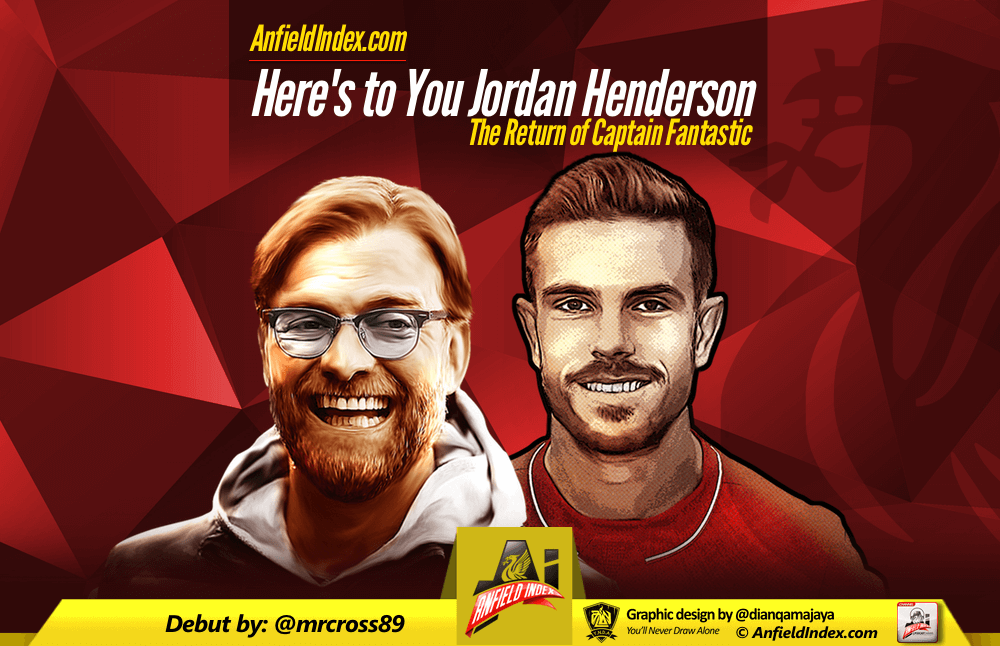 Whether you're his biggest critic or his staunchest fan, when it comes to Jordan Henderson's impact on Liverpool's performances, numbers don't lie. Kristian Johnson put it best in his article The importance of Jordan Henderson when he highlighted the impact felt within the team when Henderson misses a game;
Since the start of the 2013-14 campaign, Liverpool won just one of eight games without the current skipper. I'll repeat that – one game in eight. Or to put it another way, Liverpool's win percentage with Henderson since August 2013 is 62%. Without him, it drops to 12.5%.- Kristian Johnson
Many of Henderson's dissenters remain baffled as to why the Liverpool captain receives so many plaudits from the Kop, so we feel that it's about time the statistics did the talking. We are going to investigate Jordan Henderson's attacking, defensive and passing contribution to Liverpool using last season stats to paint a clearer picture as to why Jordan Henderson is so vital to Liverpool's success.
The statistics compiled are taken from the whoscored.com database. We will be looking at Jordan Henderson's statistics in his Premier League matches only. Henderson played 37 games in the League last season and clocked up 3256 minutes.
Defensive contribution
Pundits and fans will question whether Jordan Henderson can adapt to Jurgen Klopp's philosophy of gegenpressing. But for those who have watched Henderson carefully over the last 18 months, it will be a question of when, not if, the Liverpool captain can adapt to Jurgen Klopp's style of play.
Jordan Henderson is excellent at closing down the opposition players and space quickly and efficiently. He also possesses an engine that keeps him going non-stop for 90 minutes. Using these tools, Henderson has not only provided goals and assists for Liverpool last season, but he has dominated midfield battles up and down the country;
Jordan Henderson attempted 114 tackles last season with a 74.6% success rate. He made more successful tackles than any other Liverpool player in the league last season (85).
Henderson closed down space efficiently, making 31 interceptions and 62 clearances.
As of April last season, Henderson was in the top ten for players who covered the most amount of grass in the Premier League, clocking up an impress 197.8 miles.
Distribution
With great gegenpressing, comes great responsibility.
It's all good counter pressing, but once a player wins the ball back, the quality of their distribution is crucial to the transition from defence to attack.
Jordan Henderson has some of the best passing stats in the Premier League, and it's a skill that has been sorely lacking in Liverpool's play this season. A lack of incisive passing, particularly from midfield to the final third, has made for frustrating viewing for Liverpool fans. Another frustration has been our quality at set-pieces. It seems that every LFC player apart from Skrtel and Sakho has attempted to take a corner since Henderson's absence, and not one player has proven that they can give him a run for his money!
Jordan Henderson attempted the most amount of passes for Liverpool last season with 2182. Despite attempting so many passes, Henderson still managed to maintain a passing accuracy of 82.3%
Of the passes completed, 67 of those were key passes, with Raheem Sterling (75) being the only Liverpool player to perform more key passes than Henderson.
Henderson created nine assists in the League last season, which was more than David Silva (7) Juan Mata (4) and Mesut Ozil (5)
Attacking contribution
There may not be as much emphasis on Jordan Henderson's attacking ability as there is on his distribution and defensive work, but goals from midfield are vital for any team with hopes and dreams of trophies. In fairness to Henderson, he scored more goals last season than at any other point in his career. He has certainly stepped up to the plate when it comes to scoring goals, but he will have to provide more than the six goals he scored last season to start to make a real difference.
He is no Steven Gerrard, but if he can get 10-15 goals a season, he can elevate himself from a great midfielder, to a world class midfielder:
14 of Henderson's 50 shots on goal hit the target. Of the 14, Henderson scored six goals.
Henderson's dribbling statistics provide proof of what we already know, and that is he is no Lionel Messi. Henderson only attempted 23 dribbles last season with a 43.4% success rate.
The Liverpool captain either lost the ball from a poor touch or was dispossessed by an opposing player 63 times.
Hendo won 49.3% of his aerial duels
In fairness to Henderson, it is not his job to dribble past players and score a lot of goals, but every player can do with some improvement. Keeping the ball will be vital under Klopp's gegenpressing due to the amount of space the opposition will have in front of them if Liverpool lose the ball following an attempted counter press.
Nevertheless, Liverpool fans and players have sorely missed their captain in the starting eleven, and last season's statistics prove that it's not a figment of a die hard Reds' imagination, that Jordan Henderson's return to the team will make a huge difference to our performances.
So here's to you, Jordan Henderson, the stage is set, be the difference.