Liverpool fans are a sentimental bunch.
I often think supporters are quick to jump to the defence of long serving players Martin Skrtel and Lucas Leiva because they're the two remaining players from the Rafa days so kind of remind people of Istanbul. It's silly of course because neither player happened to be at the club when Liverpool brought ol' big ears back home for good but that link to Rafa perhaps gives these players some extra credit with fans?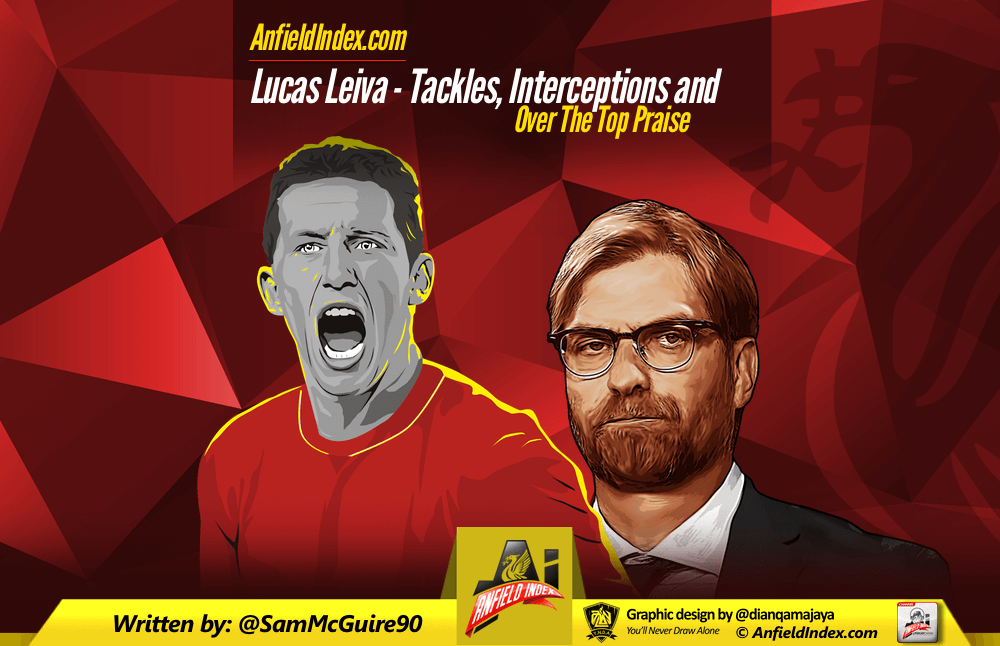 Last season we had it with Martin Skrtel when he was playing centrally in a back three. There was a point in the season when sections of the fan base seemed to think Liverpool didn't need a new right sided centre-back because the Slovakian international was performing adequately within the back three. It was as though fans had a loss of memory, all the errors and 'Skrtelisms' forgotten and their only recollection of Martin was when he was sweeping behind Emre Can and Mamadou Sakho.
Basically he was praised for not being as shit as we've come to expect. There's no blunter way of putting it. He was getting praised for what should be the bare minimum we should expect from a centre-back at Liverpool FC. It's ok to acknowledge somebody is in a good run of form but has his limitations without being labelled as being negative.
We're seeing an almost identical scenario with Lucas Leiva this season.
There's no denying Lucas has stepped up a level or two this season, but is he not doing the things a defensive midfielder should be doing generally? Is he doing anything special?
There seems to be no balance when it comes to our number 21. He's either overly criticised or overly praised. You can't just say Lucas was good today.
There is a stat doing the rounds which states Lucas has made the most tackles in the Premier League this season. It's good. He's a tackling monster. However if you look at the top 10 list it's as follows;
If tackles won was such an important stat for a player would you take anybody on that list at Liverpool other than Fernandinho and potentially Yohan Cabaye? The table above also neglects to include an important stat, fouls committed. According to whoscored.com per 90 mins Lucas gives away 3.9 fouls, the most in the league.
You could argue going in for more tackles inevitably means you give away more fouls but take Patrick Van Aanholt as an example, he makes 4.5 tackles per 90 and yet only gives away 0.8 fouls per 90. Less tackles per 90 but over 3 fouls less per game. Likewise, Erik Pieters averages 4.2 tackles per 90 but only 1.1 fouls per 90. What would you prefer in your side? Anybody could throw themselves into tackles but it's an art to actually not give away freekicks.
Interceptions are also a huge factor to look at and currently Lucas is ranked 62nd in the league. Is he having to make more tackles per 90 because he's not in the correct positions to intercept passes? More interceptions and less tackles would by default mean less fouls in theory.
In isolation the tackles on stat looks impressive but add a little context it's not exactly a stat that should be used as an opinion changer.
Form is temporary, Class is permanent.
I've seen lots of love for Lucas lately, I'll admit it's good to see him enjoying his football. His passion is infectious. He's an adopted scouser and to see him continuously comeback from being written off is inspiring to fans and players alike no doubt. There's something about him jumping into the crowd to celebrate that leaves you with a smile on your face. However, this is where you need to put sentiment on the shelf and say does Lucas' form as of late warrant all of this fanfare? Despite all of the good he's been by no means perfect. Praise him, it's warranted, but the need to go so over the top?
I've seen people run out of superlatives for his performance against Chelsea. I couldn't believe my eyes when I saw him starting a counter attack in the 80th minute after dispossessing Oscar and carrying his run on into the Chelsea area. How could this be the same Lucas Leiva that was famed for his legs going after 30 minutes?
For whatever reason though people are overlooking the errors from Saturday. This isn't being negative either, this is being fair and balanced. I praised him for the good and I'll criticise him for the bad. It was Lucas that gave the ball away in the third minute just outside of our own area. The next time we had possession was kicking off after Chelsea had scored. The Brazilian could have been sent off on another day. He was also caught on the ball by Oscar when the Chelsea number 8 nearly lobbed Simon Mignolet from 40 yards.
Would fans still be singing his praises had Oscar scored that and if he'd been shown that second yellow card? He still would've performed exactly the same but the outcome would've been different, so would the opinion of our fans towards Lucas different?
I don't think anybody expects perfection in football. It's impossible. These errors are miniscule though and I'm sure Klopp will be working on them with Lucas in training.
I'm sure during your school days you knew somebody that caused problems for the teachers, probably didn't turn up for lessons and generally caused grief for people. You also knew somebody that was consistently answering questions and generally just doing well. Hell it could've been you.
The teachers and your peers get used to this. The person that answers is expected to answer and they get very little credit whereas when the person that doesn't usually answer pipes up in the back of class and answers it correctly the teachers go over the top with praise just because it's such a unique moment.
Is Lucas our perpetual underperformer that's now getting praised for doing something he should've been doing all along?
I'm happy to see an upturn in form. I'm glad Liverpool have a functional midfield and it's competing admirably in games once again. I just don't want to be heaping praise on players for what they should be doing. I hope this isn't just a flash in the pan and Lucas is able to take this sort of form the entire distance of the season.