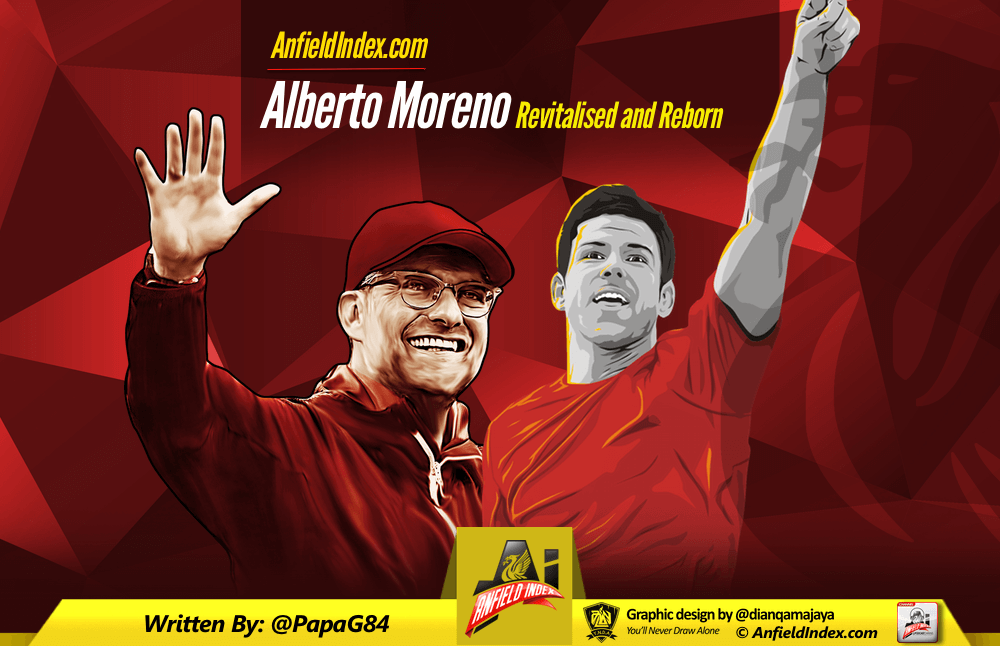 Alberto Moreno - Revitalised and Reborn
Alberto Moreno or 'Albie' as he's lovingly known, is fast becoming a fan favourite at Liverpool football club. A player who in his own words started the season with an "inner rage", due to not being given a fair opportunity to play; has taken his chance with both hands and is flourishing under Jürgen Klopp's new management.
He arrived in the summer of 2014 with a great sense of hope. An expectation that we may finally have cured our left-back curse, which arguably stretched for a decade. Signed from Sevilla just after they'd been crowned Europa League Champions, the young Spaniard was extremely highly rated and coveted. At the time, I thought it was a coup and a bargain at £12 million, in fact I still do.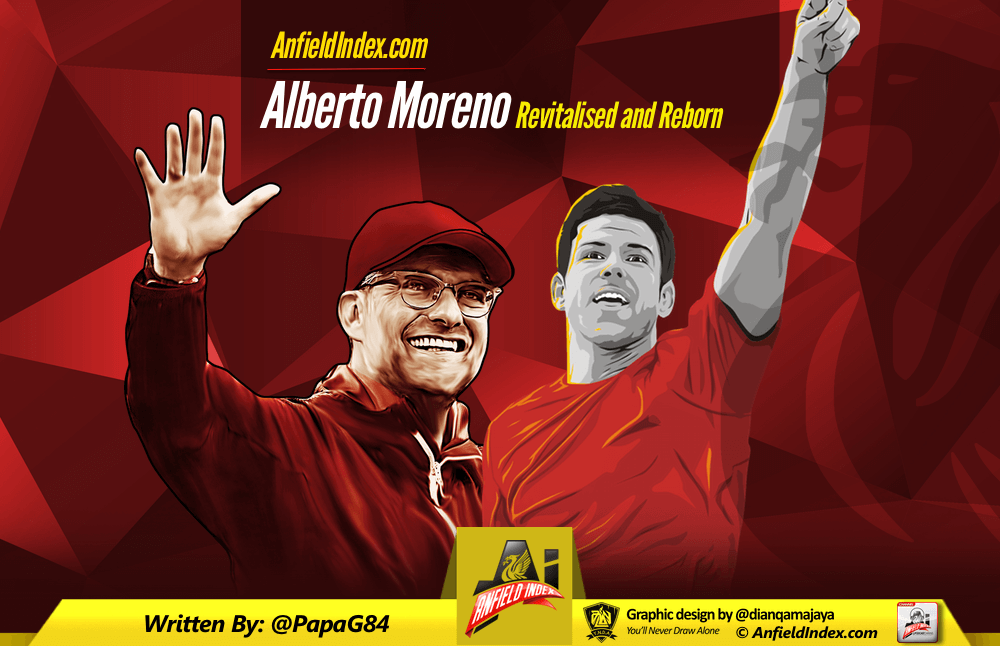 He started last season brightly, displaying all the positive traits of a top class full-back. He's got great stamina, is surprisingly strong and has incredible pace. He uses the ball well, displaying confidence with the ball at his feet and is composed in attack. He's tenacious, snaps into tackles and has the ability to stop a cross. He also possesses one of the finest recovery tackles in Europe, something so greatly admired by Liverpool supporters.
His finest moments at the club are defined by his raw pace and confidence in his ability. The first came last season against Spurs. He ran nearly the entire length of the pitch (with the ball), beating multiple players and finishing wonderfully into the far corner. A truly remarkable goal, which I feel may become somewhat of a trademark in seasons to come. I say this because he almost scored a similar goal vs Chelsea on Saturday, albeit not starting from his own half this time.
The second is much more recent vs Southampton, but is also a trait we've seen him display multiple times in his short career at the club. The recovery tackle! Saido Mane (one of the fastest wingers in the league), is driving through on goal with a five to ten yard head start. Moreno recovers in seconds, hunting down the ground and times a perfect sliding tackle to recover the ball. A tackle, that if he'd been inches out would have resulted in a red card and penalty. A tackle that lifts the crowd and inspires players around him. It was truly incredible.
Unfortunately it's not been all positive, with defensive lapses and positional issues synonymous with his game. What supporters need to remember, is that he's still developing all aspects of him game. He's not entirely the finished article yet, but patience will be fully justified in the near future. A lot of his defensive errors have coincided with being paired with Lovren also, whose erratic nature clearly has a negative impact on Alberto. When Mamadou Sakho plays alongside him, he has always looked more assured, adding a much better balance and control to the left hand side of our defence.
At times last season, an argument that Alberto is a wing back, not a full-back was suggested by the fanbase. Those fans got their wish, when we adopted the three centre-back system. This allowed him more freedom to attack, but despite what many expected, it wasn't a natural fit for him. He was competent but ultimately he's a full-back, who can overlap with great speed and desire. He suits having the space of the pitch to exploit and make late driving runs. Those work much better from a deeper starting point and boy does he have the pace to make up the ground.
I'm a firm believer that players improve, when playing in a regular structured system, with the firm backing of their manager. Sakho, much like with Moreno had suffered under a manager who prioritised attack over defence. Brendan Rodgers didn't know, trust or inspire confidence in his strongest defenders to both start them and let them play their own game. In only a matter of weeks, you can see that's all changed under Jürgen Klopp.
The structure, system and style is designed to build the team from the back, with a solid foundation. That standpoint is a key tactical difference and is something, which has calmed Alberto's game. Previously at times his enthusiastic approach to the game (whilst refreshing), made him look a little headless. Aimless pressing and running at times, did leave him positionally exposed. However, in just a short period under Jürgen, you can see a stronger discipline to his game. In fact, both full-backs look much more intelligent in positioning, but the demands of the role are very high.
An error against Chelsea by Lucas, was compounded by Milner and left Moreno exposed. He saw Ramires coming, but didn't react. That's a concern yes, but for me it's an aspect of his game, which can and will improve. With the exception of that mistake he was excellent, as he has been when called upon all season. For me the crucial part of any mistake is whether a player learns from them. Jürgen is a manager who demands perfection, but is the right man to help a player reach that level. With Moreno and Clyne, I'm confident that we have one of the best full-back pairings in the league, which will only improve over time.
Alberto Moreno is a charismatic player, who plays the game with a smile on his face and his heart on his sleeve. Whilst not physical traits, they both build a natural connection with the supporters and his fellow players. This combined with his undoubted potential (which he is realising), makes him a very special player indeed. In Alberto's own words "I want to stay forever", something that I'd be delighted to see come to fruition, because he has it all.