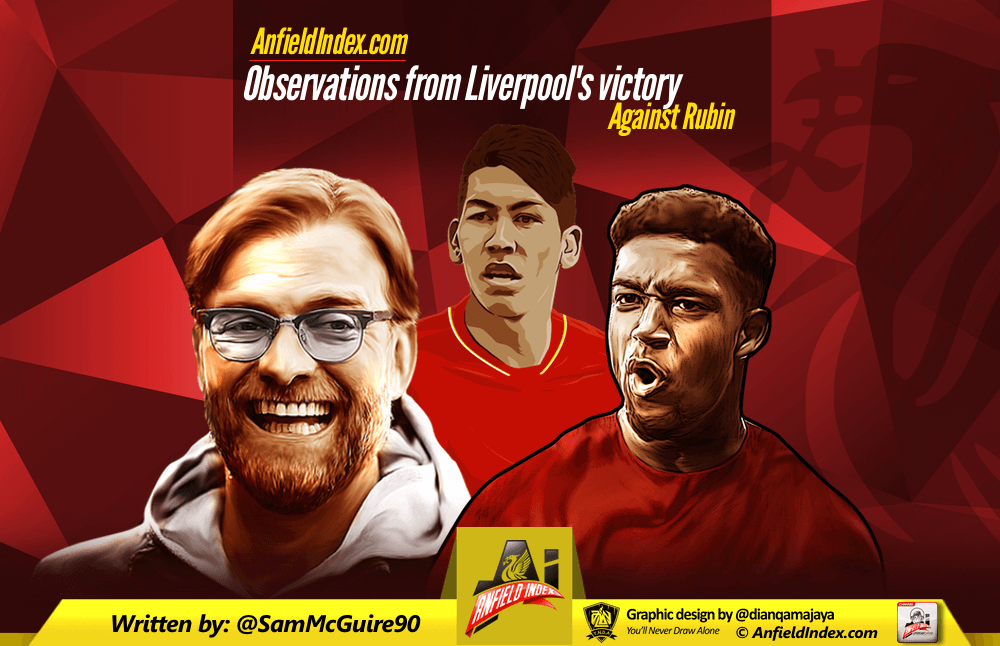 Observations from Liverpool's victory against Rubin
Liverpool stretched their unbeaten run to twelve games with victory against FC Rubin (Rubin Kazan to you and I). It's the third successive win for the Reds under Jurgen Klopp and leaves them in a good position to qualify from their Europa League group.
Klopp made his intentions clear by flying a strong side out to Russia. He knew a win was important and he went about it in a fully professional manner; something we have already come to expect from the German. Many thought this would be an easy game after the Chelsea result but it wasn't to be. Missed chances, good goalkeeping and some resolute defending kept Liverpool to just the one goal which eventually proved to be sufficient.
Can we read anything into tonight's occurrences? Liverpool finished the match with 68% possession and the Russians had zero shots on target. However, there were plenty of positives to take from the victory and it gives us plenty to build on for future games.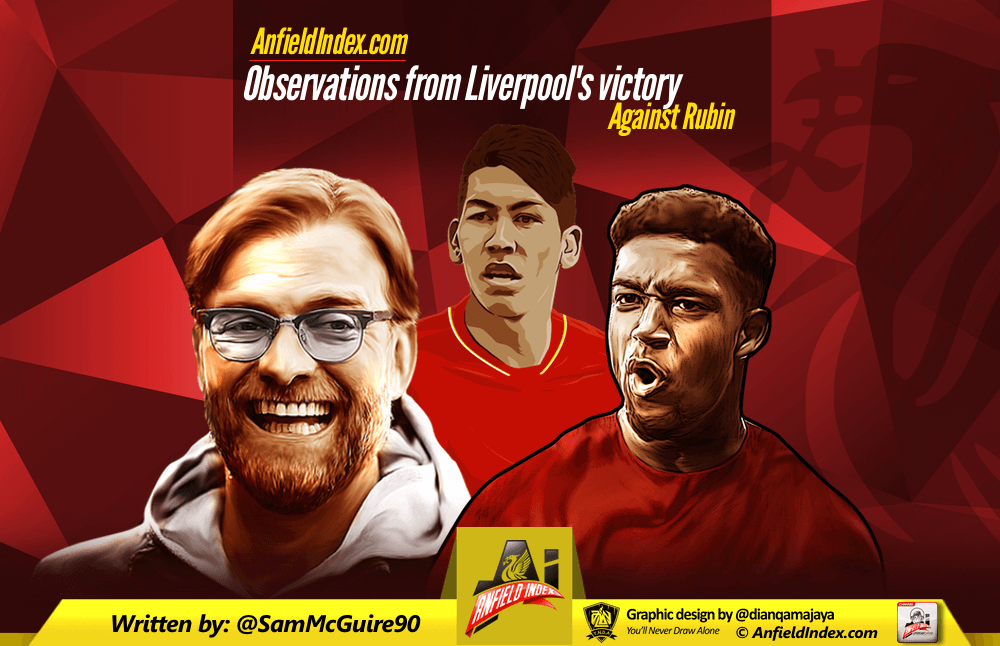 Direct Passing
We all remember Brendan Rodgers saying we would dominate the ball and it would be death by football, right? But under his leadership, how many times did Liverpool have 70% possession and do nothing with the ball? Today felt nothing like a Rodgers' Reds performance and that's because Liverpool took greater risks with the ball.
We didn't see the midfield aimlessly passing the ball sideways or backwards. There was an intensity about the passing and a purpose when in possession. Liverpool under Rodgers often had the majority of possession in their own half but under Klopp we're building a campsite in the final third and staying there for long periods.
Jurgen Klopp is often associated with counter attacking football and although he's a fan of it, his style is just direct. Counter attacking, route one balls or crosses from deep; it doesn't matter to him. He just wants the ball in the opposition's half as quickly as possible and we witnessed this today with Mamadou Sakho and Dejan Lovren often playing passes that missed out our midfield. The Jordon Ibe goal came from three passes after Liverpool had won the ball back. Sakho to Joe Allen to Roberto Firmino who then delicately put Jordon Ibe in.
Three quick passes coupled with good movement and Liverpool went from defence to attack in seconds.
Roberto Firmino
I could spend days talking about our new number eleven. Once again, he was at the heart of everything positive Liverpool did tonight and registered yet another assist. Had James Milner tucked away his chance early on, the Brazilian would have added another assist.
What really impressed me tonight was Firmino's movement for the goal.
The touch to Ibe is timed to perfection but what really makes this goal is his movement. He drops deep to receive the ball and in turn opens up a lot of space ahead of Jordon Ibe for the winger to run into. You see Rubin's left sided centre-back follow Firmino but doesn't expect the early pass which leaves him so far out of position it gives Ibe a bullseye to attack.
Importance of pace
Bayern Munich put on a master class against Arsenal on Wednesday evening and a lot of their joy came from the fact they had a team filled with pace. The likes of Kingsley Coman, David Alaba and Douglas Costa all gave Arsenal a torrid time. Teams just cannot cope with pace. It has been said that Liverpool lack that dimension but tonight Jordon Ibe proved why he is a key squad player for Jurgen Klopp. His pace caused the Russians plenty of problems and it was the main reason he scored. His acceleration meant that he was able to burst past three Rubin players, into the space ahead of him, before calmly slotting the ball home. Any other player in the Liverpool squad would not have been able to do that. We have witnessed in previous games how important Moreno's recovery pace has been and tonight we saw Nathanial Clyne in full flight as he burst forward to support the attack. He was like Sonic.
Resiliency
Resiliency is not a word we associate with Liverpool lately but under Jurgen Klopp we have seen a resurgent defence find their feet again. We are a far cry from a side capable of imploding and conceding three like we did early on in the season. In the six games under Klopp we have managed to keep three clean sheets and concede just three goals. He has made us difficult to beat. I said earlier Liverpool had very little to do defensively but there were still situations in the game that could have been scary, but Sakho and Lovren looked composed, assured and confident. Strangely, I did not tense up whenever Lovren had the ball at his feet, which is a good start. We have used a 4411 formation when out of possession in a few games under Jurgen and it makes us extremely difficult to break down. We are also no longer exposing our centre-backs.
Jurgen Klopp
Finally, a gentle reminder that this man is our manager. The sky is the limit for us now.