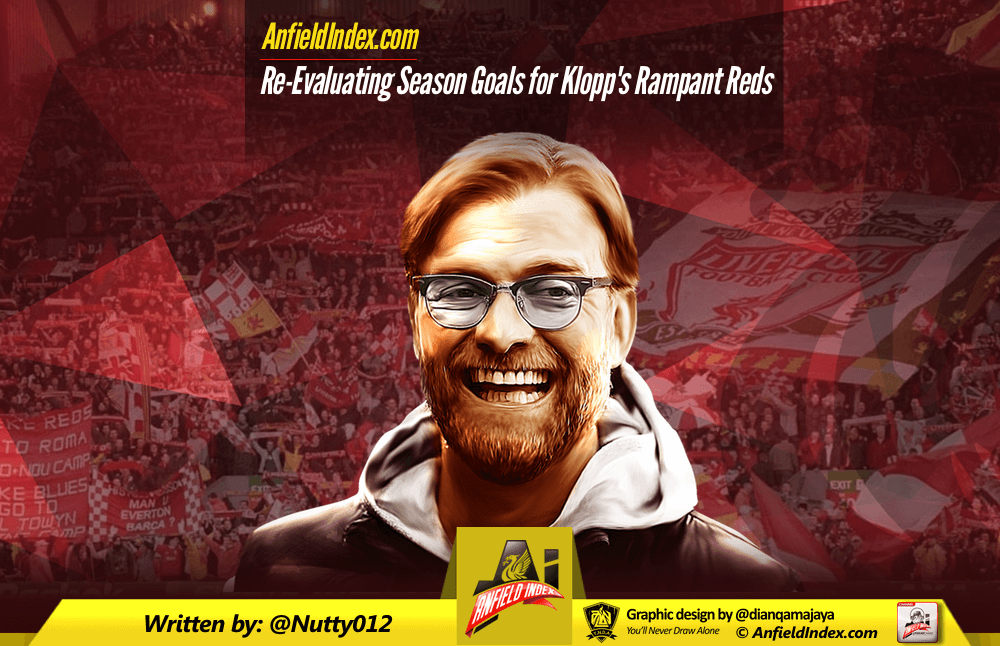 Re-Evaluating Season Goals for Klopp's Rampant Reds
Six games into Jurgen Klopp's Liverpool reign and it feels like I am supporting a different Liverpool. The same group of players have been transformed from underperforming disappointments to a versatile squad with competition in key positions. Klopp's reds now have three victories on the bounce, including a very sweet and very comprehensive win at Stamford Bridge over Chelsea. For the first time in about fifteen months, following Liverpool has actually become fun again.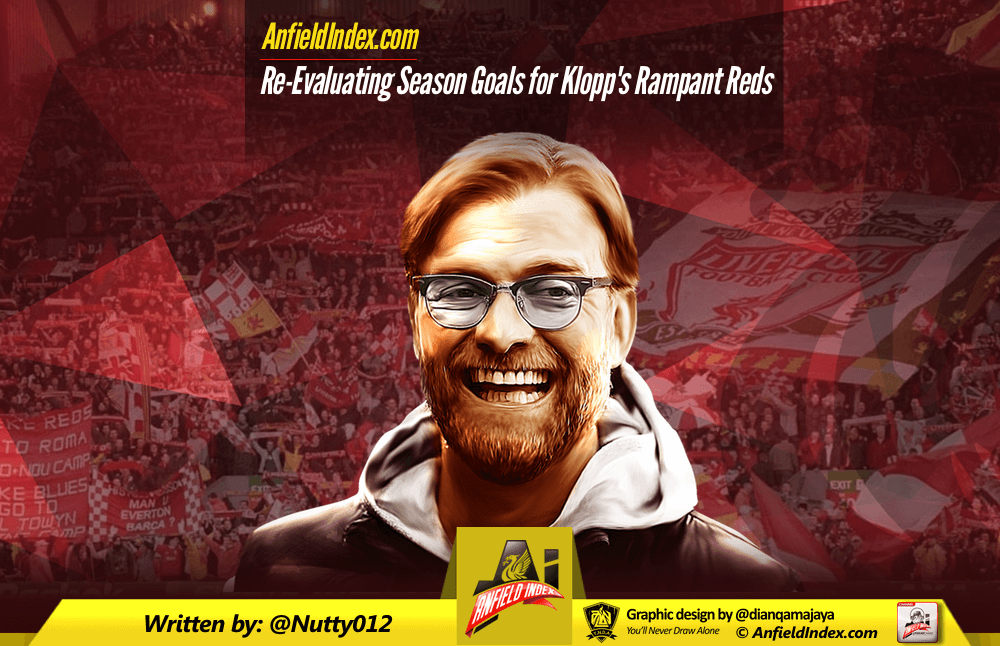 With Klopp re-energising everyone connected to Liverpool, and with long enough a season left to see the impact of his methods, now is as good a time as any to re-evaluate Liverpool's expectations for this campaign. Liverpool's goal at the start of the year would have been to challenge for fourth place. Personally, I felt that with so many new players and an extremely young and injury prone squad that we could not expect a fourth place finish, but with the fitness and form of key players it was still more than possible. However, has this situation really changed now that Liverpool seem to have upgraded their manager?
Liverpool currently sit 4 points off 4th place in the league. Ahead of them are: Leicester and West Ham, who will surely drop off as the season progresses; Arsenal and Manchester City, who will almost certainly hold two of the top three places by the end of the season; then the likes of Manchester United, Tottenham and Southampton, who are perhaps the most unpredictable of the lot, make up the other contenders ahead of us. Of course, sitting below us in the table is Chelsea. It is hard to emphasise how bad Chelsea have been, but due to Liverpool's inability to score (and win) games the gap between us and them is still only six points and so easily recoverable for the blues.
Unlike the era of the 'Big 4', there are now lots of clubs challenging for European places, reflecting a growing competitiveness below the traditionally elite core of English clubs. If we assume that Arsenal and Manchester City will get two champions league spots, that leaves five clubs competing for the remaining two spots. Whilst Southampton are an admirably-run club, their lack of depth will probably see them coming up short, which leaves us with four clubs gunning for two spots in Europe's elite competition.
Manchester United have got more points on the board than this stage last season, and they had a good summer of recruitment. However, there is certainly disharmony at the club, as the team struggles to play the type of attacking football that fans expect. Disharmony should be expected under Van Gaal, but one can also expect his winning mentality to rub off on his players. United's slight points advantage and potential to improve means they are also a favourite for the top four.
That really just leaves Liverpool challenging Tottenham and Chelsea for the fourth spot. If Liverpool and Chelsea maintain their recent performances, then the gap between the clubs should only increase, but who can say how long Chelsea will perform this badly, or how good things will be when they do start playing well. That means that Liverpool's biggest rival is probably Tottenham, but worryingly for the reds, key players like Kane, Dembele and Eriksen are all coming into form for Tottenham, so we can expect a serious challenge from them.
Given all these hypotheticals (the potential form of Chelsea and Manchester United, as well Tottenham continuing their good form), I would argue that it is still a push to suggest that Liverpool should be expecting to come in the top four, despite our new found confidence. Rodgers was sacked because Liverpool were performing below expectations, and that meant that we were looking unlikely to get top four at all, let alone challenge. Whilst Klopp has seen Liverpool radically transformed, given the competition for the limited places, and our slow start to the season, I think Liverpool should still be content with a fifth place finish this season, even if the champions league suddenly seems far more achievable.
This does not mean that we cannot revisit other goals this season. Like any Liverpool fan, the idea of a European run is always appealing. Before Klopp, I couldn't see Liverpool mounting any challenge in the Europa Leauge, but given how comfortable Liverpool looked in their difficult away tie to Rubin Kazan, and Klopp's previous European record at Dortmund, I think that Liverpool should have much greater expectations for the European run. We also have limited competition left in the League Cup, and that trophy is certainly coming up on the horizon. Perhaps Klopp's passionate and all-or-nothing style of football will best suit cup football for now, which requires specific results for specific occasions, rather than a general consistency in the league which perhaps is best waiting for until next season.
Klopp has made Liverpool fans dream again, but we need to stay grounded and give the man time to work, rather than burden him with lofty short-term expectations, particularly in the league. Competition for champions league spots is very high this season, and other clubs have a point head-start on the Klopp's new Liverpool. However, there is much more fun to be expected from the cups this season, and if there's anything that I've learned from Klopp is that football really should be about having fun.