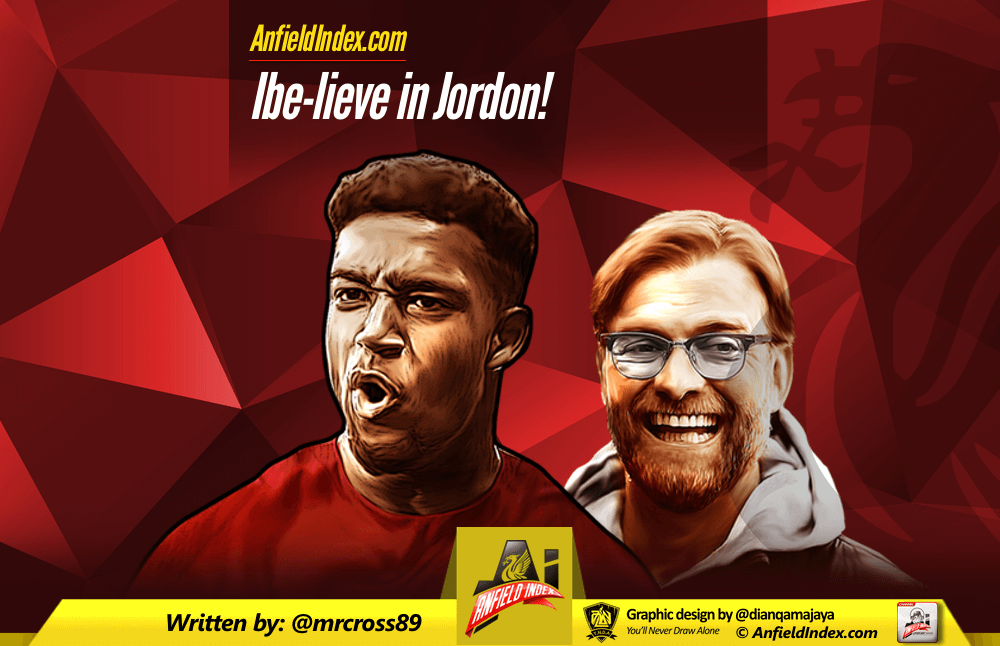 Ibe-lieve in Jordon!
When you have confidence, you can have a lot of fun. And when you have fun, you can do amazing things.

Joe Namath
 Liverpool's victory against Bournemouth in the Capital one cup was the turning point for one of England's brightest stars Jordon Ibe.
Not every turning point requires two assists and a hat trick. Some turning points can be subtle differences in the decisions a player makes when he's feeling confident. The first ten minutes of the game against Bournemouth summed this up perfectly. On the 7 minute mark, Ibe attempted to play a beautiful eye of the needle pass to set Cameron Brannagan through on the right wing. Although the pass was unsuccessful, the fact that he saw and made that pass without hesitation spoke volumes.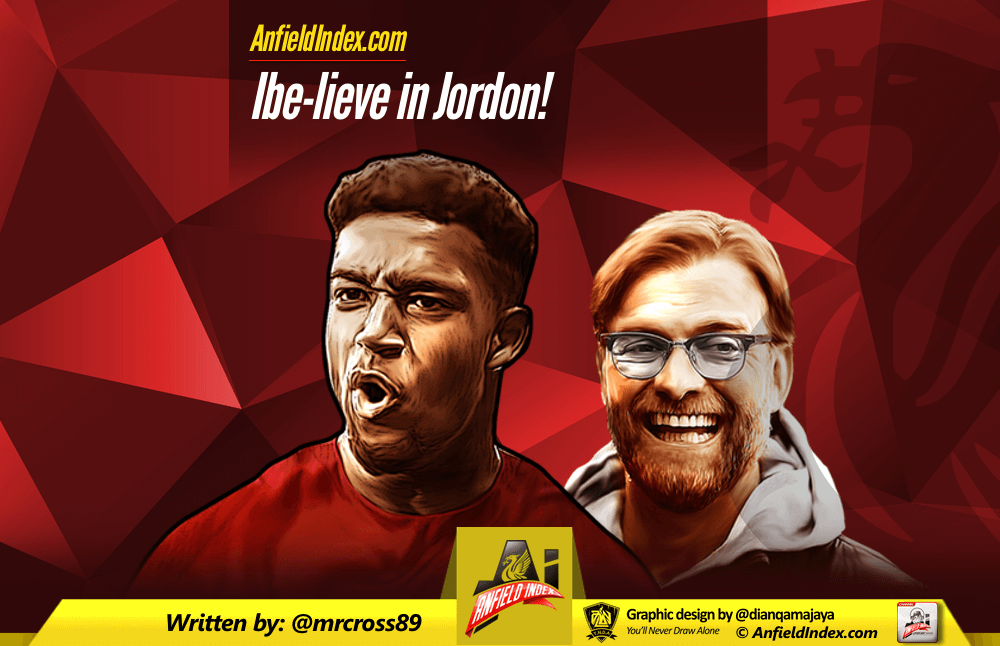 With such high expectation following the departure of Raheem Sterling, Jordon Ibe started the season with the weight of the world on his shoulders. Not only was he Liverpool's only genuine winger, but Liverpool fans shackled him with the tag of "being better than Sterling" once Raheem departed to Manchester.
The potential is there, but the expectation that he would fill Sterling's boots instantly was misguided.
Following a poor start to the season with the pressure surrounding the club, coupled with the expectation burdened on the young English wingers shoulders, Ibe's performances lacked confidence. Instead of making a decision based on instinct he would over-think, taking too many touches on the ball and making mistakes. As a result his teammates would berate him, not because they thought he was bad but because the overwhelming pressure they were all under meant that everyone was on edge.
We forget that Ibe is only 19 years old. Talks of how Jurgen Klopp has "saved Jordan Ibe from disappearing" was jumping the gun, as a dip in form was always likely under the circumstances. We should recognise is that Ibe has not only turned his performances around with skilled displays of ability, he has done so with minimum fuss. He has acted professionally throughout the good and the bad times, keeping humble and focused on the task at hand.
He is already proving a role model to the next generation of footballers, yet he is still is a teenager.
The best way to highlight the difference in Jordon Ibe's performances is to look at his last European outing before Klopp took charge and compare it with yesterday's man of the match performance. Comparing two games is a small sample size but a change in performance is evident.
Ibe before Klopp- Liverpool 1-1 FC Sion
Two Shots, one on target
53 touches on the ball
81% pass success rate with one key pass performed
Two dribbles attempted with a 100% success rate
Dispossessed five times.
One successful tackle, two successful interception
Ibe under Klopp- Rubin Kazan 0-1 Liverpool FC
Five shots, two on target with one goal
80 touches on the ball
90% Pass success rate with two key passes performed
14 dribbles attempted with 11 successful dribbles
Dispossessed twice.
No tackles were made (unsurprising as Liverpool dominated the game)
The Klopp effect has certainly galvanised the fans, players and atmosphere around Liverpool and it has had a positive impact on young Jordon too.
His input in yesterday's game compared to the home tie against Sion is there for all to see. He wanted the ball more, and when he got the ball he was ready to run at his man, find a pass or take a shot. The goal he scored was a perfect example of a player feeling more confident in his ability to run forward with and without the ball and have a pop on goal.
It seems that Ibe has abandoned the fear and anxiety that gripped him under the final moments of Brendan Rodgers reign. We shouldn't lay the blame entirely at Rodgers' feet, but the relief Jurgen Klopp has given Liverpool FC will now bring out the best in Ibe.
His form will have its ups and downs this season as he gets to grips with his first full season in the first team at Liverpool, but if we as fans continue to inject confidence into the lad, we will have yet another superstar in the making at Anfield.
Ibe-lieve!