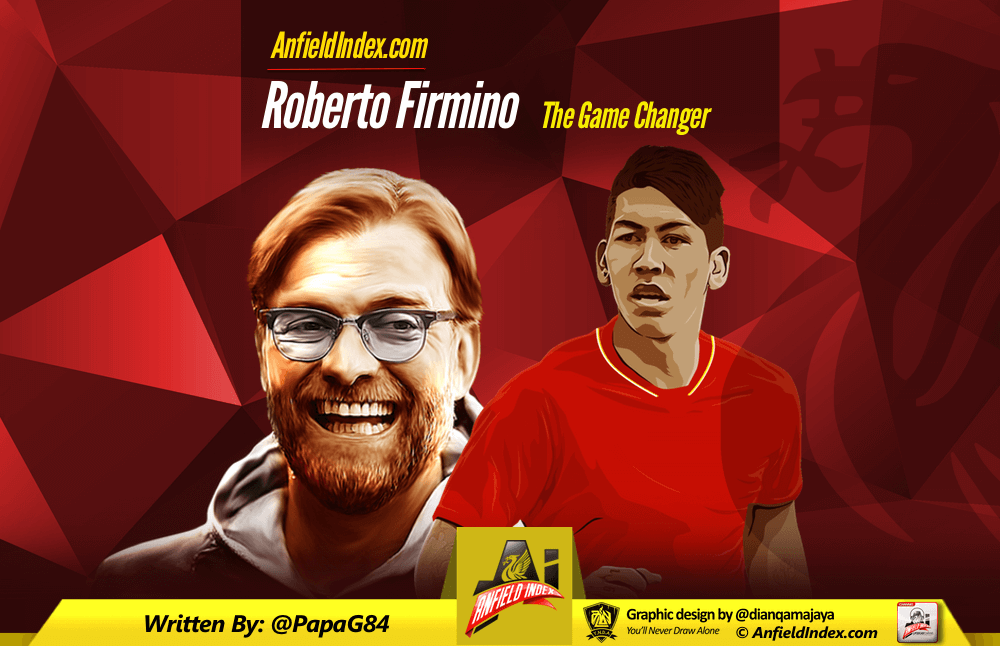 Roberto Firmino - The Game Changer

Spatial awareness is defined as "the ability to be aware of oneself in space".
Positional awareness is defined as "the understanding of positions of objects within an environment".
For me a player can have all the ability with a ball at their feet, but to become truly elite, they must have excellent positional and spatial awareness.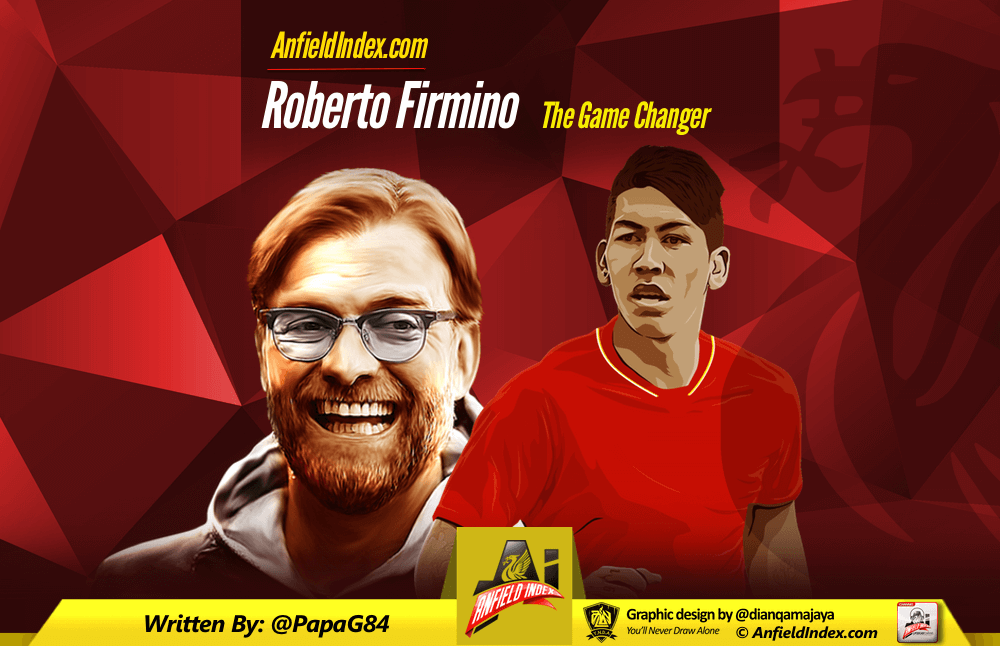 Roberto Firmino is a special player, one that Liverpool supporters should be grateful to have. Watch him closely and you'll see just how clever his movement and understanding of space really is. He sees the game two steps ahead, which is a rare commodity, settling him apart from other attackers. That instinct, so natural, is the difference between him being a good player and a truly great one.
Signed from Hoffenheim in the summer, for an initial fee of £21 million, he arrived with great expectation. Possibly the most unanimous, supporter approved player since Luis Suarez arrived. The buzz created was contagious and rightly supporters have high hopes. His pedigree is clearly evident, a Brazil international with a fantastic goals and assists record in the Bundesliga. But that only tells a small picture of the player and how good he may become.
In his skill set, he has excellent touch and control. Eagle like vision and the ability to perfectly weigh a pass (with both feet), allowing him to thread the killer ball. Whilst not rapid, he has a good turn of pace and he uses this, along with excellent movement, to create that extra yard of space. He's always picking up dangerous positions on and off the ball and looking to impose himself on games.
His tenacity and off the ball work, also needs to be admired. He doesn't just press aimlessly, he knows when to go and when to stay. He's also a key instigator and contributor to the group press, so effective under Jürgen Klopp's stewardship. Unlike some of our other players; if he successfully presses and wins the ball, he has the composure and quality to punish the opposition. Something we previously did so successfully in 2013/14.
An aspect of Roberto's game, which has surprised me, is his physical strength. Whilst not prominent in the air, he does compete well for every ball. He has the strength to shield the ball extremely well and is strong in the tackle. These qualities make him the perfect attacker for Klopp. Equally effective on and off the ball, in reality a managers dream.
Now let's talk about Brazilian flair. Firstly Roberto has it, in spades! But the use is often so subtle. I have more admiration for players, who utilise their skill sparingly, when it really makes an impact on the game. The ability to beat a man by dropping a shoulder, or turning sharply to create space seems effortless to Roberto. He can do all the flicks, but it's only ever purposeful, it's never used in vain.
Roberto has that mental sharpness that when ball reaches him, he just knows exactly what he wants to do. That results in him reacting and often reaching the ball first, making him sharper than opposition players. He's then skilled enough to beat his man, often by putting the ball through the opponents legs, a trademark of a recent star player at the club (I'm not making those comparisons, just yet).
Comfortable dribbling with both feet, Roberto glides around the pitch, in a similar vain to Fernando Torres, without the explosive pace. On the ball he's cool, calm and wonderfully composed. He looks like a player, who could play with his eyes closed. He's never rushed, never flustered. A player so confident in his own ability, that he's just a pleasure to watch. Liverpool supporters are yet to see his clinical edge in front of goal, but I wouldn't worry, it'll soon come. In the last 3 seasons in the Bundesliga he's scored 28 goals, just under 10 league goals a season. He's also got 23 assists, just under 8 a season. Those figures, in a Hoffenheim side who've finished 8th, 9th and 16th are very good. If he replicates them in the Premier League, he's going to be winning games for the club.
It seems rare to praise a player for his ability to pass a ball first time, but it's such a pivotal and effective part of Roberto's game. He doesn't need a touch, he makes the ball do all the work, which is so progressive for our play. As mentioned earlier, it's that awareness to find space, knowing where his teammates will be and where to move once the ball has left his feet, which make Firmino just so good.
He's only been at the club a short period of time, but you can already see the talent he possesses and just what that could bring to the club. The key to harnessing these talents, is surrounding Roberto, with the right players. First and foremost he's a number 10, so effective in the centre of the pitch. But it's the players to the left, right and crucially in front, which will be vital to exploiting his mercurial talent.
In Philippe Coutinho, his Brazilian compatriot, he has a teammate on the same wavelength. A player he trusts, whose games he understands, appreciates and has the ability to raise to another level. They're contrasting enough to bring different elements to this Liverpool side; to compliment each other and in time, I feel, start to destroy teams. Coutinho hasn't had the easiest of seasons, but one thing's for certain, he looks a better player when partnered by Firmino, so long may it continue.
To the other side, I like a player with pace, as does Jürgen. For me right now that's Jordon Ibe. Shown recently vs Bournemouth and Kazan, a revitalised Ibe links extremely well with Roberto, who wonderfully assisted his first competitive goal for the club. Jordon is still developing, but he's improving his game intelligence, the timing of his runs and decision making all the time. He could be an exciting player for this club and a player with Firmino's ability, will only add to his success.
In front right now is Christian Benteke; a player who knows, above all else, how to score goals. I have some doubts that Roberto and Christian can connect the way he would with Daniel Sturridge, but I do hold hope that a partnership can develop. The key is Benteke's ability to hold the ball and link play, but he also needs to make the right runs and create space for Roberto. That's the area of concern, because Benteke is a penalty box player, a fine one at that. But running channels and creating space, isn't his game and we may suffer because of this.
Onto Sturridge and boy do I miss him. A player cursed by injuries, who in my mind is still the player in the squad capable of taking us to that next level. One of the most natural finishers in the league; I can only imagine how devastating him and Firmino would be together. He has all the qualities I want in a striker, incisive movement, pace, strength and an unnerving composure in front of goal. With his abilities, Roberto would get the freedom to punish opponents and become an assist machine. I'll keep crossing my fingers and toes; maybe one day.
At just 24, you can see why Roberto Firmino is a player I wax so lyrically about. He's at the prime age, ready to take his game to the next level. I honestly believe he'll become a world class player, under Klopp's guidance. A manager who knows exactly what Firmino brings to the table, who trusts in his ability and as history tells us knows exactly how to enhance attacking talents.
Above all else, Roberto Firmino is a player who excites supporters. A rare breed of footballer, who should be appreciated and enjoyed. One who will light up Anfield and the first player since Luis Suarez departed, who could go onto grace any elite club in world football. I honestly believe he is that good, and if you don't, you will soon enough.