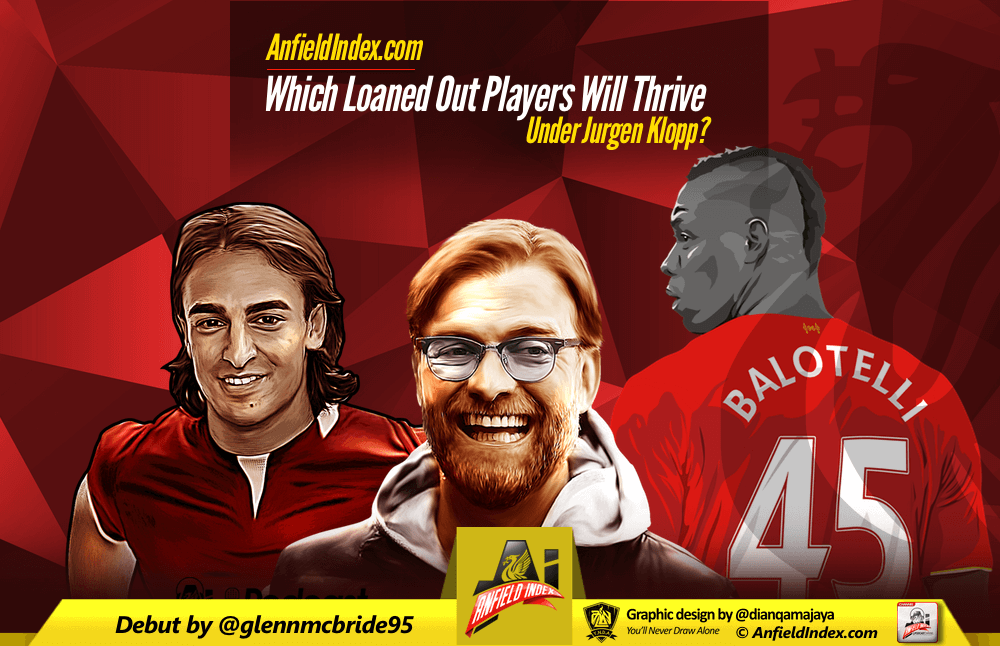 Which Loaned Out Players Will Thrive Under Jurgen Klopp?
Jürgen Klopp is a manager that can really get the best out of a player. The German's ferocious manner and attitude can act as the catalyst for big performances as his charges take the lead from their manager and play at the same tempo Jürgen prowls at the touchline. This is probably his biggest attribute as a manager, and there have been a few instances in which players have shone under Klopp and then failed to live up to expectations after they have moved on; Shinji Kagawa at United, Nuri Sahin at Real Madrid, and one could also argue that Mario Gotze has never lived up to his reputation for Bayern Munich. This is down mostly to Klopp's aforementioned ability to get his players playing their best possible football. Another feature of our new manager's tenures at previous clubs is his willingness to trust any player that buys into his methods, regardless of standing within the squad; therefore Klopp's appointment must have been viewed as a possible ray of hope for some of Liverpool's fringe/loan players, as they are surely in for one last chance at the club under the new manager.
So who is most likely to make an impact on Klopp once their respective loan deals end? We take a look at the candidates:

Lazar Markovic – The young winger showed flashes of brilliance during his first season in a red jersey, but never managed to perform on a consistent basis and consequently- and probably rather harshly- was loaned out to Fenerbache for the 2015/16 season. Despite this, Markovic's talent is undeniable, he regularly tormented defences in Portugal during his time with Benfica and seems likely to be next in a long line of success stories to pass through their coaching system. He has shown that he has the dribbling ability to make any full back think twice and is likely to thrive in the more familiar role he could play on the right wing in the new set up. Klopp was also reportedly disappointed to learn that he could not recall him in January, therefore it seems likely that he will have a future at Liverpool.
Mario Balotelli – One of the most polarizing players ever to grace the game, "Super" Mario never really got going during his brief spell at Anfield. Seemingly signed as more of a calculated gamble than anything else Mario failed to really impress anyone but still had cases made for his defence; Rodgers' mismanagement, not suited to sole striker role etc. There is nobody that really doubts that Mario is a talented player, but his attitude problems are appalling and his behaviour and conduct on and off the pitch is an embarrassment at times. It seems very unlikely that he will have any part to play for Liverpool under Klopp seeing as we now favour a lone striker and arguably Balotelli would be 4th choice for this position should he return. He has only managed 3 appearances for Milan this term (albeit due to injury) and despite showing some positive signs during those performances we have too often seen that Mario is capable of playing well and then self-destructing. The thought of Balo buying in to the gegenpressing philosophy Klopp wants to implement is also, quite frankly, laughable. Despite having all of the attributes needed to be a world class striker, sadly, it seems as though Mario's chance at Liverpool has been wasted.
Luis Alberto – Alberto has only played one full season for the Reds, and during that season he didn't do too much to convince fans that he was of the correct calibre that the club requires. He spent the entirety of last season on loan at Malaga, where again he failed to really make an impact, and has again been moved on this term to Deportivo. However, there have been some encouraging signs of improvement so far for the player, featuring 8 times for a Depor team playing some attractive football under former Sevilla boss Victor Sanchez, and scoring twice (already equalling his record for the whole of last season). If Alberto can maintain this type of form and finish the season posting respectable numbers, there could well be a place for him at Liverpool under Klopp. His ability to play either on the wings or centrally will endear him to the new manager, therefore if he arrives at Melwood next summer of the back of a good season in La Liga, don't be surprised to see him given a chance during pre-season.
Tiago Illori – It was shaping up to be a pretty dire season for the young Portuguese, inexplicably shipped off to a woeful Aston Villa side under the management of Tim Sherwood, Illori was nowhere near the first team and wasn't even getting a game for the U21's. Now that Sherwood has been axed and Remi Garde has been brought in however, Tiago could end up with another chance of making an impression at his foster club. It's surprising that he was even sent on loan in the first place, being one of Rodger's first signings you would think he would have been giving a chance this season given our lack of defensive depth, but now he has a chance to try and force his way into Klopp's plans for next season. He is still young and very quick for a defender- and if he manages to get in to the Villa XI then he'll have plenty of defending to do before the season is out- which makes him an attractive prospect for a manager who thrives on improving young players. I'm still holding out a little hope for Illori, it would be nice to see him at least given a chance in the Liverpool team next term.
Andre Wisdom – Much like Illori, Andre Wisdom is a talented young defender who has been shipped off to a mediocre side this season, Norwich being the destination for the Englishman this season. I can't help but like Andre, he is a no nonsense type of defender but has the tactical nous to play in either FB positon as well as functioning as a CB. His physicality makes him a match for the likes of Romelu Lukaku or Diego Costa and at the age of 22 still has his entire career ahead of him. He was part of an exciting Derby team that nearly won promotion to the PL in 2014, and then proved that he can play at that level the following season for West Brom, unfortunately losing his place when Tony Pulis arrived midway through. Again, I felt it was probably time to let Wisdom be part of the Liverpool squad for a full season, Martin Skrtel's shaky form, Toure's advancing age and Lovren's ability to play more like a giraffe than a Croatian international at times all make for factors as to why Wisdom still has a fantastic chance to succeed at Liverpool under Klopp. I reckon he'll arrive at Melwood next summer off the back of a decent season for Norwich, raring to try and impress the new manager. I wouldn't be surprised at all if he succeeded.
I've purposely left out our academy players as they are likely to be given a chance to impress Klopp regardless, seeing as Kent and McLaughlin are both going to be recalled back to Melwood to be assessed by Klopp during the International break. It's an exciting time for any Liverpool player, all of them have a fantastic opportunity to stake a claim to be involved under the new boss and many have the talent and attitude required to succeed in that respect. Lazar Markovic is the most likely to be heavily involved during the Klopp era, and Balotelli the only one likely not to be, everyone else has a huge season ahead of them as they aim to catch our enigmatic new manager's eye.