Pirlo hair. Alonso beard. Welcome to the 5ft 6 enigma that is Joe Allen.
Arriving at Liverpool FC three years ago, he was hailed as our catalyst for the tiki-taka, death-by-football programme.
Now, he is viewed with – at best – indifference or – at worst – contempt.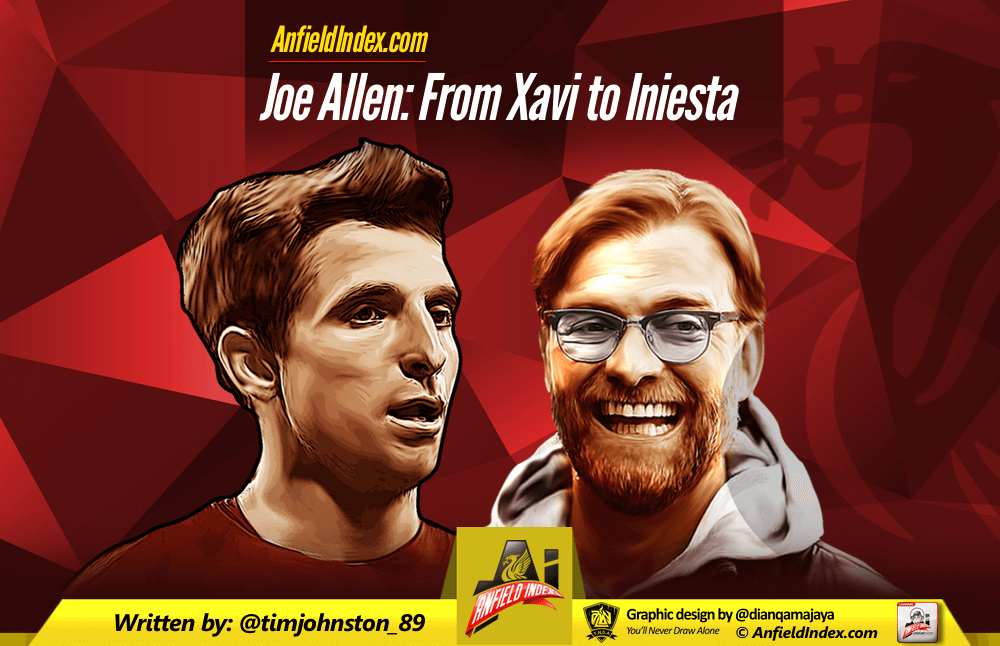 What happened?
Over the last three seasons a culmination of injuries, squad rotations and changes in playing style left Allen both short of game-time and a clear idea of what was demanded of him.
From the 140-page manifesto to the arrival of Sturridge and Coutinho, a change in style was forced by the transfer committee. Unable to maximise the potential of Sturridge and Coutinho in a controlled, possession-based approach, Rodgers trashed his philosophy of "dominating the ball" and opted for a more direct, attacking style which got the best out of certain players at the expense of others.
From an originally strong position of total number of passes to pass completion, Allen's total passes, pass completion and pass length have never – until this season – been as strong as they were in 2012.
The decisive change in tactics in 2013/14 saw a huge drop-off of over 20% fewer passes, made at an average of 2 metres less. This trend continued into the 2014/15 season.
But here's where things get interesting.
Having played just 27 minutes in total this season, Joe Allen has already made over 3 key passes per 90 and exceeded his average pass length and pass completion rate.
27 minutes is an incredibly poor sample size. But it may well be an indication of a change in responsibilities under Klopp; and the following defensive stats provide a good indication why:
Just as the drop-off in passes made and completed in 13/14 reflected the change in style, Allen's defensive contribution also reflects the counter-attacking, high-pressing game in the year of our title challenge.
More than doubling the number of tackles won and increasing his number of successful take-ons and duels, Allen's contribution is obvious. From tiki-taka dictator to sweeper and space-presser; Allen's role changed dramatically.
Just as Joe's contribution in possession has changed radically in the minutes he's played this season, there is also a huge break in the trend for his defensive contribution. By all accounts, Allen's greatest involvement has been in attack, making key passes but losing tackles and recording fouls higher-up the pitch.
The key problem for Joe is this: there are plenty of players that can do this better than him.
Allen can no longer be a utility midfielder – he needs a defined position. Whether this is more of an attacking midfielder in Klopp's attacking 3, or a defensive midfielder in Klopp's midfield 2, this needs to be decided.
Proof
Given the small sample size of Premier League impact this season, I want to focus on Allen's last game for Liverpool; our 0-1 victory over FC Rubin.
As the heatmap suggests, Joe Allen is based at the right-hand 2 of the midfield; yet he's travelled around the whole pitch.
Whilst his general positioning has been at the right of midfield 2, he has also taken-up a lot of space at the left of the midfield 3. His pass map suggests a similar positioning albeit with a seemingly more even spread of passes around the whole pitch:
The heatmap appears to be misleading.
Yes, Joe Allen made more passes from these specific spots (bottom-right and top-left on the heatmap), and could well have taken more touches in these areas. But these passes represent a very small percentage of total passes overall – most of which have taken place all over the pitch, with more in the attacking-half of the field than the defensive half.
Looking back to the first-leg of the same fixture two weeks ago, Allen seems to have been asked to take-up a rather different position: central defensive midfield.
However, in accordance with the second-leg, the pass-map suggests a similar paradox: despite being positioned firmly in the bottom-half, Allen has managed to find himself largely roaming around the attacking areas of the pitch, again, attempting more passes in the final half:
Allen only played the first 45 minutes of this game; but to suggest that he was subbed because of his performance levels is grossly unfair.
Lucas' pass-map looks almost identical to Allen's in shape, albeit having made considerably more passes, a greater proportion of which were in the opposition-half:
Defining Roles
The 4-2-3-1 shape of our team's performance can be seen in both Allen's and Lucas' pass-maps. Both players reflected the team's approach as a whole, suggesting that both players were tasked with dictating play. Perhaps this is the reason for the half-time switch: to play so intensively across the field so soon into Klopp's reign probably warranted a pair of fresh legs for each 45-minute spell.
Given that we are now starting to see Klopp's default 4-2-3-1 tactics à la Dortmund, we can probably expect the defensive midfield 2 to take-on greater responsibilities in linking attacking-play.
Having begun his reign with the "Christmas Tree" formation of 4-3-2-1 with Joe Allen barely featuring, the switch to a more attacking-style of play in the 4-2-3-1 formation seems to have given license for Joe Allen to not only come into the team, but to play in a more advanced role than where people generally associate him to be.
Having solidified our defence and installed a new mentality into the team, Klopp has been able to switch from a more defensive formation to a more offensive formation – again, a formation which has coincided with the introduction of Joe Allen. Judging by the limited stats available to us currently in the League as well as the detailed stats from the last two Europa League games, it seems that this isn't, in fact, a coincidence. Allen's inclusion was planned all along.
Conclusion
Joe Allen is not and will never be the Welsh Xavi. But it won't be because he was never good enough. It will be because, rather than find a home in the number 6, he could find his home in the number 8.
Klopp is surprising all of us with the players excelling under his stewardship. Lallana, Lucas and Allen were all written-off by a number of us, including me. But maybe, just maybe, it was a case of using these players incorrectly. Even Joe Allen.
Klopp has only been here for four weeks. But if he has as many tricks up his sleeve as he's let-on so far, then maybe the "Welsh Iniesta" isn't too far away.