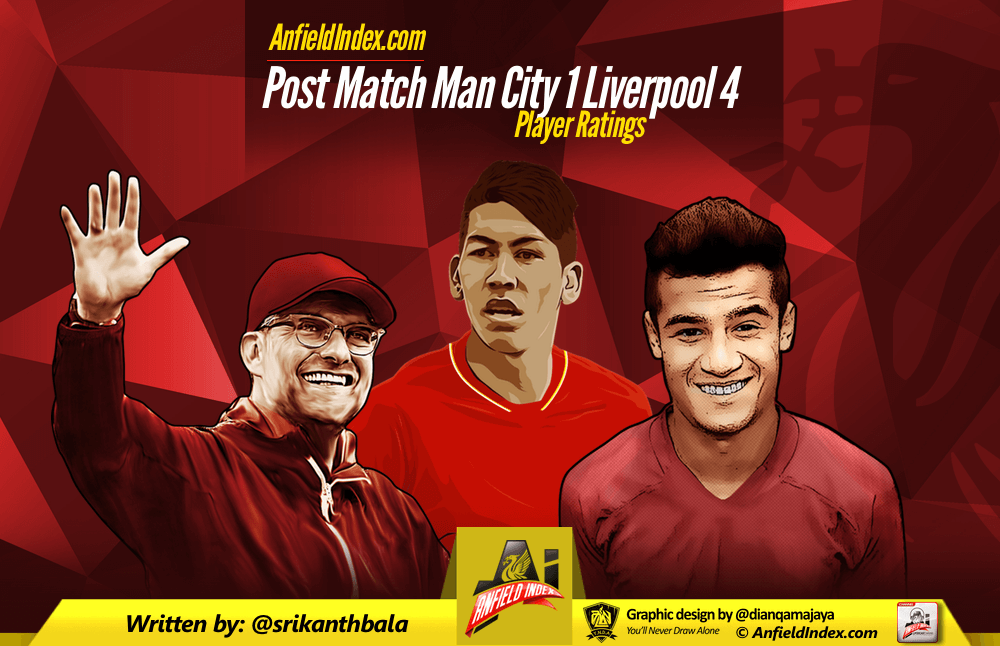 Manchester City 1 Liverpool 4: Player Ratings
Liverpool turned in a Klopp-terclass performance away from the home, at the home of a real top team. The team put in a performance which conveyed the view that they are beginning to absorb the vision of the new manager. Good times ahead ahoy!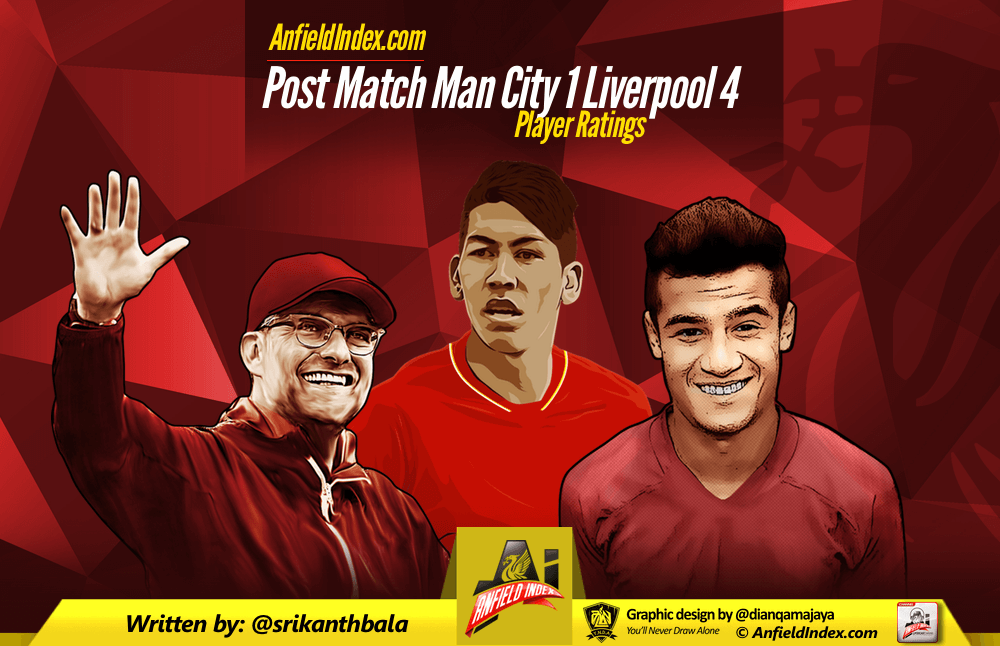 Simon Mignolet (6.5) – Simon had a really straight forward game, saved most of what he could, was beaten by a peach from Aguero. He mad a great couple of saves though, which is now becoming a norm. His distribution still remains a huge cause of concern.

Nathaniel Clyne (6.5) – A very good performance from the full-back,  he was a constant option on the attacking side on the right, while fulfilling his defensive duties fairly well, winning duels all along the right hand side. He got caught on the ball, which eventually led to Aguero's goal. On the positive side, the combination of Clyne and Moreno seems to be shifting gears as games get along.
Nathaniel Clyne and Alberto Moreno both made seven interceptions today vs. Man City. On their toes throughout. #LFC
Martin Skrtel (8) – A top class performance from Martin Skrtel as he put in a solid defensive shift. He made innumerable blocks on low fizzing crosses from the left hand side, that it seemed to have been well thought of and analysed. Topped off his performance with a goal of such great quality that any forward worth his salt would have been proud of.
4 – Martin Skrtel has now scored four Premier League goals against Man City; more than he has against any other opponent. Rout.
Dejan Lovren (6.5) – Lovren, coming in for Sakho started solidly alongside Skrtel, cutting out dangers from the City's right hand side flank. His nerves seemed to get better of him early in the second half though, as he resorted to his familiar errors of charging out to the ball and getting caught out of position.
Alberto Moreno (7) – Another solid performance from the left-back, who ghosted down the left hand side often without being noticed, and in fact started the second phase of attack for the 3rd goal. Was defensively solid marking Navas during the game.
Lucas Leiva (7.5) –  Lucas Leiva under Klopp seems to be Version 2.0, a far more refined version of the player he was. Defensively more aware, his passing tempo has come up leaps and bounds. A faster ball rotation in the midfield seems to be benefiting the attackers.
Emre Can (8) – This is how you recover from a poor performance. A midfield general-like performance from the German, a performance culminated by that delightful back-heel for the third goal. Immense mental fortitude.
James Milner (6) – The odd-ball in yesterday's performance as a team. His individual performance has now become a theme; a mix of continuous non stop running mixed with confusing decisions and lack of quality.
Adam Lallana (8) – An excellent performance from Lallana as part of the constantly moving, fluid front three. He was constantly harrying City's defenders in the first half giving them no breathing time. On the ball, he seemed to be more efficient in how he used the ball. Top class performance.
Philippe Coutinho (8.5) – A performance which would be classed as one of his best away performances. A clinical influencing performance from the Brazilian and the combo with Firmino was a delight to watch. Give us this every week Phil!
Roberto Firmino (8.5) – Firmino's best performance in terms of impact by a country mile. His ability to make football look so effortless is such a joy to behold. His incisive pass for Coutinho's goal and his classy finish for his goal were the high points. Onward and upwards.
Substitutes
Jordon Ibe (6) – A lively performance from Ibe in his short cameo, kept driving and running at the City defenders, and his confidence has come up a few notches clearly.
Christian Benteke (6.5) – A short cameo from the Belgian, yet assisted the 4th goal. Also gets additional 0.5 points for showing us new ways of using a head-start on defenders.
Kolo Toure (N/A)