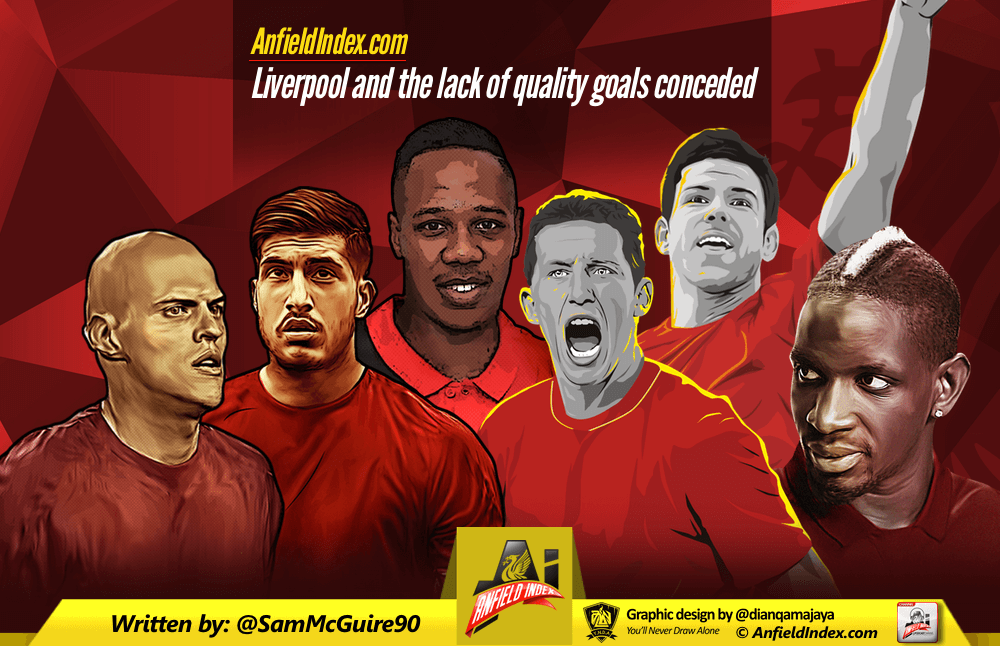 Liverpool and the lack of quality goals conceded

I know it sounds like an odd title. Of course any goal conceded is a bad goal but my disappointment and anger subsides when a goal is of good quality. The sort that annoys you even more because you can't even moan it's that good. You're left speechless and quietly impressed by it.  The type of goal that leaves you looking at your mate and shrugging.
Liverpool have a knack these days of conceding soft goals. Firstly, these goals are avoidable. These goals are frustrating. These goals are downright embarrassing  to concede.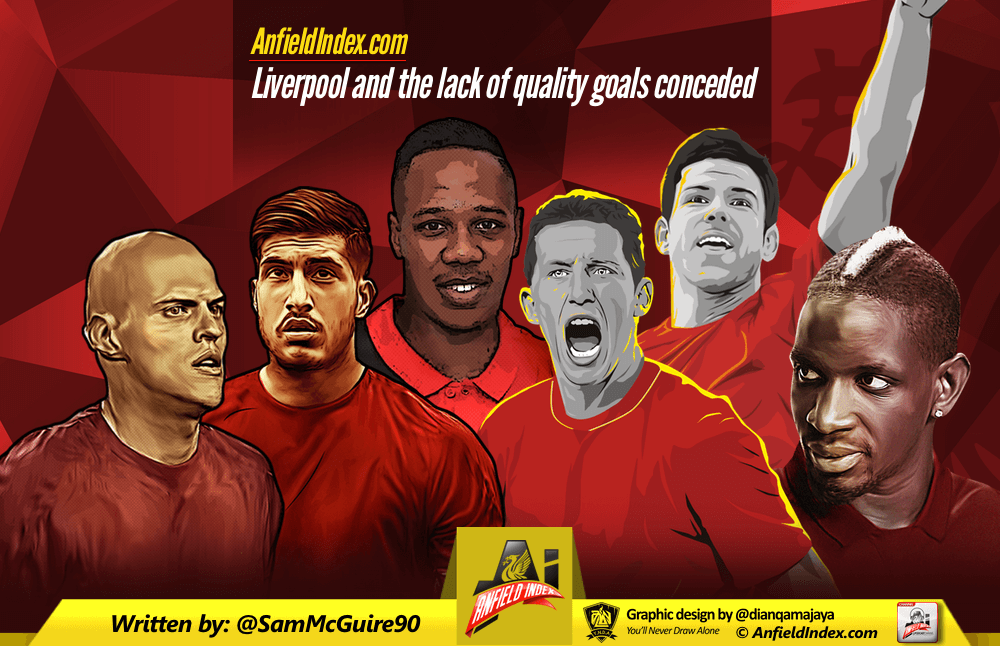 Off the top of my head I can't remember the last time the team conceded a genuinely world class goal. One could argue the second Villa goal in our 3-2 win was one. The definition of a thumping header. Maybe I'm being too critical when I say Nathaniel Clyne could have potentially got out quicker to stop the cross.
The last three goals we've conceded; two against West Ham and one against Crystal Palace, have been pathetic. That's the best and the most polite way of describing them. You can't gift goals as we have in the Premier League and expect to win games. I know we beat Chelsea but the sentiment still stands, you can't be conceding soft goals.
The problem we have though is the fact it's almost a team failure when these goals do go in. You can't look at an individual and lay the blame at their feet. Against Chelsea we had Lucas giving the ball away, James Milner losing his man and lunging at him, there was Martin Skrtel allowing Azpilicueta to put the ball onto his favoured right foot and cross the ball. Finally Alberto Moreno was static, not that he could do much without potentially giving away a penalty but you could still probably expect a little more from him in the goal. That's four Liverpool players who could have prevented that goal.
You then look at the goals against Palace and just have to hang your head in shame. Alberto Moreno should've won the ball just outside of the area. He didn't and the cross eventually came in. Emre Can should have cleared the ball but he was ahead of the ball in many ways and just flicked his foot out and the ball heads towards Lucas. The Brazilian, who was originally in front of Yannick Bolasie was caught on his heels as the Palace number 10 go ahead of him and lashed the ball home.
The second goal arrived from a corner *shock horror*. Palace had open scored one goal from open play since August until yesterday so set pieces were an obvious threat. Scott Dann, a big strong centre-back, is up against Roberto Firmino and beats him with relative ease in the air but his original header is pretty tame. How and why Simon Mignolet doesn't catch that ball is beyond me. Instead he palms it into the middle of the penalty area and Dann is the first to react nodding it home unopposed. The ball manages to get past Martin Skrtel on three different occasions for this goal.
These aren't just games in isolation either, it's been the theme the entire season. You can look back at any goal we've conceded and you can easily say 2/3 players should have done better for it. That's what's disappointing, the fact we've dropped so many points because of errors.
Under Jurgen Klopp we look a lot more resilient when trying to grind out a result but there's still this shadow hanging over us that a brain fart is just around the corner. It's sad to see it unravel so quickly. The team put together a Klopp style 10 minutes and then you see something that knocks the confidence out of the players and we're back to square one.
Not only that though the entire thing is like a domino effect as we've seen in the previous two league games. Klopp is clearly working hard on confidence with the players and a system for the defence but it won't have an immediate impact and we'll keep seeing these Brendan Rodgers aftershocks. It is getting tiresome though playing like we've got a -1 handicap. These aren't the days of Luis Suarez anymore.
Remember the Cameron Jerome goal against us in 2009/10?  The Emmanuel Adebayor goal in the Champions League game against us when Theo Walcott is too fast for our entire team. When was the last time we conceded a goal like that?