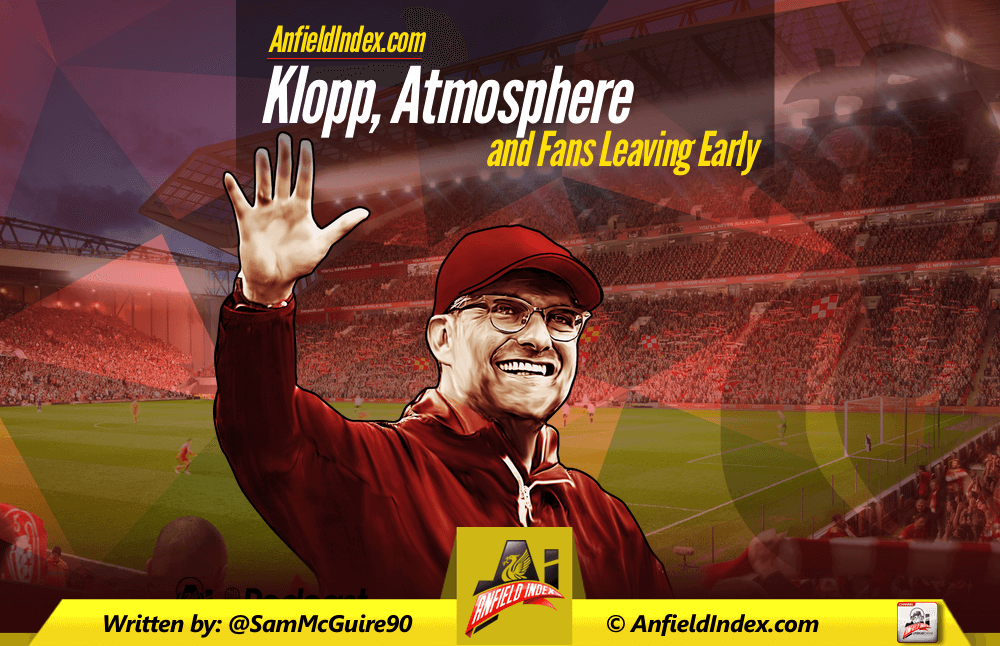 Klopp, Atmosphere and Fans Leaving Early
"The goal was on 82 minutes – 12 minutes to go – and I saw many people leaving the stadium. I felt pretty alone in that moment. Between 82 and 94 minutes, you can make 8 goals if you want and we have to work for it."
Jurgen Klopp has only been here for a month and he's already felt it necessary to mention the elephant in the room: the atmosphere at Anfield.
It's a big game of Cluedo when you ask anybody about the goings on at Anfield. People will look to blame everybody else before they'll actually admit the atmosphere is non-existent because Liverpool aren't exciting.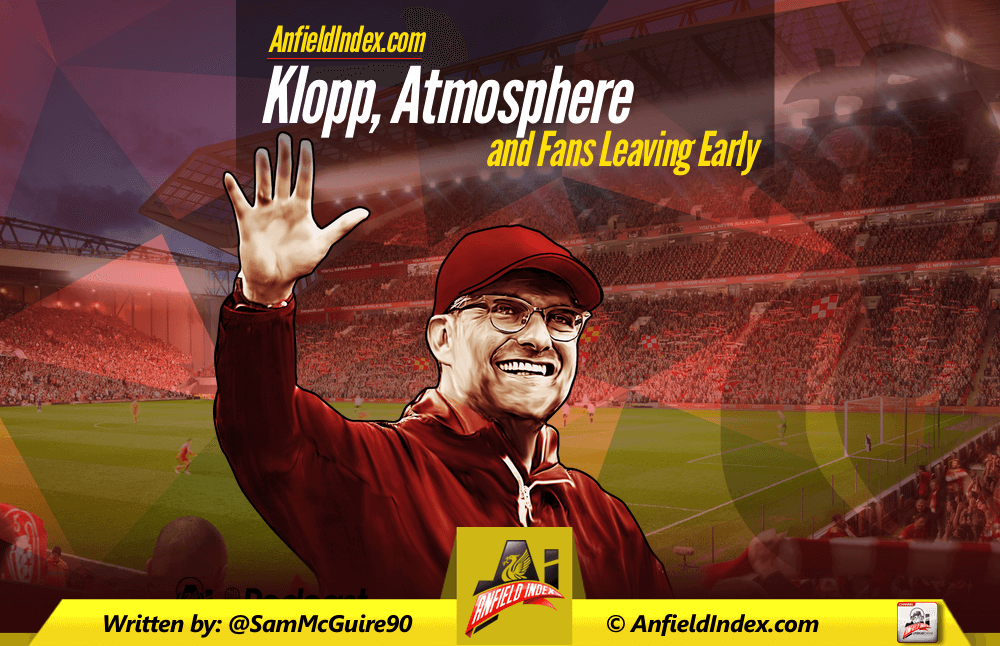 Of course our German mentalist didn't come out and directly say the atmosphere is lacking at Anfield, instead he made passing comments about the fans leaving early. Make no mistake about it though, he'll comment on the actual atmosphere sooner rather than later if things continue. He's nice and blunt like that.
It is an issue at Anfield and has been for a while now. Those who leave early. I understand there are a variety of reasons these people may leave, if it's a European night then they may want to leave a little earlier to miss the traffic and get their kids off to sleep before school. Others may be wanting to leave to get the earlier train so they aren't waiting around for an hour. You may have people fed up with what they've seen and leave early to show this. Then you have those that scarper early just to avoid the crowds. It's the latter that are the problem.
That's their prerogative but personally I find it strange. You've paid the money and then you leave just as things get interesting. Do these people leave movies with 10 minutes left? Imagine watching Scream the movie and not knowing who the killer is because you left. Checking on Wiki doesn't count either.  I know, why not watch 17 episodes of an 18 episode series and leave it at that? You won't find me leaving my nephew's Christmas show early to avoid traffic.
It's hardly inspiring for the team to see the stadium emptying with 10 minutes to play.
Fortress Anfield with all of its soldiers downing tools.
It gives off the message 'we have no faith' so why should the players?  It's not like Liverpool performed badly yesterday either. They created chances and just couldn't take them, it's nice to just see Liverpool creating chances and yet the players won't get the approval of the fans after the game has finished because half the stadium is empty.
Something that's often overlooked by these early leavers is the disruption they cause those who are staying to watch the match. I was at the Rubin game at Anfield, Klopp's first home game, and yet from the 81st minute I had people on my row leaving. That means for the remaining 10 minutes or so the match didn't have my full attention due to the fact I was having to move for people and not stand on people the row below. I'm a man, I can't multitask that well.
I'm sure plenty have seen the Vine of Lionel Messi trying to watch the match and at the same time somebody is trying to say hello to him. That was me, I just wasn't being as polite as Messi. I gave them the same look I give to people that walk dead slow in front of me. Bear in mind it was 1-1 and Liverpool were camped in the Rubin final third, yet my memory of this is the conveyor belt of people leaving early restricting my view.
It's the first time I've sat in the Centenary Stand, I'm usually in the Kop and it's surreal how different the experience is despite the fact I was in the same stadium a mere 100 yards away from my usual seat. In the Kop there is always a chant starting or finishing. It's not often it's silent yet when sat in the Centenary I heard a few detailed chats between two guys as they discussed the 'gegenpress' about two rows below me. By the 89th minute the row I was sat in had nobody but myself and my friend on it. Scousers, daytrippers, old and young alike had all made the move before the clock had even struck ninety minutes.
"We are responsible that nobody can leave the stadium a minute before the last whistle because everything can happen"
Jurgen Klopp is feeling responsible for something that's been fast becoming the norm at Anfield for some time. Fans leaving early isn't a knock on Klopp or his team but he's not used to this because during his Dortmund games he had the famous Yellow Wall there supporting his players win, lose or draw.
Klopp the leader looking around for the cavalry and they're all in their cars listening to the last 5 minutes on the radio.
"If everyone thinks we gave everything we have tonight then it's wrong. Of course we could do more; maybe not running more, but to be more awake from the beginning and to be clearer and belief more"
This quote struck me as something you'd hear an innocent child say when they're putting out a heartfelt plea to their parents. "I'll do better next time, please don't leave."
Perhaps Jurgen needs to time to get used to the English way of things or perhaps Liverpool fans need to start appreciating their team more and actually showing support right up until the end? We shouldn't try to change Jurgen, we should try to mirror his excitement. After all, you don't know what you could miss if you leave early. Imagine leaving the game early and missing the Steven Gerrard goal against Olympiakos? I don't think missing traffic would make up for the that feeling you'd never experience again…