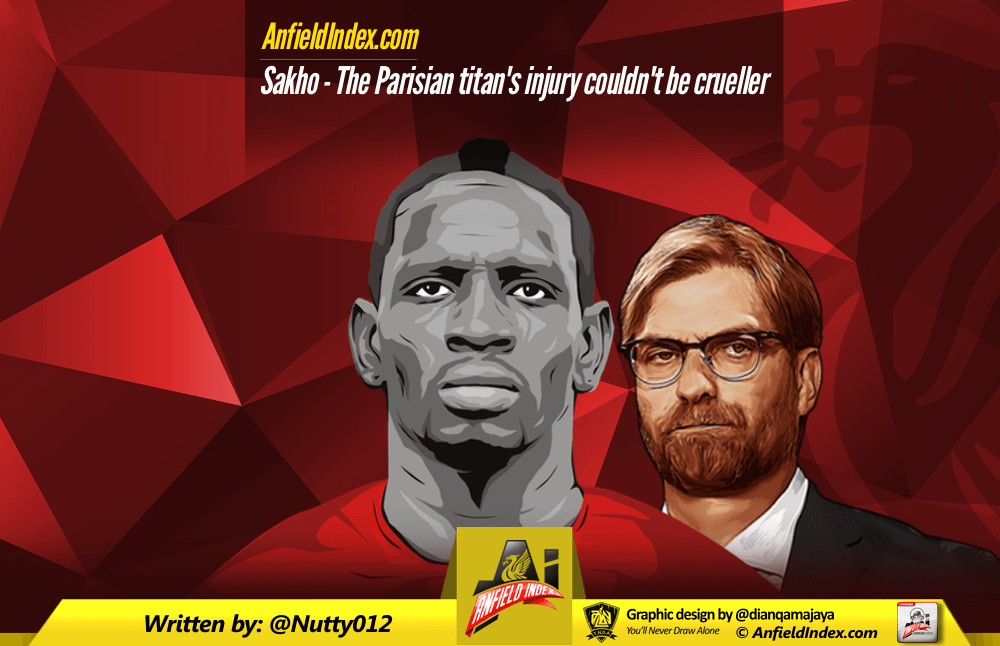 Sakho - The Parisian titan's injury couldn't be crueller
rIt has been clear to Liverpool fans for a while that Mamadou Sakho is an absolute titan of a man. He shows a passion for the club that scousers can identify with, but more than that he is the complete modern centre-half. He is comfortable getting tight on strikers, stepping up and defending on his massive front foot, but he is also a fantastic defender in the box, never caught out of position and a fully committed header of the ball. Ironically, Sakho had been pilfered for his poor ability on the ball, where in actual fact he has proven himself to have some of the best passing of a centre-half in Europe, on par the likes of Koscielny and Boateng. One of his most lauded performances came recently against Chelsea, as MrBoywunder's highlight video below shows. He was recently even ranked as the joint-second best centre half in Europe this season by the CIES Football Observatory, illustrating at least statistically his immense quality.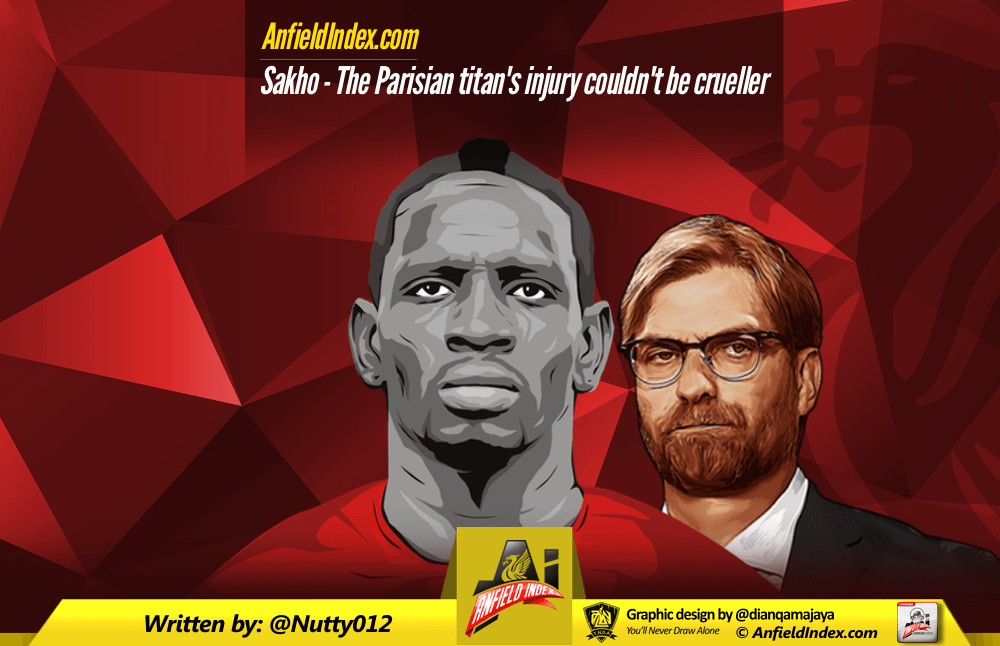 Despite Mamadou Sakho's best attempts to say no to knee ligament damage and play through the pain against Palace, it was announced that he will be sidelined for a lengthy 2 months. Whilst the injury was not to his ACL as Liverpool fans were originally fearing, it still represents another significant setback in a career of setbacks for our Parisian titan.  His recent surge in popularity outside of Liverpool looks like it will be short-lived, a particularly cruel blow given Sakho's unheralded first two years at the club and subsequent change in fortunes under Klopp.
https://www.youtube.com/watch?v=VfdoEIEzZMM
Adjusting to life in a foreign country can always be difficult, but Mamadou Sakho can't have expected the fickle rush to judge him that followed his arrival. Pundits and fans could not see beyond a strong centre-half, with long, clumsy legs, adorned with boots that wouldn't look out of place on a circus clown. It was clear to everyone that Sakho was not a ball playing centre-half. A particularly dodgy five-minute spell against Manchester City early on in his career seemed to confirm this, and criticism from the likes of Gary Neville severely damaged this reputation.
But Mama Sakho is someone who has made a living smashing down hurdles of adversity: Sakho arrived as a 23 year old who had captained his boyhood club, Paris St-Germain, at the tender age of 18. He was one of seven children, raised in a poor but diverse neighbourhood in Paris. He was removed as captain as the club surged into its new era of Arab wealth, and then forced to leave in search of the first team football that could enhance his international prospects. Things never came easily to Sakho; success was earned rather than gifted.
At Liverpool, Sakho's first two years under Brendan Rodgers certainly had its ups and downs. Having been in and out the side for the first half of his debut season, he secured a starting spot in our title-run in ahead of previous Kop favourite Daniel Agger (who subsequently decided to move on that summer). However, he was also blamed for some of the poor defending that characterised that manic period, particularly against Crystal Palace. Whether or not this was fair criticism, given the team's naturally hyper-offensive balance, is to be debated, but what is certain is that Sakho did not come out of the period with a great defensive reputation.
It became clear that Sakho was not Rodgers' signing, or in his good books, after the Northern-Irishman sanctioned the acquisition of Dejan Lovren for a whopping £20m. Despite Lovren's appalling start to his Liverpool career, Sakho was still out of favour, and his obvious frustration culminated when he walked out of Anfield before the Merseyside Derby, after it was revealed that he had not even made the bench for the game.
Lovren's dreadful performances could only continue for so long before even Rodgers had to drop him, and Mamadou Sakho's subsequent form in 2015 rightly showed the immense gap in quality between the two defenders. By the time Rodgers was sacked this season, Sakho had clawed back his starting berth, and was showing why Liverpool fans kept the faith amidst a maelstrom of criticism.
In recent times though we have even seen Paul Merson make a u-turn on his opinion of Sakho. It has been through sheer skill and graft on the pitch that Sakho managed to reform public perception of him. As such it would be wrong to suggest that Jurgen Klopp has particularly transformed Sakho, even though he is the first Liverpool manager to actually appreciate Sakho's skill – after the game Klopp said he would "rather have lost 4-1" than lose Sakho. But in reality, he has performed excellently for Liverpool on almost every occasion he was called upon for most of his two years here. Critics of Sakho had pulverised him for any mistake he made (despite their scarcity), their confirmation bias merely stinking out any room for rational assessment. The change of managers is now just the convenient excuse to justify a change in opinions, but it is at least nice to see Sakho getting the plaudits he has deserved later rather than never at all.
Liverpool have a series of players who have managed similar hurdles. Jordan Henderson's arrival in Dalglish's infamous summer of recruitment in 2011 automatically put pressure on him to perform despite his young age, but thankfully his perseverance and determination to succeed eventually paid dividends. Lucas Leiva also had to work hard to earn the respect he deserved as a player, but cruelly suffered a season-ending injury in 2011, after which he has never quite reached his prior level. Like Lucas and Henderson, Sakho's personality is one of his most impressive attributes. Whatever your opinion on the mentalities of the Liverpool dressing room, in terms of leadership or confidence, there is clearly a strong vein of determination amongst the senior players like Sakho, who many people felt should have been appointed vice-captain, and who has unsurprisingly acquired a cult-status with his clubs fans.
So Liverpool fans should have absolutely no fear about Mamadou Sakho's capacity to bounce back from his latest disappointment. He has fashioned a career doing just that, and this injury should be no different. But the cruelty of the injury will not be lost on Sakho, who had to work immensely hard to earn the respect he deserved for his performances, or Jurgen Klopp and Liverpool fans, who have lost a great centre-back in the form of his career. But due to this new found appetite for all things Mamadou Sakho, at the very least he can rehabilitate with the comfort that his future in the Liverpool side has never looked more assured.