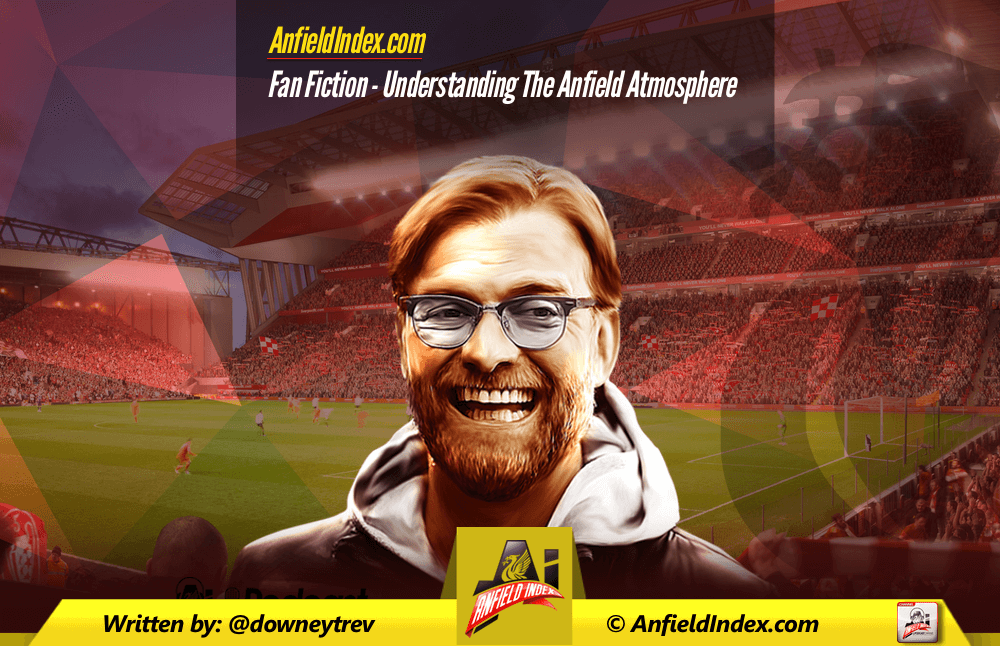 Fan Fiction - Understanding The Anfield Atmosphere
The current debate over the lack of atmosphere at Anfield has reignited a tiresome argument about the validity of the support offered by different types of fans. Frankly, it's an extremely tedious contretemps, and it merely highlights the depressing reality that some pugnacious elements of our fan base seem to revel more in petty discord and doltish in-fighting than they do in the actual supporting lark. Each of us, surely, has our own way to be a fan. None is more correct or valid than the other and the very last consideration should be the nationality of the person singing in Anfield or roaring at their laptop thousands of miles from L4. There is, sadly, a vocal minority of narrow-minded sorts whose parochialism is expressed in hostility towards daytrippers and those who follow from far afield, but the vast majority of Liverpudlians are a very welcoming lot.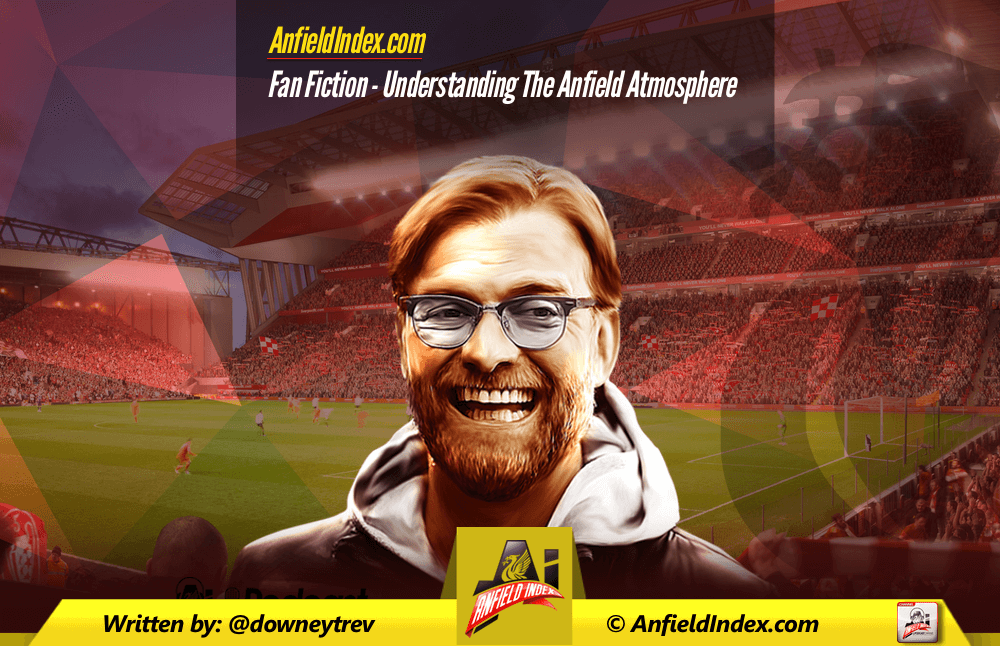 That said, you have to earn your credibility with Scousers. Aside from us Irish, they're the single most dedicated group of piss-takers I've ever enjoyed being verbally abused by. Over here, on the oul sod, keeping each other in check with put-downs is a way of life. The missing Eleventh Commandment was discovered in the karstified grikes of the Burren in County Clare, secreted there by Moses inside an empty earthenware whiskey jar – "Thou shalt not be getting big notions about thyself," it proclaimed – and we denizens of Ireland, being a devout lot, took it to heart. The faintest inklings of hubris, the vaguest sign of an unchecked ego and there's always someone ready with a scathing put-down; a reminder that you might be actin' the big fella now but I remember that day you cried in the pub watching X Factor, ya dopey sap.

Suffice it to say then, that I was more than ready for the caustic Liverpudlian wit I'd grown up reading about, and I've revelled in the experience of it first-hand. The very first cab driver I hailed, all those years ago, was a relentless bastard – an expert in everything and utterly dismissive of any contributions I made to the one-sided 'conversation.' Once it emerged that I was one of the pilgrims over for the match, he was ruthless – each word dripping with the kind of condescension you don't need a degree in anthropology to discern.
Gradually, as it emerged that I might actually have a vague notion of what I was talking about, Joe (we're mates now, I call him Joe) became less didactic in tone and more amenable to this visiting Irishman's ideas on Liverpool Football Club; his football club; his city. We stayed parked outside my hotel for twenty minutes, debating the merits of Kevin McDonald as a footballer (few, said Joe) and the problems with David Moores as a chairman (many, said Trev) and I thought we'd made a real Hiberno-Scouse breakthrough until I was closing the cab door and he lobbed one last grenade as he drove away laughing. "Don't they have a footy team where you're from Trev?" Cheeky bugger.
Joe's closing dig has been thrown back in his face by me over the years, as he saw repeated evidence that I was not a fly-by-night, but as dedicated a Red as any lucky enough to have been born in the city. Sadly, he wasn't the only one who's expressed a wariness of us Out-of-Towners and Day Trippers over the years, and the battle to somehow earn the right to be listened to is one familiar to many opinionated and passionate Liverpool fans from Ireland to Indo-China. Last week, I saw one fellow, a chap I thought to be a reasonable sort, sneer at foreign 'bloggers' and imply their opinions are somehow inferior because their authors are not locals. Those of us who can go the match, even occasionally, are the lucky ones, and we know it, but I can't analyse a match as well as some people I know from America and Malaysia and many other places.
In recent times, the proliferation of forums and fan-sites, like Anfield Index, has allowed people to connect with like-minded souls, irrespective of their location. Some of the most knowledgeable and interesting football folk I know are people I've encountered via the internet – people who view my limited annual attendance enviously, as they will probably only ever see Liverpool play via a jumpy stream at 5 am, whilst mainlining strong coffee and fighting off a cat or a toddler. The passion of such folk is inspiring to me and surely must not be dismissed. Their connection with the club is as valid as mine or any of the Liverpudlians I know.
I once wrote a piece looking at the much vaunted notion of the LFC Family. To be fair, both the notion and the term make a curmudgeonly old codger like myself feel mildly bilious, smacking as they do of some kind of cynical attempt to play on people's heartfelt desire to connect with the club and the city. The whole #ALLOFUSLFC campaign, dreamed up by Warrior a couple of years back, was cloying and cringey in the extreme.
No doubt, the marketing nabobs whose 'job' it is to dream up the next bloody hashtag or slogan,  let out a little trickle of excited wee as they watched the incredible passion of the fans in Jakarta, Melbourne and Bangkok when Liverpool visited those regions. Dollar signs, baby! They may well flog some merchandise on the back of whatever the newest campaign is, but it won't be a bloody hashtag that does it, it'll be because the proud history and tradition of Liverpool Football Club has transcended societal and geographical barriers.
We've all lamented the fall-off in atmosphere at Anfield for a long time now. It's not up for debate. It's real. You can hear the players talking to each other. However, when Jürgen Klopp said he felt "alone" at the weekend, as fans streamed out before the final whistle, it was the cue for some marvellously self-righteous chest beating and hand wringing.
There was much pontification and counter pontification about what constituted a real fan. Sod that. If you pay and want to leave, I can't tell you not to. I can't relate to it in any way, but that doesn't make me a better fan. Perhaps we could all dial down the judgmental nonsense here. When Jürgen's Reds start to string together some impressive wins and performances, the early departures will cease. Unless some folks want a pint. And some folks will always want a pint.
Let's be fair here. The last decade has been a trying period. The climate of anxiety has become prevalent. The folks who sit/stand next to me on the Kop, a mixture of locals and daytrippers, are generally lovely people but they're thoroughly miserable bastards. Lucas, Henderson, Allen, Moreno – every year they've got a back to get on, and boy do they clamber on with gusto. There was only one exception. During the Hodgson era, these lads were eerily silent.
Everything was so monumentally shite that they were stunned into a kind of numb apathy, shorn even of the bleak joy they took from verbally brutalizing one of their own. Joe Cole wandered around the Anfield pitch, hands on hips, like some kind of pub footballer, exhausted and content on the back of his solitary back-post run for the match, but nothing in the way of the usual inventive invective emanated from two rows below me. Nothing. They were broken men. They'd been Hodgsoned. We'd ALL been Hodgsoned.
Kenny's second coming was what it was, and warrants more analysis than can be given here. The man is my only hero and the indescribable joy of seeing him lead the club in that oversized match-coat again would require some kind of epic poem for me to do it justice. Yet despite the return of The King, the fan expectation bar had been spectacularly lowered by years of failure, years of nearly men. I remember being in the ground in early 2009, top of the league despite dropping two points. I was consumed by the anxiety of my fellow Reds. Nobody was enjoying it. The misery was almost surreal. It wasn't good enough. We were going to blow it.
How we would relish that kind of failure this season. Brendan Rodgers learned on the job but he did not learn swiftly enough. His reign began with the rookie coach hamstrung by a series of unfortunate events. As the campaign played out, it was a painful process for him and for us, but something was changing. A little hope returning, perhaps? Something…
Yes, something was happening. As the Carnlough man's second campaign began, it was slow and it was imperfect, but it was something – a laggardly ascent out of a dark era of despair and justifiable angst. The additions of Philippe Coutinho and Daniel Sturridge had offered still more reason for abandoning the comfort blanket of pessimism and snarkiness worn by many on a match day. The trip to Liverpool was exciting again. We had Luis bloody Suárez!
As Ryanair threw the plane roughly from the sky onto the tarmac at John Lennon, we didn't even notice. We were thinking only of our team. Could they knock in four again? How good was this Coutinho lad? Could Gerrard last a full season? Would Jose Enrique have sprouted a new hairstyle since the previous week? What was the craic with Brendan's lips? It was bloody fun again. Like when I was a kid and we won the lot. All the time.
And then, as quickly as it had returned, the joy vanished. A season of frustrating underachievement followed that heady title tilt and the angst returned. That old familiar angst.
To expect some kind of mentality transplant amongst our fans after only a handful of matches for Jürgen Klopp is bananas. We're a damaged lot, us Reds. This will take time, but surely we can have faith that, in the form of the bearded Swabian mentalist that stalks our touchline, we have a leader possessed of enough nous and slightly unhinged charisma to oversee the dramatic changes that are necessary.
Results may batter at our ebullience this season, as the manager builds his team, but they should not destroy it. You just sense this man will get it right. In the interim, we shall continue our regular pilgrimages across the Irish sea, my fellow daytrippers and I, possessed of a real hope and a desire to simply enjoy the bloody football. Life's a bastard, I've learned of late. You take your happiness where you can, and Liverpool Football Club, my friends, makes me happy.